How many of you wanted to set up a proof of concept or a trial with Vmware View to see how it works , but having no Esxi or vCenter to do that? This article will show you how you can get View working without having vCenter or even ESX hosted virtual machines .
What you need :
View Manager :One virtual or physical machine under Windows Server
VirtualDesktop machine : Any machine, either virtual (under Hyper-V or Vmware work station, or Virtual PC or Parallels) or physical that will be added to View Manager in order to be named as a virtual desktop later .
One client machine where View Client will be installed to access Virtual desktops.

And now let get to work :
1. Install View manager. It's a next next next procedure, nothing special here.
2. install the View Agent on the VirtualDesktop machine. Now here we can make the difference; View Agent, when installed through the setup.exe, is by default managed with vCenter, so tell it to not expect to be managed by vCenter; we should launch setup.exe with the command line as shown.
[b]VMware-viewagent-5.<Build Number>.exe /V"VDM_VC_MANAGED_Agent=0"[/b]


                      
That tells the View Agent "do not be managed with vCenter":
VDM = Virtual Desktop Manager
VC = Vcenter
Managed_agent=0 means its not managed by vCenter
That's the big trick here; then finish the installation and reboot the machine. Now go back to View Manager and create new virtual desktop pool, using this procedure :
Connect to your View Manager console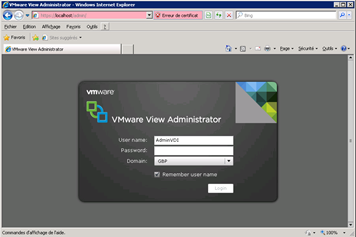 Click
Add Pool
to create new one and select
Manual
as pool type.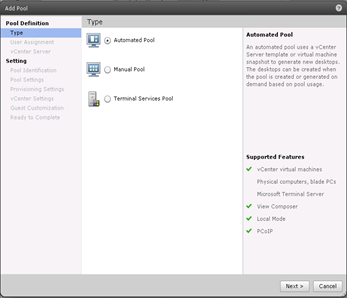 Enable
Automatic Assignment
and
Dedicated Mode
. Since we have a manually created machine, we want that every time a user logs on it will fall to the same machine.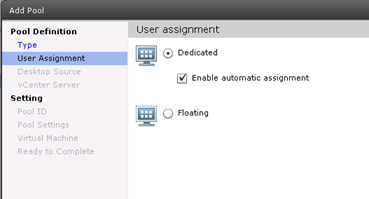 This is useful when you want users to keep the same location, desktop personalization and documents on the local harddrive.
Next, you have to choose
Other sources
since our machines are not vCenter ones.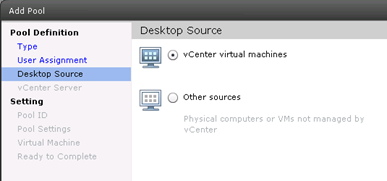 Next give a name to the pool, configure basic connections settings and then find your virtual desktop machine.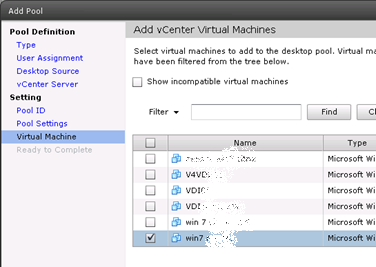 Then you can follow View instructions to entitle users to the virtual desktops and pools. Go back to your accèss device (it could be your laptop , physical desktop , iPad, iPhone or other device) , install The View client and connect to View Manager's IP to access your virtual desktop.
You can build as many pools or desktop like that as you want; the only thing you'll be missing is the automated pool that automates virtual machine creation on demand , since automated pool is based on a master VM that generate VMs each time a user connects to View . Only vCenter can do that.
I have also posted this Article on my blog at :
http://www.nelite.com/community/b/nzahid/archive/2012/05/13/vmware-view-without-using-vcenter.aspx