This article is about duplex scanning in
Nuance's PaperPort software
with a hardware-capable duplex scanner. It is
not
about the
Scan Other Side
feature in the
Capture Assistant
that allows a simplex scanner to achieve double-sided scanning. If you are interested in the latter, see my Experts Exchange article,
How to Perform Duplex Scanning with a Simplex Scanner in PaperPort Versions 11, 12, 14
. But this article is strictly about how to get duplex scanners to work in PaperPort, more specifically, how to achieve automatic/one-click duplex scanning, that is, duplex scanning with neither the
Display scanner dialog box
nor the
Show Capture Assistant
box checked. This article applies to the three most recent versions of PaperPort, i.e.,
11, 12, and 14
– yes, Nuance got superstitious and did not release a version
13
.
The first step in any scanning issue is to download the latest-and-greatest drivers from your scanner manufacturer's website. My experience over the years is that PaperPort is very sensitive to the TWAIN/WIA drivers, and I've seen many scanning problems fixed by installing the latest drivers.
The problem that I'm addressing in this article is the lack of a
Duplex ADF
choice in the
Source
field drop-down in the
SET
tab of a
Scanning Profile
. For example, here's what it may look like when the existence of a duplex scanner is not recognized: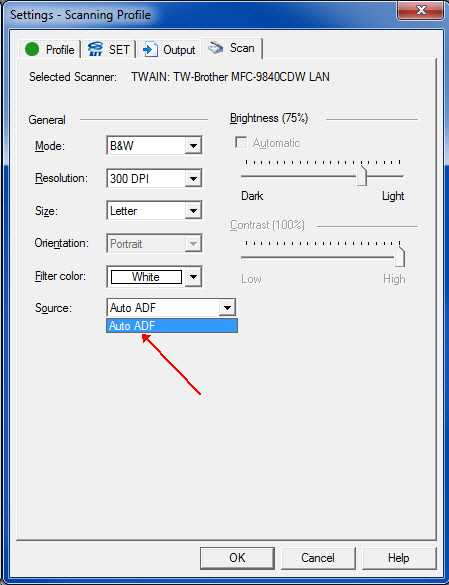 The first approach to fixing this is to run through
Advanced setup
for your scanner, telling PaperPort to download the latest scanner database, normally the option that PaperPort says is recommended. If that works, great! But the raison d'être of this article is to explain how to fix it when that does
not
work, in other words, when the PaperPort scanner database has a bug such that your duplex scanner is not properly configured as a duplex scanner in the database. Here are the detailed steps to fix this:
As already mentioned, install the latest scanning drivers from the manufacturer's website
Click Scan Settings on the Ribbon in PP12 and PP14, or the Scan or Get Photo icon on the toolbar in PP11
Click the Select button
Highlight the TWAIN driver for your scanner (I prefer TWAIN to WIA, but some folks like WIA; if TWAIN doesn't work, follow these steps on the WIA driver)
Click the Advanced Setup button
Say NO to downloading the latest scanner database
Say YES to testing it
Click the Hint Editor, then Edit Hints
Add the DUPLEX parameter, click Modify Hint, and change its value to AUTO (right now, it is likely to be NO)
Click through the rest of setup
Now add a scanning profile (or modify an existing one), click the Settings button on the profile, click the Scan tab, click the Source drop-down, and Duplex ADF should be there, as shown here: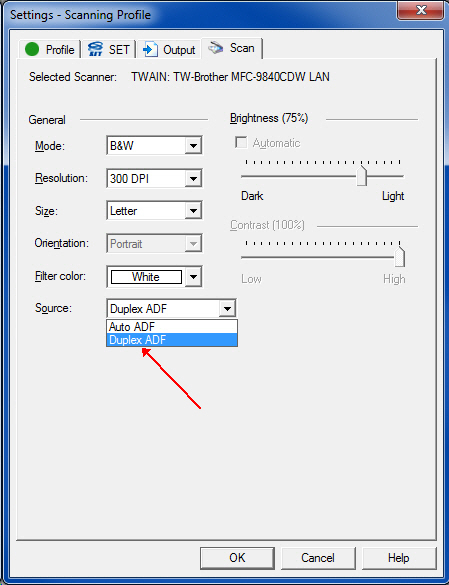 Select Duplex ADF. Now you may uncheck
Display scanner dialog box
, as well as
Show Capture Assistant
, and you will have one-click, automatic duplex scanning in PaperPort – just click the Scan button!
If you find this article to be helpful, please click the
thumbs-up
icon below. This lets me know what is valuable for EE members and provides direction for future articles. Thanks very much! Regards, Joe