Did you know that you can use your iPad to view and edit Excel files? It's really easy to do and the best thing is that it's free. You don't need any apps, you don't need to install anything. All you need is your iPad, an internet connection and a free Windows Live ID and SkyDrive folder.
You need:
an iPad
a Windows LiveID account
a Microsoft SkyDrive folder
(
Note:
the following has been tested on an iPad2 running iOS 5.0.1. Earlier versions of iOS may not produce the results described below.)
On your PC or Mac, point your browser to
www.skydrive.com
. Sign in with your Windows LiveID in the dialog that appears on the right hand side of the screen, or, if you do not yet have a LiveID, sign up for one with the button in the left hand panel and follow the instructions.
Microsoft gives you 7GB of SkyDrive storage space for free. In your SkyDrive space you can store all kinds of documents. You can create folders, you can share folders with everyone, or just selected people that you invite, or keep folders private. Learn more about SkyDrive in the
SkyDrive Help Center
.
Now, for the purpose of this exercise, copy or move some of your Excel files to a SkyDrive folder. There are many ways to do this, for example via the "Add files" command in your SkyDrive home page.
Once you have uploaded a file, you can click it and it will open for viewing in the browser with the Excel web app. There is also a command to "Edit in Browser". This makes the spreadsheet editable. The browser based editing is called "light editing", and it includes many more features than most Excel users will ever need. You can edit data, use formulas, insert charts, format cells, etc.
All this works in your desktop browser, so of course, all this will also work in the iPad Safari browser, right?
Yes, it will, but you may be a bit disappointed at first.
Fire up your iPad and point Safari to your SkyDrive folder. (
Note:
You can ignore any prompts to download the Skydrive App, since it does not affect the functionality described below.)
You will see something like this: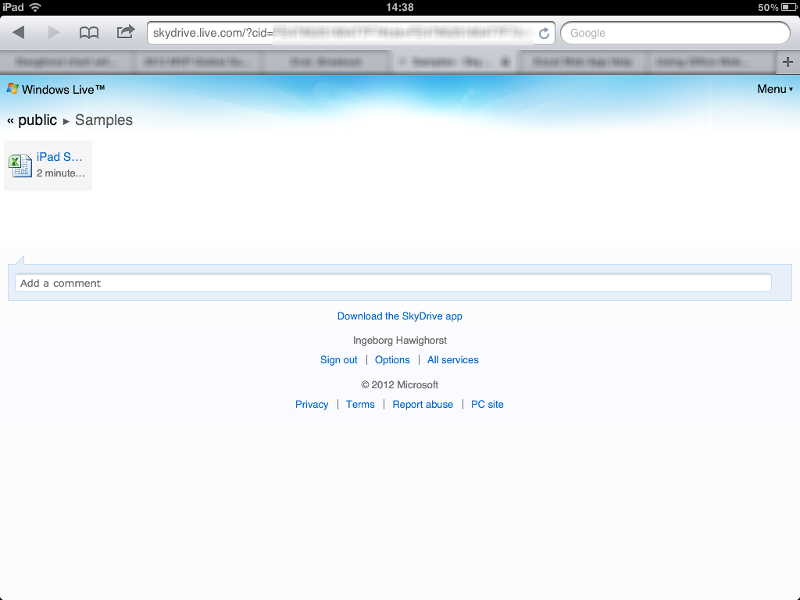 Tap the Excel file and you'll find yourself looking at something like this: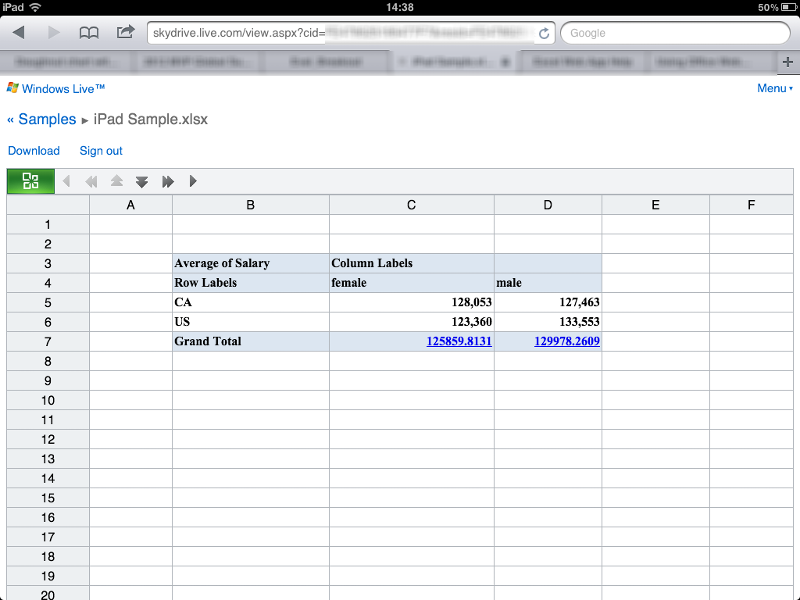 You can't manipulate the data, you can't manipulate the pivot table. Scroll down and below row 50 you'll find a panel with some commands: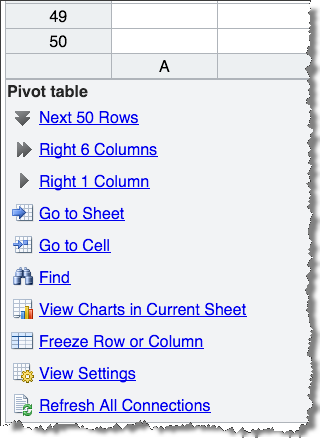 Tap the command to switch to a different sheet and you can see a list of sheets in the workbook: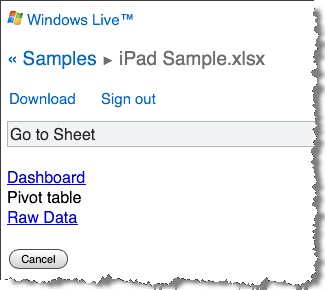 The Dashboard sheet has a chart, and when it is active it displays this: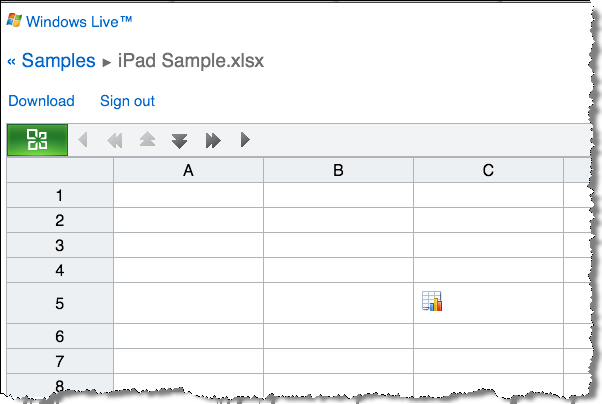 In order to see the chart, you need to scroll down and tap the command "View charts in current sheet", then you can see something like this: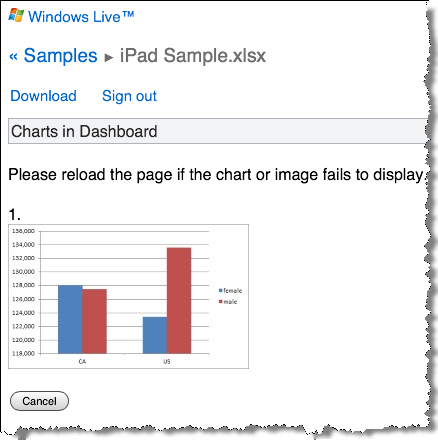 Anyone impressed so far? Well, I wasn't. Why can't I see on the iPad what I can see on my desktop computer, i.e. an interface where I can see the sheet tabs, edit the file in the browser and all?
Now comes the good part.
Navigate back to your SkyDrive home folder and tap on the link "PC site" at the bottom of the page: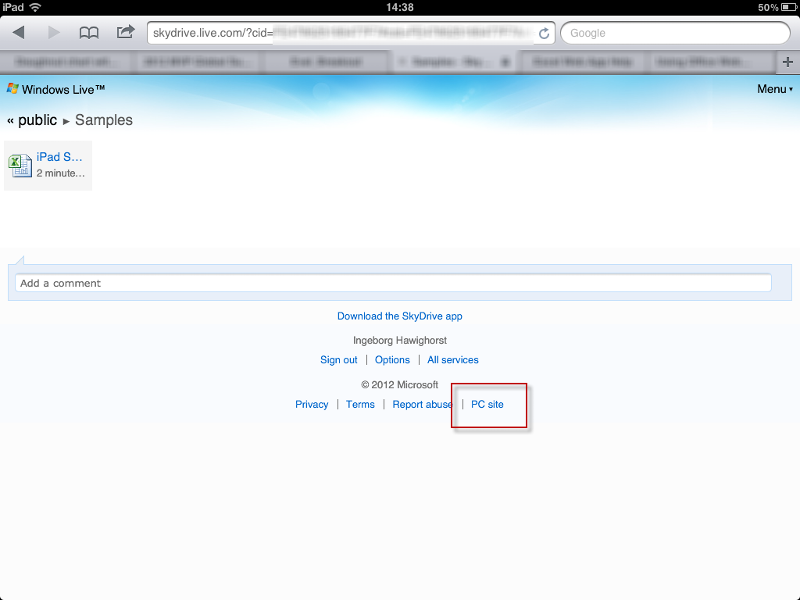 If nothing seems to happen, tap again, and then refresh the page in Safari. You should now see something like this: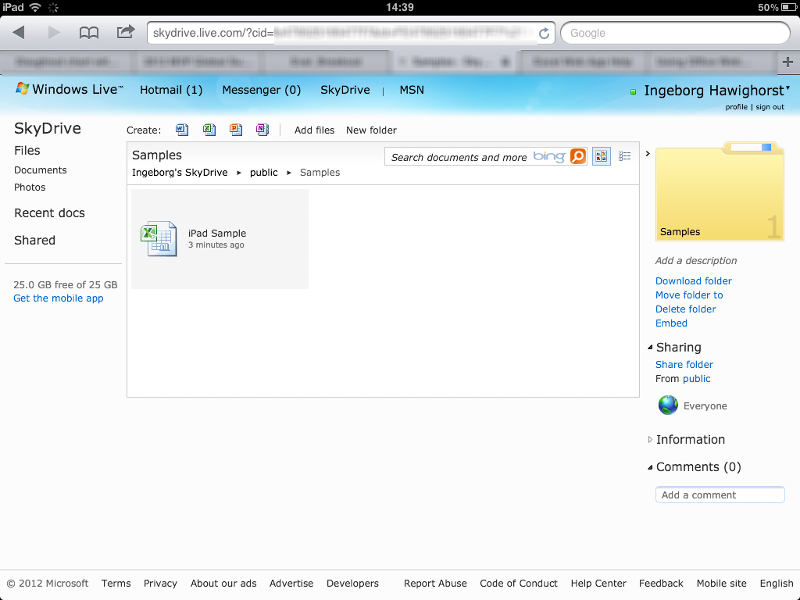 Now we're cooking!
To the right of the Bing search box, you can tap the icons for list view or icon view.

Tap on the Excel file name to view the workbook in the Excel web app: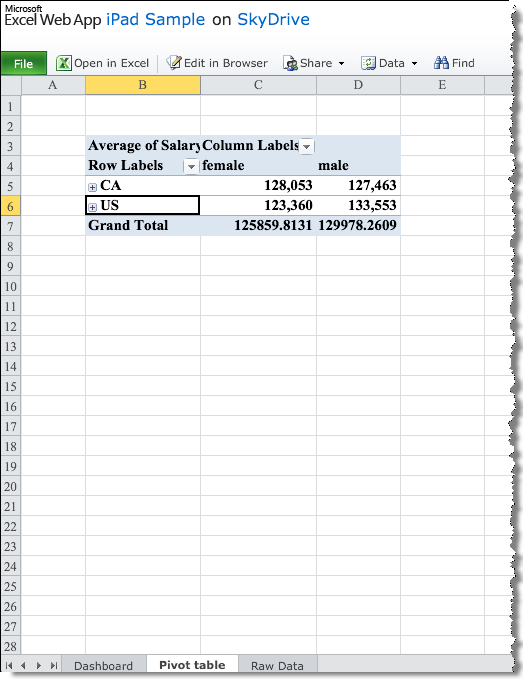 You can click on the + icons to expand the pivot table groups, you can use the pivot table filters, you can tap on the sheet tabs to change to the other sheets and view the data and the chart.
If you tap the "Edit in browser" link, you will get the same interface as on your desktop machine: you can edit cells, use formulas, and even do things like adding a chart title to the chart.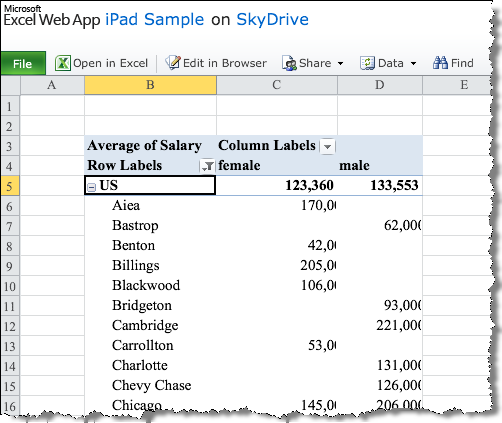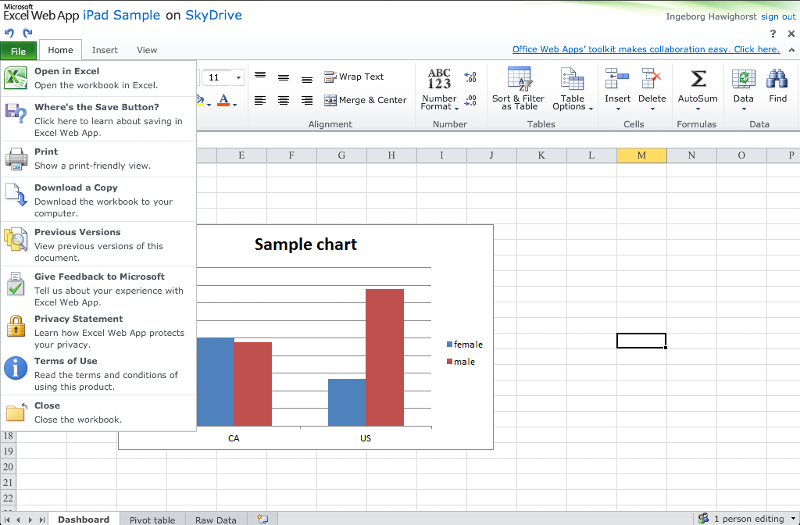 So, there you have it: create and edit Excel files with Excel web apps on your iPad — for free. No apps required, no downloads required.
That sure impressed me!
cheers, teylyn
~~~~~~~~~~~~~~~~~~~~~~~~~~
~~~~~~~~~~~~~~~~~~~~~~~~~~~~~~~~~~~~~~~~~~
If you liked this article and want to see more from this author, please click here.

If you found this article helpful, please click the Yes button below.

Thanks!
~~~~~~~~~~~~~~~~~~~~~~~~~~~~~~~~~~~~~~~~~~~~~~~~~~~~~~~~~~~~~~~~~~~~