Introduction:
I've always believed in free software and budget phones but as we get along, the thirst for more features always seems unquenched. I had been using a Nokia E63 till now and was always a big fan of Nokia phones (see my earlier article -
Nokia Smartphones – Are you using them to the fullest potential?
), but in this ever changing world, choices change and so does our line of thinking. The same happened to me and I decided to buy the HTC Sensation XE (with Beats Audio) also known as the HTC Sensation 4G.
The switch was big and so was the platform. As usual, if you are always in the race to learn, it never takes time to master anything.
There were times when I performed searches for basic operations that would have been obvious to the native android user; however when you are a complete switch-over from another platform, basic functions do seem to bewilder you at times. Now that I got some hold of it, I decided to share what I observed so that other users may benefit from what I gathered.
A little Background on Android:
Android is developed by Google and tightly integrated with Gmail which is also owned and operated by Google. It is based on the Linux kernel but android developers seemed to have gone very far in developing this Operating System for Mobile devices. Like other flavors of linux, it can be correctly referred to another one that specifically caters to mobile devices.
Like Linux, the Android platform gets its name revised alphabetically with each new release. Most recent versions of android are Froyo, Gingerbread, Honeycomb and now finally we have Icecream Sandwich (ICS). Notice the alphabetical sequence F,G,H and I.
Disclaimer:
All images and names used in this Article belong to the respective manufacturers' devices and have not been altered in any way. I do not own them nor do I have any interest in taking ownership of the same. I am using them here so that the reader can easily follow what I want to say.
About the phone and HTC:
The HTC Sensation 4G is made by the Taiwanese Company, Hi-tech Computer Corporation.
Before the birth of android, HTC used Windows Mobile as its platform. One day Google decided to develop a fully loaded phone and it approached HTC to develop the Google Nexus.
When presented to the market, the Nexus failed to get the expected response, despite being a full feature laden reasonably priced phone. Probably, it was not the perfect time for the launch of a new phone with an altogether new Operating System. Well, the first version of Android did have plenty of shortcomings that were ironed out later.
HTC embraced Google's idea of Nexus and mixed it with the marketing ideology of Apple. It played in the market on these lines and delivered high quality products, thus managing to grab a good market share in the premium segment. HTC does make medium budget phones but not those extremely cheap ones. If you see anyone with an iPhone (or any Apple product), you immediately know that the person is holding one of those premium products in his hand. The same can be said for HTC phones, nowadays.
The Sensation 4G is a full touch screen phone with a massive 4.3" Screen and a weight of 151 grams. It is quite similar to other phones with full touch screen like the iPhone, Sony Experia, Samsung Galaxy and the Nokia N8.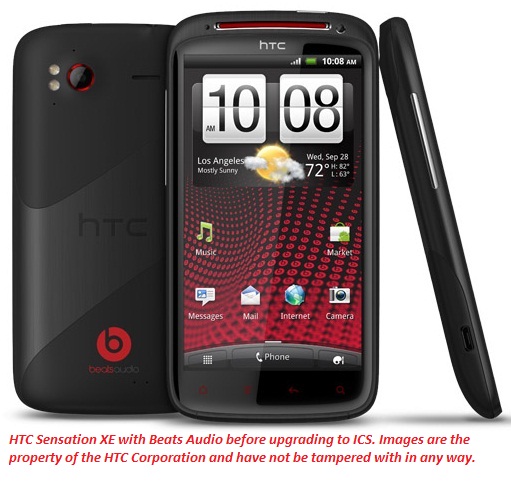 Features:
The Sensation ships with HTC sense – a User interface developed by HTC that completely obscures the ICS look. Many users simply don't like the interface but I do not happen to be one of them. You may find many examples / screenshots listed here to be a little different if you are not using an HTC phone.
However, if your phone has ICS, then on the inside it is pretty much the same, just for one difference - the advanced menu of an application is represented by 3-Dots on its User Interface (UI) whereas the Sensation has a predefined Menu key that serves this function.
See Images –

Shortcuts and widgets:
You can define a shortcut as a link to launch an application similar to Windows desktop icons. A shortcut can be created by holding an application's Icon while in the Menu view, that automatically creates a shortcut on the Home Screen. Or the other way round, hold an empty area on the Home Screen and you will be taken to the Personalize Screen that will offer you to create Shortcuts, Widgets or Shortcuts to a feature in an application. From there, you can select the application whose shortcut you wish to create.
A widget is quite similar to a Shortcut as clicking / touching it will indeed take you to the application but it is a shortcut with added functionality. A widget is a preview of the application itself that is running on your Home screen. Such as the Gmail Widget, which will show you a preview of the mails you have just received or a Battery Widget that will show you how much battery is left and so on.
One important point to note is that not all applications have widgets and some applications are Widget-only (means there is no application, just a widget). So there can be a mix of either of the two -
application without widget
application with widget
widget only with no application
Creating and naming Folders:
Creating a folder on the Home Screen or any one of the other screens has not been a distinctly advertised feature in ICS. Moreover, the native ICS lacks a File Browser which other platforms offer.
However, it is quite easy to create a folder. Just drag an Application Shortcut on another Application Shortcut and they will both be placed in a common folder. You can drag items into and out of the folder as per your convenience. Folders can be renamed by tapping the Folder Name which is displayed on top of the Folder. A folder also offers a preview of the items that it holds. See Image -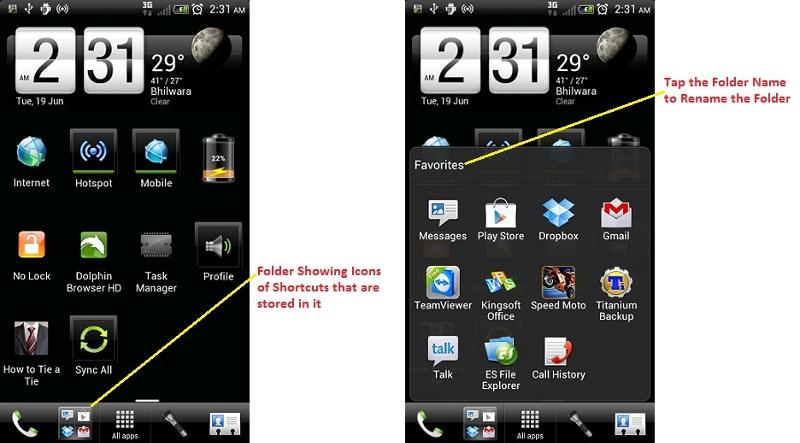 Moreover, you can put a Folder on the Main Bar that houses the Menu Launcher, so that you can access it on all Screens. However, you cannot put Widgets inside a Folder. It is designed only to keep shortcuts.
The Home Button:
In HTC, simply tapping the Home Button returns you to the Home Screen. Press and Hold shows a list of recent applications. Swipe any application left of right to clear it from History. In many places on the Internet, I have seen that it serves the purpose of Task Manager which can kill applications but there are many contradictory views about this school of thought. See
http://forums.androidcentral.com/ice-cream-sandwich/136550-removing-vs-closing-apps-ics.html
I have yet to find a reliable source to comment about it.
Quickly pressing twice, lists all the 7 Screens where you can select the desired screen without the need of scrolling through other screens. Here, you can also edit the position of other screens, remove unwanted screens or make another Screen as your Home Screen. The Screen that holds the Centre position always becomes your Home Screen. You can also pinch your Home Screen to get to the edit Screen interface.
The Search Button:
Google was born as a search engine and the same is integrated in the phone itself. It is most likely that you will find a Google Search Widget on your Home Screen or you can add one if you like. Most probably, your phone also has a Search Button too.
While on the Home Screen, this Search Button (which opens the Search Widget on your Screen) is an all-in-one button which can find applications on the phone, text in messages, names in your phonebook (or Contacts / People) or just about anything that may be present anywhere on your device not excluding the ability to search the internet.
I hardly use the Menu button to go to an Application. Just tap "Search", type in a few letters of the Application and yes it is listed in the Search Results. Select and Boom! See Image below.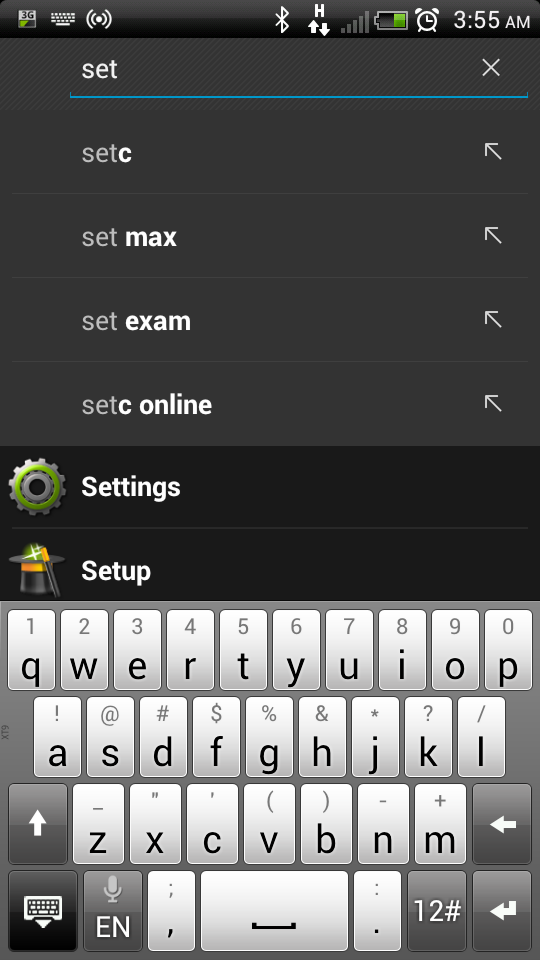 However the search results are configurable and you can choose what you wish to display by going into settings of the search widget.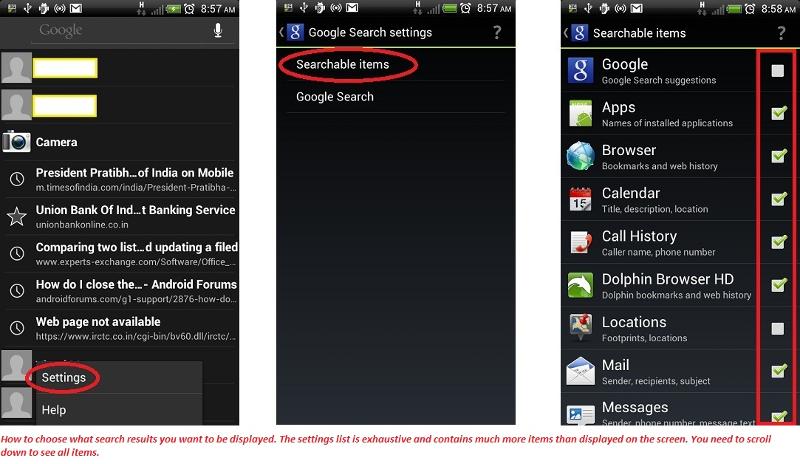 The Search button is universal. You can use it when you are in your Phonebook, in the Messages application, in your Calendar or the Browser. However when you are in an Application, searches will be performed in that application only and not on the entire phone.
The Volume Button:
Nokia and many other phones have either the * or the # key configured to switch the user profile from General to Silent / Vibrate. In ICS, lower the Volume to Zero which switches it the Silent Profile and one more press switches it from Silent to Vibrate.
The Exit Button:
What? Where is it? There isn't any. Then how do you exit an application? ICS has no proper way of exiting an application? Just repeatedly press the Back Button and if the developer of the Application has provided a way out; the application will specifically ask you if you want to exit. If not, then the application will continue to run in the background.
You may ask - but being able to exit an application is the prime necessity of an Operating System to free up resources in order to perform efficiently. I don't want Applications to be running in the background eating CPU cycles and draining the battery? Well, android is designed to free up memory as it needs and is quite efficient here. See this link for a better explanation.
http://mobworld.wordpress.com/2010/07/05/memory-management-in-android/
However, if you are still inclined to kill all background applications then fire up the "All Applications Menu" > Task Manager. Select "Kill all" at the Bottom of it and you are done.
See Image below -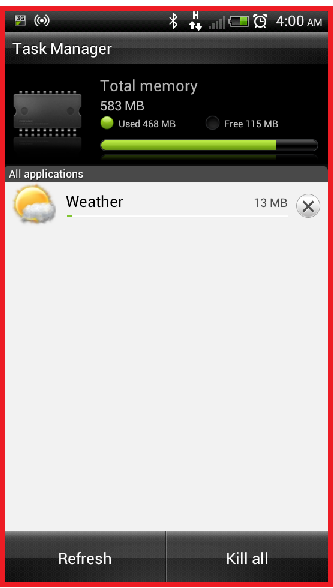 Exit and after a few minutes if you reopen the Task Manager, you may again see a bunch of applications running. Remember your Widgets – they are probably doing the mischief. In my opinion, it is better to leave them alone.
Screenshots:
I like pictures and pictures speak better than words. So I put some in the article here. But how did I manage to get them. Well, simple.
Hold the Power Button and then press the Home Key. Whatever is on the screen gets copied as an Image under Camera Shots that can be seen in Gallery.
Closing Comments:
I have plenty to write and this is just the tip of the iceberg. Please read my next article and watch for more, I have ideas for the following:
Battery draining quickly:
Get more juice out of your battery the proper way.
Rooting:
Take ultimate control of your Android phone
My favourite Shortcuts:
Beginning with *#*#xxxxx#*#* where xxxxx is a number
Google Play Store and Applications:
Free and most popular
Connected Media:
Share your Videos, pictures and music on your Home theatre or PC
Software Updates:
Keep upto date but I have a story in that too.
Please read
Part 2 in this series of articles
.
Oh yes! If you found it worth the read, Please rate the article as helpful.
Ravi.