Requirement.
If you host a company's email within an exchange environment by default you will accept all email for @yourcompany.com
However your company may have a second Domain name for a multitude of reasons (Merger, Domain space, Division, etc..) in this case you need Exchange to be able to accept email for any of these domains.
Steps.
For this example we will assume that we want to also receive email for @company2.com
Log in to your exchange server.
Open the "Exchange Management Console"
Expand "Microsoft Exchange" > "Microsoft Exchange On-Premises (FQDN)" >Organization Configuration"
Click on "Hub Transport" in left pane.
Select the "Accepted Domains" tab in the right pane.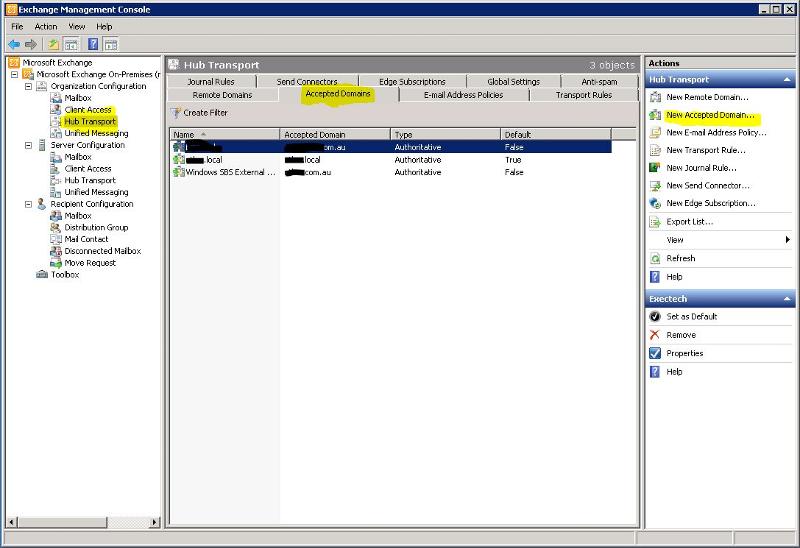 Click "New Accepted Domain" in Actions pane.
A New Accepted Domain wizard will appear.
In "Name" enter a name that will define this domain. Eg. Company2
In Accepted Domain enter the domain that you want this server to accept email for ( company2.com )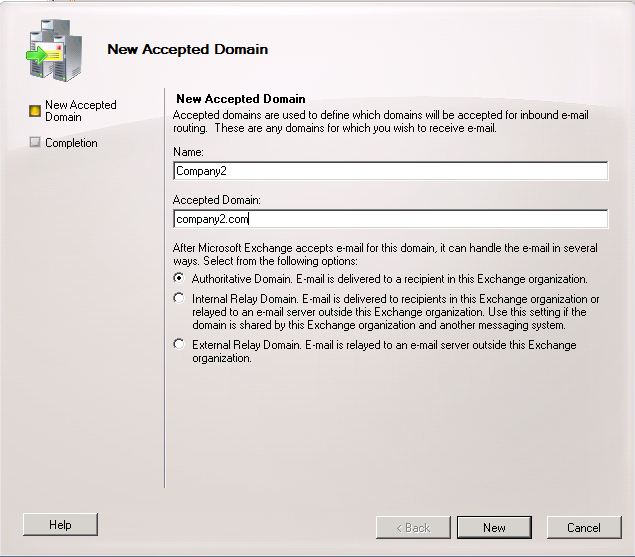 Click "New"
You will then see a completion screen.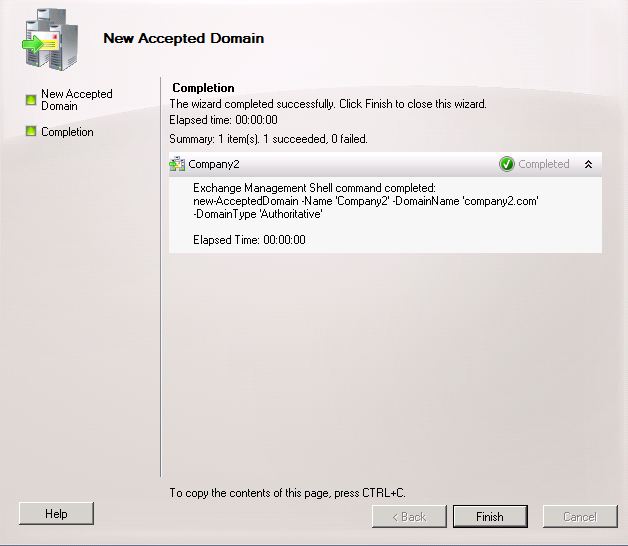 Note** you can see the Shell command that was run to perform the action.
Click Finish.
Now your server will accept email for the domain @company2.com.
However no one in your domain will have an email address with @company2.com so any email received will be rejected as there are is no such user.
To populate your users with their alternate company2.com email address, you can either go into each users mailbox and add an email address in their "Email Addresses" tab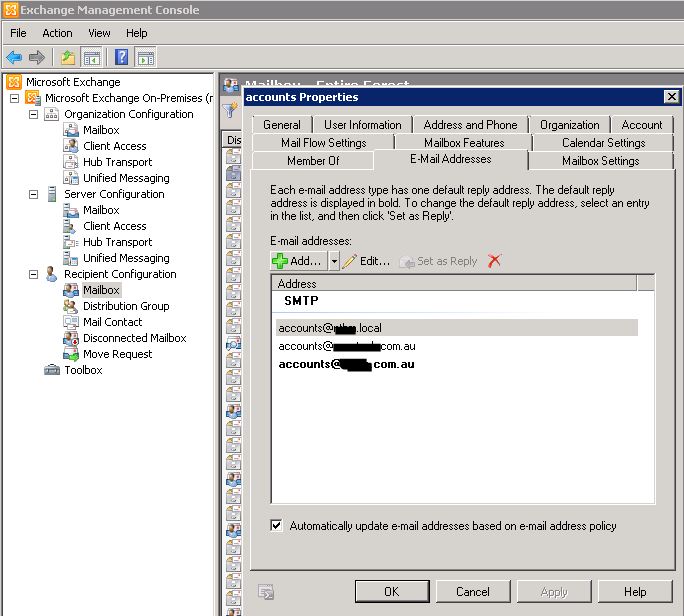 Or the better way to do it is to use "E-mail Address Policies".
To do this click on the "E-mail Address Policies" tab.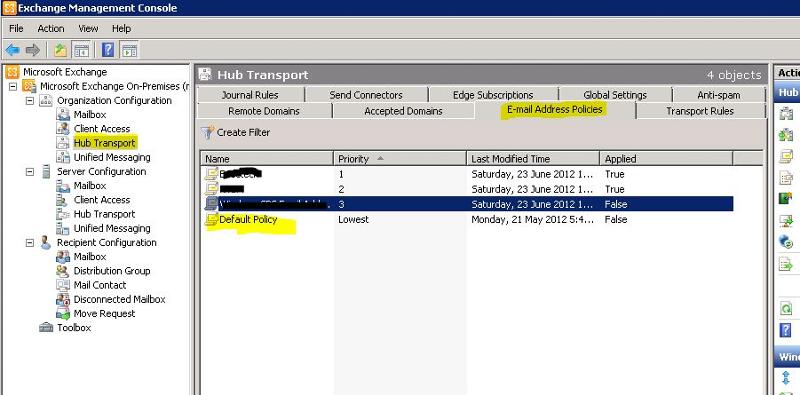 The Policies here are applied in order of priority and once a policy is met, no further policies are processed. So if you want all users to receive an email address under your company2.com domain then you could just edit the Default Policy, but if you only want certain users to receive a company2.com email address (eg. Users whose Department is set to "Company2" in Active Directory). Then click "New E-mail Address Policy" in the actions.
Enter a name for the policy.
If you want to apply it only to users in a particular OU then click Browse and select the OU.
Click Next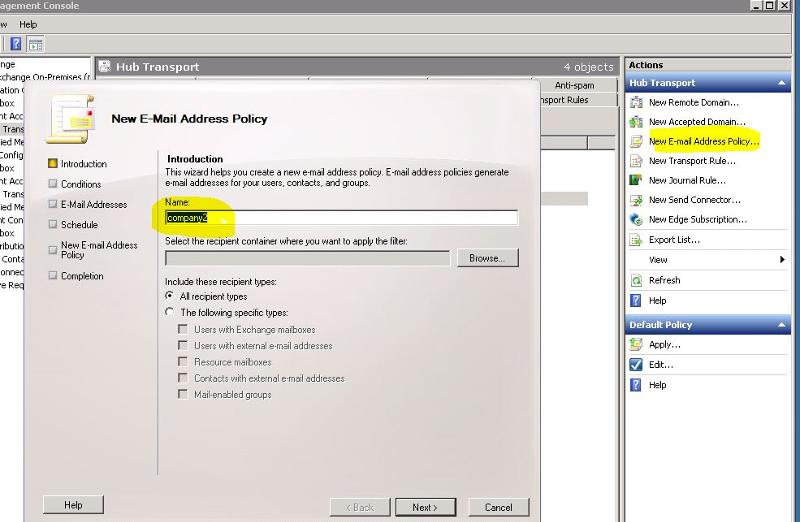 In Conditions select "Recipient is in a Department" Then in step2 add Company2 as the department.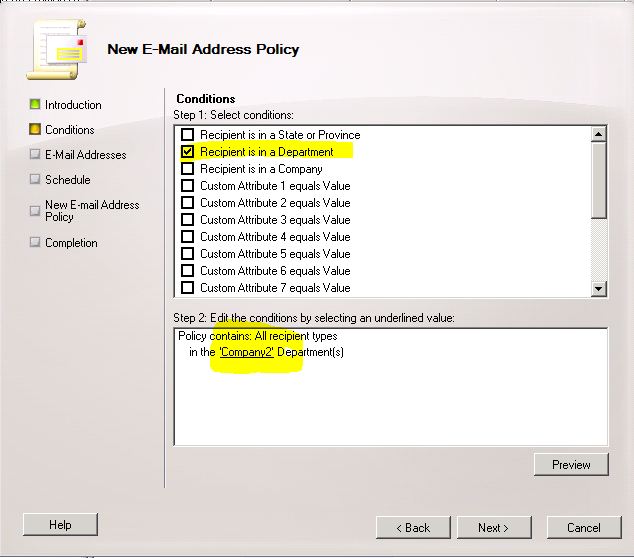 You can click "Preview" to show you who this policy will apply to.
Click "Next"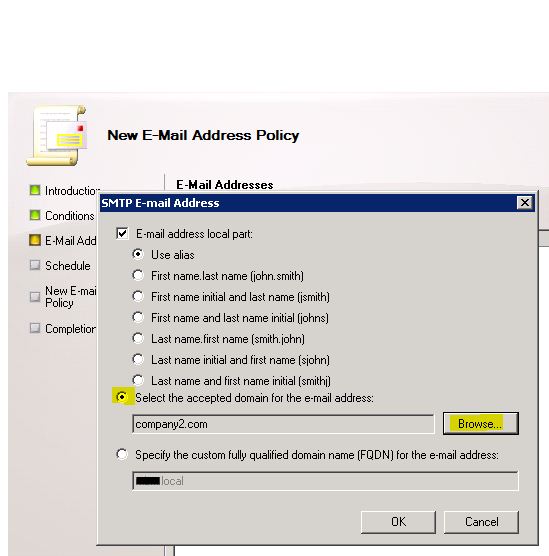 In E-mail addresses you need to add the new email domain that we added above.
Click "Add"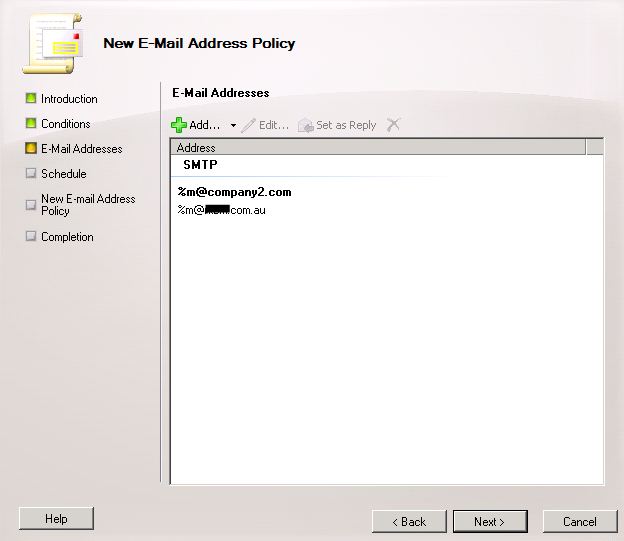 now select the email local part, then select the domain by clicking "Browse" and selecting the domain we created.
Click OK
*** If we leave the policy like this then the users who match this policies criteria will only get the email address for company2.com, they will not be assigned an email address for your primary domain, so you need to follow through the steps and click add again for your primary/alternative domain.
Click "Next".
Select when you want to apply this policy to your existing users.
Click "Next"
Click "New"
Click "Finish"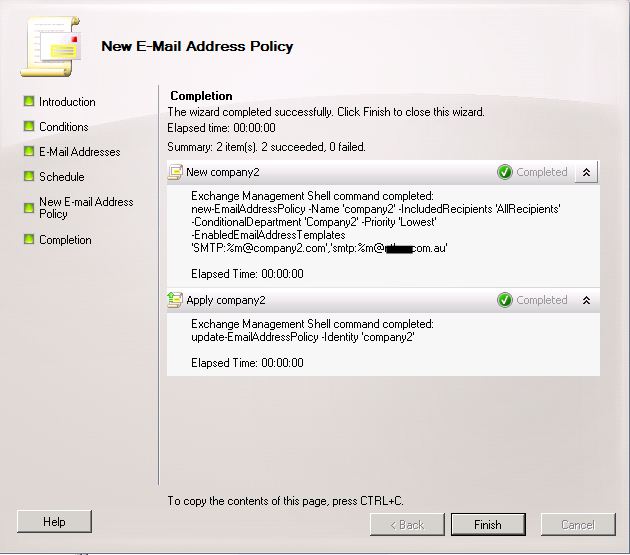 Thats it. You are now ready to start accepting E-mail for company2.com (once you have set your mx records in the public DNS for company2.com of course.)