Windows 7 shows Preparing your desktop every time you login
Last night I finished my jobs and installed some software on my windows 7 and shut it down after a hectic day! Today when I came back to my laptop to send an important mail I saw a weird message in logon screen !!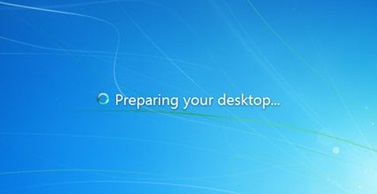 "Preparing your Desktop"
And it took some time to take me to my Desktop... Wait! My desktop?
It wasn't my desktop anymore!
An empty desktop, an empty My documents and all settings reverted back to factory defaults! (Perhaps my files were still in my user profile folder but didn't show up). So I wanted to quickly fix it so I ran "System restore" And unfortunately It said No restore point!! OMG!!
I searched through the internet and found some solutions but none of them worked for me. And I found a way to fix it myself. So I came here to share the solution here...
In such a situation you should:
1. Try to restore your system to a previous point
That will hopefully work for you.
If that failed (like my situation!!), read on...
2. Check your services
If you're not a system administrator call your admin. If you're an admin go to:
1. Control Panel >> All Control Panel Items >> Administrative Tools
2. Then right click "Services" Item and select "Run as Administrator"
3. In the right pane find "User Profile Service" and double click it.
4. The "Startup type" for this service MUST be set to "Automatic" so check if it's disabled or set manual and then start it if it's stopped.
5. Click Ok and reboot your machine.If this is not your case, I found some alternative solutions on the net which may help you.
Warning and Disclaimer:
The two alternative solutions didn't work for me and you should use them at your own risk and I'm not responsible for any damage that you may deal to your registry and windows. So backup everything you cherish first.
Before entering windows registry, make a "System restore" point, make a full backup of your registry, and there is a link below to help you understand.
To backup the registry:
1. Open your windows registry by typing "Regedit" in the Run box and press Enter.
2. Click on the "File" menu and select "Export".
3. Select "All" in the "Export range" panel.
4. Choose a location for the backup and then enter a name.
5. Click on "Save".
#
For more info on "System restore" and "Registry backup" visit this guide from Microsoft
3. Alternative solution 1
Some people have reported that in some cases
Activating logon message verbose mode
corrects this problem but the relation of these two is still Unknown!
This step involves in editing windows registry so take precautions (see above) to avoid further trouble. To use Registry Editor to enable verbose logging, follow these steps:
1. Open your windows registry by typing "Regedit" in the Run box (Press "Windows Logo key" + "R" for quick access to Run)
2. Locate and click the following registry key: HKEY_LOCAL_MACHINE\SOFTWAR
E\Microsoft\Windows\CurrentVersion\Policies\System

3. On the Edit menu, point to New, and then click DWORD Value.

4. Double-click the new key that is created, type verbosestatus in the Value Name box, and then type 1 in the Data value box.

Note If the following key is present, and if the value is set to 1, status messages are not displayed: HKEY_LOCAL_MACHINE\SOFTWARE\Microsoft\Windows\CurrentVersion\Policies\System\DisableStatusMessages
4. Alternative solution 2

Some other people have also reported that removing a Backup key in windows registry fixes this problem:

Go into the registry and remove/rename the profile SID (or user GUID of some sort) for the profile

1. HKLM\SOFTWARE\Microsoft\Windows NT\CurrentVersion\ProfileList

2. Look at each SID/GUID

3. Check the ProfileImagePath to confirm you've selected the proper SID/GUID

4. There must be two same profiles with same SID and one of them has a BAK at it's end

5. Now alter the BAK, I mean rename the one that has BAK to it's original and Rename the simple one to have a BAK at end.

6. Now close and restart the machine

If that didn't solve it go to that same location and revert all your renamings then remove the one that had a BAK at first. This may fix the problem.
Good luck
Regards
Kpax7