I have found that much of my time doing support ends up being a constant repetition of the same steps to different people. Early on I stated using web pages with Frequently Asked Questions (FAQs) to alleviate most of the burden. Sometimes this just wasn't enough. I've played with various different ways of augmenting this over the years and a couple of years back found one solution that topped the rest.
I've tried apps like AviScreenPortable (files were way too large), screencastr (limited time) and screenr (limited time). The best so far has been
Wink by Debugmode
. The tutorial can be as long as you wish, you can add all sorts of elements, including voiceover. You can also link from either a main menu to other tutorials or from one wink to another. The end product is in interactive flash (swf file) so although it is extremely small in size it cannot be played on devices like an iPad (can't play flash).
In order to make a wink project you first need to download and install wink from the link above. I have tested it on windows xp sp2 and 3, windows 2003 r2 server, and windows 7. Once the program is installed, first start the program you wish to capture, like IE. Start wink and click the first icon - a blank page, to start a new project.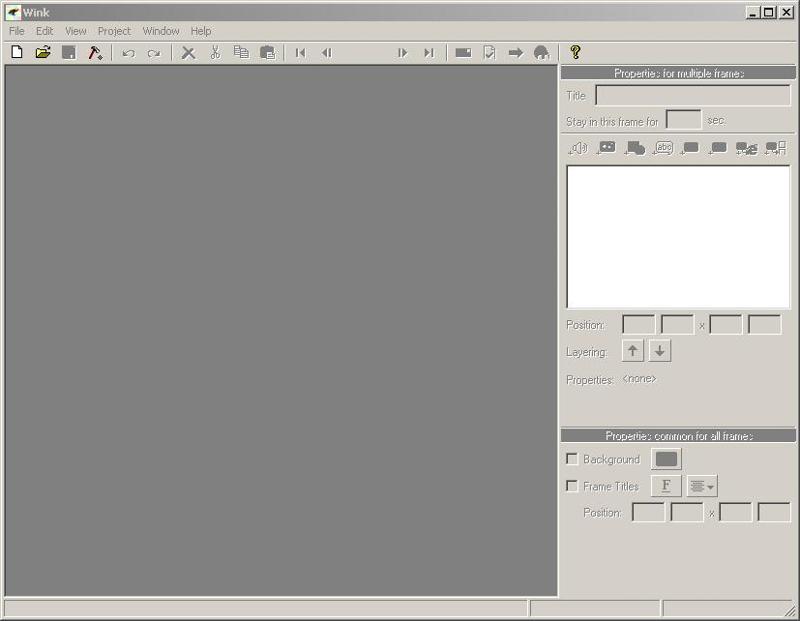 At this point you see the "New Project Wizard"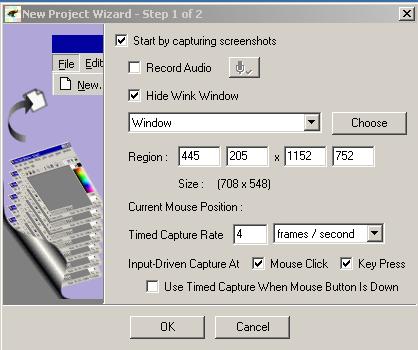 Make sure "Hide Wink Window" is checked then if you wish to only capture the window in which you are working, select window in the drop down box and then click choose. When you hover your mouse over different windows and different parts of each window, you will see an outline appear around the select area. If you click on this area you then see green corners around the area you are going to capture. When you are satisfied with your selection (you can go back by clicking cancel), click OK. Now you will see step 2 of the New Project Wizard: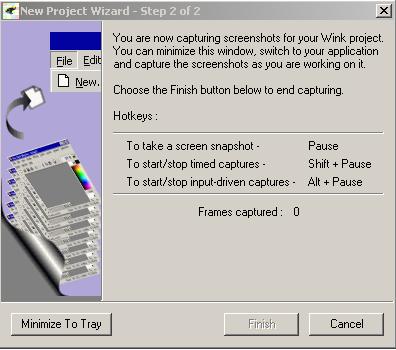 This window explains how wink will work during the capture. Read this carefully the first time you use wink. When you are done click the "Minimize to Tray" button.
NOTE that your project has not started until you hold down the Shift key and press the Pause button.
Once you do press the key combination everything you do on screen, in the area you designated, will be captured. The wink project file can be very large (even before you add extras), but the resulting flash file when you render it is very small.
When you download wink, it comes with a tutorial that is very good and explains much of what it can do. Not only that but the tutorial itself is made with wink.
Some of the tutorials I have made can be accessed from this wink menu:
http://www.einstein.yu.edu/centers/cancer/tutorials
(the public page includes only those tutorials that are cleansed for the public, and some of them can take a bit of time to load, so please be patient)
You will note if you watch the tutorials on the above page that some use a specific window and some capture the whole screen. You can not only navigate them using the arrows, but also with the scroll bar at the bottom of the screen.
The author does a great job of explaining virtually everything you can do with wink.
WARNING: It has come to my attention since publishing this article, that there is a bug in wink that will cause it to crash intermittently when using the audio dubbing feature. Therefore it is advisable to save frequently and note which frame you are editing when adding audio from within the program. The only fix I have found is to eiher run wink on a windows XP machine or in a virtual windows XP machine (XP Mode doesn't seem to solve the problem).