What is Usenet?
There are many different opinions on exactly what Usenet is an isn't. Many opinions are incorrect simply out of ignorance. The Wikipedia listing about Usenet does a good job of explaining it, so instead of repeating it all here I will provide the link.
http://en.wikipedia.org/wiki/Usenet
Basically, users access the system to read and post messages to newsgroups for other interested users to access. The newsgroups are essentially categories so users can filter their results. Over time these messages included the addition of files.
As file sharing was not the original intended use, there is a size limit for each post. So larger files have to be broken into bite sized chunks, usually via a zipped archive. It is these archives that people are interested in downloading today.
A major benefit of downloading in this manner is speed and the ability to pause and resume the download, even after the PC shuts down unexpectedly. You can also locate older files that may have been removed from websites due to updated versions becoming available. This is often critical if you have purchased software as an upgrade and have misplaced the original install files. Usenet is also a good place to locate many hard to find items such as obscure books or documentaries. Often it can be your only option to obtain them.
Before delving deeper I suggest visiting one of the many Usenet search providers (refer below) and browse their site to see exactly what files they have to offer. This will help you determine if Usenet is for you.
Once you have decided you want to access the Usenet archives, you will require three things:
a Usenet server
a Usenet downloader
a Usenet search provider
UseNet Server
This is a sever or collection of servers where the articles are physically stored. As physical storage and bandwidth are not free, you will need to pay a subscription to access the servers.
There are numerous server providers, however they are not all created equal. The main two features you need to look at are the retention days, and the number of connections.
Retention is a numerical representation of how long files are kept on the server. A low retention means older files are harder to come by on the server. If you are after files from two years ago and a server's retention is 300 days, then you won't be able to download the files from that particular server.
Having a high retention, usually between 1400 and 1600 days, is ample for the needs of most users.
The number of connections is essentially how many links you have to the server to use for downloads. The higher the number, the quicker you can download. A connection number of at least 10 is recommended, however many service providers will allow 20 or more. You shouldn't require higher than 20 (I have never utilised more than 12). As an example of speed, I have downloaded a 500mb file in less than 5 minutes via Usenet, where it took about 30 minutes via a web portal ie a single connection. Your actual speed will depend on the broadband package from your ISP.
Another recommended feature is an SSL connection. While this strictly isn't required, it will be of use to protect your anonymity and connections to the server.
As for choice,
Giganews
and
Astraweb
are among the best and have a comparable price. Being based on the Internet, you should be able to access these worldwide.
Once you have paid the subscription fee, you will be given login details that you will need during the rest of the process.
Example login credentials:
General Server: news.provider.com
Ports: 119, 23, 1818, or 8080
Secure Server: ssl.provider.com
Secure Ports: 443 or 563
Maximum Connections: 20
Retention: 1500
Username: Bobby1
Password: Passw0rd
UseNet Downloader
The next thing you will require is software to download the files you selected. My personal preference is
Sabnzbd
however there a loads of other options such as
Mozilla Thunderbird
or
NZBGet
. The following will be based on Sabnzbd however the key steps are required no matter your choice.
The forums and instructions on the site are fairly good and should enable you to download and install the software without much hassle. Keep in mind that Sabnzbd is a Windows service (also Mac, Unix, and NAS versions available). This means you need admin privileges to install it. If you have a QNAP NAS then obtain the QPKG
here
.
Load up your web portal for sabnzbd and go to the
config
page. The secure connection is usually at
https://servername:9095/sabnzbd/config/

On the
Folders
tab, ensure you note the
Watched Folder
. You can change this to any folder you desire. This is where you will download all your NZB files to. Sabnzbd watches this folder for new files at an interval specified by the
Watched Folder Scan Speed
value. I recommend every 10 seconds.
Go to the
Servers
tab. This is where you enter the login details for your Usenet Provider. Click on
Add Server
at the top.
Enter the credentials for your Usenet provider. I recommend using the SSL connection as the primary, and the general server as a backup. Test your connections by clicking the
Test Server
button. Once it connects OK, click the
Add Server
button.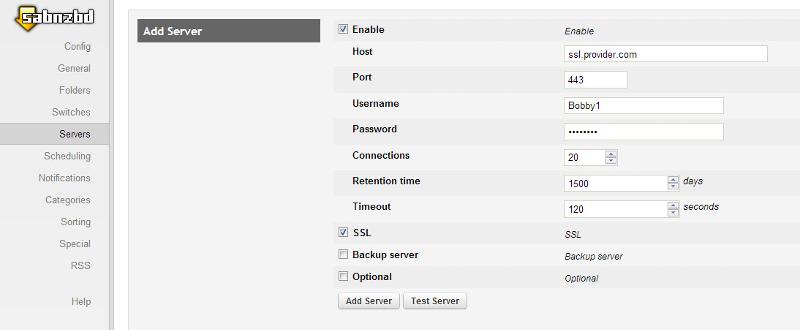 There are many more options to configure here like sorting and categorisation, however these are not necessary for configuring the Usenet client for actual use. I do recommend going through these as they will help with re-locating your downloads into specific folders instead of in a single 'completed' folder.
While the user guides will assist setting up your other options there is one thing that isn't adequately covered. There is a section on the General tab for the Clean up list. While the guides tell you how to configure this, they don't advise on the file types to choose. I recommend entering the following:
.nfo, .sfv, .srr, .nzb, .tbn, .sub, .idx, .url


                      
This way after completing the download, the above file types will be removed. This will save clutter on your storage device.
With your provider details tested and saved, you are ready to find some items to download.
UseNet Search Provider
The final piece of the puzzle is a search engine where you can locate NZB files. These files have all the details as to where the parts of the archived file is located on the server as well as which newsgroup.
Many of these allow you to download a limited number of NZB files per day, usually 20. They also only allow a small retention of about 30 days. If you want to download more than 20 files a day and for older than a month you will have to pay a subscription fee. However as there are many search providers, you can usually locate what you are after via the free websites with minimal effort.
My top choice is
NZB.su
, however it is by invite only. Some others are:
You can Google search for many more however the above should keep you covered.
Once you have found the NZB file you are after, download it into the folder watched by your download application (eg Sabnzbd). The application will then auto process the download based on your choices. With many download applications you can chose to stop the auto processing at each step.
In Sabnzbd the steps are called Download (Blank), Repair, Unpack and Delete. Each task also performs the steps listed before it.
Download
(shown as a blank option or Default) simply retrieves the files from the server. You will then need to manually extract the files.
Repair
will download the files and do a PAR2 verification. If verification fails it downloads more PAR2 files and attempts a repair.
Unpack
downloads in repair mode and extracts any RAR or ZIP files.
Delete
downloads in unpack mode and deletes any RAR or ZIP files after extraction. It will also delete any file types specified as mentioned above (.nfo, .nzb, etc).
If you have sorting enabled then the download application will also move the contents based on your categories after the above processing.
You can now enjoy the beauty that is Usenet.