I have put this article together as i needed to get all the information that might be available already into one general document that could be referenced once without searching the Internet for the different pieces.
I have had a few issues where people have installed or prepped secondary sites and they have added the roles and features manually only to find that their Secondary site fails because of a missing feature or prerequisite.
We often ran into issues, especially with staff prepping servers at the main office before shipping them to the specified country; when some steps were not included then it would be difficult for us to fix the server in country.
So I have added the steps I have followed to always allow me or anyone else trying to get a secondary site installed to always have success.
Server Setup/Prerequisites
A physical server/VM will be prepped with the following configuration:
Server 2008 R2 SP1
2 drives: one for the installation and the other for the data.
You will also need to download & apply the following:
,NET 4.0
Windows Metafile (WMF) 3.0
The following two hotfixes will need to be applied if you are going to be using your secondary sites as Software Update Point:
(SUP role will fail without these updates being applied)
Before running the PowerShell script below, open PowerShell as administrator and run the following command:
Set-ExecutionPolicy Unrestricted
Say Yes when asked. (Please note, that some companies will not allow you to set the execution policy to unrestricted, so you would have to find out before running this.)
PowerShell Script
# add Windows Features Required for SCCM Site Server




# add Server Manager CMDLETS




Import-Module servermanager




# add Windows Features Required for SCCM Site Server




Add-WindowsFeature WAS-Process-Model




Add-WindowsFeature WAS-Config-APIs




Add-WindowsFeature WAS-Net-Environment




Add-WindowsFeature Web-Server




Add-WindowsFeature Web-ISAPI-Ext




Add-WindowsFeature Web-ISAPI-Filter




Add-WindowsFeature Web-Net-Ext




Add-WindowsFeature Web-ASP-Net




Add-WindowsFeature Web-ASP




Add-WindowsFeature Web-Windows-Auth




Add-WindowsFeature Web-Basic-Auth




Add-WindowsFeature Web-URL-Auth




Add-WindowsFeature Web-IP-Security




Add-WindowsFeature Web-Scripting-Tools




Add-WindowsFeature Web-Mgmt-Service




Add-WindowsFeature Web-Lgcy-Scripting




Add-WindowsFeature Web-Lgcy-Mgmt-Console




Add-WindowsFeature Web-Stat-Compression




Add-WindowsFeature Web-Metabase




Add-WindowsFeature Web-WMI




Add-WindowsFeature Web-HTTP-Redirect




Add-WindowsFeature Web-Log-Libraries




Add-WindowsFeature Web-HTTP-Tracing




Add-WindowsFeature BITS-IIS-Ext




Add-WindowsFeature Net-Framework-Core




Add-WindowsFeature RDC



After all the above is complete the server needs to be rebooted and then needs to be checked for any other required updates.
Secondary Site Setup
1.
Before starting the install of the secondary site from the SCCM console the computer account needs to be added to the Active Directory Systems Management OU with Full control permissions as follows:
o Open AD Users and Computers
o Add the new SCCM server computer account to the container with "Full Control"
o Click on the advanced tab and change the computer account that you have just added to apply to "This object and all descendant objects"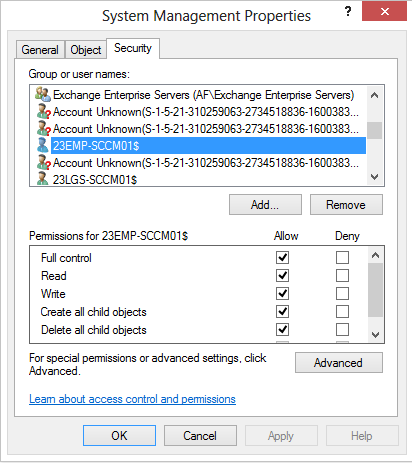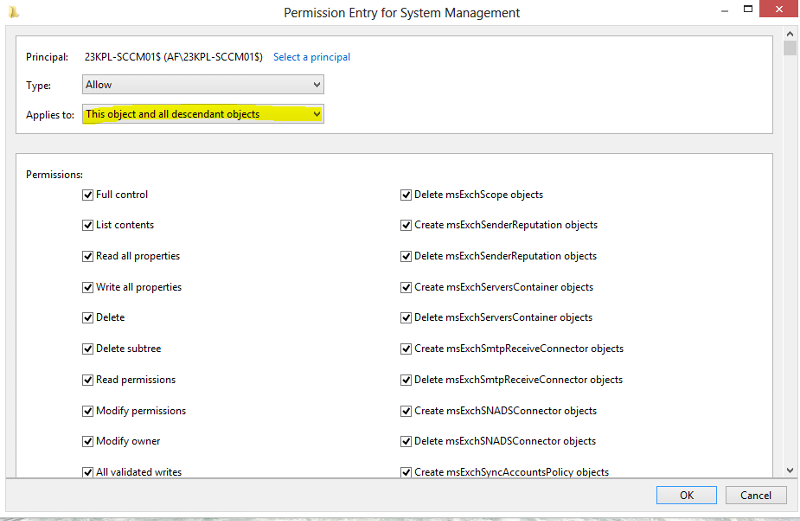 2.
The secondary site will then be added via the SCCM console. This will be accomplished by following the screen shots provided in this document. The naming of the site also needs to adhere to the same naming convention used for all the other already installed secondary sites.
Open the SCCM console and go to "Administration" then "Site Configuration". Go to "Sites" then right click on P01 which is the primary site which will bring up the following:

3.
Click "Create Secondary Site"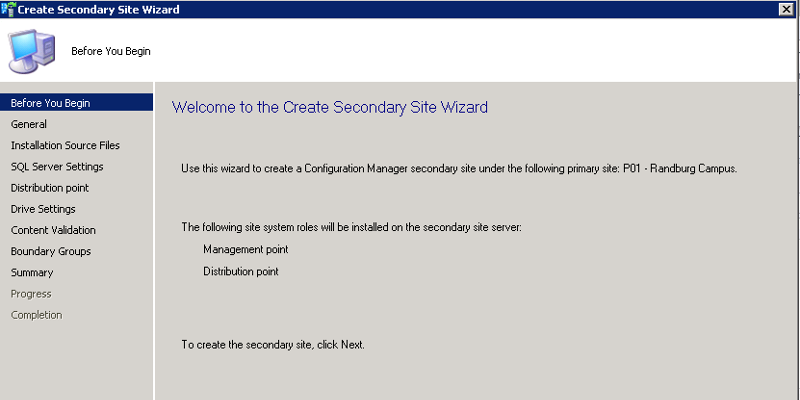 Click Next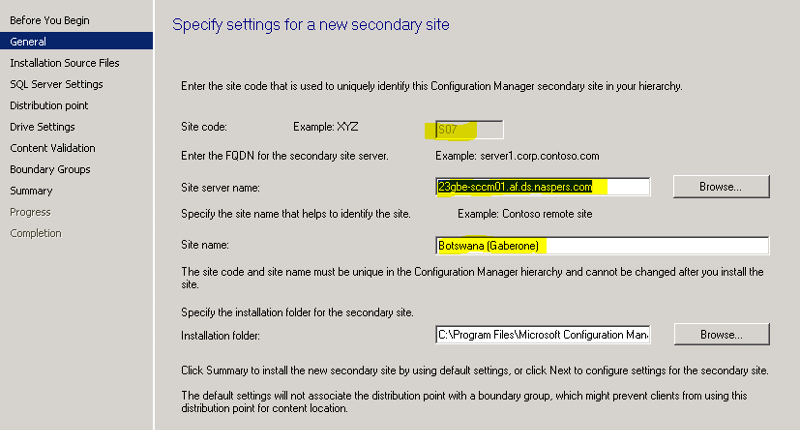 You would then insert your site code, the FQDN of the new SCCM server and the Site Name, which would be the office name or country name, whatever you would like.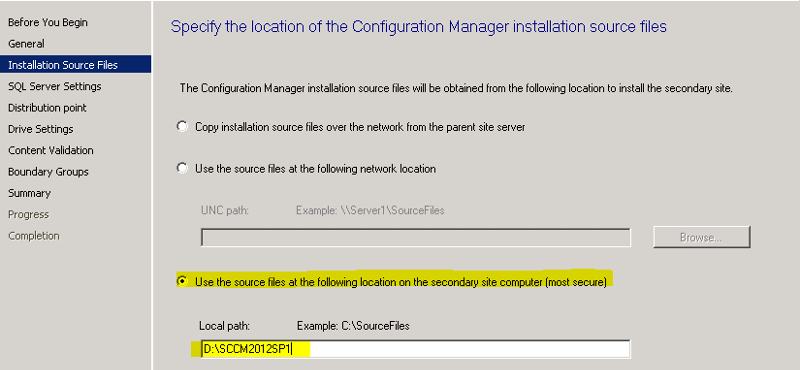 4.
You then need to decide where you would like the install to start from. Most of the time, if you have no bandwidth issues, choose the "Copy installation source files over the network from parent site server". We chose to use local install files as we were deploying to a lot of Africa sites and our connectivity was very unreliable.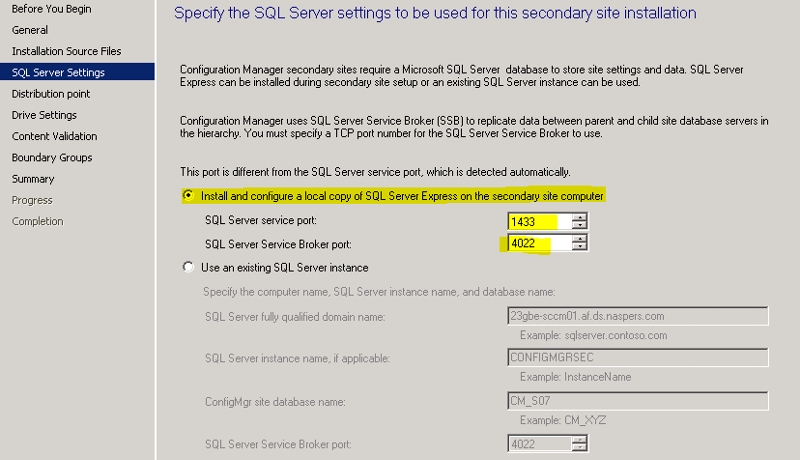 The "install and configure a local copy of SQL Server Express" will be selected and the ports will all stay default. if you would like to install your copy of SQL manually to change the install path or anything else you could also use the following below command:
d:\SCCM_2012_Software\SCCM2012SP1\SMSSETUP\BIN\X64\SQLEXPR_x64_ENU.exe" /Q /ACTION=install /FEATURES=SQL /INSTANCENAME=CONFIGMGRSEC /SQLSVCACCOUNT="NT AUTHORITY\SYSTEM" /AGTSVCACCOUNT="NT AUTHORITY\SYSTEM" /SQLSYSADMINACCOUNTS="BUILTIN\Administrators" /ADDCURRENTUSERASSQLADMIN="True" /BROWSERSVCSTARTUPTYPE="Automatic" /IAcceptSQLServerLicenseTerms /SQLCOLLATION="SQL_Latin1_General_CP1_CI_AS">



I got this script thanks to
Niall C. Brady
, and have edited it to include my path where my install files are located.
This allows you to install the SQL manually; you could choose "Use an existing SQL Server Instance"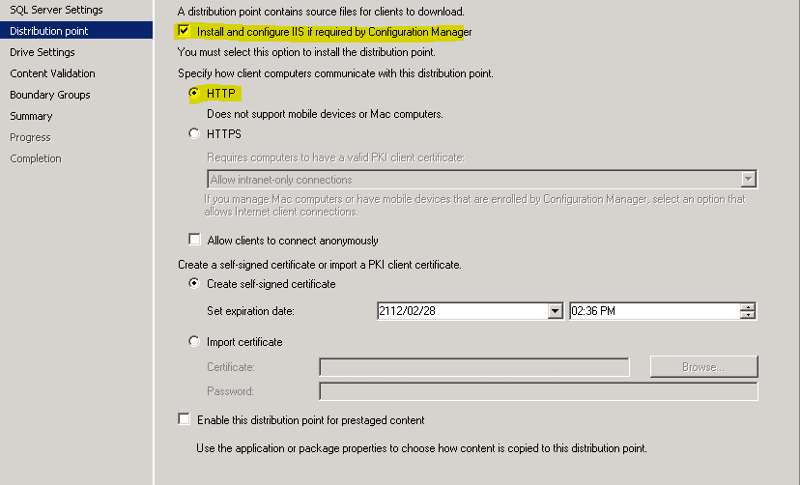 5.
Install and Configure IIS will need to be ticked. The rest will all stay as default.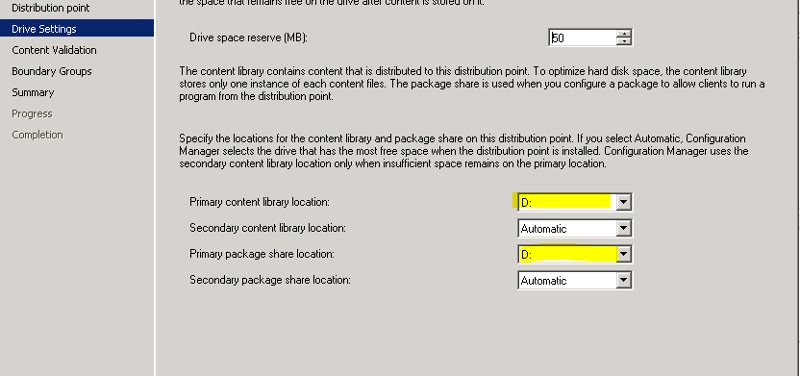 The only change here would be the highlighted where we choose the D drive for all the software and packages to be copied to.

Just click next as this is not needed unless you would like to validate your content on a schedule.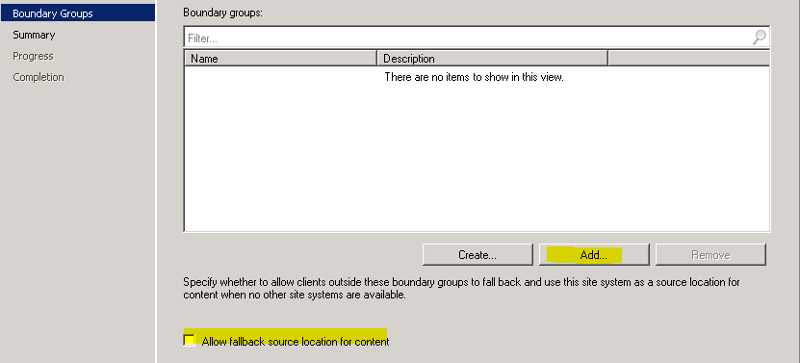 6.
Here you will be adding the boundary group for the respective site that was created either by AD site or IP Subnet that was just created, so just selecting the respective country or site name is needed. Also make sure that the "Allow fall-back source location for content" is un-ticked as we do not want other clients outside of this sites boundaries trying to connect to it.
I have also found that when using AD boundaries I have issues with clients downloading software updates or packages where they stay at "downloading 0%" therefore using an IP Subnet rather sorted these issues out for me.
Click next until you get to the below screen then click close.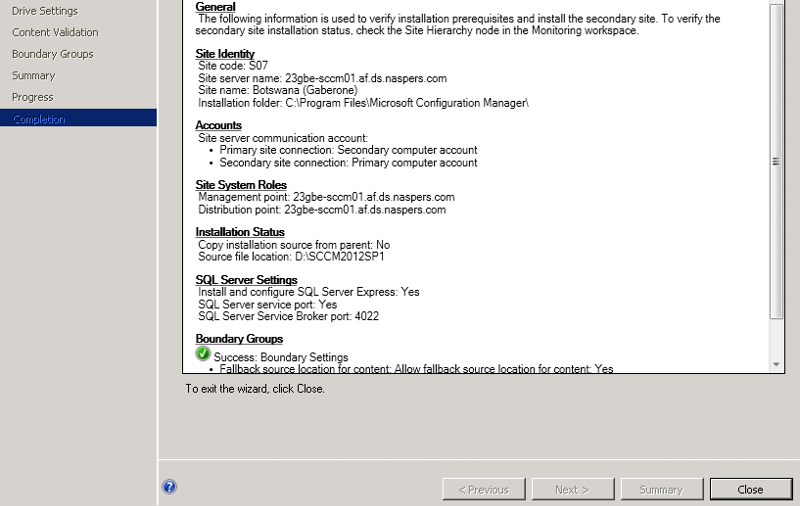 Once you click close you will be able to open the following 2 log files on your primary site server to monitor the prerequisites check as well as the setup start.

C:\ConfigMgrPrereq.log
C:\ConfigMgrSetup.log
After which another log file will be created on the new SCCM server which will be located in the root of C.
C:\ConfigMgrSetup.log
Please note that the screen shots were taken from my QA environment so you would need to input your own details specific to your company or requirements.