Perhaps the best way to answer this question is first to define what is a VDI solution. VDI, short for Virtual Desktop Infrastructure, is a complete solution for delivering desktops, created on virtual machines and hosted in your 'Data Center', to your users. This will involve all aspects of creating, managing, associating and updating the desktop images, as well as provisioning these images. In essence it is the technology for providing your users with virtual desktops.
Background
In the backend, a typical VDI solution consists of one or more server hosts for hosting the virtual machines (virtual desktops), a deployment server for provisioning the images, a connection broker for authenticating, assembling and brokering the connection between the users and their virtual desktops, a datastore/database, a licensing server and a web access/interface from which the users can access their virtual desktops.
Although the backend infrastructure for a VDI solution tends to be complex, VDI reduces the cost of desktop management! You can, to some extent, easily manage tens or hundreds of desktops; but what about organizations having thousands or tens of thousands of desktops? Imagine that Microsoft announced a critical security patch. How easily can you manage installing this patch on all your desktops in a timely fashion in line with its criticality, let alone your laptops? Even with the availability of software delivery solutions like Altiris or patch management solutions, this won't be straightforward. What about your manager taking the decision to upgrade all of these tens of thousands of desktops to the new OS? Here comes the beauty of a VDI solution; with a single deployment you just have to upgrade your image once and voila, all your users now have the new OS!
Comparison Between Solutions
Having now a grasp of the concept of a VDI let us make a comparison between Citrix XenDesktop and VDI-in-a-Box.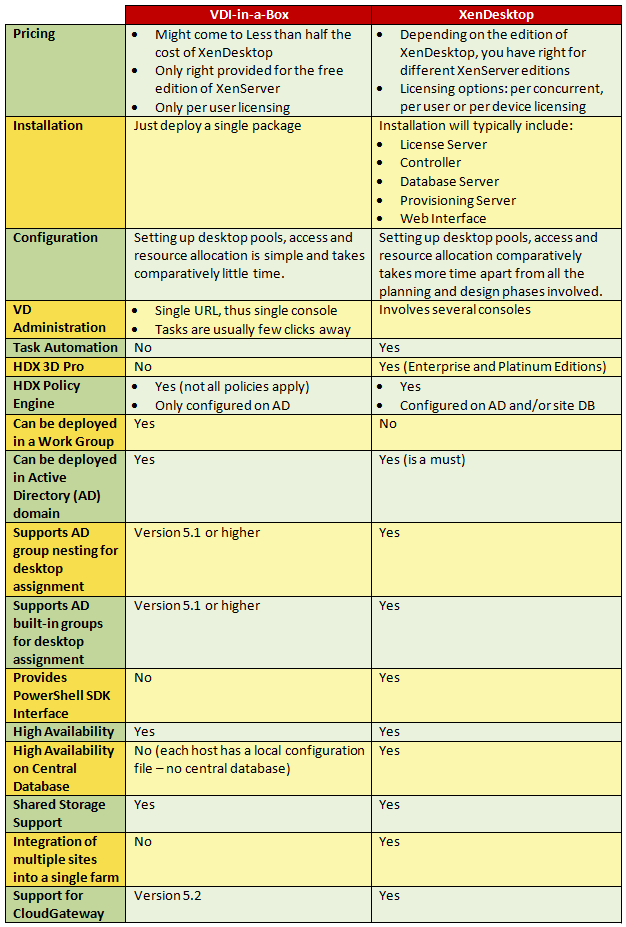 VDI-in-a-Box Advantages/Disadvantages
Advantages
:
Eliminates the need for network, storage, database administrators and virtualization experts.
Easy to build and deploy.
Simple to manage.
Affordable: 10-pack licenses costs $1,950. Less than the cost of a PC per user.
Disadvantages
:
No automation for tasks such as virtual desktop creation and site configuration.
Highly available to some extent where it comes to several hosts in a grid, however it is not highly available on the database part.
Lacks HDX 3D Pro feature which enables delivering desktops and applications that are graphical intensive and require graphics processing unit. This is available in XenDesktop Enterprise and Platinum editions.
Licensing in the long term might not be cost-effective as only 'per user' licensing scheme is offered. Moreover, there is no trade in offer with other Citrix technologies.
Only scalable with a single deployment. No integration for multiple sites within a single farm.
XenDesktop Advantages/Disadvantages
Advantages
:
High automation for tasks such as virtual desktop creation with the PowerShell SDK offering.
Highly available infrastructures can be built.
Full-fledged VDI solution with lots of features including support for HDX 3D pro.
Licensing in the long-term might be very cost-effective, especially with the trade in offer for XenApp.
Highly scalable with the ability to integrate multiple sites, multiple deployments within a single farm.
Disadvantages
:
Multiple layers of IT support are required. Typically requires network, storage, database administrators and virtualization experts.
Not easy to build and deploy and requires considerable amount on the white board for planning and designing.
Not easy to manage in terms of deploying, monitoring, and maintenance.
Tend to be very costly; not affordable for small (and perhaps medium) businesses.
Requires huge amounts of storage.
Decision Strategy
If you start delving into the various options and features of each VDI solution, selecting the solution based on that criteria, chances are that you will fall into one of these two common traps:
1. You end up with a solution having a lot more features than you required, rendering them unusable and thus the amount of money paid unjustifiable.
2. You end up with a solution that may seem adequate at present, but lacks the options and features that will allow you to grow in the future.
You need to select the features and options that best go in line with your industry and business strategy. In essence you need to pay a great deal of attention to your current situation and capabilities and where do you envision yourself going. Some of the important things you need to look at follow:
IT Capability
– Do you have a full-fledged IT department with sufficient resources and staff? Do you have network administrators, storage administrators and database administrators? More importantly do you have the resources and time for the continuous maintenance post the implementation? Or do you have an IT department at all!?
Virtualization Expertise
– Do you have suitable professionals with virtualization expertise? Can you afford the time and money to build such teams? Do you consider such professionals/teams important for the operation of your IT department?
Budget
– Do you have the budget for an enterprise-class VDI deployment? Do you have the budget for carrying out the project and setting it up? Do you have the budget for training your teams? More importantly do you have the budget for the continuous maintenance afterwards?
Business Size
– Do you require tens of thousands of VDIs as a single deployment? Do you require these as multiple deployments? Or perhaps you require tens or hundreds to a few thousands of VDIs. Do you require an enterprise-class VDI deployment? Or do you require a VDI implementation characterized by simplicity?
Type of Industry/Business
– In what industry does your business operate? Do you work in 3D modelling? Do you work in any of the Computer Aided industry (Design, Engineering) which requires intensive graphics processing? Is your business in the education sector or in any other sector that doesn't require a complex VDI setup?
Having all the above in mind (I am sure that you will find other points to consider also) you are ready then to make your decision.