PaperPort
is a popular document management/imaging product from
Nuance Communications
. It is in widespread use by both
individuals
and
businesses
. The current version of PaperPort is
14
(previous version was
12
– Nuance got superstitious and skipped
13
). This Article documents how PP14 finally solved a nasty duplex scanning problem that has plagued PaperPort since the introduction of the
Blank page is job separator
capability in PP10.
The problem is that a blank back side of a page will act as a job separator during a duplex scan. This is extremely bad, since most double-sided documents have some single-sided pages, and they will terminate the document – not what you want! It makes the
Blank page is job separator
capability practically worthless for users doing duplex scanning. In other words, if you are using a duplex scanner and a page in the stack
is not
blank on the front, but
is
blank on the back, this should
not
be considered as a separator page. In the case of duplex scanning,
a page should be blank on both sides
in order for it to be treated as a separator page. Otherwise, you'll get what should be a single document broken into separate PaperPort items if that document happens to have some single-sided and some double-sided pages.
This "bug" (Nuance called it a "feature" when I reported it) existed in PP10, PP11, and PP12 (as mentioned above, there was no PP13). Nuance finally fixed it in PP14 with the addition of a new sub-option in the
Settings
for a
Scanning Profile
. In the
SET
tab under
Blank page is job separator
there is a new check-box that says
Blank sheet is job separator on duplex scan
, as shown in this screenshot: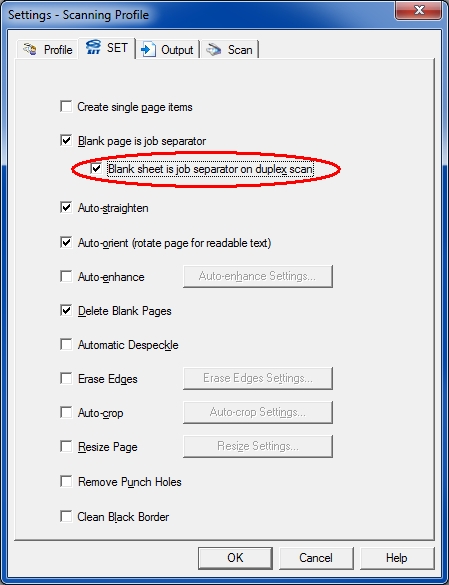 This is what you want for duplex scanning with a duplex scanner – it means that
the page must be blank on both sides to be treated as a separator page
. Although it took three major releases and five years, my thanks to Nuance for finally fixing this!
If you find this article to be helpful, please click the
thumbs-up
icon below. This lets me know what is valuable for EE members and provides direction for future articles. Thanks very much! Regards, Joe