Table of Contents:
Lesson 1 - Installing Windows Server 2012
Lesson 2 - Configuring Server 2012
Lesson 3 - Active Directory
(this article)
Windows Server 2012 Active Directory
following the previous lessons, we installed and configured our server. now, we are going to create users and connect them on the client PCs.
NOTE:
Active Directory: is the software role to be installed on the server, which will contain users, computers, Organization Unit and other.
Domain: is the repository in which users are defined in. Each Server can have one domain
So let's proceed. log in to the server with your administrator account. if you don't see the server manager window, click on its icon in the lower left corner. From the
Server Manager Dashboard
, click on
Add Roles and Features
. You will get the
Before You Begin
screen (usually basic information, you can skip it for future times)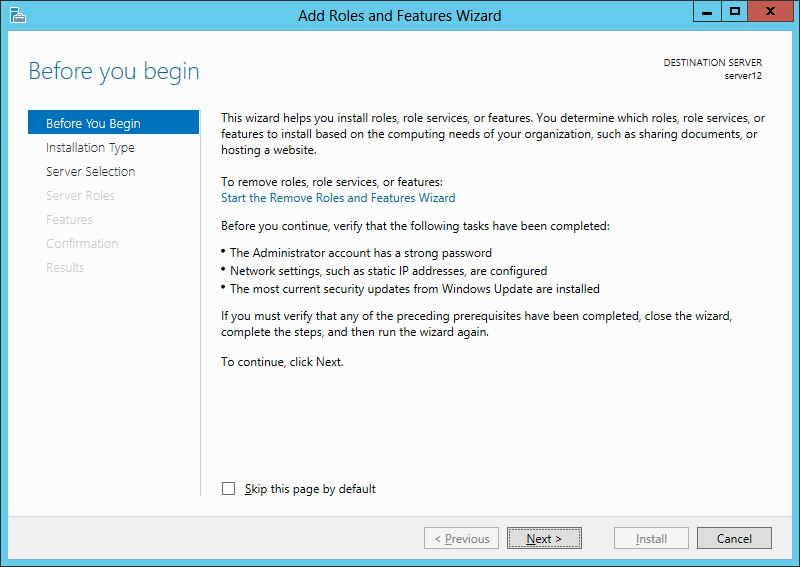 you will need to select the
Installation Type
. Since this is a standalone server, we will select the
Role Based or Feature Based Installation
.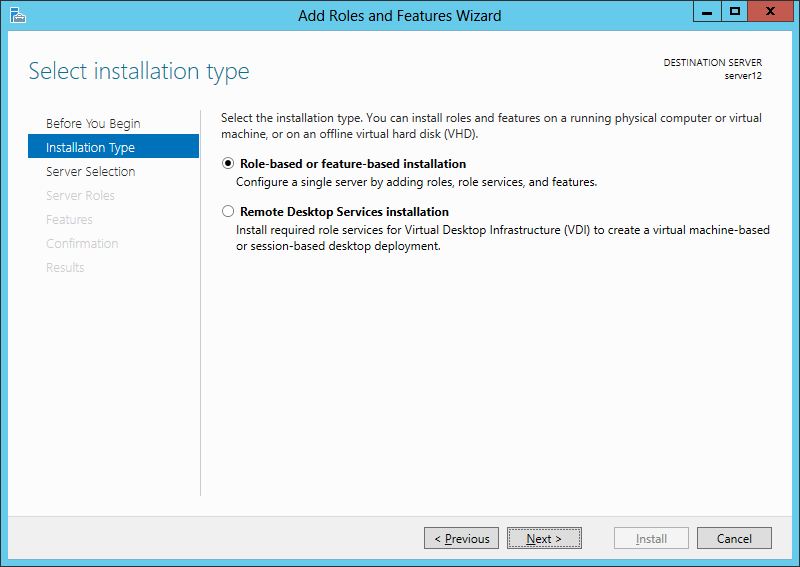 select the
Destination Server
. this is to define which server to install the role or feature, in case you have multiple servers. in our case we have only one server (our server name as described before in server12 with IP 192.168.174.128)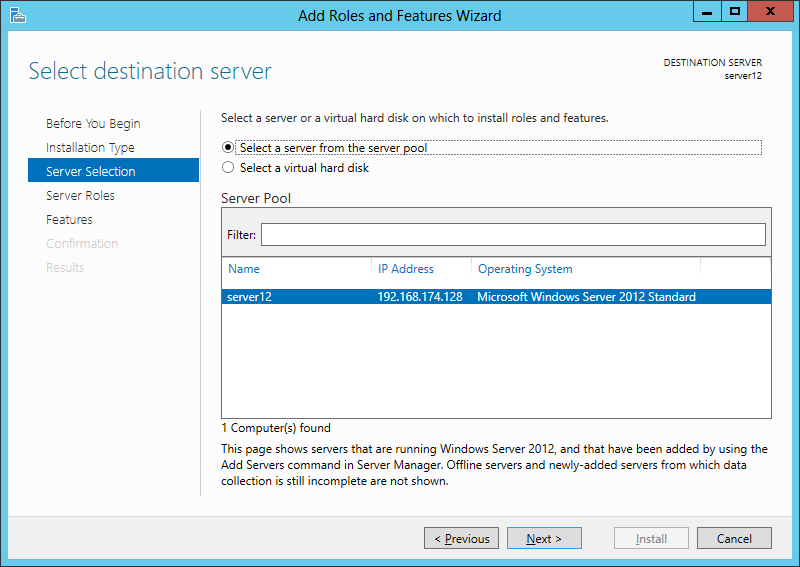 now we are going to select our server role. in this tutorial we are going to select
Active Directory Domain Services
, but for the upcoming tutorials, we will select other roles and describe them one by one. so the first 3 screen will remain the same for all the upcoming tutorials.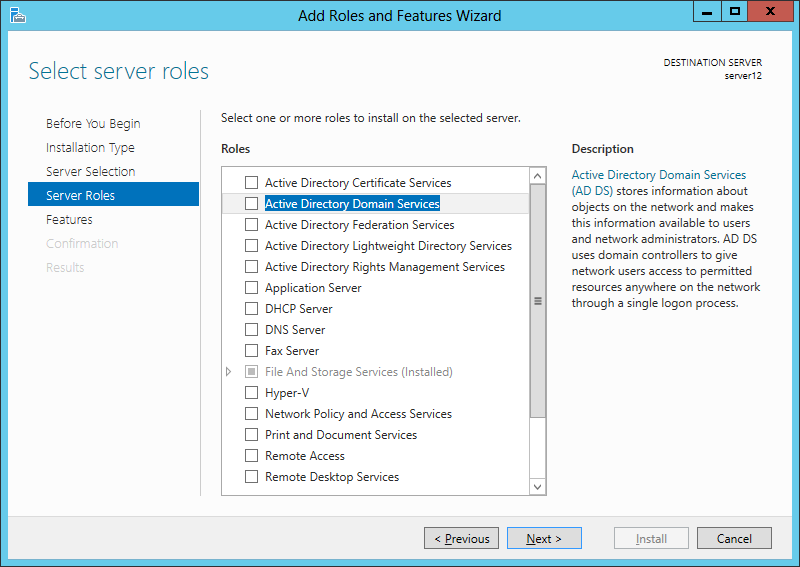 when we select
Active Directory Domain Services
, we will be prompted in install it's dependencies, so hit OK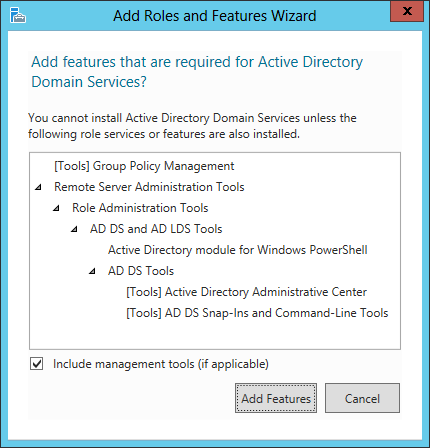 the next screen is about adding features. feature can be used across the system (whatever the role installed).currently we don't want to add any, so hit next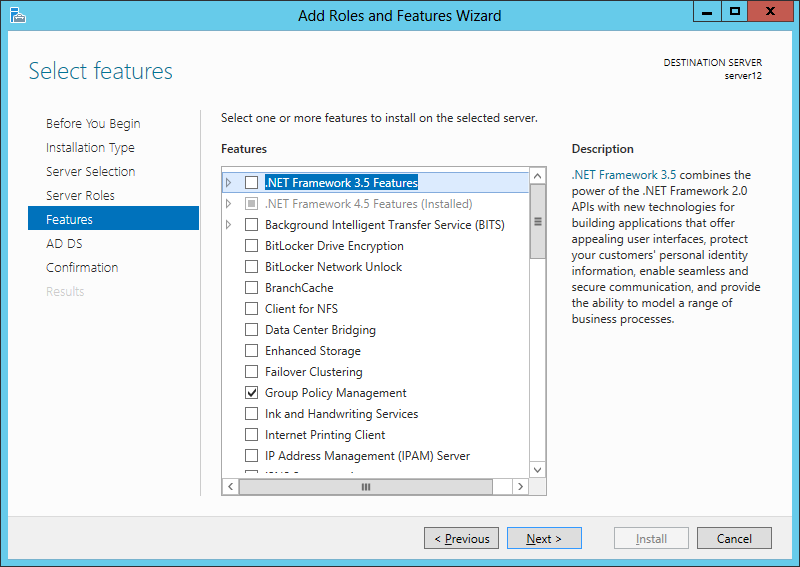 the next screen will describe a little about the
Active Directory Domain Services
. hit next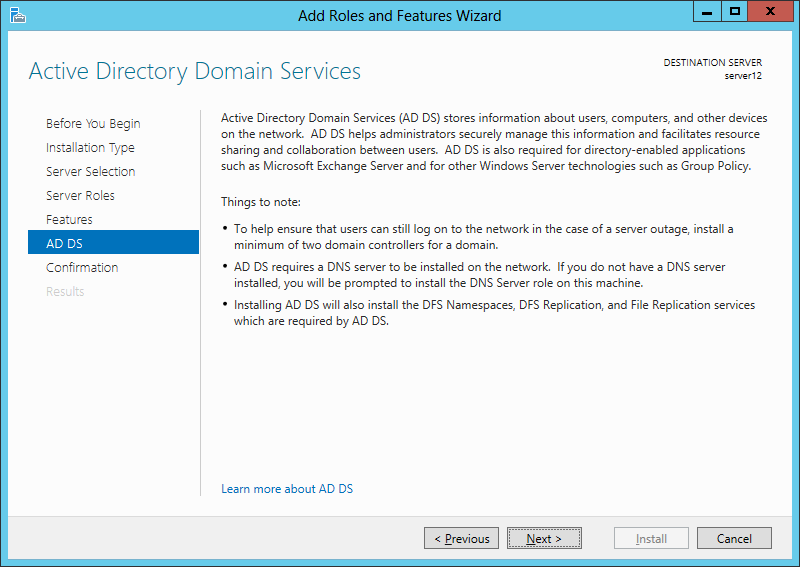 the last screen, it will show a collective description of what we want to install.
PRIOR
of hitting install, put a check on
Restart the destination server automatically if required.
hit Install. it will take some time to install and then restart the server.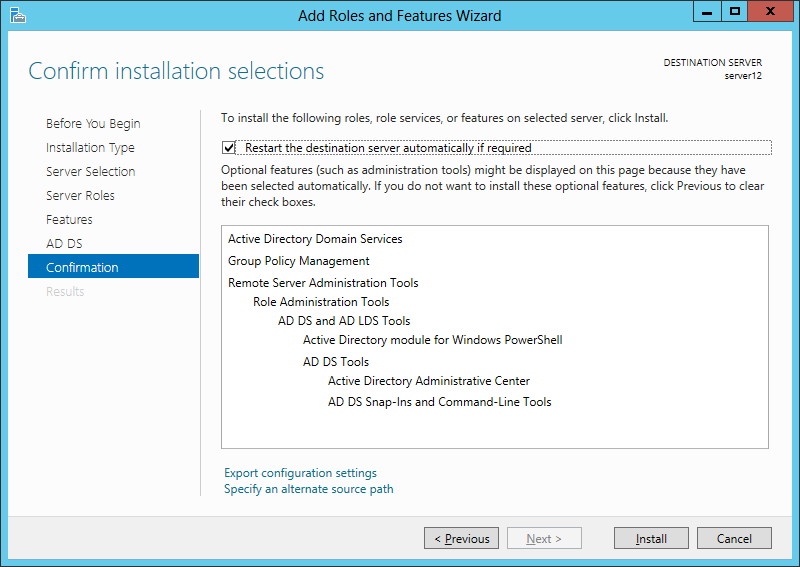 after the server restart, will create our first user account, and then configure a PC to log in with this account.
Log in to the server, and from the dashboard, click on
AD DS
on the left. you will notice a yellow bar on the top that tells you that configuration is required. click on
more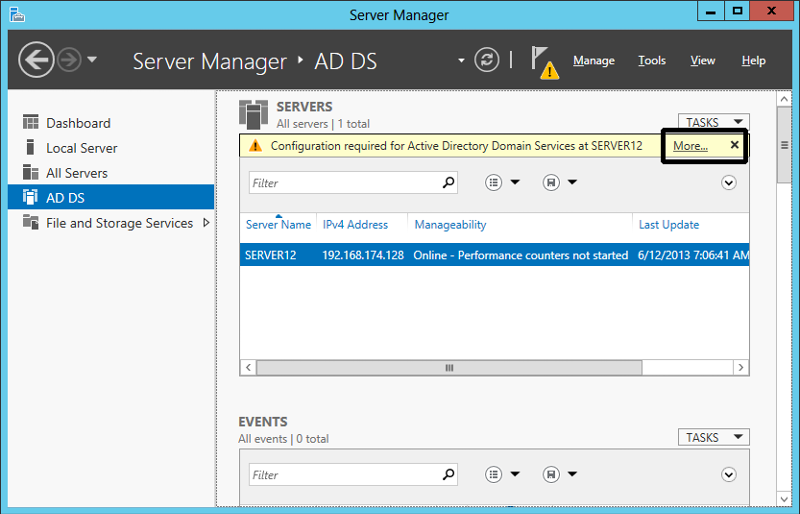 in the next screen, click on
Promote this server to a domain controller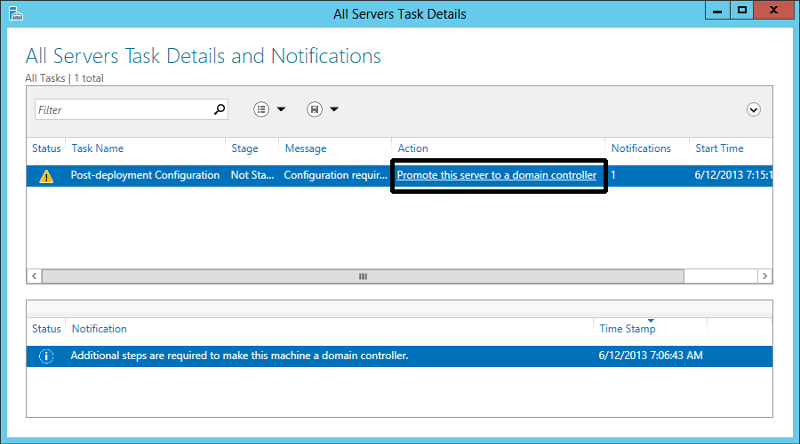 since this is a new server and standalone (not connected to other servers), click on
add a new forest
and give a name to your domain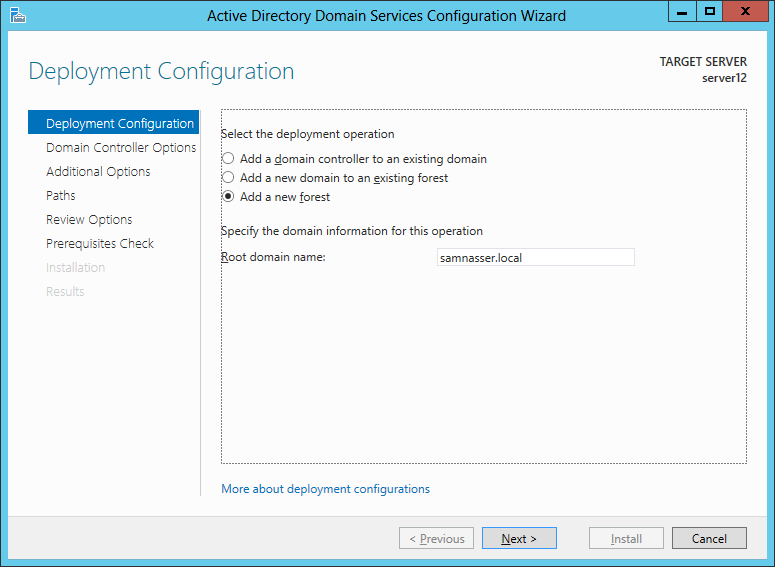 domain controller options, keep as is, and input a password for directory services restore if need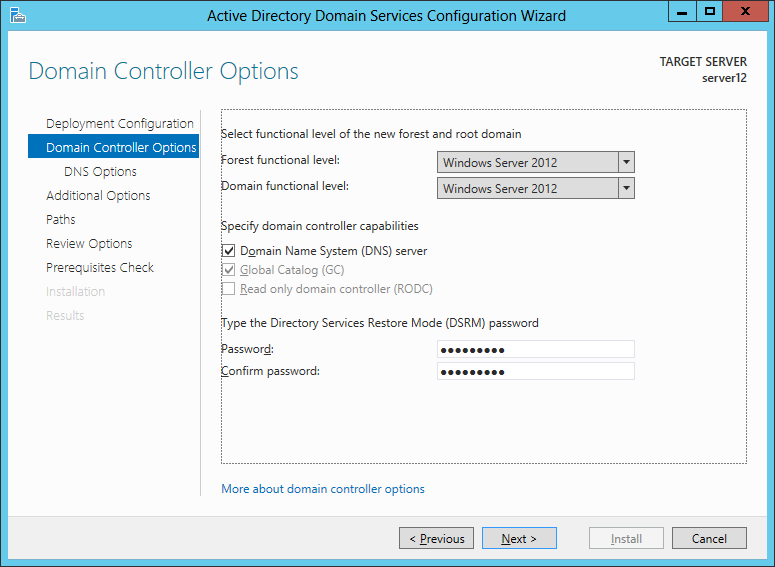 next screen, since i have not yet added DNS, we will see a warning, discard it now and will fix it when we add the DNS later
next screens should not be altered, so next next next and install. discard the DNS messages as this will be fixed later.
no we will add a user, go to the dashboard and click
tools - active directory users and computers

in the
active directory users and computers
, navigate into our domain (i.e. samnasser.local), right click users and choose new - user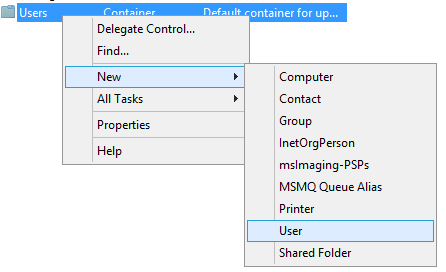 fill the information (first name, last name, username) as shown below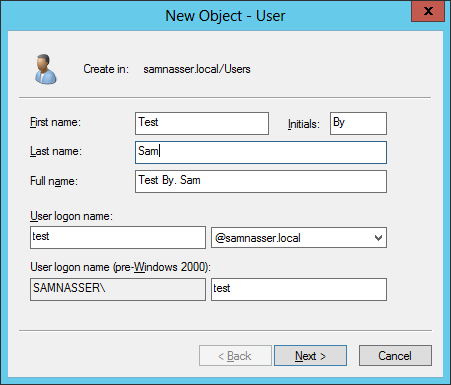 provide the user password (you must have complex password: upper and lower letters, numbers and signs), and check that account never expires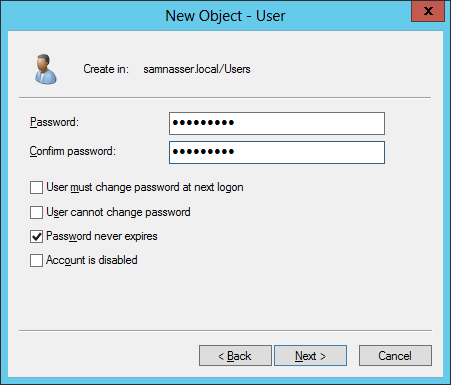 click finish. now we have created our active directory user. let's switch to the machine that we want to add it to our domain.
logged as local administrator, right click
computer
and choose
properties
. click
advanced settings
,
computer name
, and click change. change the PC name if preferred, and click on domain and type our domain name (samnasser.local). if everything is correct, we will see the log in screen for the server administrator (administrator / your password), then it will ask for restart.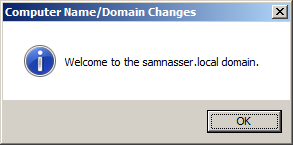 you are now done to log in to a PC connected to server.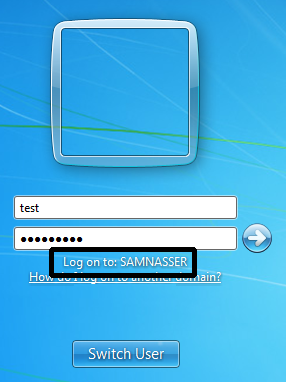 Next tutorial is how to customize this user on the network, connect to shared, and create scripts and so on.

IF YOU FIND THIS ARTICLE USEFUL, RATE IT