This article explains how to embed/insert
screenshots
(screen captures/screen grabs) into EE posts. A search found a
previous article
on the subject and one
follow-up
to it. But large portions of those articles are devoted to explaining how to capture screenshots. My focus in this article is on members who already know how to capture screenshots but don't realize that it's possible to embed screenshots directly into posts, making it much easier to review the text and images in a question or answer. I've seen members post screenshots in Word and PowerPoint files that are attached, as well as in image files (typically, JPG and PNG), yet these images are also
attached
rather than
embedded
. I've even seen images posted outside of EE on image-sharing sites, such as Imgur.
The two previous articles were written before major enhancements to the EE website that include the new formatting toolbar. So both of those articles discuss the
Attach File
feature for posting screenshots. This article, instead, discusses the new formatting toolbar and its
Insert Image
feature. An even newer EE feature – the ability to embed screenshots (and other files) with
My Personal Knowledgebase
– is worthy of
its own article
.
So, if you already know how to capture screenshots, here's how to embed them in posts. The toolbar above the
Post a Comment
text box looks like this: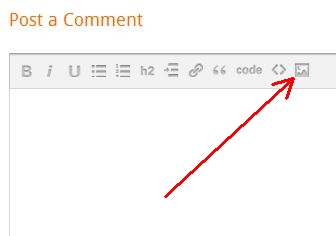 The icon pointed to by the red arrow is the
Insert Image
feature. Click on it to bring up this browse-for-file dialog: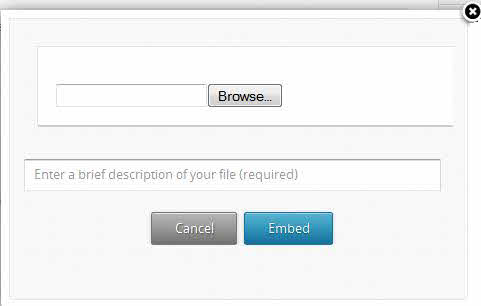 Click on Browse, navigate to your screenshot (an image file), enter a description, click Embed. That's it!
Although my primary intent in this article is to explain embedding/inserting, there are two issues on capturing worth mentioning. First, both of the previous articles were written before Vista was released, so neither mentioned the
Snipping Tool
, which was introduced in Vista and is also included in W7, W8, W8.1, and W10 (in Accessories). When you run the Snipping Tool, it displays this (the screenshot shows the drop-down menu with the type of Snip):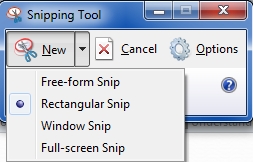 For a Free-form Snip or Rectangular Snip, drag the mouse around the area to be captured and release the mouse; for a Window Snip, click the window to be captured; for a Full-screen Snip, click that menu item and it immediately captures all of the monitors. In all Snip cases, it puts the captured area in its window, which you may then save to a GIF, JPG, MHT or PNG. For EE posts, I recommend JPG and PNG.
Second, one of the articles says you cannot capture a screen with a menu dropped down. This actually
can
be done in two ways – with the PrintScreen key (PrtScn or PrtSc on many keyboards) and with the Snipping Tool. For example, the screenshot above of the Snipping Tool shows its
New
menu while it is dropped down. This was done by simply hitting the PrintScreen key, which captured all monitors, and the resulting image was then cropped with imaging software. Note: on some systems in the past, I experienced PrintScreen not working; in those cases, Shift-PrintScreen worked.
To capture a screen with a menu dropped down using the Snipping Tool, run the tool, but click Cancel (or hit Escape) right away. This will remove the screen freezing, but you'll still have its dialog on the screen: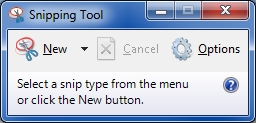 Now drop down a menu somewhere and then hit Ctrl-PrintScreen. This will activate the Snipping Tool with the screen frozen in place – including the dropped-down menu! Here's a screenshot of Firefox's File menu while it is dropped down, captured with this Snipping Tool technique: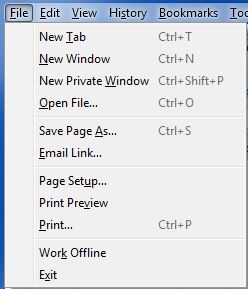 Note that it is
not
possible to capture a dropped-down menu with Alt-PrintScreen, because hitting Alt will remove the menu.
If you find this article to be helpful, please click the
thumbs-up
icon below. This lets me know what is valuable for EE members and provides direction for future articles. Thanks very much! Regards, Joe