We all know shortcuts makes life so much easier and saves a lot of time in day to day computer work. Here come 10 of the most useful shortcuts in Mac OSX for daily repetitive chores on your mac.
#1: jump between open programs
CMD+Tab jumps to the next program you've opened in your session. CMD+Shift+Tab jumps one program back in the row of programs. You can even use the arrow keys to move back and forth between programs.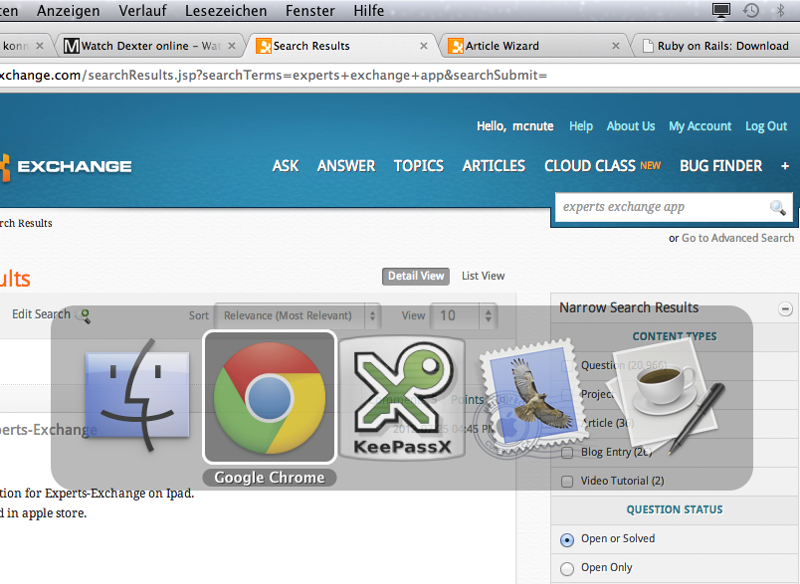 #2: Close a window or a tab
With CMD+W you can close a window in your browser or in any program which uses multiple windows. Very useful when you have several tabs open and you don't want to click that little X there one by one.
#3: Close a program
Close a program fast by using the shortcut CMD+Q. Instead of clicking the red little bubble in the window of your program the CMD+Q shortcut does the trick without using your mouse.
#4: Open the spotlight
By using CMD+Spacebar the Spotlight will be up and ready. By clicking it again, the spotlight vanishes again. Spotlight is very useful if you want to search files or folders on your mac. Comes in handy so often in my daily work. CMD+Spacebar and there it is.
#5: Selecting text
Actually there are more shortcuts involved in selecting text. In your daily work you may be dealing with a lot of text documents and e-mails. If you want to select all the text press CMD+A. Try it on this article! Handy, right? If you want to cut text out of somewhere use CMD+X. Don't worry, your text doesn't disappear. It is in your clipboard right now. But be aware. The next time you copy or cut something the previous content in the clipboard will be overwritten. So always save your stuff first before using these shortcuts. If you want to place the text you've copied or cut in another document or program use CMD+V and there it is again.
#6: Making screenshots
Screenshots are so handy to show other people what you want to tell them happened on that website you were surfing or that problem that arose in the program you just bought and which you want to show to the support team. CMD+Shift+3 gives you a complete screenshot. If you want to show just a portion of your screen then use CMD+Shift+4 and a crosshairs appear on the screen.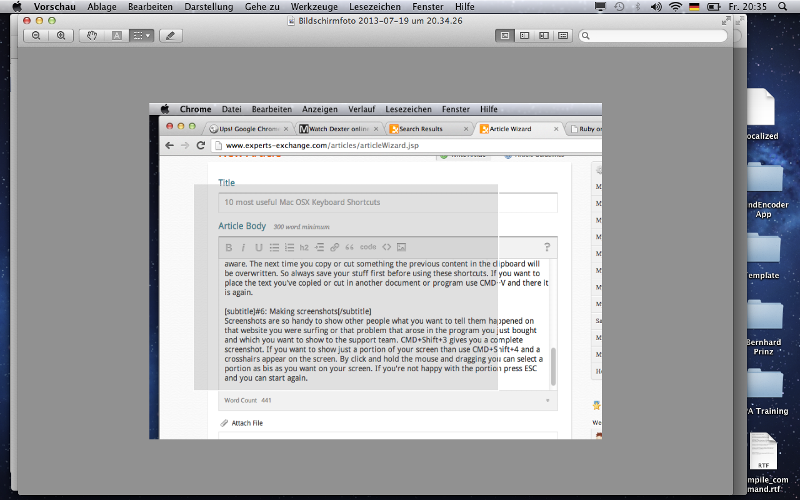 By click and hold the mouse and dragging you can select a portion as big as you want on your screen. If you're not happy with the portion press ESC and you can start again.
#7: Jump between open windows of one program
We all know the situation of having several windows of one program open. Especially on small screens like a 13" MacBook this becomes extremely annoying, because windows begin to overlap each other. To change between windows of one program just press CMD+square brackets. Now that popup behind your main browser window can be accessed easily. Enjoy!
#8: Open a new window or file
In a lot of programs you will use the CMD+N shortcut to open a new window, tab or file. In Finder it will produce a new Finder window. In your browser, it will open a new tab or a new window. It depends on what you've configured.
#9: Open an existing file
To jump to the open dialogue right away just press CMD+O. No more clicking the context menu and searching for the open option. CMD+O is your friend to open files rapidly.
#10: Search files in Finder
If spotlight is too unspecific for a search on your mac you would want to use the CMD+ALT+spacebar shortcut. This opens up a new Finder window ready to filter your search by filename, last modified, filetype or whatever option you can imagine. Cool, isn't it?
This is a beginners tutorial obviously, but I'm as a web developer use this shortcuts every day in my daily job. They make things so much easier and quicker on my Mac, I wouldn't want to work without these shortcuts anymore. If you want, leave your useful shortcuts in the comments below. Let the world know how working on a mac is easier. I hope you enjoy the article.