iPad in the Business – Quick Start Part 1
Getting Started with Active Sync Mail
Many people seem to have issues connecting their iOS device to their company Exchange Server and this article covers the steps for Active Sync configuration as well as a few tips and tricks from someone that worked with a high powered team with various expectations. In this particular case I used an iPad 2 running iOS 6.1.3 against a MS Exchange 2007 SP3 server but the instructions are universal.
Please note that I am not covering Good, Iron Mountain or the providers of the sandpit environments.
Before you proceed, you will need your username and password for the company system, the server and domain details for the connection and been granted access to Active Sync by your System Admin Team. Keep in mind that nuts and bolts are the same but companies often have enrollments to such services. Those in smaller businesses may not have these headaches.
To start, follow the brief steps below.
1. Tap Settings from the Home Screen (silver cogs) > Mail, Contacts and Calendar >Add Account > Microsoft Exchange.
2. Complete the boxes are details in the screenshot below and tap done. Please note that you may not be prompted for all of the information if your company has an auto-discovery configured.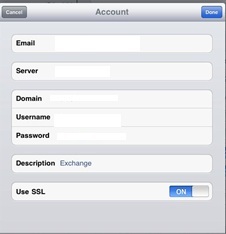 3. Assuming the information is correct, you will then have the option to select which items you wish to synchronize.
Some companies enforce a passcode or password that will need to be set on the device before you can proceed. Typically this message is hidden when first configuring and you will not see it until you go back to the Home screen. Once acknowledged, data will start to flow to your device starting with Calendar. This part is always best performed on a WLAN rather than 3G. Do not panic at this stage, if you have a large mailbox, it may take a while to sync.
Post Configuration
Often your system administrators will limit the amount of data that can be stored on your device. That said, you can alter the sync period by opening Mail, Contacts & Calendar > tap your Microsoft Exchange account > Days to Sync. You can also adjust the frequency of mail checking from this section too if you wanted to preserve data download allowances.
Working On The Go
As touched on earlier, many business users may wish to work anywhere / anytime. Whilst we can't quite hit that expectation, you can equip them with a 3G / 4G enabled iPad and a SIM with a suitable data plan. Keep in mind that 3G is not a replacement (yet) for Wi-Fi and your average business user will eat data quickly, especially when downloading an AVI of the Company Conference or a PowerPoint of the latest presentation.
Typically when this happens they reach out for the Help Desk and the response is usually "talk to your provider" as this is not a failure on the device. The moral of this story is that you will need to gauge your user's requirements and help them understand some of the limitations of being mobile on a device that could be restricted to stop company data slipping into the wrong hands!
Gotchas
1. Keep in mind that most company user ID / password combinations expire. This will impact your iPad too and when your password changes there you will need to update your iPad
2. Your iPad could be 32GB or 64GB but you may not be able to store that amount of mail as your company may restrict it
3. Your mail synchronized from an Exchange server is a replica and if set up in the default manner, retrievable in the event of a failure. That said, back up your settings regularly via USB or iCloud
4. Keep an eye on your firmware, iOS level. Typically it is best kept up to date but often it pays dividends to wait and see what known issues come up.
5. You can have more than one device which will both stay in sync but your Sys Admin may limit this.
6. You can print from an iPad but typically you need to make special arrangements
7. iPads every now and then require a reboot to cure issues; they are computers after all!
8. The iPad is a great device but it is not a laptop replacement. Manage user expectations to get the most from your devices
9. If you want to separate out work and home life, have a look at the Divide app. I was very impressed and giving it a try, you will see why.