I have been working with Orchestrator 2012 for a few months now and I must say it has surprised me at every turn, with its functionality and integration capabilities it has really shown me how the System Center Suite of products really all fit together as well as the option of 3rd party integration makes this product something really worth while having in any organization, especially ours.
The first thoughts on automation in my organization was that of taking away functions that people would normally do on a daily basis and the thoughts of "this is going to take away what I do daily and replace me" but in actual this is something that would work hand in hand with your daily tasks making you more efficient in what you do, leaving you to work on the important things.
Now the fun part is asking yourself, "What can I automate" ?
There is a lot of info out there on Orchestrator best practice but the most important to answering the question above would be to have a session with your departments and people on the ground as we did and look at your current daily tasks, scripts and manual processes and write them down, create a project or Visio diagram on each system and go through the process.
This is our rough list based on our systems and System Center deployment of SCCM, SCOM as well as HPSM and in house products.
SCCM WUA Server Checks
SCCM Client checks
SCCM Application Approval Requests
SCCM Task Sequence
SCOM integration and alert recovery
HPSM Integration/Call logging
The above items are just a few of the automation ideas we decided on and looked into for better monitoring as well as getting rid of the mundane tasks we all love to hate :)
Now Orchestrator can be used for many automation tasks and checks, basically anything you can think of that you would do manually could be accomplished with Orchestrator integration.
I will show you a few high level ideas and runbooks we have in our environment and I am sure many of you would be able to relate.
SCCM App Approval
Now I already wrote an article on this a few months back "SCCM 2012 Application Approval workaround" and you are more than welcome to have a look at it. Since then I have added and updated this runbook to include HPSM (HP Service Manager) integration and it has really been fun to create.
Below are a few screen shots of the runbooks
CM Gather requests checks the SCCM DB for recent user application install requests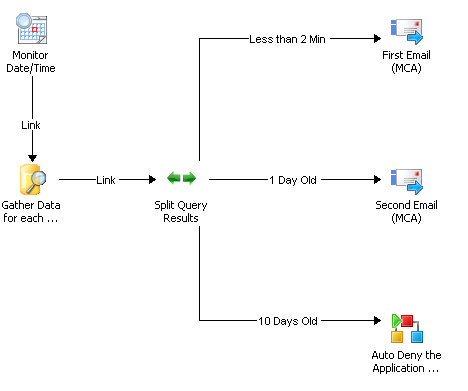 Then the approve/deny runbook would follow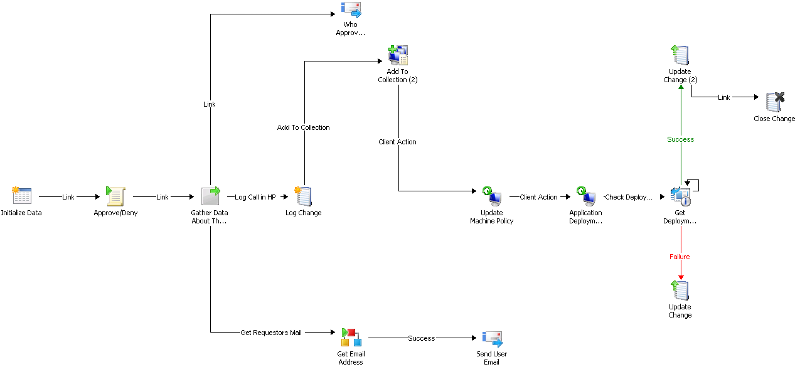 Followed by the Get mail runbook

This runbook has given us a lot of freedom allowing us to log application requests as well as control who is allowed to get what. I am also busy working on an update to this which will query a custom DB with all users who have purchased a license for example Visio or Project, this will then be checked by Orchestrator before sending off a mail for approval/denial and if the user has a license Orchestrator will automatically approve without the intervention of the Software Asset Manager :)
The fun part for me at least was being able to start with a runbook and as time goes on you come up with new ideas of doing something else or an addition to an existing runbook with more integration or a better way of doing it.
Below are some more examples of what you can accomplish with Orchestrator and 3rd party applications.
CM WUA GPO Check
This idea was taken from
SCCM Status Messages to trigger Runbook
so thanks to NielP for the idea.
I took this runbook and added some of my own activities which would send a mail out to the desktop staff with a list of computers that would need to be checked and fixed.

HPSM and SCOM Disk Space Alerts
This runbook monitors our SCOM disk space alert, when a servers disk space threshold is reached and the alert is raised in SCOM the runbook is fired off creating a call in HPSM with all the details of the server and the drive with the issue, requiring the engineers attention.

Now you could take the above one step further and instead of having your runbook continuously in a running state, you could add the recovery trigger in the SCOM monitor itself using a PowerShell script or command, this will then fire off immediately when the alert is raised in SCOM, from SCOM.
The Orchestrator install is pretty basic and straight forward, for SCOM integration it is required to have at least the SCOM console installed, this will also be the same for SCCM.
These are my experiences and it has been a fun experience.
Now the above has given you a few ideas of what we have done and what is possible with Orchestrator, I hope these ideas would be helpful in getting you started in your automation space.
There are a lot of how to out there and starter runbooks out there that can give you more ideas.
I hope this article has been helpful, if you would require any additional info please feel free to contact me.
Thanks
Leon Taljaard