Some time a go I wrote an article about downgrading your installation of IE 9 to IE 8 in windows 7 x64 (
https://www.experts-exchange.com/Software/Internet_Email/Web_Browsers/Internet_Explorer/A_9390-Downgrading-IE9-to-IE8-on-a-Windows-7-x64-box.html
). The reason behind the article was that we have many systems that needed an older version of IE in order to work, not to mention an older version of Java.
Recently I went on vacation and when I got back all the systems I had set up not to update had updated to IE 11. Noone was able to get into our mainframe systems that require an earlier version of IE, if they were using IE 11. Luckily on some mission critical machines I had installed chrome with IETab, which simulates IE 7, 8, and 9. But now my work was cut out for me. I went about setting compatibility mode on all the computers with IE 11 on them and it worked like a charm!
Compatibility mode view is located by clicking the gear icon in the right hand corner of the screen in internet explorer.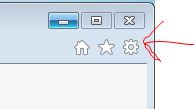 Once you click on the gear icon, scroll down to Compatibility View Settings. To add the website and it's subdomains that you are presently viewing, just click add site, otherwise the easiest way to add new sites is to navigate to the ones you want and follow the directions above.
This is much easier than downgrading your IE. It also has the added benefit of letting you see other sites with the newest version of Internet Explorer.