Microsoft Office Picture Manager is not included in Office 2013. This comes as a shock to users upgrading from earlier versions of Office, such as 2007 and 2010, where Picture Manager was included as a standard application. This article explains how to install it alongside Office 2013 — at no cost!
I recently installed Microsoft Office 2013 on a new computer and was disappointed to discover that Microsoft Office Picture Manager is not included in Office 2013. This article explains how to correct this serious omission by the folks in Redmond and install (for free!) Microsoft Office Picture Manager 2010, which plays nicely with Office 2013.
It may be possible to install Picture Manager from the media of your prior Office version, such as 2007 or 2010. But you'll need to look at the license agreement to determine if that is in compliance. Since there are several Office versions that contain Picture Manager and numerous Microsoft license agreements, I cannot give any advice on the legality of this approach — you must check your particular license agreement. That said, this article discusses a different approach that is definitely in license compliance.
As it turns out, Picture Manager is a component of SharePoint Designer 2010, which is available as a free download at the Microsoft site:
32-bit
http://www.microsoft.com/en-us/download/details.aspx?id=16573
64-bit
http://www.microsoft.com/en-us/download/details.aspx?id=24309
The 32-bit/64-bit distinction refers to the bit-level of your Office applications, not the bit-level of your Windows.
Note that Picture Manager is not a component of SharePoint Designer 2013. Furthermore, Microsoft announced at the Ignite 2015 conference that there will not be a SharePoint Designer 2016, i.e., SharePoint Designer 2013 is the final release of that product. This means that SharePoint Designer 2010 is the last version to contain Picture Manager.
On the license compliance issue, the key term in the SharePoint Designer 2010 license agreement is this:
1. INSTALLATION AND USE RIGHTS. You may install and use any number of copies of the software on your devices.
There are, of course, other terms, and you should read them carefully (the entire license agreement, via a copy/paste from the installation dialog, is attached to this article). But upon accepting the license agreement, your installation of Picture Manager will be in license compliance.
After downloading the correct version for your Office installation (32-bit or 64-bit), run the SharePoint Designer 2010 setup program. If you downloaded the wrong version, you will see something like this Setup Error dialog: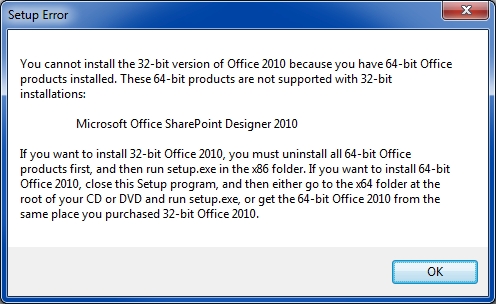 With the right version, you will get this (all of the subsequent screenshots in this article are from a W7/64-bit system using the SharePoint Designer 2010 64-bit install):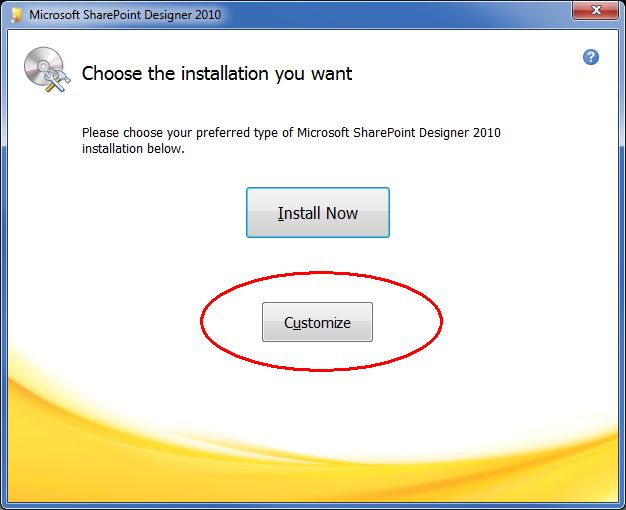 Click on the Customize installation button. Then in the Installation Options tab, click the drop-down arrow in all three main areas under Microsoft Office and select Not Available: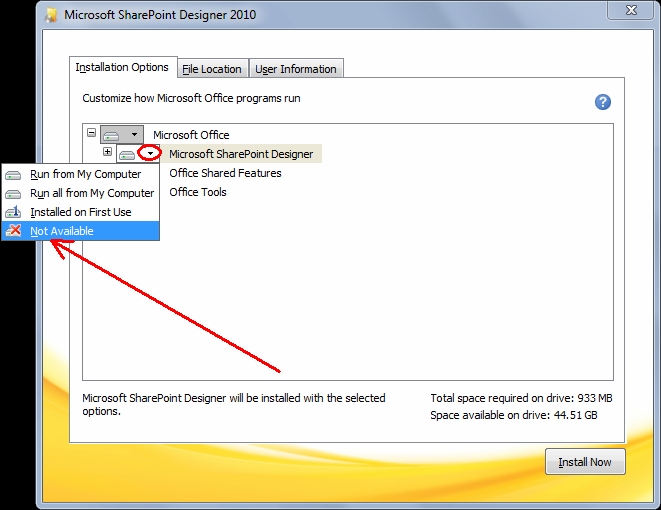 After doing that in all three areas (Microsoft SharePoint Designer, Office Shared Features, Office Tools), you will have this: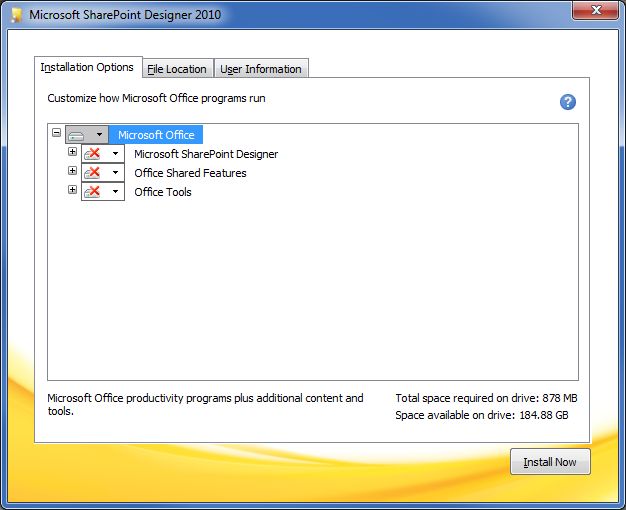 Expand Office Tools by clicking the plus sign and you will see the Microsoft Office Picture Manager. This is the one-and-only component that needs to be installed from the SharePoint Designer 2010 setup. Click the drop-down arrow of Microsoft Office Picture Manager and select Run from My Computer. The red X will disappear and it will look like this: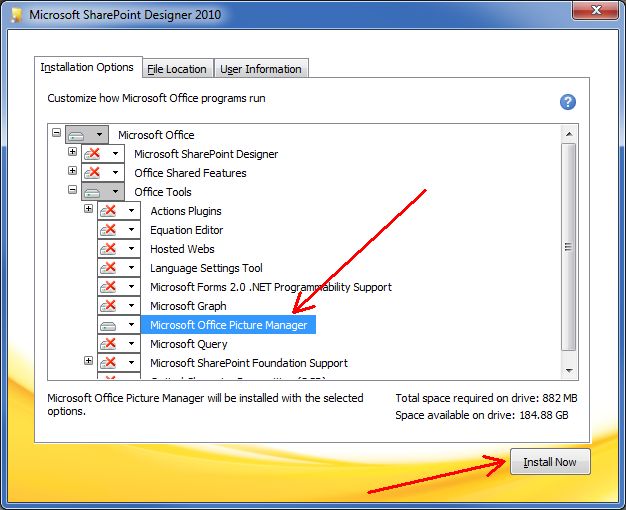 Click the Install Now button. You should then see this installation completed dialog: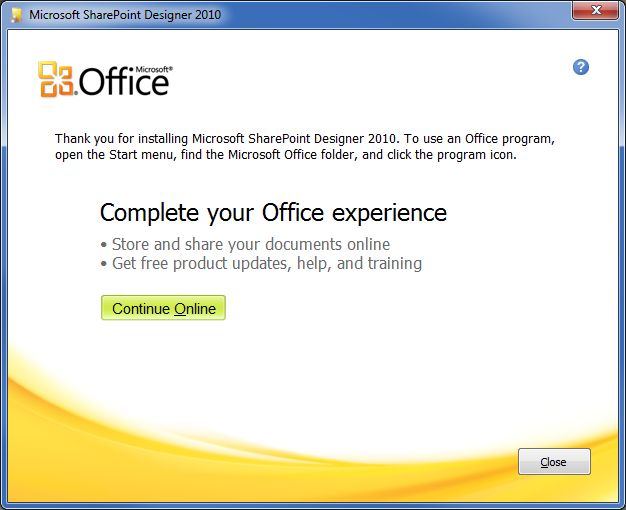 Now check your program groups and you will find a new Microsoft Office group next to your Microsoft Office 2013 group:

The new Microsoft Office group has a shortcut to Microsoft Office Picture Manager, which works perfectly alongside your Office 2013 applications: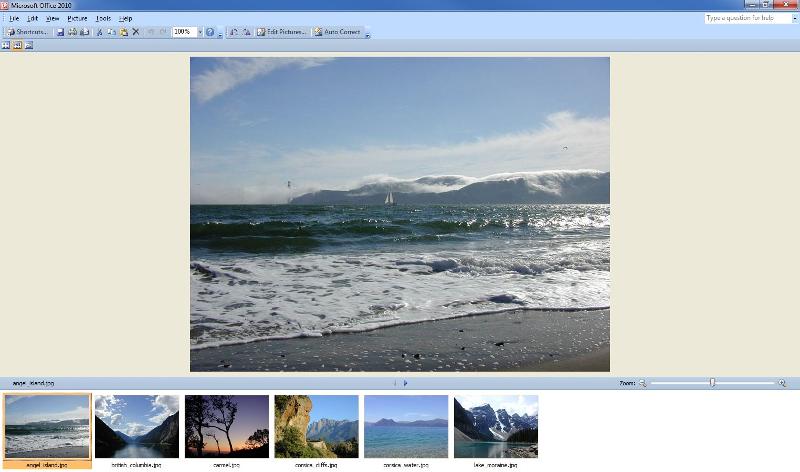 Note that the method in this article does not rely on having Office 2013 installed — or any version of Microsoft Office installed. So, for example, if you have another office suite, such as LibreOffice or OpenOffice, but still wish to have Picture Manager, this technique will work fine. In fact, it will work with no office suite installed.
Enjoy having Picture Manager back again!
Article Update #1: If you want to share this solution with someone who prefers a video approach to the written approach, please see this 5-minute Experts Exchange video Micro Tutorial:
How to Install Microsoft Office Picture Manager in Office 2013


Article Update #2: If you move from Office 2013 to Office 2016/Office 365, you will find that Picture Manager is still missing. Fortunately, the same zero-cost technique described in this article also works with Office 2016/365. I discuss this thoroughly in another Experts Exchange article:
How to Install Microsoft Office Picture Manager in Office 2016/Office 365
If you find this article to be helpful, please click the thumbs-up icon below. This lets me know what is valuable for EE members and provides direction for future articles. Thanks very much! Regards, Joe