The problem: You find yourself without your earphones or don't want to use your earphones (cordless), but you want to listen to media on your phone (music, books, etc.). This is easy to do if you have a BlueTooth earpiece that supports listening to media on your phone. In that case it has what is known as an a2dp profile, and will generally just work with no fiddling on your part. BUT, if your bluetooth is older, or just does not have that feature, the cheaper ones tend not to, then you will need to use a workaround.
The Solution: This is a fairly easy solution. On my android phone, I downloaded an app called Mono Bluetooth. When I tap the mono bluetooth icon to start the app I am presented with this screen: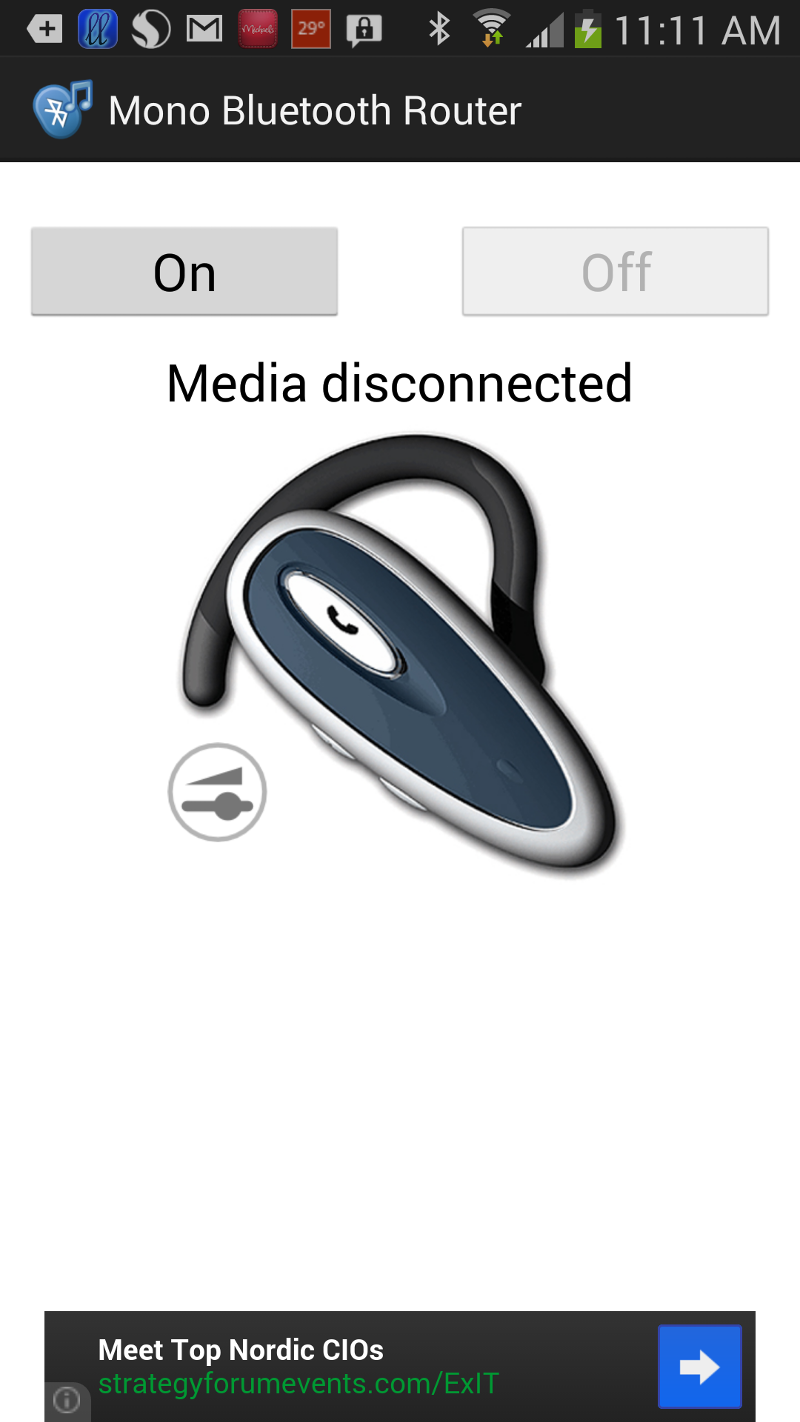 If your BT is connected just tap the "On" button and you will start hearing audio from your device.
Now, you may ask why would anyone use this? Here is how I ended up discovering it and using it.
I was waiting on line (yes, waiting on line) with my wife to see the Marc Chagall exhibit at the Jewish Museum in NYC. The person in front of us was nice enough to tell us about a free audio guide you could download to your phone. We downloaded the audio guide easily enough, but it was at that point that I realized I did not have my earphones on me. It then occurred to me that I should be able to use my BT that I did have on me, to hear the sound, but that didn't work. So I googled it and found this app as the easiest solution.
There is a downside. When using this to listen to media on your phone it works like a charm, except when you receive a call. When you receive a call whatever you are listening to is put on pause and the app turns itself off (that works correctly), but when the call ends - whether you end it or the other person - the media will come off pause and start playing again BUT the BT app remains in the off state. You will need to pause he audio while you restart, or just turn on, the BT app again in order to hear the media through your bluetooth.
Sources:
There are other applications and sources, but I did not find much else that was helpful. It seems if I root my phone I can get some things to work, but I am not willing to go that route.