This article provides a case study on how our local youth baseball league deployed a new website, including the platform selection, implementation and benefits to the league.
Youth sports leagues are typically non-profit organizations that need to professionally communicate with their local communities while also minimizing cost outlays. There are frequent updates that need to be made to the site throughout the season (player registration, scores, events), so effective content management tools are required, but most sports leagues do not have a budget to pay for website design or for website management tools. Therefore, we looked for a solution that would come with a pre-built website template, had strong capabilities for updating content and was affordable.
1. Platform Selection
There are a number of website management platforms that are designed specifically for youth sports leagues.
Most include the following functionality:
Website content management tools
League schedule manager
League team manager
Entry and display of scores and standings
Online player registration
Online payment processing
News manager
Rotating sponsor display
Integration to social media sites (Facebook, twitter)
Ability for each team to manage their own team page
Ability to send email blasts to all, or a subset of, league parents
We evaluated the following options in selecting the website management platform for our league:
League Toolbox
Blue Sombrero
eTeamz
Team Snap
League Lineup
League Athletic
Building our own site in Wordpress
We ruled out the option of developing our own site, as our league lacked volunteers with the appropriate skills to develop and manage a site that we created in Wordpress or in a comparable content management system.
Of the vendors we evaluated, we concluded that League Toolbox and League Athletic both provided strong platforms at a reasonable cost (approximately $700 to $2,000, depending on number of players). We also concluded that Blue Sombrero offered a strong functionality set, but at a better price point. Blue Sombrero is sponsored by Dicks Sporting Goods – if you agree to partner with Dicks, allow Dicks to run email campaigns to your league and show Dicks as a sponsor on your site then the Blue Sombrero platform is provided at no cost.
While League Toolbox was compelling, we went with Blue Sombrero due to the Dicks Sporting Goods sponsorship. Our league already had a great relationship with Dicks and we were happy to take them on as a sponsor.
Although we didn't implement League Toolbox, we did identify the following functional benefits between League Toolbox and Blue Sombrero:
Mobile app for parents to track schedule, see standings and get league updates
Rainout / reschedule function that can mass notify parents
Five email addresses using our domain name
eCommerce capability, where they do all merchandising, inventory management and shipping using our logo
The feature lists for both League Toolbox and Blue Sombrero are available here:
League Toolbox feature list:
http://www.leaguetoolbox.com/features.php
Blue Sombrero feature list:
http://www.bluesombrero.com/TechyStuff.aspx
2. Implementation Strategy
Once we selected the Blue Sombrero platform, the implementation process got started quickly. Blue Sombrero activated our account and provided us with access to their site management interface, which was very easy to use.
Before starting the implementation of your site, I recommend that you get at least a dozen quality photos of players. Inserting high quality photos into your site is the easiest way to get it off the ground quickly.
The website implementation process begins with the selection of a website template. I populated my website with two sample news stories, a sample league description and a handful of feature photos. I then previewed the site in four different website templates, took screen shots and sent the screen shots out to a subset of our league board of directors. Through this process we were able to select our preferred website template within 24 hours of starting the implementation.
The implementation process involved the following steps:
a. Setting up home page rotator images
b. Populating news stories, dating back nine months
c. Creating teams and divisions
d. Configuring the registration process
e. Linking to our Facebook and Twitter accounts
f. Adding general content, such as rules, fields, etc
g. Configuring team schedules
Overall we were able to get the site up and running in less then three weeks.
The following is a screen shot of the home page for my league's website: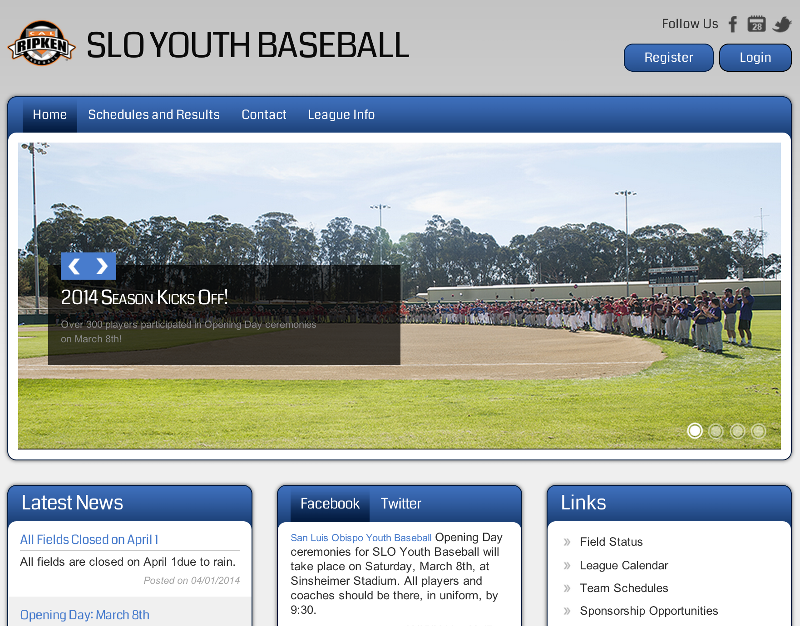 The site management platform provides a wizard for creating the game schedule. Games can then be adjusted or rescheduled through the web management interface: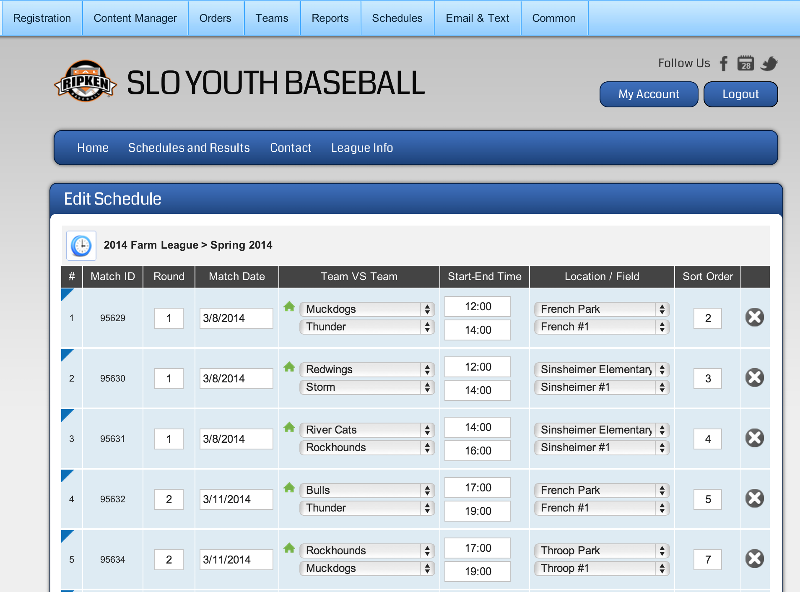 3. Player Registration
The registration process for our first season ran smoothly. We used Constant Contact to send email campaigns to families who had registered in previous years and we ran the signup through the Blue Sombrero site.
Blue Sombrero sends a coupon to Dicks Sporting Goods in the confirmation email for each new signup. This was either neutrally or positively received by the parents with whom I spoke about the Dicks promotion.
Transferring players between divisions and canceling players was easy to manage through the site. We accepted payment via both credit card and check. The main drawback we ran into was the we could not issue refunds via credit card and had to send manual checks to any players who cancelled.
Our league runs an off-line draft to assign players to teams. Assigning managers and players to teams was easy.
Each team is provided with a team page that could be managed by the coach or team parent of the team. We found that only about 20% of the teams used their team page actively. We pre-populated each team page with a team logo and added pictures from opening day to help get momentum going on the team pages.
The following is an example of a team page: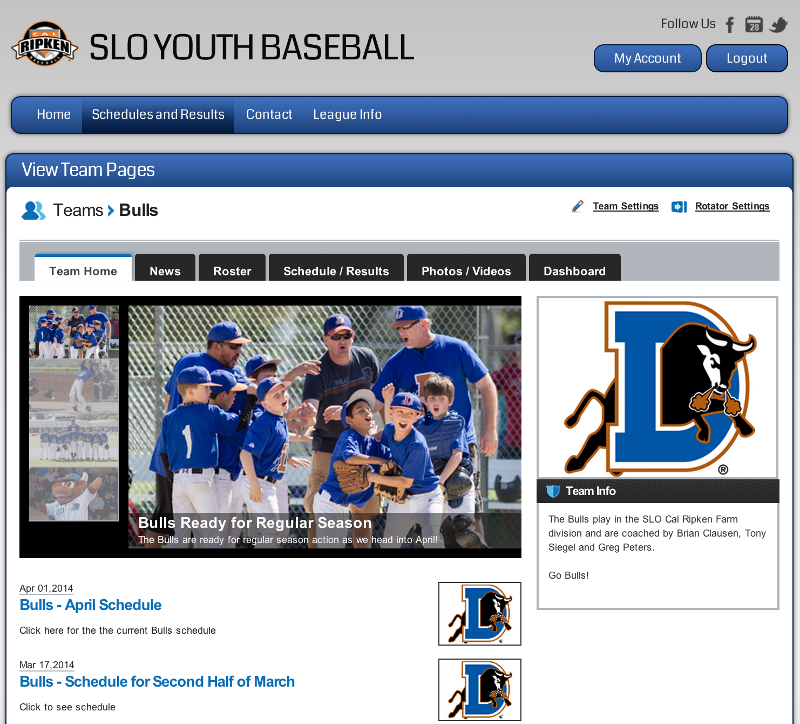 4. Ongoing Site Management
Blue Sombrero receive high marks for customer support. We have probably logged about a dozen support tickets and received rapid responses in all cases (within a few business hours).
We were able to assign content management privileges to a number of our board members and we have three different people who update site content.
The following is a screen shot of the site editing interface: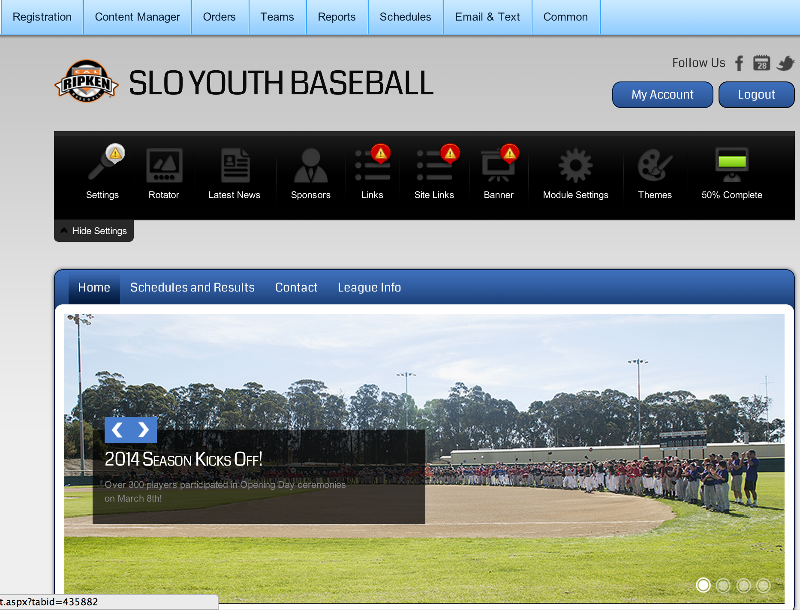 We also use the site for emailing league participants about updates, rainouts and schedule changes. The email tool is easy to use and allows you to segment your recipient list by age division and parent role (ie - email coaches only).
The following is a screen shot of the email marketing interface: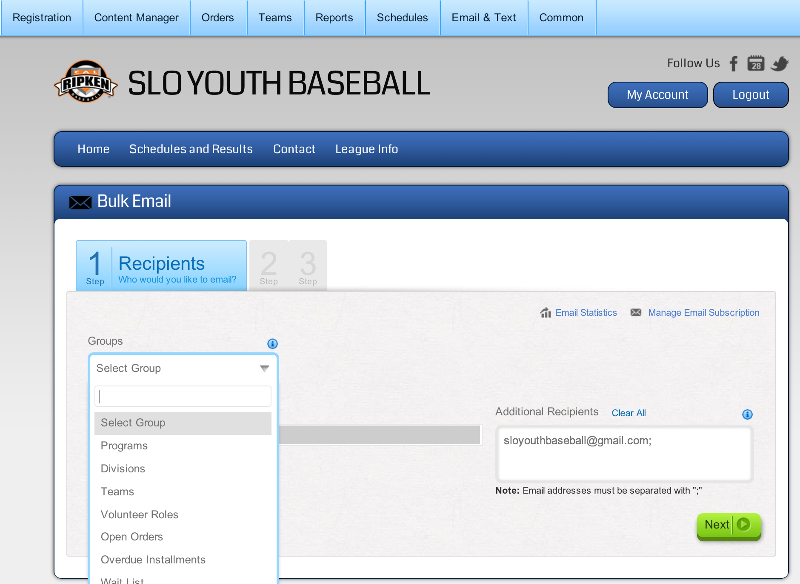 It is also straightforward to update player and parent profiles (change address, process payment, change divisions)
The quick search function allows administrators to easily find a player record and to update it: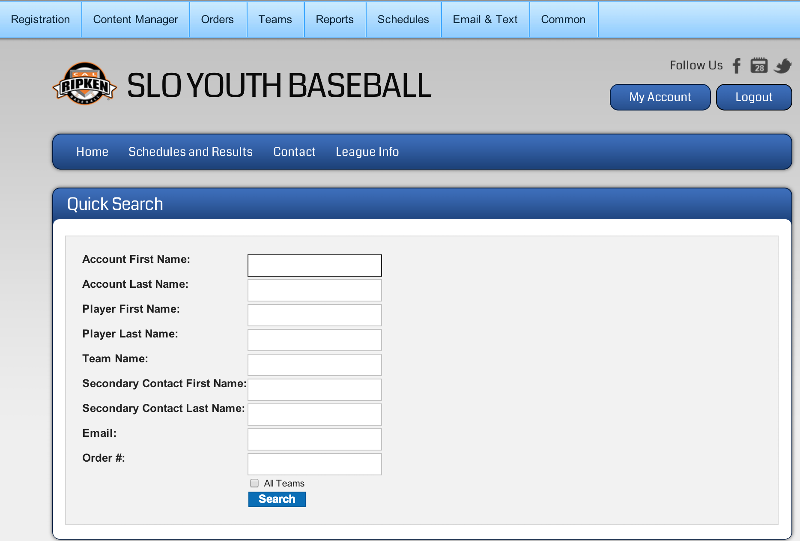 There are also a wide variety of reports that our league uses relating to registration, payment status and roster status. The site management platform comes with a number of standard reports and also provides the ability to change the display fields and save customized reports.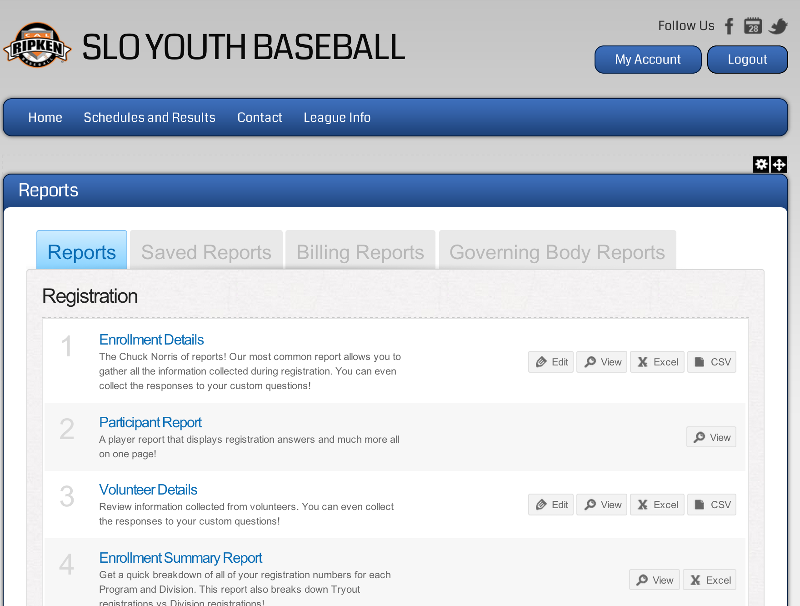 5. Results
Implementing a new league website was a part of our league's efforts to improve our perception in the community and to increase league enrollment.
A specific goal of the website program was to help us more effectively reach out to parents of 7 and 8 year olds, which is our youngest age group. Typically, once players enter the league they continue to play for many years. However, if they don't enter at the 7 or 8 year old level then they are less likely to join the league as they get older.
In the year before the launch of the new website we had 39 players in our 7-8 year old division, which was the lowest total we had had in a number of years. With the launch of the new website, and the accompanying marketing push, we registered 88 players in the 7-8 year old division in the first season of using the new site.
6. Conclusions
There are a wide range of vendors who offer website solutions to youth sports leagues. From a provider standpoint, I am sure it is a challenging market to serve given that most leagues are non-profits and are run by volunteers.
Our league saw a notable benefit by launching a new site, both in terms of player registration and in how the league was perceived within the community. Launching a professional-looking website with accurate, timely content helps significantly in explaining the product that your league offers to the community.
While a number of the website platform providers were viable, my feeling is that Blue Sombrero's partnership with Dick's Sporting Goods allows them to provide a very solid product at a compelling price point to the league (free).
To leagues with outdated with outdated sites, I strongly recommend both a site upgrade and the usage of the Blue Sombrero platform.
Screen-Shot-2014-04-04-at-9.48.3.png