Here's how to open a folder so that it automatically shows the tree pane on the left and the folder contents on the right.
Developers and administrators are quite comfortable with the tree-structured directory system, but Microsoft apparently found that the two-pane Explorer is confusing to the average Windows user... So they set the default to show the single-pane
Folder View
. If you create a shortcut to a folder (or if you type a directory path in Start/Run..., etc.) then that's what you get. You will need to click the [Folders] button on the toolbar if you want to use the tree pane to navigate around to related folders or to move to a different part of the hierarchy altogether.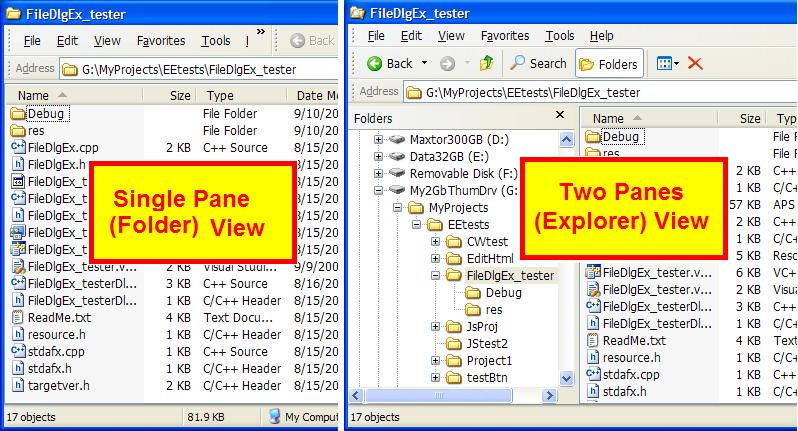 What's more, although the Explorer can remember a lot about that folder view -- the view type (Detail vs. Icon vs. Thumbnails) and sort order, and even the window size and location, it does
not
recall that you like to view that folder in the two-pane mode.
So, here's how to create a shortcut so that when the folder opens, it will display in the two-pane mode:
1
Right-click on the desktop and ...
Select
New Shortcut
2
Click the
Browse
button and locate the desired folder.
Click [OK].
3
The directory path appears in the "location" box.
Now, click on the left side of that box and
insert
:
Explorer /e,
to the left of the pathname. Don't forget the comma (
,
).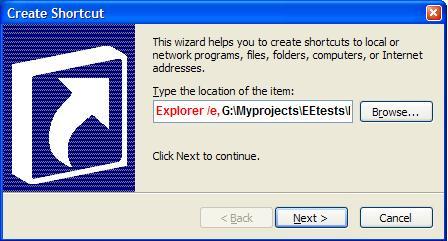 Click [Next].
4
Give the shortcut a name -- I suggest the obvious: Use the folder name.
Click [Finish].
5
By default, the desktop icon will look like a computer. I usually right-click the icon, select
Properties
, click
Change Icon...
and pick one of the folder-looking pictures.
There you have it -- a desktop shortcut which, when double-clicked, will open a new Explorer window on the folder and it will be in
two-pane, Explorer
mode.
=-=-=-=-=-=-=-=-=-=-=-=-=-
=-=-=-=-=- =-=-=-=-=- =-=-=-=-=- =-=-=-=-=- =-=-=-=-=- =-=-=-=
If you liked this article and want to see more from this author, please click the Yes button near the:
Was this article helpful?
label that is just below and to the right of this text. Thanks!
=-=-=-=-=-=-=-=-=-=-=-=-=- =-=-=-=-=- =-=-=-=-=- =-=-=-=-=- =-=-=-=-=- =-=-=-=-=- =-=-=-=