Hi,
I am very much excited today since I'm going to share something very exciting Tool used for Analytical Reporting and that's nothing but MICROSTRATEGY.
Actually there are lot of other tools available in the market for Reporting
Such as
Cognos - IBM
SSRS - Microsoft
Tableau - Tableau.
However we will focus here on the MSTR (MicroStrategy)
The MicroStrategy supports interactive dashboards, scorecards, highly formatted reports and automated report distribution.
It includes web, desktop (for developers) and Microsoft Office integration. MicroStrategy Mobile also supports mobile BI.
To get started with MSTR you first need to understand its different editions which are available in the following document
Compare-MSTR-Exitions.pdf
For Bried it has got both Free Edition and the Commercial one.
You can get familiar with it using the Free Editions available. Both Desktop application (Analytics Desktop) and Web Application Analytics Express as SAAS (
Software as a Service
) cloud based service available free for One year with limited access and features.
Apart from this free edition Microstrategy comes up with Enterprise Edition - Analytics Enterprise having lots of features supported which are not available in the Free Desktop and Cloud service edition - Edition Comparison is shown in detail in the
Compare-MSTR-Exitions.pdf
.
MSTR Enterprise Edition which is available for free 30 days evaluation edition after which you can buy License version of the same if you find it useful.
However Analytics Desktop is free edition and can be used as a Reporting Tool with limited scope but suitable for in house and small organization since it also contain Email distribution used to share reports among groups.
However you can not connect Multidimensional Source such as Cube using Analytics Desktop or Analytics Express (Cloud base) and for that you have to switch to Enterprise edition - Analytics Enterprise.
Microstrategy provides seamless integration with any other database as well as database services like Salesforce, Azure etc.
Microstrategy Enterprise comes up with ERP, CRM integration and has a wide range of source database connectivity for which it uses ODBC drivers which are widely available for all the databases.
Microstrategy Enterprise Edition is one which is used for big organization, for Data Analysis and Report preparing.
It comes with two folds which are Desktop and Web Edition since it has its own Report Server Environment which is integrated in IIS.
One can develop reports on any of the side and it will be available on both sides (Reports developed in Developer which is desktop tool can be accessed from Web and Vice Versa.)
Since Microstrategy has got Intelligent server User with basic knowledge of Data and Business can prepare reports using Metrics (Measures) and Attributes (Dimensions).
The pre requisite for preparing report is the Project Source in which developer will create project and the architecture which will be having Facts and Attributes. Facts will then calculate Metrics which are calculations of the Facts say sum, avg and the Attributes will be the dimensions against which one wants to measure.
Microstrartegy uses Metadata to connect to any database / Source and if you connect to SQL database the Metadata Tables will be created to the Source database.
These metadata tables are like heart of the Intelligent Server which is heart of MSTR. These contain all the information of Connection, Data, Mapping, Attribute, Fact, Measure hence you can say it is Black Box of your Plane MSTR taking you from Data to Information which is the aim of BI - Convert Data to Information.
► Now Let's get a brief about MSTR components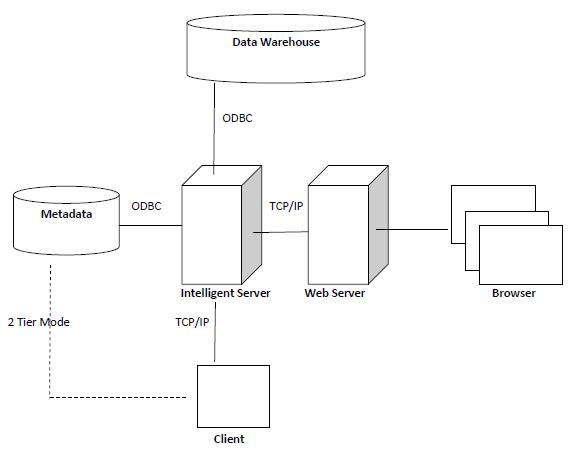 Here is the basic Architecture of MSTR
The Heart of MSTR is Intelligent Server - It is responsible for Analysis and management of all Facts, Metrics and Reports
Web Server - It provides the access of MSTR reports on the Web . Since it is integrated with IIS it can be easily be configured for Intranet and Internet for Local and Remote Access.
Metadata - Microstrategy stores the information regarding the Source data and connection and other analytical information in its pre defined tables which will be created on the fly while create MSTR project at the source side.
So MSTR is basically a Smart Analytical Reporting tool made for Analyzing the data without making Cube on Data Warehouses or can even connect directly to your OLTP applications.
Basically downloading MSTR is easy you can download any of its free edition from the
Microstrategy website
for which you need to sign up and for that you will be required Corporate E-mail id.
You can not download it from Gmail or Yahoo id.
After Downloading it you can install it which is simple installation however if you are downloading Enterprise Evaluation edition for 30 days then you can follow this
lnstallation
Step.
So here was my baby step in the vast land of Microstrategy to make you aware with a glimpse of it.
Hope this will help you to get it started .......