If, like me, you have a lot of Dell servers in the estate you manage this article should save you a little time. When attempting to login to iDrac on any server I would be presented with two errors. The first reads "Do you want to run this application" and pertains to the issues at the bottom of the prompt (see the image below). The second reads "Unable to launch the application".
What this boiled down to was an issue with the iDrac virtual console and the latest version of Java. The Java client is looking for a security manifest on the application which it may not find, depending on the version of Drac you are running.
These are the errors I was encountering:-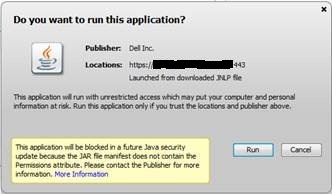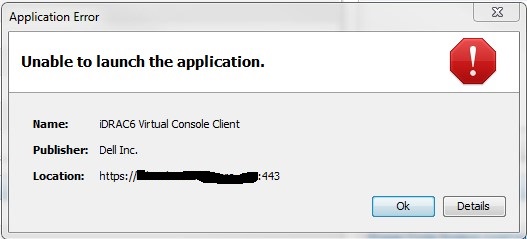 To fix it you need to add the address to Java's trusted sites under the configure java options. To access this you open "Configure Java" from the start menu group Java. Then open the security tab, then click Edit site list. You then click Add and enter the fully qualified URL path. Unfortunately there isn't a wildcard option so each server has to be explicitly added to the list.
I do not recommend lowering the overall security setting as this could compromise the overall security of the machine in question.
I hope this saves you time, effort and pain.