On Sep 22nd 2014 Microsoft released Update Rollup 1 for Microsoft Dynamics CRM 2013 Service Pack 1 and back in July Update Rollup 3 was released. So we now have:
Update Rollup 1
Update Rollup 2
Update Rollup 3
Service Pack 1
Update Rollup 1 for Service Pack 1
Confused? You and many others.
Updates for the original RTM release of CRM 2013
As of the 2013 version Microsoft stated that Update Rollups would not add new features as occured with CRM 2011. So as usual update rollups that fix bugs were released for the original RTM (release to manufacturing) that happens to be version 6.0. 0. So far we have Update Rollup 1, Update Rollup 2 and Update Rollup 3. Installing an update rollup changes the version number to 6.0.1, 6.0.2 or 6.0.3. Note that the third number matches the Update Rollup number. There is also a fourth number known as the build number but that isn't relevant to this discussion.
So what is Service Pack 1 then?
In the CRM roadmap, Microsoft promised lots of new features around Service Entitlement (and other areas) for CRM Online during the summer of 2014 and for on-premise at the end of 2014. In a surprise move, the new features were made available to on-premise customers ahead of time in the so-called "Leo" release. This is what you get when you install Service Pack 1. This changes the version number to 6.1.0.
So this gives two branches of the CRM 2013 release both being maintained with update rollups. Update Rollup 1 for Service Pack 1 is
only
for CRM 2013 that has SP1 installed. This changes the version number to 6.1.1.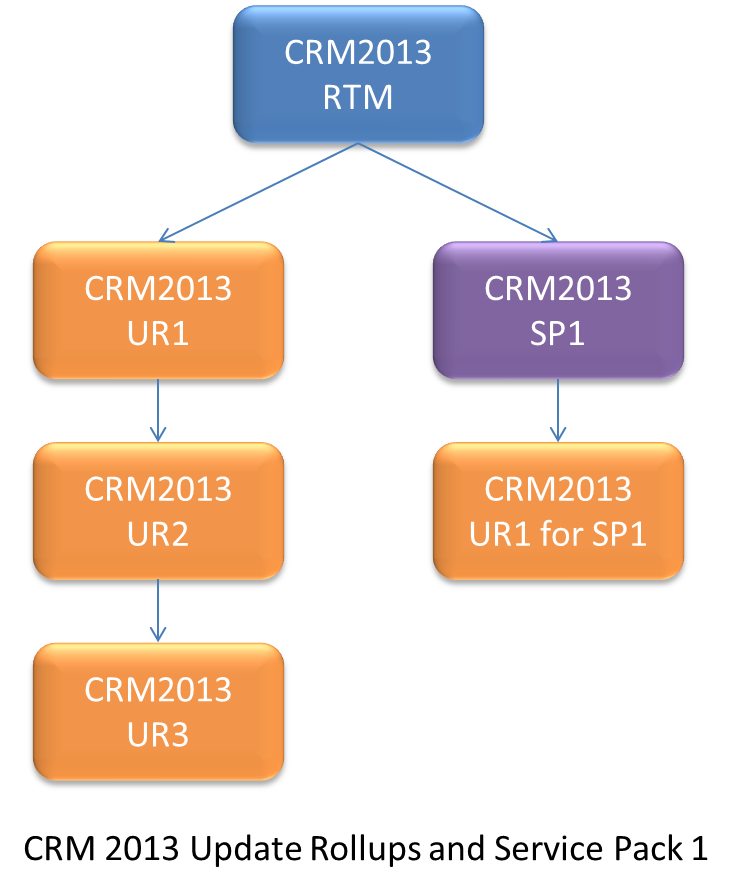 More Service Packs?
Will there be more Service Packs for CRM 2013? In my opinion, probably not. Microsoft announced CRM 2015 will be released towards the end of Dec 2014 so I think it highly unlikely that new functionality will be added to CRM 2013. There probably will be more update rollups though.
This article
http://support2.microsoft.com/kb/2917899
lists the updates available for Microsoft Dynamics CRM 2013.