Although Linux operating systems are becoming more and more accessible for people without a degree in Computer Science, lots of people just don't have the time to read up on how to install their chosen flavour or are worried that they will mess up the computer they use everyday.
There is an easy way:
WUBI!
1. A little bit of background
There are a good number of
flavours
of Linux operating system out there for you to choose from. WUBI uses one called Ubuntu, which is on the up in the popularity stakes.
Simply put WUBI takes Ubuntu and installs it as a single file onto your Windows file system, and then adds a menu to your computer's start up rountine to enable you to decide which system to use (in order to swap then you just need to restart and choose the other OS). The whole operating system is rolled into this file (this includes any files you save whilst using it) making the solution compact / easy to manage and easy to uninstall when / if you need to.
Aside from this the WUBI install does not make any modifications to the Windows environment.
Lets get going...
Although I have used Wubi a great deal, and have never had any problems, please please back up all of your data before continuing.
2. Get Wubi
Start up your windows machine and open your favourite internet browser.
Navigate to
http://wubi-installer.org
and download the latest copy of the wubi installer.
3. Installing Wubi
Launch the installer and it will show you a splash screen with a number of options.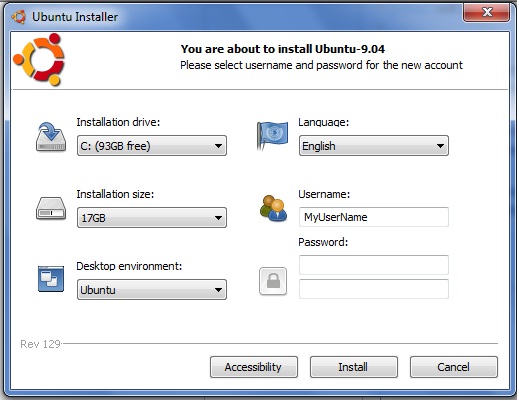 The more discerning user can go through the list and modify parameters but as the idea of the article is to keep it simple then all you need to do here is choose a Username and password for the installation.
The installer will then go off and download the latest copy of ubuntu and proceed with the install.
4. Completing the Installation
Once the installer is finished it will ask you to restart the machine. Do so.
At start up you will now see a new menu appear, from here please choose "Ubuntu".
The installation will continue unattended (this can take up to 10 minutes or so) and will then show you the login screen. You should now be able to login with the username and password that you specified earlier.
5. Enjoying The Freedom
Enjoy ubuntu! You are now set up. All
you
need to do is decided as you start up the machine whether you feel it is a Windows day or an Ubuntu Day!
6. Uninstalling
Uninstalling is easy!
Start the computer into Windows.
Login and then go to "Add / Remove Programes (Windows XP) or "Programs and Features" (Vista / Windows 7), located in the Control Panel. Find Wubi and click uninstall.
PLEASE NOTE
When Ubuntu is uninstalled you will lose all of the data that you have saved with it
7. What now?
Useful Sites for getting started and making the most of your new ubuntu install.
http://help.ubuntu.com
- Official help with ubuntu.
http://wubi-installer.org/faq.php
- The
WUBI
FAQ.
http://www.openoffice.org
- Office for free.
http://www.mozilla-europe.org/en/firefox
- a great browser.
http://www.psychocats.net/ubuntu/kdegnome
- Gnome or KDE?