I've been a
Windows Secrets
subscriber for over a decade (probably closer to 2). I recently saw
this article
on how to safely try out Windows 10 technical preview within a virtual machine. The article itself is an easy read and the instructions are excellent. I followed them and made a video of my experience located
here
. I am now in the process of trying out Windows 10. So far it looks a lot like Windows 8.1, but I will see.
Feel free to check out the video. There is a basic assumption that you already either have or know how to setup Oracle VirtualBox (you can use Hyper-V instead if you wish - I tried it with Hyper-V and found the networking in 10 a bit wanting).
One of the first things that struck me about Windows 10, after reconciling to the fact that it wasn't a lot different than 8.1, was that you could easily set it up to login with a 4 digit pin number. In fact, this seems to be encouraged. The only reason I could think why Microsoft would want to do this is to be more like Apple. A 4 digit pin is in no way secure. Yes it is more secure than no password/phrase/pin, but that isn't saying much. I hope that Microsoft revamps the security settings before releasing this. It looks like everything is on by default, and I don't mean the good things. For instance, in Privacy Settings the default is all on.
applications can access


your name
picture
account info

Applications can use your advertising ID
Microsoft watches your web content while the store is active
Text suggestions (a nice feature) is on by default, but his also means that "somewhere" a file exists with your preferences
Websites can access your language list
Other personal information may be revealed
Note that since this is a Technical Preview, much of the purpose is to collect information on how users are using the product. Microsoft has said that what has been dubbed the "keylogger" aspect of this intrusion will not be present in the final release.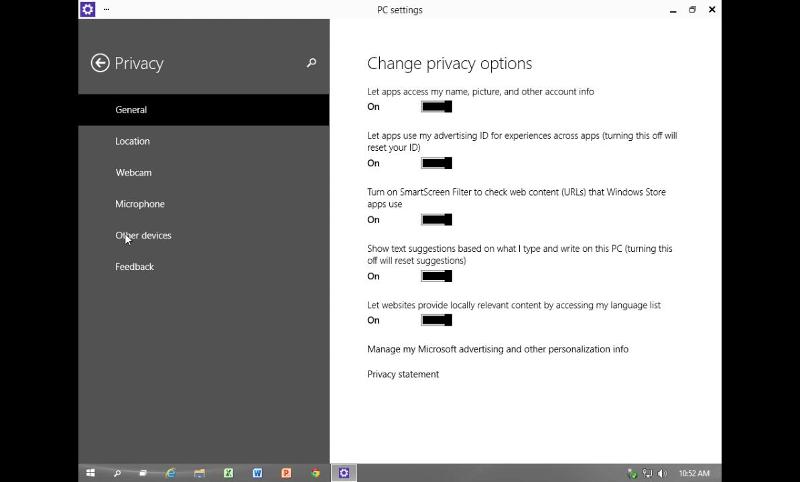 And that is just the General Privacy options...
Read the Privacy Statement carefully. It says that Microsoft will collect all kinds of information from the user.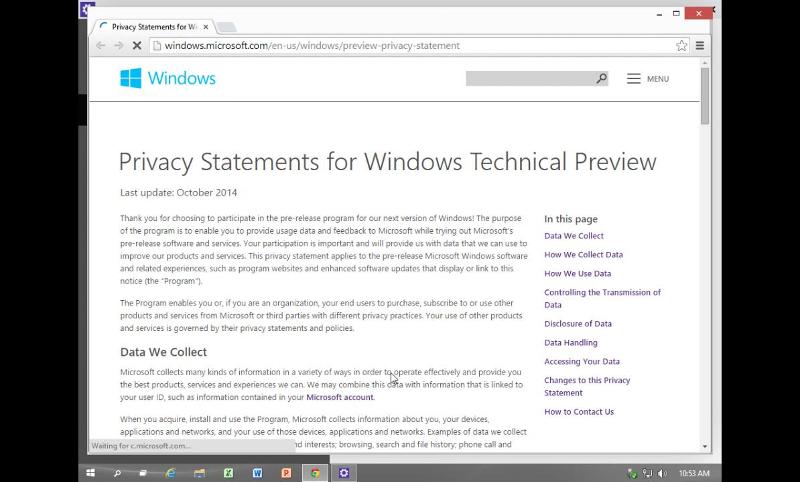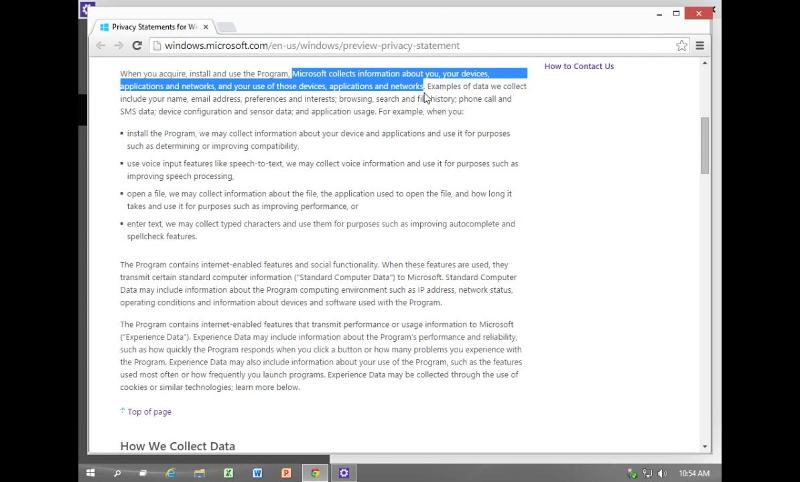 and that is just the tip of the iceberg. So be aware of what is being shared.