Know how to split one Adobe PDF document into multiple PDF files in an efficient manner. Learn different solutions i.e. manual as well as professional solution to divide PDF into multiple files.
Have you ever come up with a need of emailing only few pages of PDF file to one of yourfriend or colleague, instead of whole Adobe file? If yes, then surely you have face problems in doing that! Read this write-up as I have suggested multiple solutions to split one Adobe PDF document into multiple PDF files. But, before that know more about PDF files.
PDF files have lot of importance in this IT world as there are unbeatable benefits of using them. Business reports, eBooks, invoices, emails and personal documents of users are these days converted into PDF format. These files are small in size, portable and secure way of communication as well as displaying information over internet. A user can store large amount of data in these files which is one of the biggest advantages of PDF files, but sometimes this also becomes a headache for users when they need to access only few pages of Adobe PDF files from large sized PDF file. Therefore, in such situations the only option left behind is the that split single PDF to multiple PDF files.
Scenarios Demanding to Split PDF Files
Before jumping on the solution to split PDF file in multiple pages, it is important to know about the situations that may call for PDF splitting process.
One reason could be your master PDF file contains data insections and now you want to save these sections in separate PDF files in your system so that you can easily manage data with other details. In this situation a user needs to split PDF file according to sections specified within it.
Sometimes, a user has to share only few pages of PDF file with another user. In such cases they have to divide PDF file accordingly. They need to split PDF file into smaller parts so that users can share respective parts of PDF file with required users.
Once you have become familiar with situations that demands for the splitting of PDF files, the next step is exploring ways to split single PDF to multiple PDF documents.
There are multiple ways, so choose the right one and make your task to split PDF file easier.
Ways To Split One Adobe PDF Document Into Multiple PDF Files
By Using Adobe Acrobat XI
The second method applies only to Acrobat XI edition so take necessary steps accordingly.
First open the PDF file and click on Tools pane. From the pages panel select the Split Document command.
Split Document dialog box allows users to control the process of split by the number of pages in the file, the file size and by top-level Bookmarks.
Select the split size and also check on number of pages in max.
Set the output options that help you to control where the splitter files will be saved.
Click on 'Ok' to proceed and pages will be split according to details keeping original files unchanged.
Professional PDF Split & Merge Tool For Perfection
In case you are not satisfied with manual procedures to split one Adobe PDF document into multiple PDF files then I have perfect solution for you. Use PDFWARE PDF Split and Merge software which is a two in one utility that can be used for splitting or merging PDF files. In two-three steps users will be able to split PDF documents by Page, Even & Odd pages and Range of PDF files. Moreover, the software help to split single PDF to multiple PDF on any Windows Operating systems.
Step by Step Process to Divide PDF into Multiple Files
1- Download and install the PDF Split and Merge software in your system and run it.
The welcome screen looks like as shown in below figure. Now Split option to perform splitting of PDF files.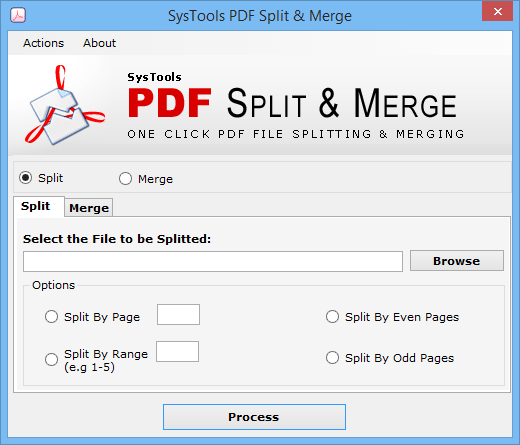 2- Now browse for the PDF file to software wizard and check on any of the options by which you want to split PDF files.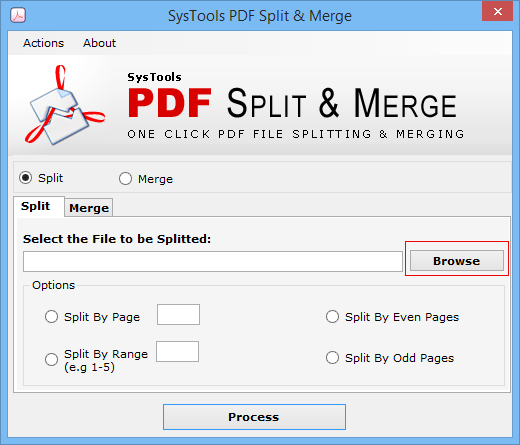 3- Click on 'Process' option to start the process of splitting PDF files.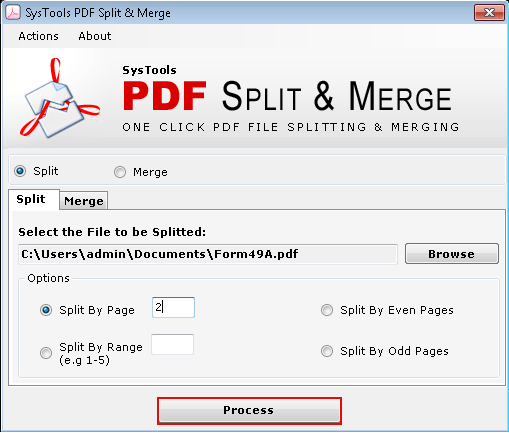 4- By clicking on Process option, the software will prompt you to provide a destination location to save the files on hard drive of system. Click on 'OK' to continue the process of splitting PDF files.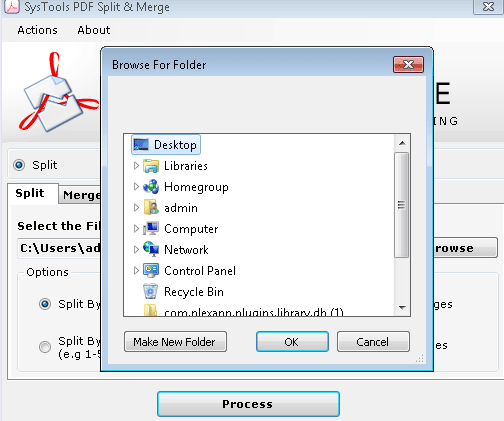 In last software will pop up with message stating splitting of PDF files got completed, click on 'OK' to exit the software.
Method to Extract Pages from PDF
Adobe Acrobat ™ provides built-in process named as Extract Pages Tool that helps the users to divide PDF into multiple files. Users can extract the number of pages from PDF file and use them as separate PDF file afterwards.
Open PDF file and go to Document > Pages > Extract.
Clicking on Extract will prompt a dialogue box asking for number of pages that are to be extracted.

Users can click on 'Delete Pages After Extracting' option if you want to delete those extracted pages from the original PDF file. If you don't wish to delete the pages from PDF file to be lost then leave the box unchecked.
Now click on 'Ok' to extract pages out of PDF files.
The extracted pages will be opened in as new PDF documents. Now click on File > Save As and then provide a file name to save the newly created files on hard disk of computer as a new PDF file.
Conclusion
Using all above discussed manual methods to split PDF file users can perform PDF split process but it does not ensure to maintain the integrity of files and data. So I recommend you to use professional PDF Split & Merge software to perform the process to split one Adobe PDF document into multiple PDF files.