E-commerce is quite a gambling world, and you should never entrust your business to a lucky chance. In order to outrun your competitors in a race to attract as many customers as possible, you need to have a well thought-out strategy under your belt. So what are those three key ingredients that will make the recipe work and let your Magento store prosper?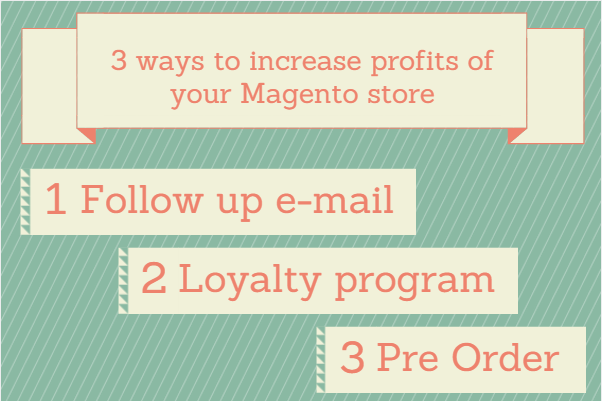 1. Follow up e-mail strategy
Did you know that almost 80% of leads are captured between the 5
th
and 12
th
contact with a potential client? If it comes as a surprise to you, you surely need a better insight into your follow up e-mail strategy. While many Magento store owners fear being too e-mail overbearing, the statistics shows that you get only 2% of sales on the first contact, 3% by the second, 5% by the third, and finally, around 10% of sale only by the 4
th
contact with the client. Are you still doubt beating around the bush or are you ready to remind people of your Magento store? Simple guide-lines for a fresh start with a good follow up strategy:
Don't be faceless; put some personality into your e-mails
Stick to well-structured informative content that is to the point
It's all about being in a relationship with the customer: do not forget such things as birthday congrats/discounts , for example
Time your e-mails right and on a regular basis
Don't forget a "call-to-action" pitch; all you need is a link-click to your Magento store.

2. Loyalty program
The reason for picking up a loyalty program as a working e-commerce strategy is pure psychology. The thing is that decision-making is 70% emotional versus 30% rational. Besides, it takes 5-10 times more effort to attract new customers, while the ones you already have as regulars spend 67% more than the new ones. There are numerous ways to build an effective loyalty program from scratch or to reconsider the existing one. But here are some common guidelines to stick to:
Take advantage of a simple point system: enable the customer to earn a certain amount of points to get a bonus
Use a tier system: reward for initial loyalty and encourage to get to the next level
Turn it all into an absorbing game
Deliver special offers for a VIP account.
3. Pre Order
The pre-ordering concept is a true e-commerce breakthrough that has radically changed the customer experience. There are two types of a pre-order. You enable the customers either to pre-order a product from your Magento store well in advance of its launch or to pre-order a product that is currently out of stock but will be available soon.
In the former case you provide the clients of your Magento store with a top seller product they want to be the first to get. In the latter case you dispense with the necessity of checking the product availability on your or (god forbid) a rival's Magento store. The greatest thing about pre-order is that in any case you save the customers from queuing up outside brick-and-mortar stores or missing the product because of online sale rush/server breakdown.
Summing Up
There are a lot of ways to increse sales but not all of them are supported in Magento out of the box. Some of them are available form companies like Amasty that develop extensions to make that platform more flexibple, user-friendle and conversions oriented.
Anyway, you should think carefully before choosing this or that extension. You should understand your KPIs and act accordingly.