In my previous
Experts Exchange Articles
, most have featured Basic and Intermediate VMware and Virtualisation Topics.
If you would like to read my Basic VMware articles, they are listed at the end of this article for your convenience.
I've written many Experts Exchange Articles discussing Physical to Virtual (P2V) and Virtual to Virtual (V2V) conversions using VMware vCenter Converter Standalone or Microsoft Virtual Machine Converter because these are still the Number 1 most frequently asked questions, asked daily in the VMware and Virtualisation Zones on Experts Exchange, I've also mentioned in these articles, some commercial products which are also available which can make P2V and V2V easier, but there is still a risk of failure with these products.
Are you struggling with VMware vCenter Converter Standalone, Microsoft Virtual Machine Converter or System Center Virtual Machine Manager migrations from physical, virtual and cloud based workloads?
Do you want to migrate and replicate server workloads in real-time?
Do you want to schedule and migrate servers?
Conversions that result in "A Blue Screen of Death (BSOD)"?
Complete P2V, V2V completely automated using a schedule?
Unable to complete a P2V, V2V, whatever method you try?
I have the solution for you in this Tutorial Article -
Double-Take MOVE by Vision Solutions
.
We have now recently switched to a new product, called
Double-Take MOVE by Vision Solutions
. If the name Double-Take is not familiar to you, Double-Take MOVE technology is built on the lasting pedigree of Business Continuity Disaster Recovery Solutions software - Double-Take. We started to use Double-Take in 1998 for clients in the Telecommunications Industry that had a requirement for highly available platforms, on Windows NT. Those clever guys at
Vision Solutions
have now spun this out into a new product called
Double-Take MOVE
which does
Anything to Anything migrations!
In this article, I'm going to show you how quickly it is to Migrate a Microsoft Server 2008 R2 Hyper-V virtual machine to a VMware vSphere virtual machine, hosted on VMware vSphere ESXi 5.5.
The virtual machine to be migrated is a Windows Server 2012 R2 server, it has 4 vCPU, 10GB RAM and has two virtual disks, The OS system volume disk is 100GB, and the Data volume is 550GB. This virtual machine was chosen for this article because it's a Production virtual machine used 24x7x365 to distribute images and software using the Windows Distribution System to over 250 workstations, distributing Windows 7, Windows 8 and Windows 8.1 images,
Administrators are often updating the images and software lists, Staff are using it to deploy software 24x7, and so it is very difficult to get scheduled downtime to perform the migration, if the server was to be powered off.
VMware vCenter Converter Standalone
had been tried in "Sync Mode" but the size of the changes were too large for it to accommodate and hence the server would require downtime. We also wanted to test any performance degradation on the source server, whilst, migrations and replication was being performed, as the WDS server was deploying images across the network to workstations on the LAN.
Double-Take MOVE® eliminates user and application downtime during migrations – including running database applications that constantly lock their database files while they're running. Double-Take MOVE provides true data replication functionality that precisely duplicates the application's native write processes with real-time transaction awareness that never requires a quiesce, including replication of file system metadata like permissions, attributes, compression and encryption settings.
These features allow you to keep your applications running while the migration proceeds without impact using the spare CPU cycles and I/O on the system. If an application needs those additional processing or data bandwidth resources then the operating system will pre-empt Double-Take MOVE and make those resources available to the running application, allowing Double-Take MOVE to continue working quietly in the background migrating data without impact to your running applications and users.
Source
http://www.visionsolutions.com/products/dt-move.aspx
1. Deploying and Installing Double-Take MOVE on the Helper Virtual Machine [Target Server]
Double-Take MOVE needs to be installed on a Helper virtual machine hosted on the hypervisor you are migrating to. In this tutorial, we have deployed a Windows Server 2012 R2 Datacenter server to be the helper VM. Double-Take MOVE uses this helper virtual machine to create the virtual disks for the migrated virtual machine, and replicates data to these virtual disks from the source server. I've created a Windows Server 2012 R2, with all the latest patches applied.
Download the Double-Take MOVE Software from the link in the Adobe PDF supplied by Vision Solutions to your desktop. I've called my virtual machine in this tutorial VRA Helper.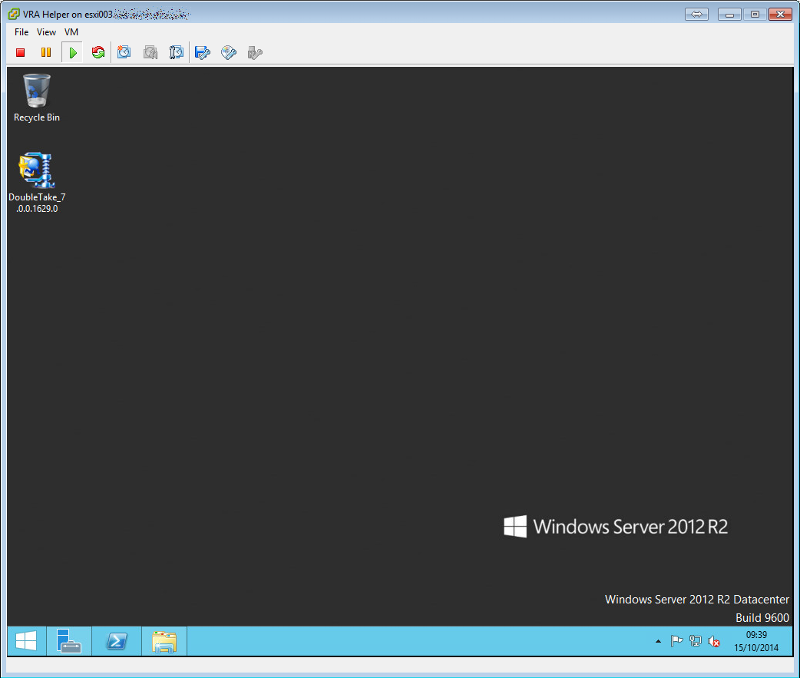 Double click the DoubleTake_7.0.0.1629.0.ex
e (your version and executable may be different to this tutorial) and at the Open File - Security Warning - Click Run to continue.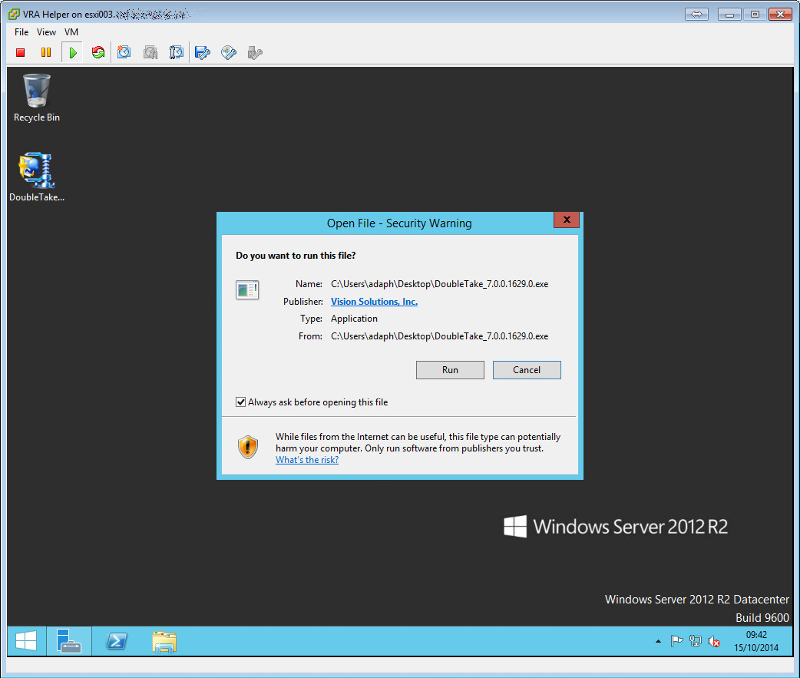 When prompted extract the archive file to a new temporary folder in the root of volume C: e.g. c:\temp.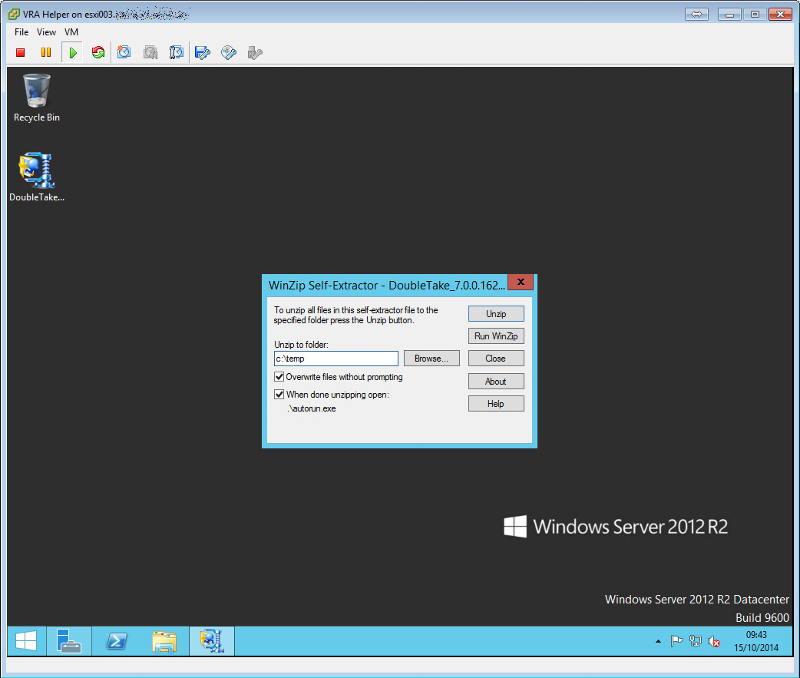 Click OK when prompted.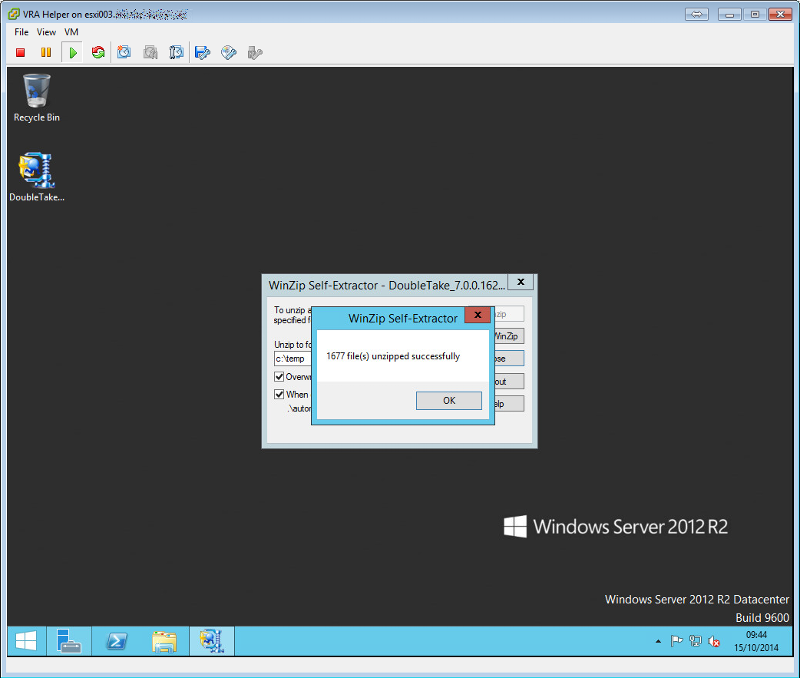 When the User Account Control dialogue box is displayed, the Select Yes, when prompted to allow Autorun to make changes to your computer.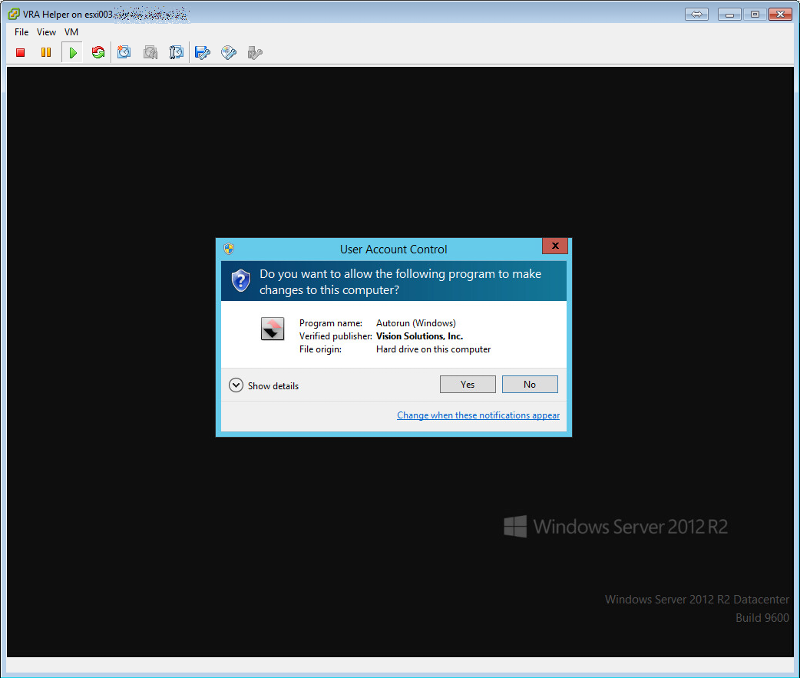 Select Double-Take MOVE.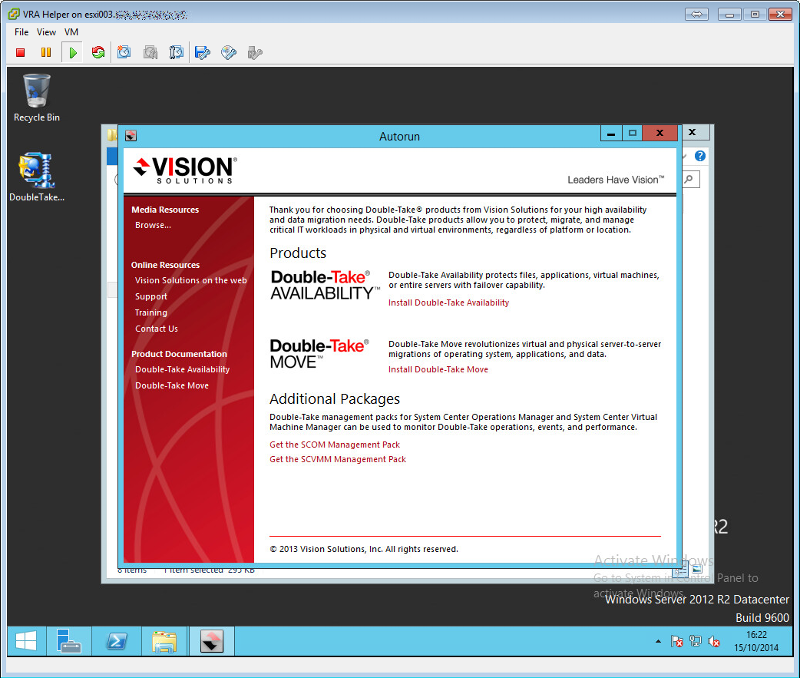 Double-Take may require to install the Visual C++ 2008 SP1 Runtime with MFC Security Update, select Install.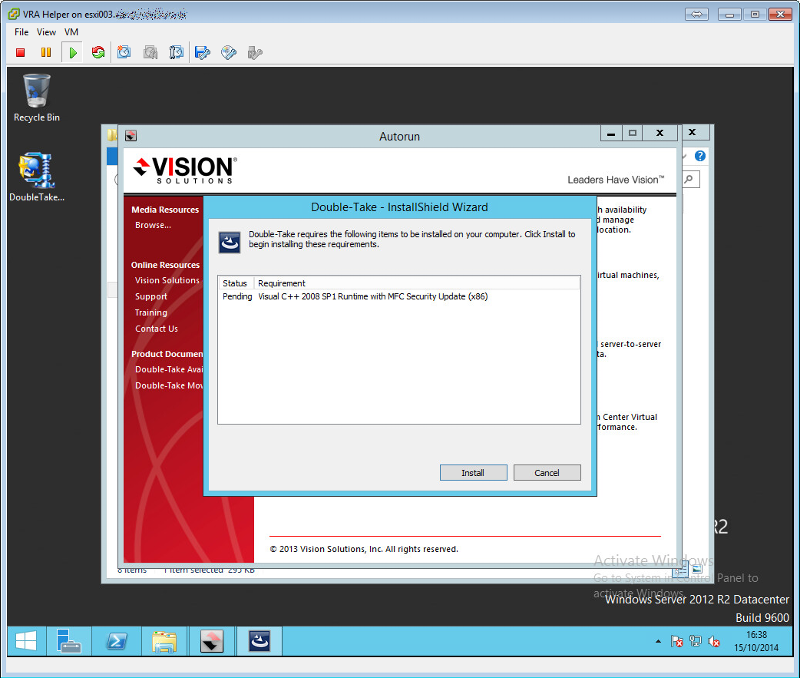 Select, No, skip this step and continue the current installation, and Click Next to Continue (unless you have been advised by Vision Solutions to use a later version of Double-Take MOVE.).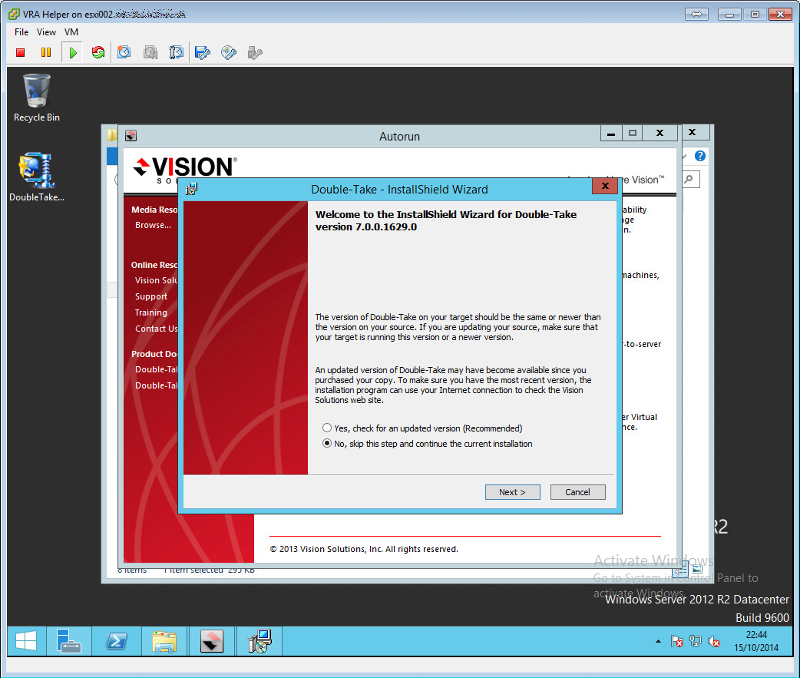 Select "I accept the terms in the license agreement" and Click Next to continue the installation.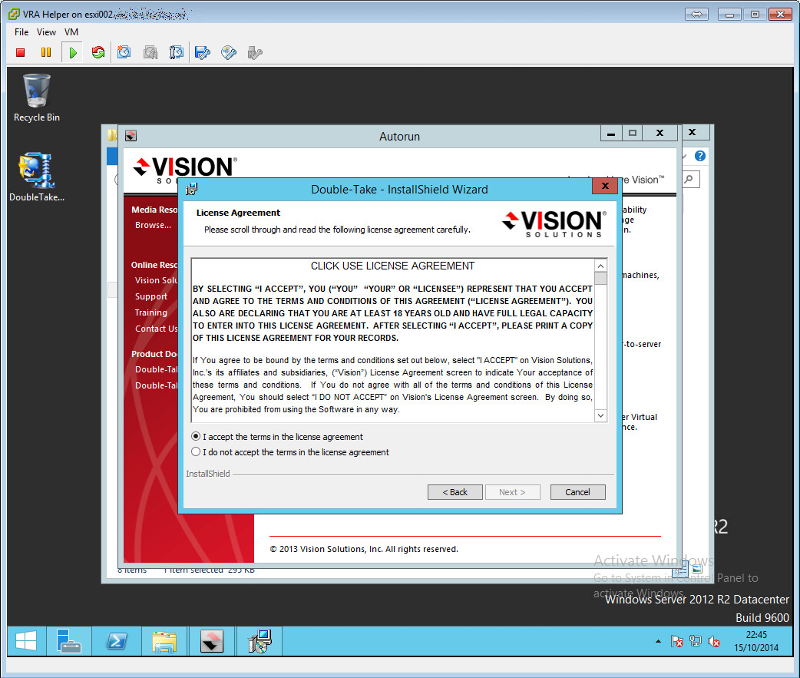 Select Client and Server Components, and Click Next to continue.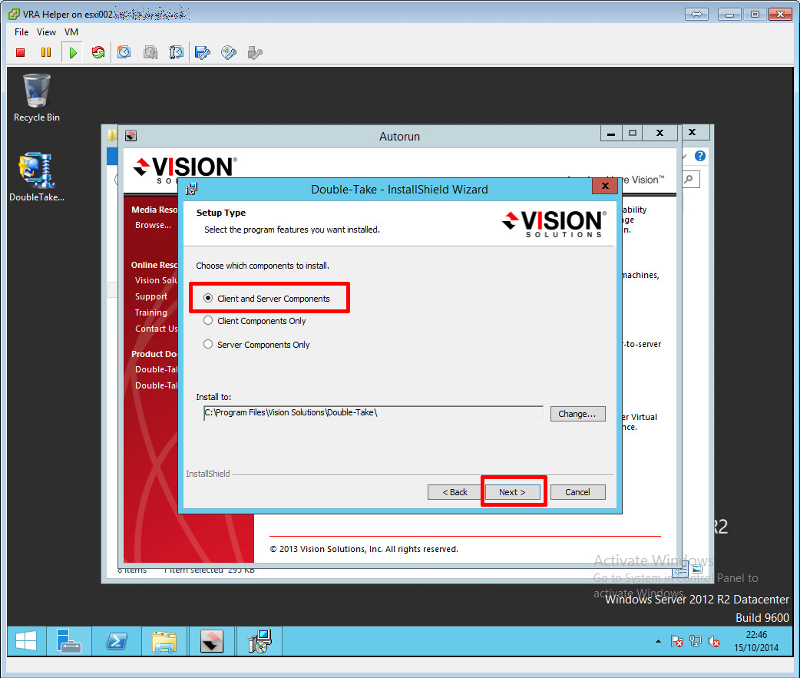 Click OK to continue.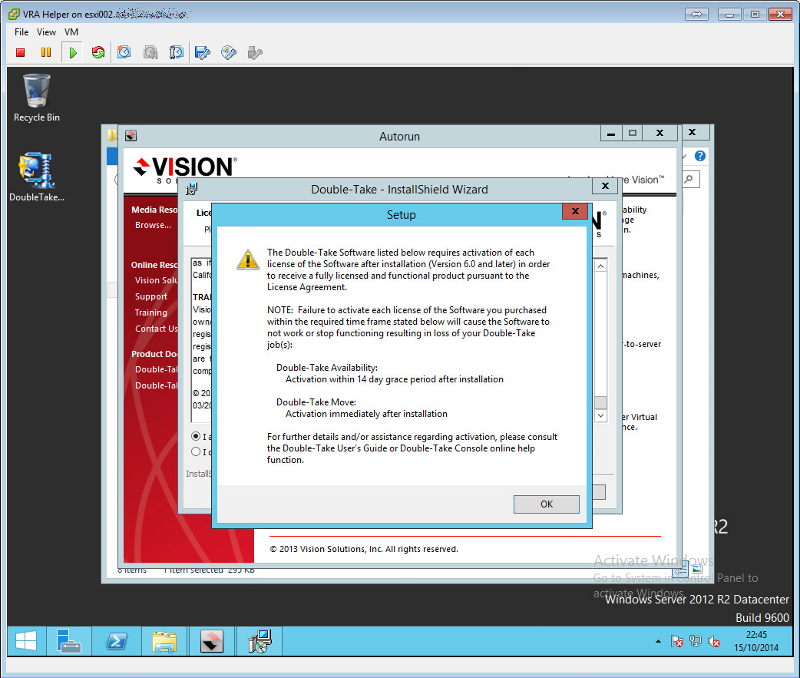 At the Windows Firewall Configuration option screen I would recommend you let the installation program make changes to your firewall rules automatically. Click Next to Continue.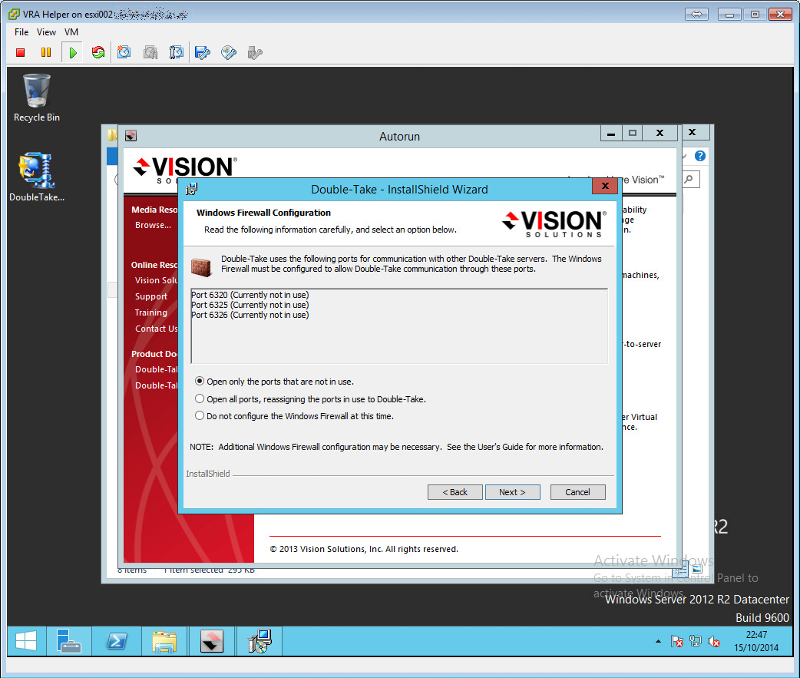 Enter and Add your Activation code (from the supplied Adobe PDF document), that you have been given for the Target Server (Helper Machine!). Click Next to continue.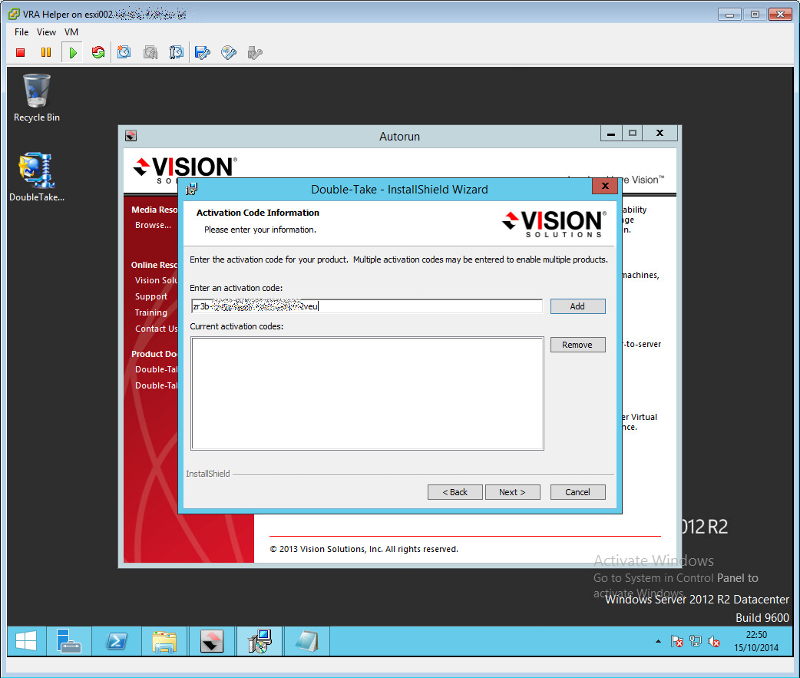 Use the default options for the Queue Options and click Next to continue.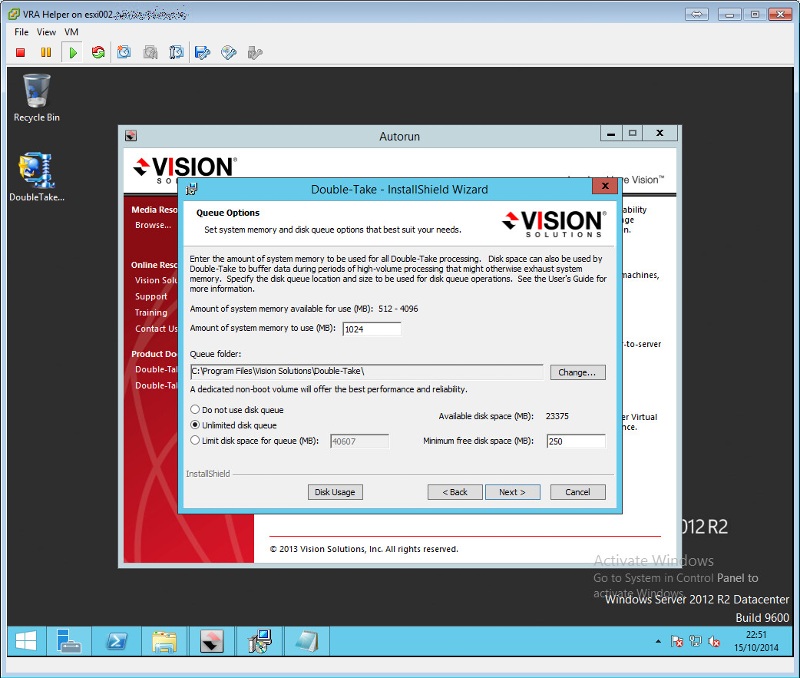 Read the following information carefully, and click Next to continue.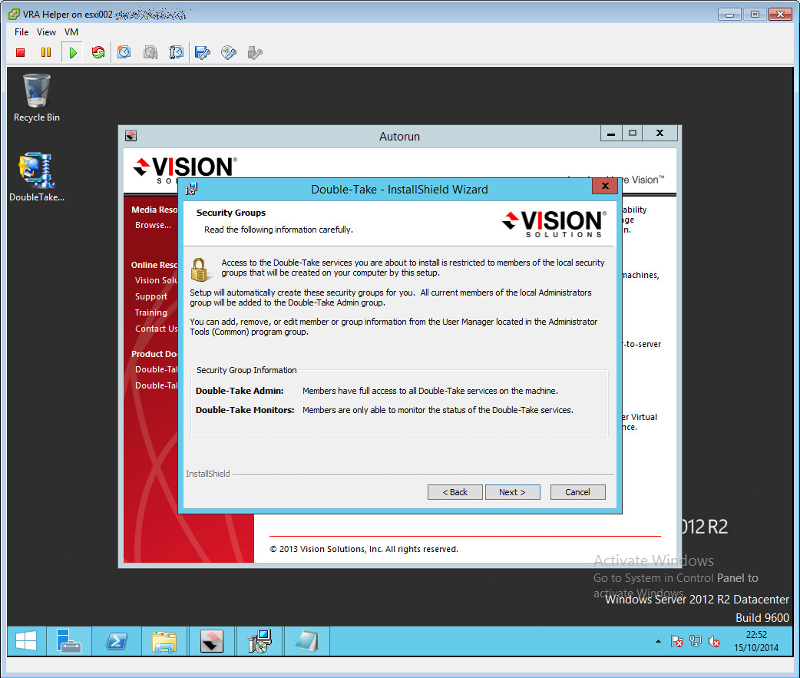 Click Install when Ready to Install the Double-Take MOVE program.
The installation program will install the application.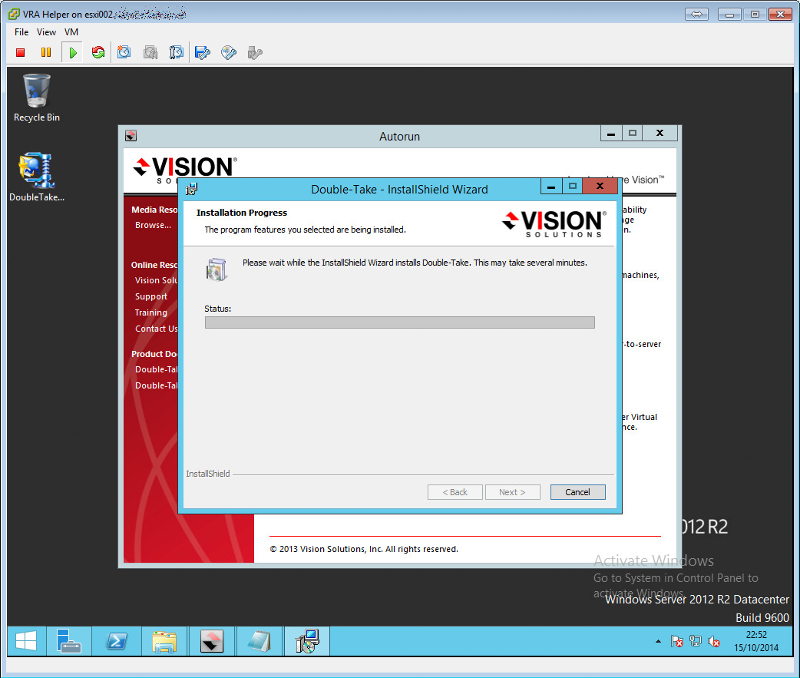 Click Finish to complete the installation.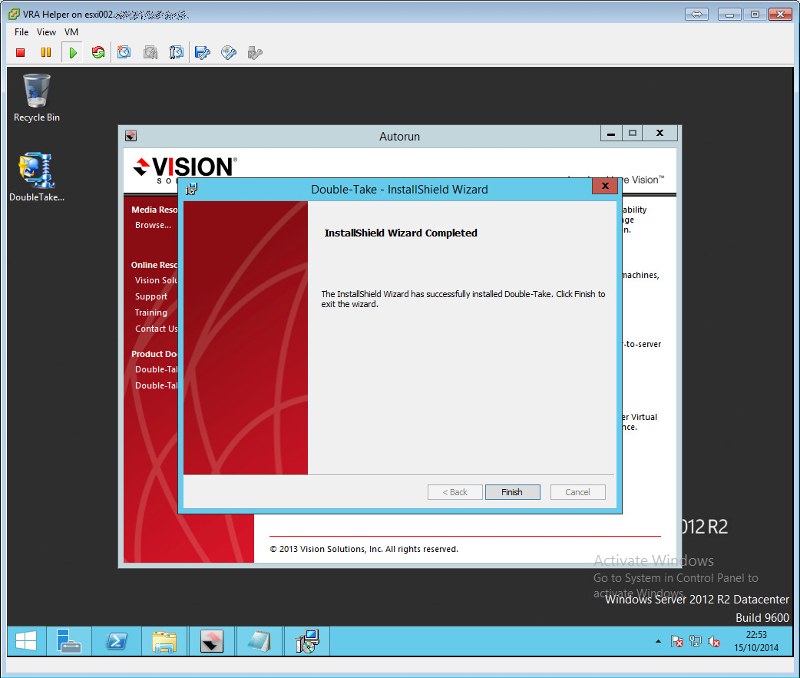 2. Starting the Double-Take MOVE Console and Remotely Installing Double-Take MOVE on the Source Server
Select and start the Double-Take Console from the Start Menu.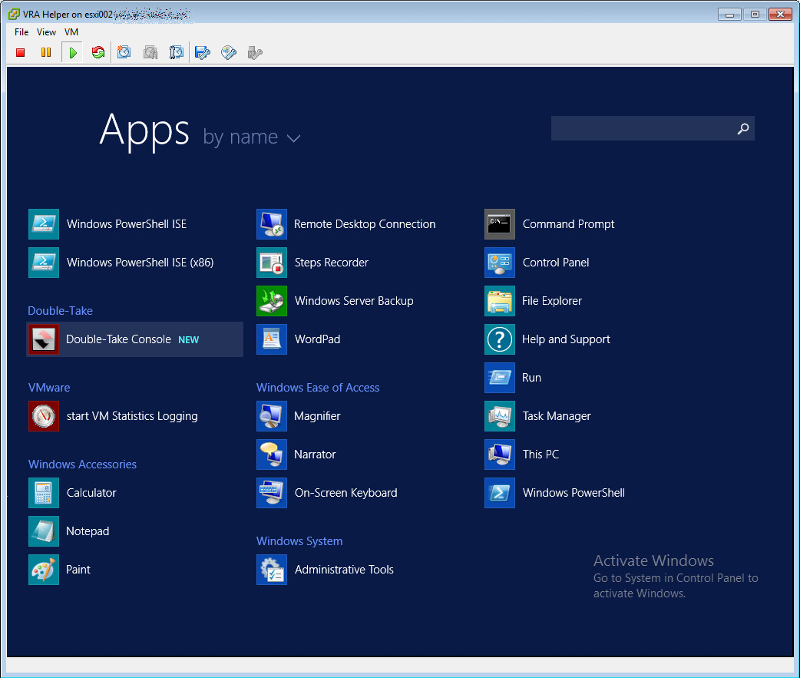 At the Double-Take Console select Get Started. The Double-Take Console allows you to remotely deploy Double-Take to the source server you need to migrate.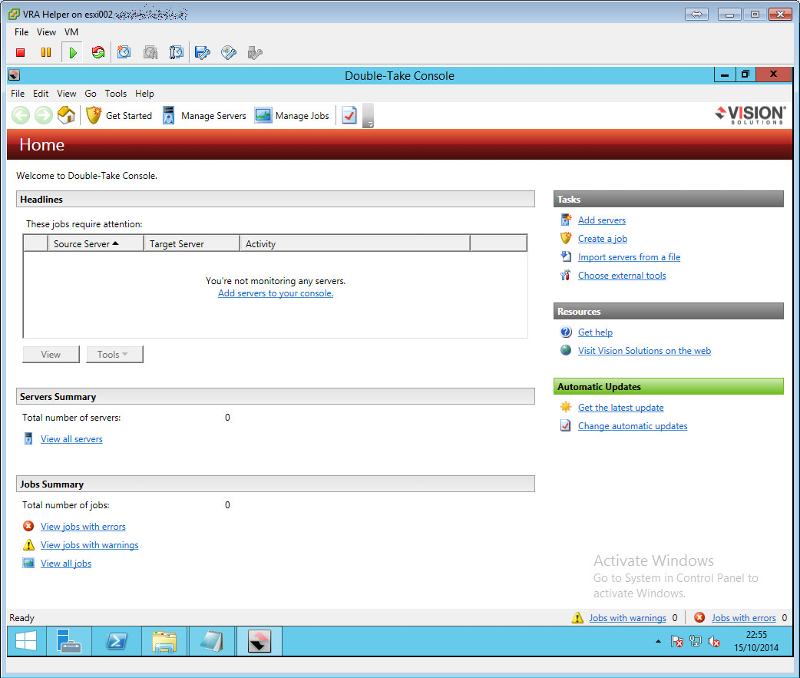 Select Double-Take Move to Migrate an entire server to a different hardware or virtual machine. In this tutorial we are migrating the server to VMware vSphere.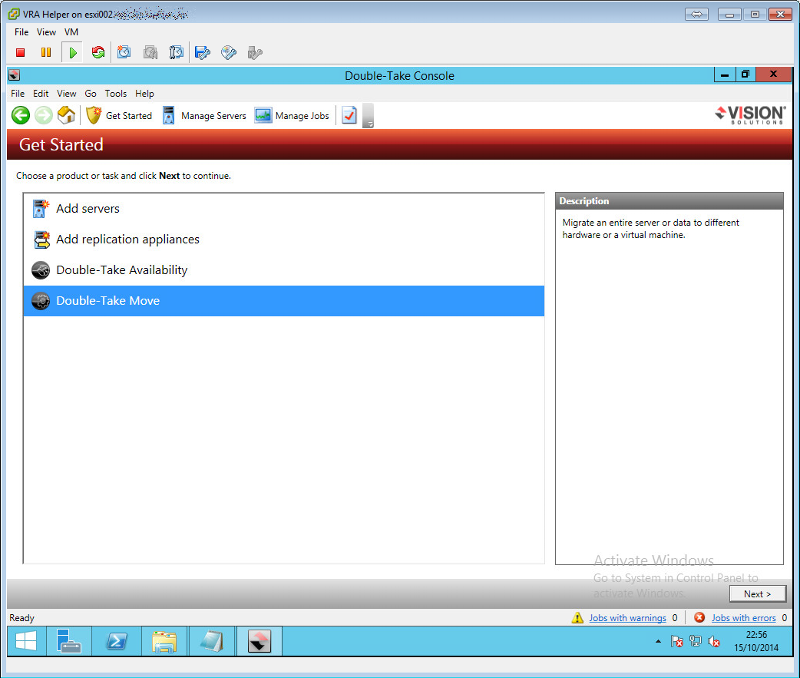 Specify the name of the server, or browse and select the server for migration. The server we are migrating is called wds2012.domain.ac.uk. Specify an Administrator account, and password to access the server. We are using a Domain Administrator account, which has local administrator permissions on the server wds2012.domain.ac.u
k.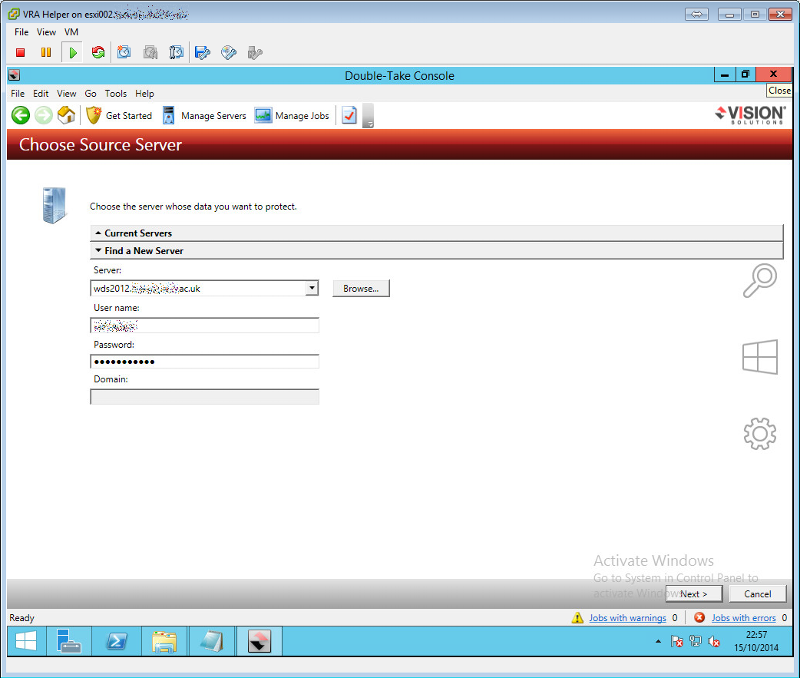 Enter the Activation Code for your Source Server, supplied on the Adobe PDF document. All servers need to have an Activation code, to complete the Migration. Click Set Activation Code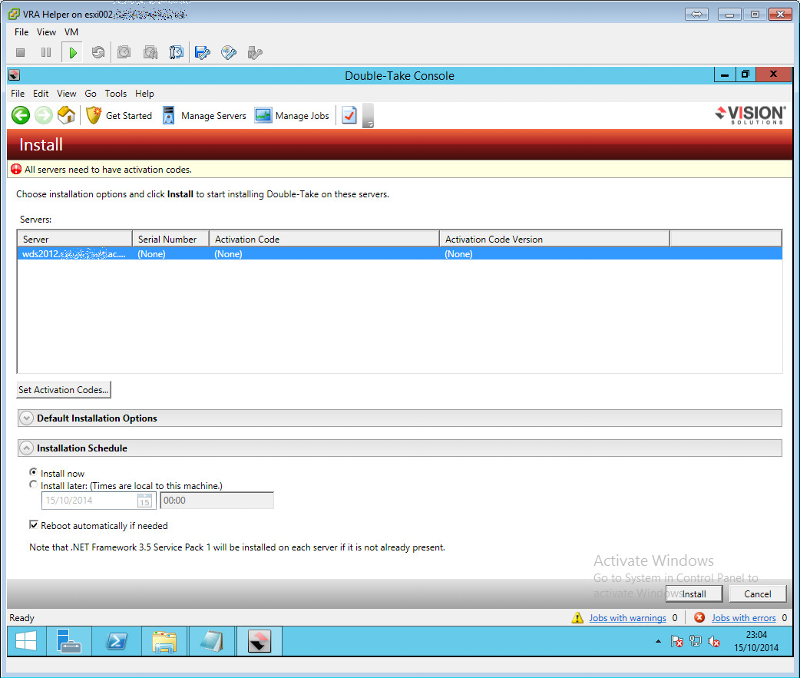 Enter your activation code

Click Install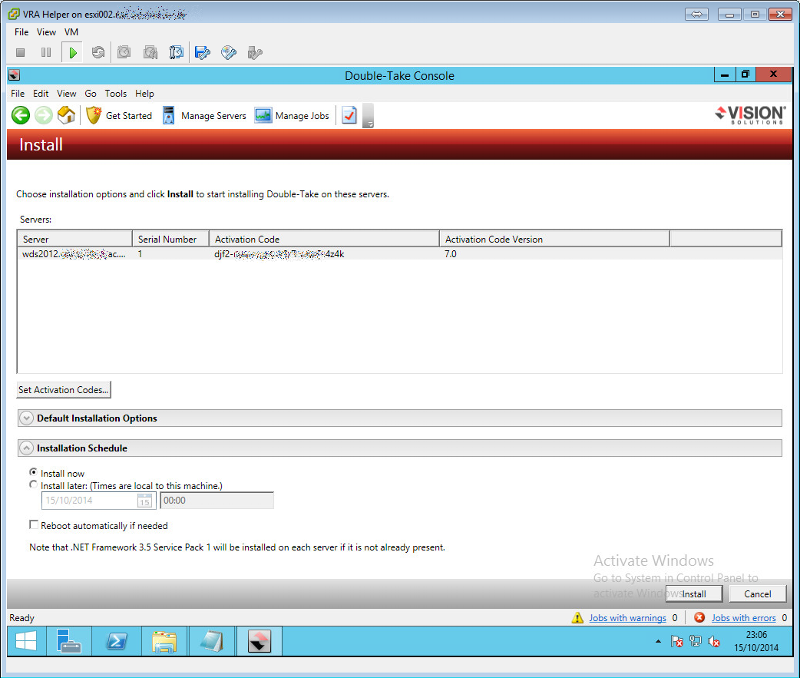 The console will deploy and execute the installer on the source server.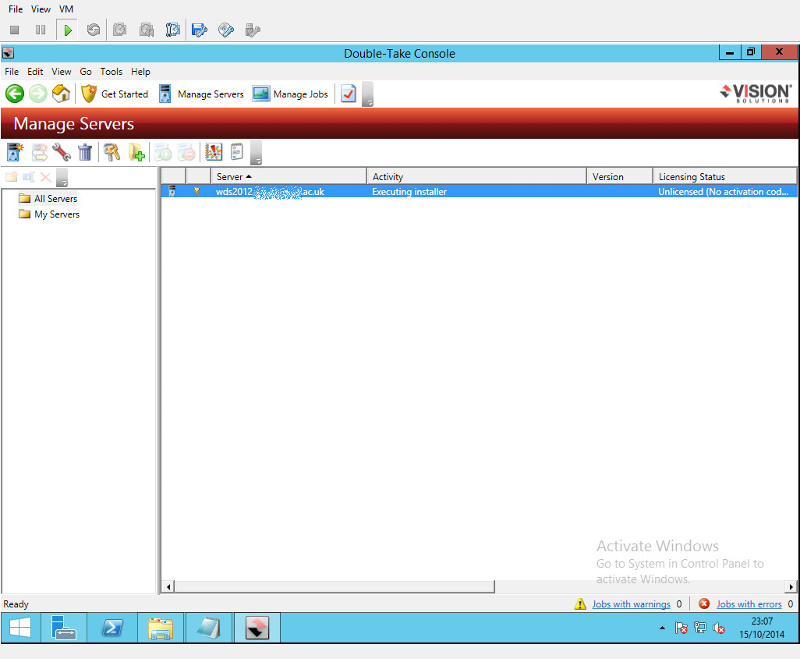 3. Starting the Server Migration (Protecting the Server)

Click Get Started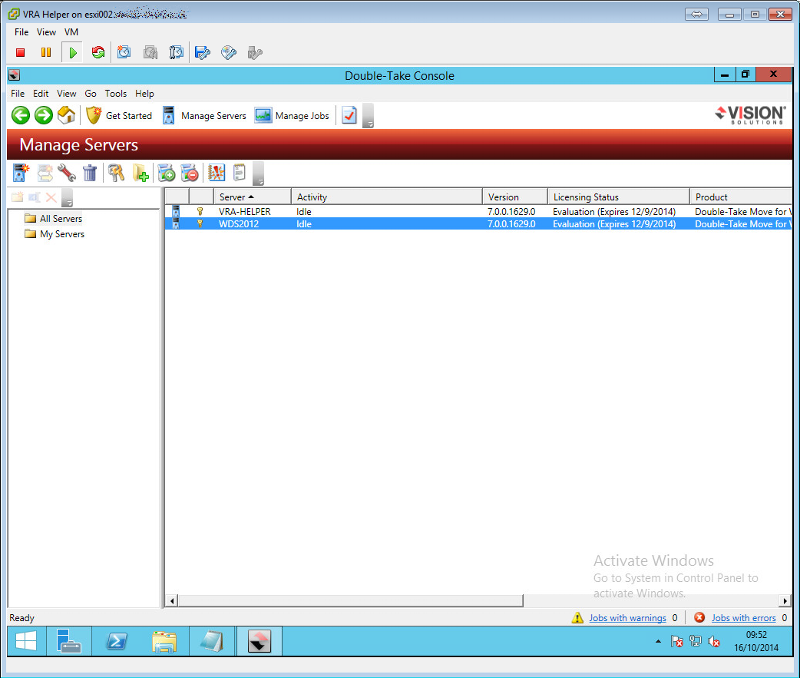 Select Double-Take Move to Migrate an entire server to a different hardware or virtual machine. In this tutorial we are migrating the server to VMware vSphere. Select the server whose data you want to protect (Migrate!)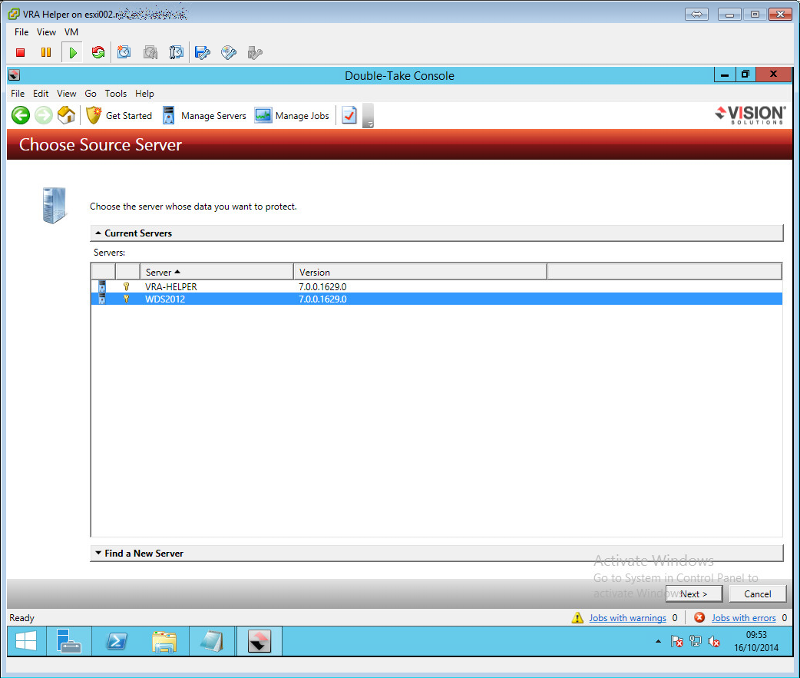 Select under Server Workloads, Full Server to Hyper-V or ESX Migration. I have selected both volumes C: and D:. Click Next to Continue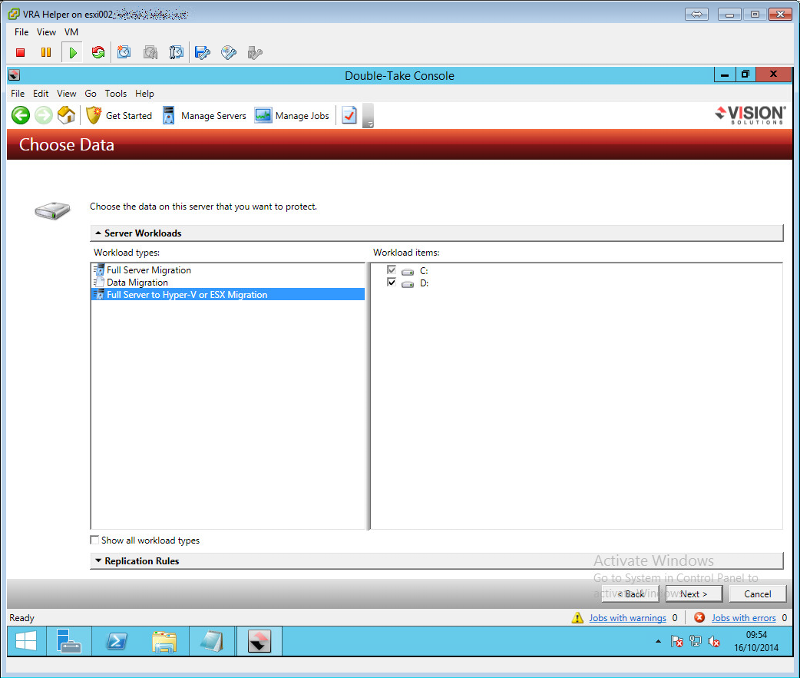 Select the server that will store the protected data, select the Helper Target virtual machine, in this tutorial VRA-Helper, followed by Next to continue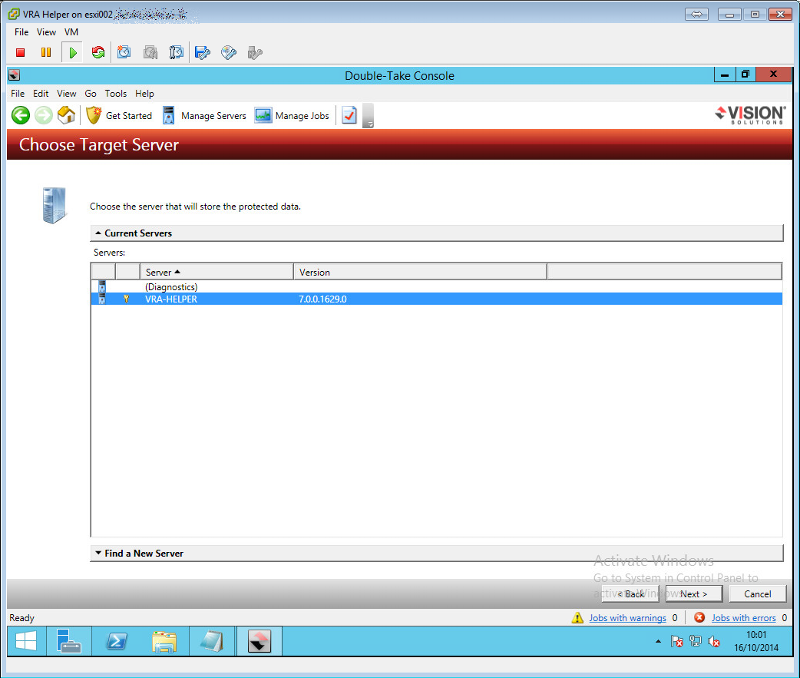 Select the Target ESX Server or vCenter Server.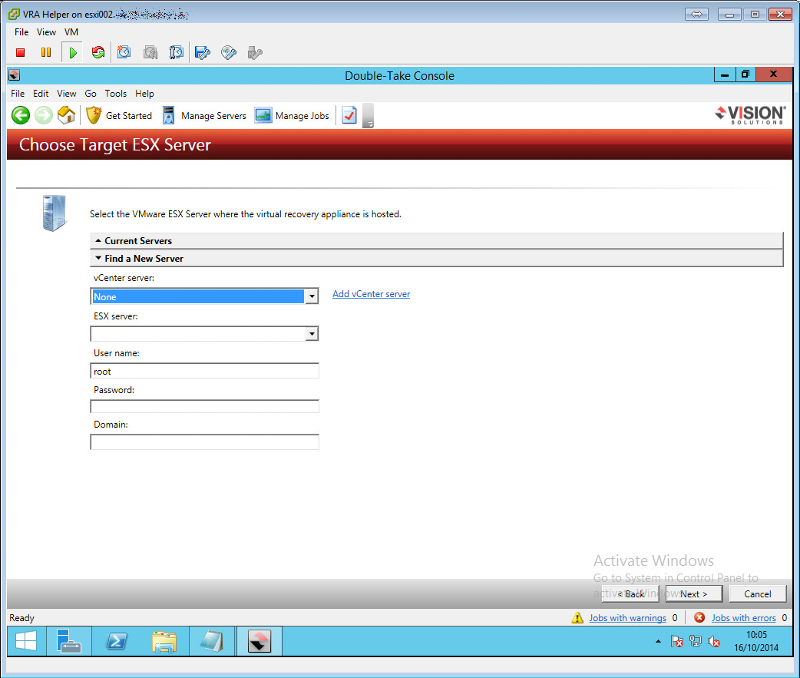 Select Add vCenter Server, specify the hostname of your vCenter Server, and ensure you are using an Administrator account for vCenter Server.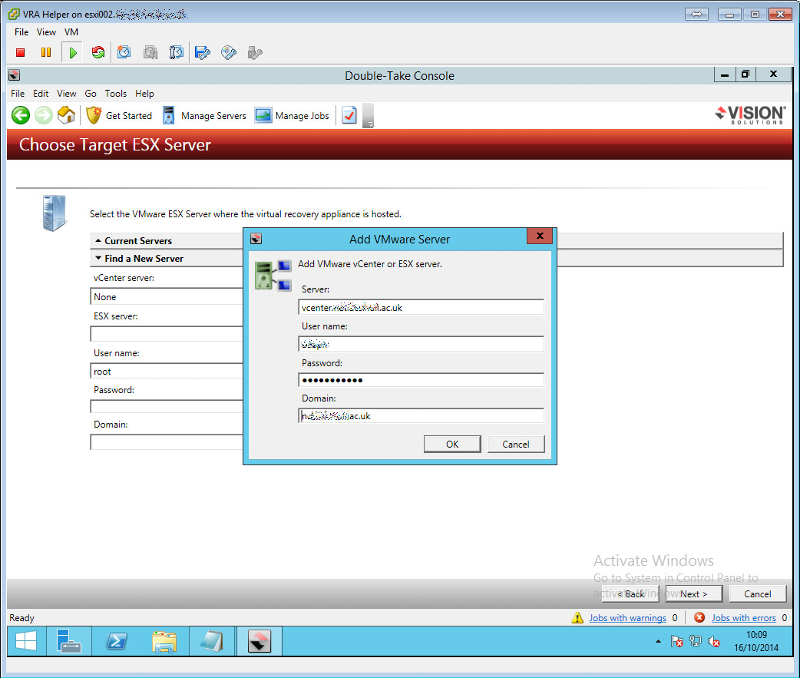 Select Next to continue, the ESXi server should be displayed, where the current Helper virtual machine is hosted. In this tutorial it's ESXi002. The keen readers will have noticed that this Helper machine was originally hosted on ESXi003 at the beginning of this tutorial, this is because VMware vSphere DRS is moving the workload of the virtual servers around the cluster in real time, using VMware vMotion. Click Next to continue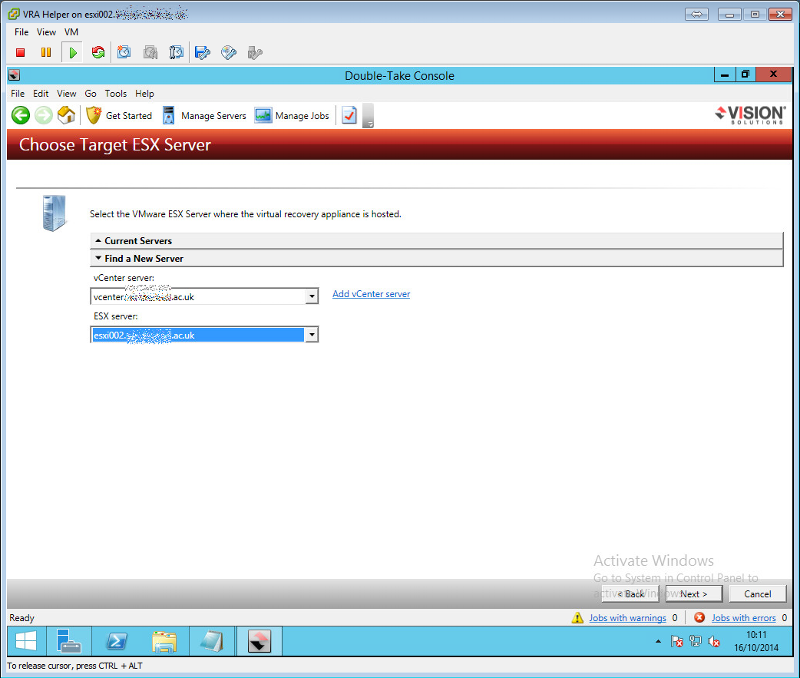 Options are set for protecting the data, and job options are discovered, Click next to continue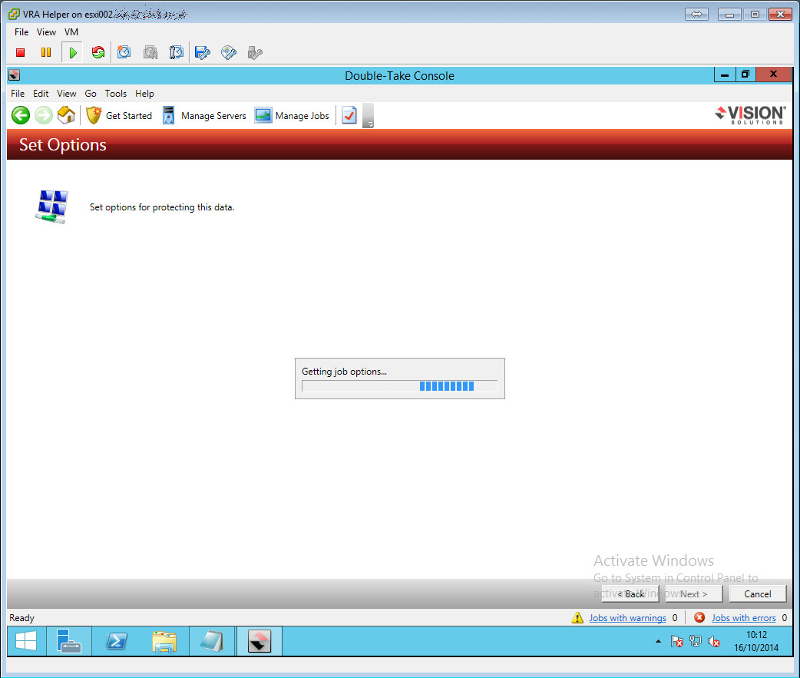 The console presents you with a list of valid datastores attached to your VMware vSphere Servers (ESXi), select a datastore to migrate the virtual disks. I've selected an NFS datastore, but iSCSI LUNs are also supported.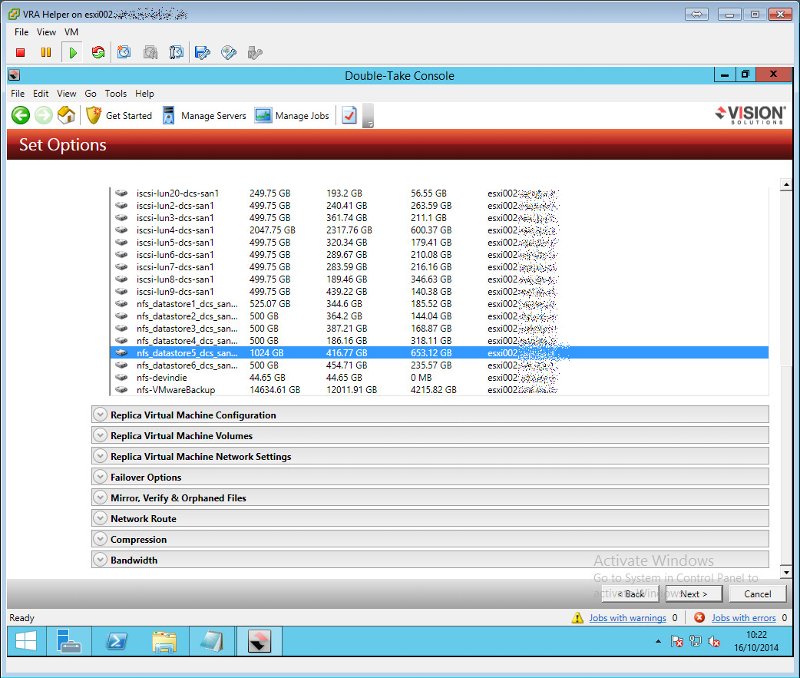 This is where all the Job options are set, in this tutorial, I'm going to check Replica Virtual Machine Configuration, where the number of processors, amount of memory, and network interface is set for the migrated virtual machine, and I've selected Power on replica virtual machine after failover.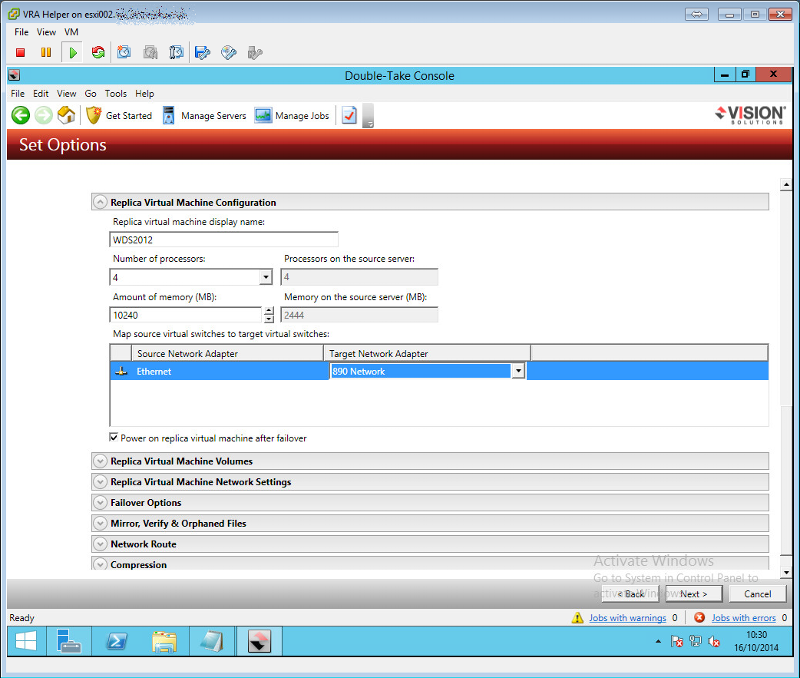 Replica Virtual Machine volumes can also be shrunk or increased during the migration. Flat Disk, Thick and Thin also supported, and target volumes can be changed. Other options, Compression and Bandwidth control are also supported, and all documented well in the User Guide. Click next to continue.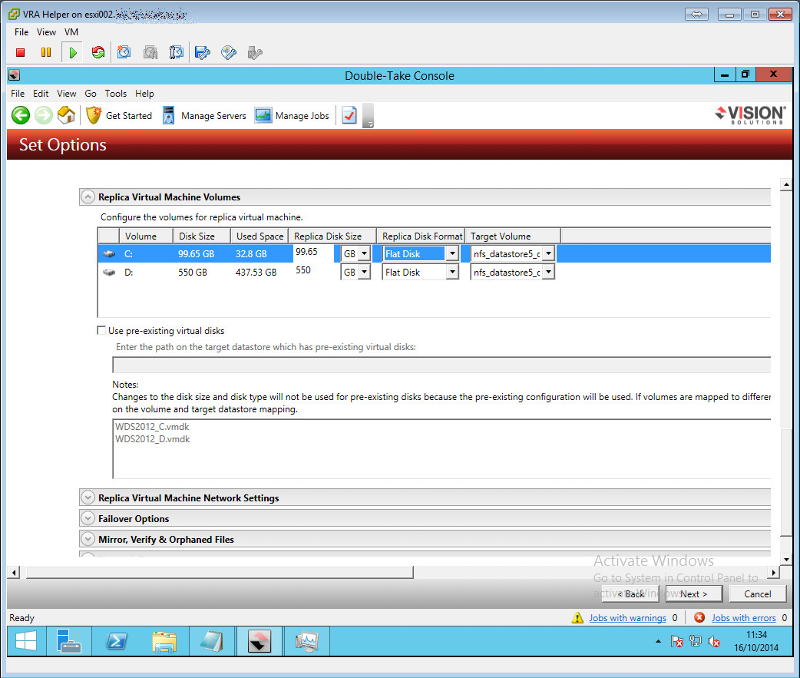 The Job is checked before Submission. The Job has suggested there is a small error, which is that the volume D: will be Offline, on the migrated virtual machine, this is easily fixed, by using Disk Management and selecting Online, after the conversion. If we wanted to perform Migrations fully unattended, we could have used the Transmission Schedule, to completely automate the Migration and Failover from Source to Target (virtual machine on VMware vSphere). Click Finish to Submit the Job.


The Job starts to replicate the virtual server from the Hyper-V to VMware vSphere. We did not find it impacted performance on the original WDS2012 server whilst it was being modified, images changed, or deploying images to client workstations. It does not matter how long this takes, it's completed in the background, and mirrors and replicates at the same time, ensuring the target is fully up to date, after the initial sync.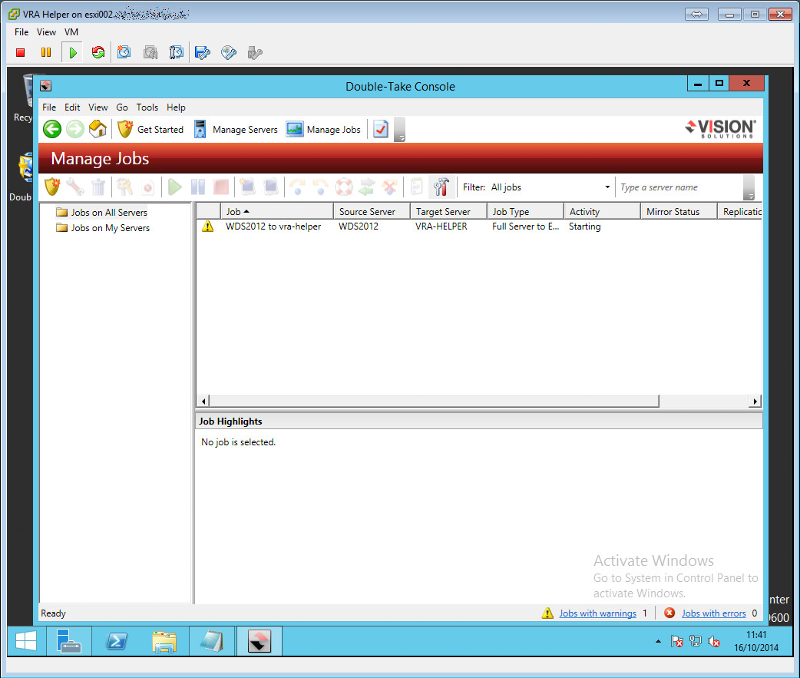 Job Selected to show progress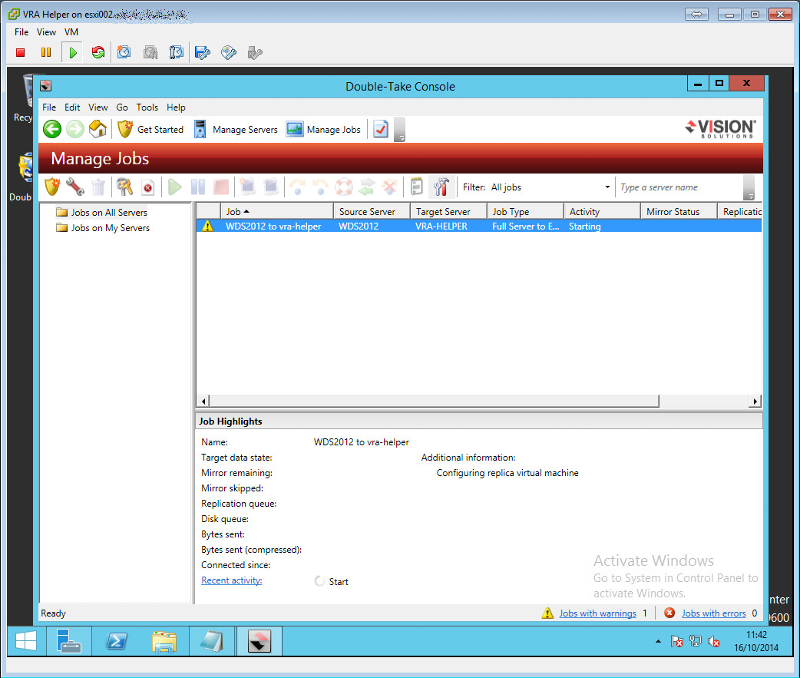 Job Mirror and Sync in progress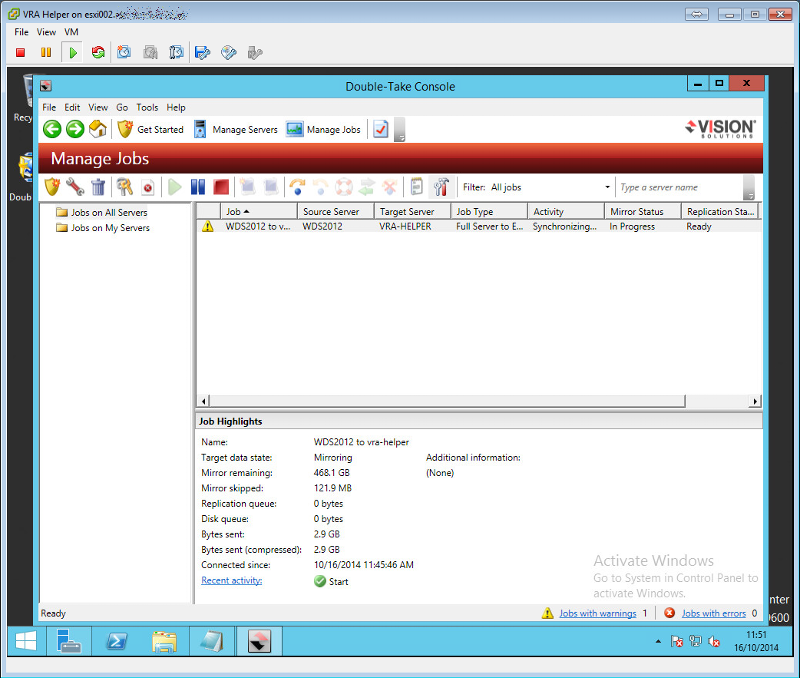 Job Mirror and Sync in progress. Keen readers will spot, that VMware vSphere DRS has moved the Helper virtual machine from ESXi002 to ESXi003, and it does not affect the migration!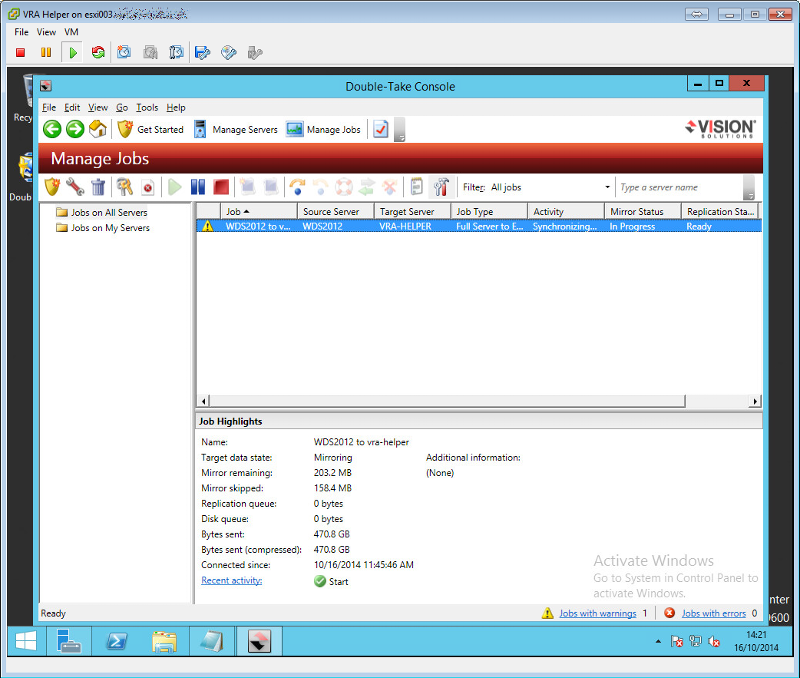 Job Mirror and Sync is complete, and it's currently Protecting the Source Server, and now waiting for Cutover. (Final Migration). It's taken approximately 2.5 hours to mirror and replicate 650GB of data from Hyper-V to VMware vSphere with no issues, and we continue to use the WDS2012 server, with no performance issues.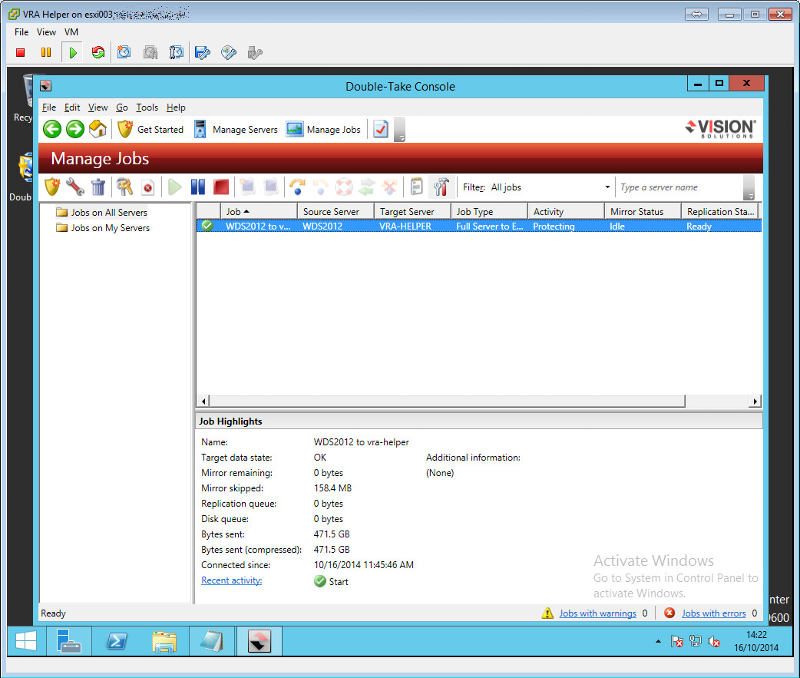 4. Testing the Migrated Server (Performing a test cutover)

Once the source server has been synchronized, and the mirror has finished and the Replication State has changed to Ready, and the Activity has changed to Protecting, e.g. it's completed, you can Test the Migrated Server, Double-Take MOVE calls this "Perform a Test Cutover", this disconnects the virtual disks from the helper virtual machine, and disconnects replication from the source server, and starts the virtual machine without network, so you can check and test features.

Right Click the Job in the console, select Failover or Cutover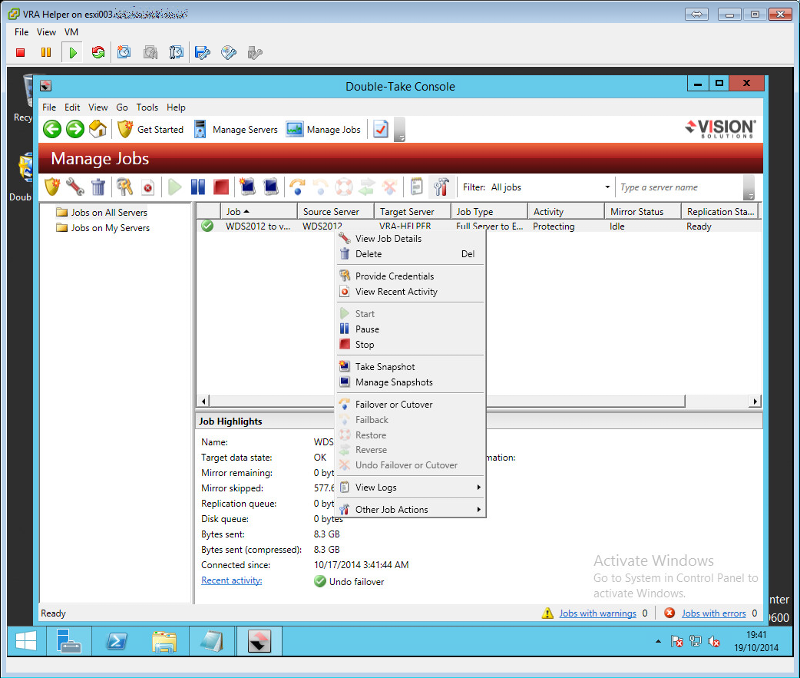 Select Perform the cutover, and select Cutover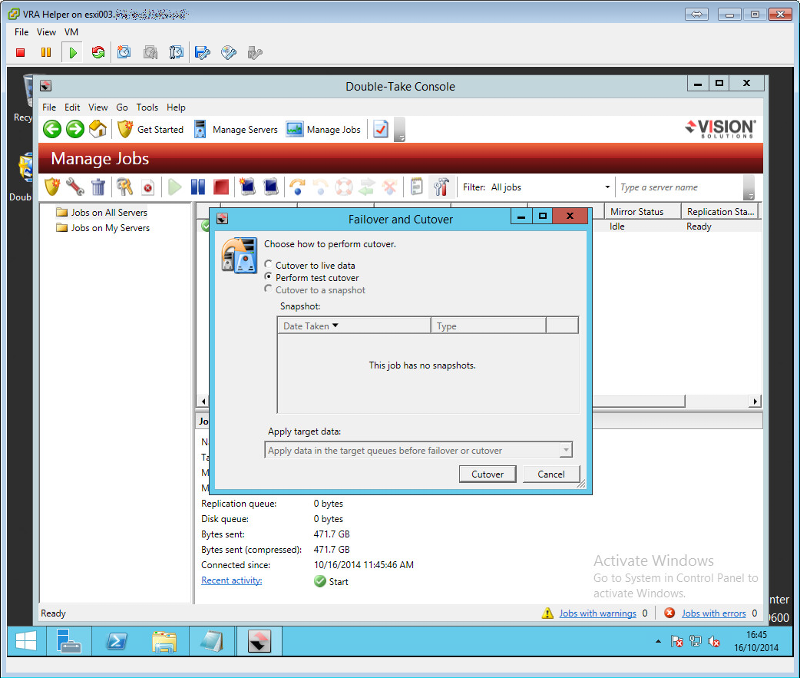 The Activity changes to Failed over, and Mirror remaining status changes to Failed over for testing.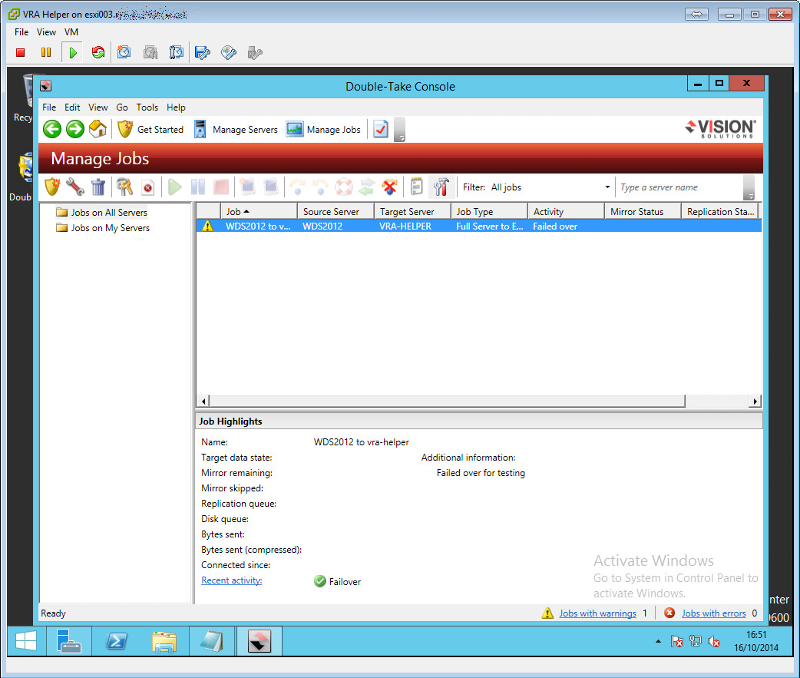 This is the migrated virtual machine, now running on VMware vSphere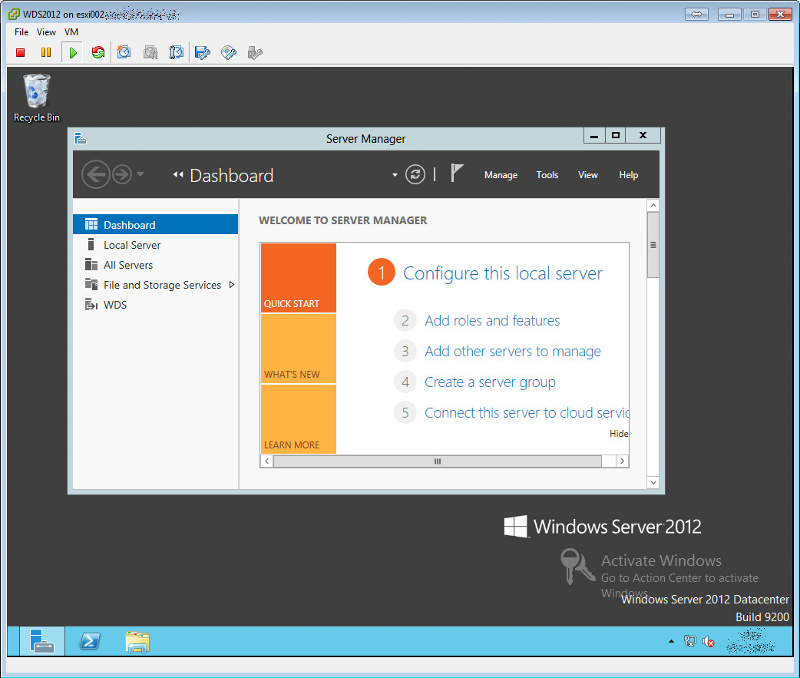 To return to Protecting Mode, Right Click the Job, and select Undo Failover or Cutover. The Activity will change to Undoing failover.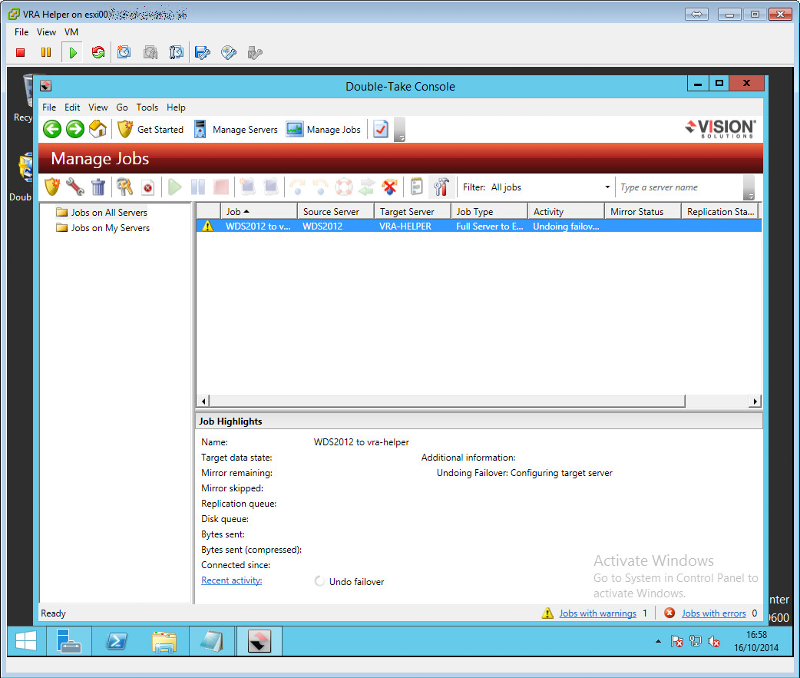 and the Job will re-synchronize again with the source server, this will replicate and copy the changes that have occurred on the source server, since you failed over to the migrated VM.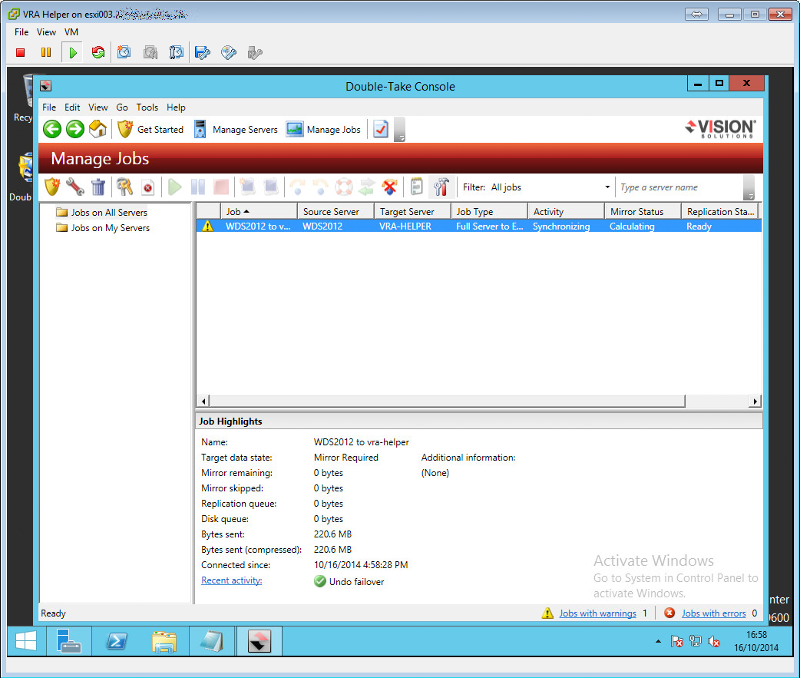 5. Performing the FINAL Migration or CUTOVER

I would recommend the Final Migration or CUTOVER is performed out of core production hours or during a quiet time. The network settings are fully populated in the target VM, so when you CUTOVER, it takes less than 5 minutes for the source server to be shutdown, changes to be completed on the target server, and for it to be powered on.

Right Click the Job, and select Failover or Cutover



Select Cutover to live data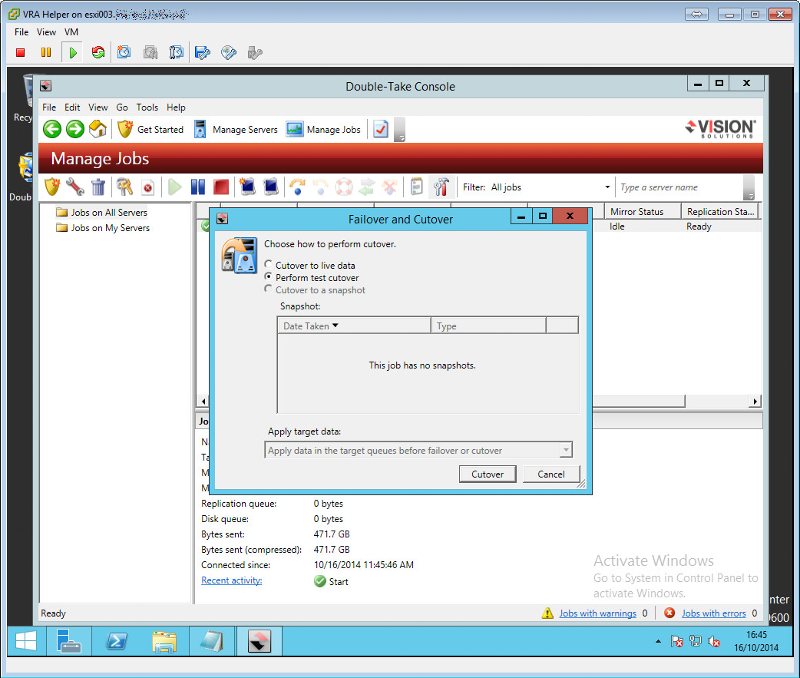 The Activity changes to Failing Over, and the Mirror remaining states Failover Over: Disconnecting from Double-Take, this is the process of the final VM being prepared, and job completion.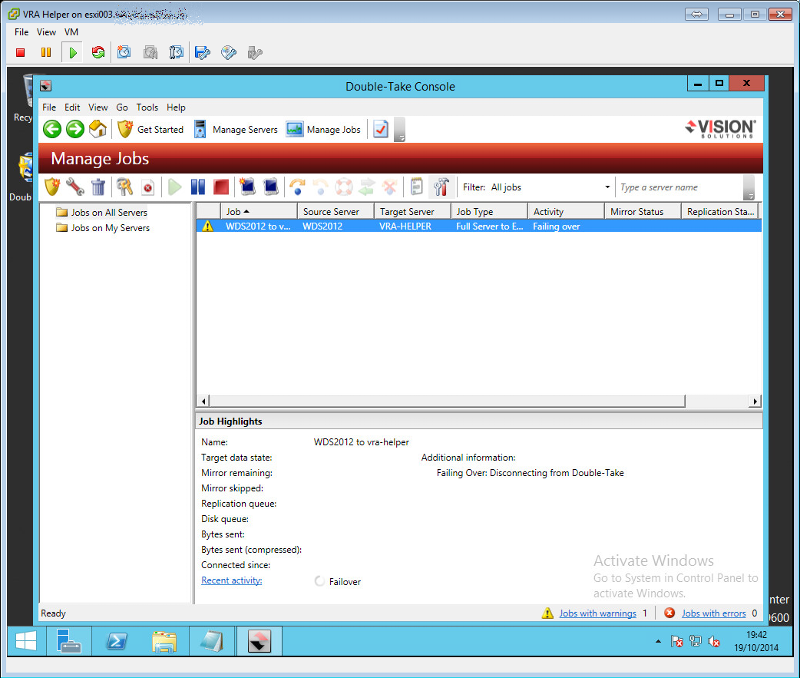 The target, migrated virtual machine is started, and the migration is complete. This is the migrated WDS2012 virtual machine which now resides on VMware vSphere.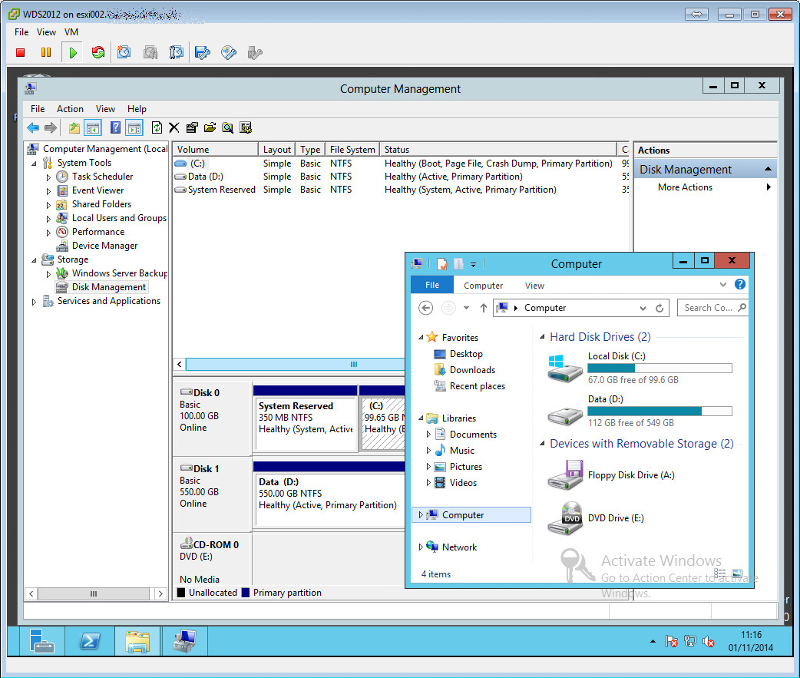 Congratulations you have migrated a virtual machine workload with real-time replication using Double-Take MOVE by Vision Solutions, with little impact to service.

Double-Take MOVE performs Anything to Anything Migrations, so the tutorial above can be performed for physical, virtual, and cloud based workloads, from VMware vSphere to Microsoft Hyper-V, or Microsoft Hyper-V to VMware vSphere.

Andy gives it 3 IT Thumbs Up!

During this series of articles VMware released VMware vSphere 5.5 and VMware vSphere Hypervisor ESXi 5.5. These articles are also applicable to VMware vSphere Hypervisor ESXi 5.0 and 5.5. For consistency, I have used VMware vSphere Hypervisor ESXi 5.1 throughout this series.
Basic VMware Articles Series:
















************************** ********** ********** ********** ********** **********
Thank you for reading my article, please leave valuable feedback. If you liked my VMware article and would like to see more Articles from me, please click the Yes button near the: Was this article helpful? at the bottom of this article just below and to the right of this information. Thank You. Do not forget if you have a question about this article or another VMware, Virtualisation, Windows Server 2012 question, why not post a Question for me and the other Experts Exchange Experts in the VMware, Virtualisation, Windows 2008, Windows 2012 Zones. I look forward to hearing from you. - Andy :- twitter @einsteinagogo
************************** ********** ********** ********** ********** **********