HOW TO: Create a VMware vCloud Air Virtual Private Cloud OnDemand and receive $1000 free service credits

EE Fellow, 2xMVE, Expert of the Year 2017-2011, Scribe 2016-2012, Author of the Year 2018-6,2013-2012 VMware vExpert Pro, vExpert 2020-2011
Published:
In my previous 
Experts Exchange Articles
, most have featured Basic and Intermediate VMware and Virtualisation Topics.
If you would like to read my Basic VMware articles, they are listed at the end of this article for your convenience.
In this article, I'm going to take time out from writing a Basic VMware Article, and show you 
HOW TO: Create a VMware vCloud Air Virtual Private Cloud OnDemand and receive $1000 free service credits.
I previously wrote an Experts Exchange article 
HOW TO: Create a Windows Azure Free Trial subscription
, so it was time to create a new article for VMware's new service, VMware vCloud Air, which was formerly known as VMware vCloud Hybrid Service (vCHS). I've created this article, because I think VMware have made this process more complicated than it should be!
Click the following link to Sign-Up
http://vcloud.vmware.com/uk/service-offering/virtual-private-cloud-ondemand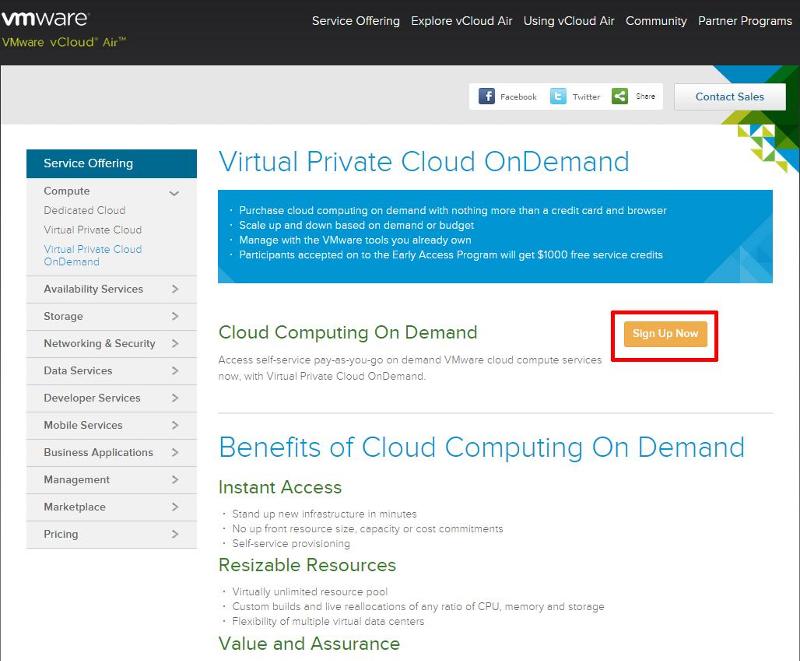 After clicking the Sign Up Now button the following web page will be displayed.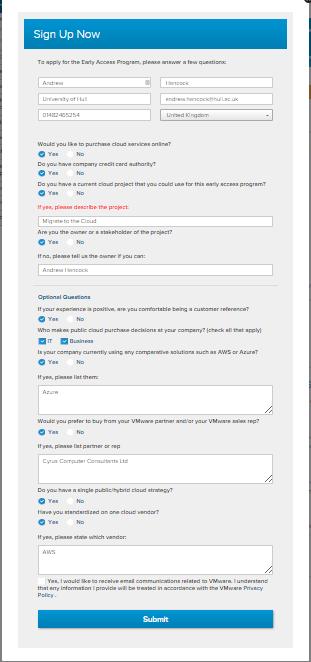 Fill in the questionnaire, and click Submit. The following web page will appear.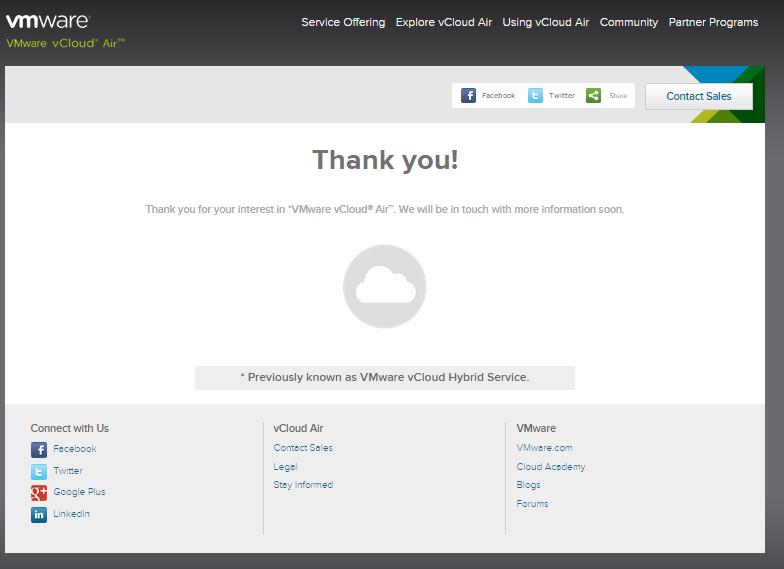 Wait for an email from
 The Virtual Private Cloud OnDemand Team [vmwareteam@connect.vmware.com],
which has the subject vCloud Air VPC OnDemand service EAP invitation.
The email looks like the following:-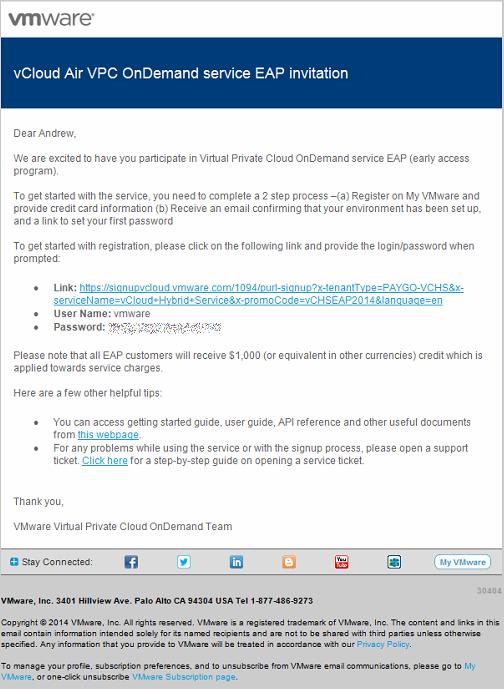 This is where the confusion lies, your *MUST* already have an Active
MyVMware account
. If you already have VMware licenses or evaluation products you already have a
MyVMware
account.
I have written an Experts Exchange article here, which shows how to register for a MyVMware Account
Part 1: HOW TO: Install and Configure VMware vSphere Hypervisor 5.1 (ESXi 5.)
. 
This is where, I'm going to deviate slightly from the instructions received in the email above.
Click the link in the supplied email above.
At the Authentication Required dialogue box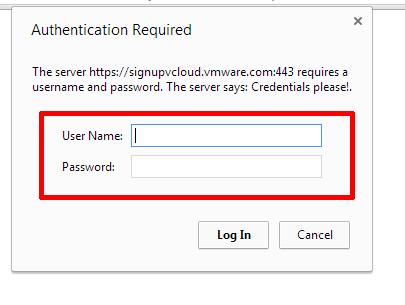 Enter the username and password from the email. The username is vmware.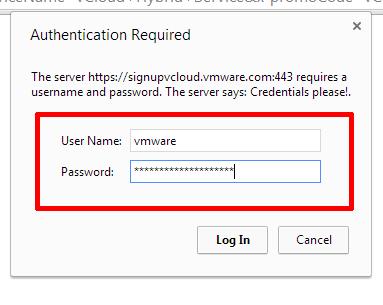 Click Log In. A Sign Up for VMware vCloud Air OnDemand Services page will appear. Login with your
MyVMware
account details.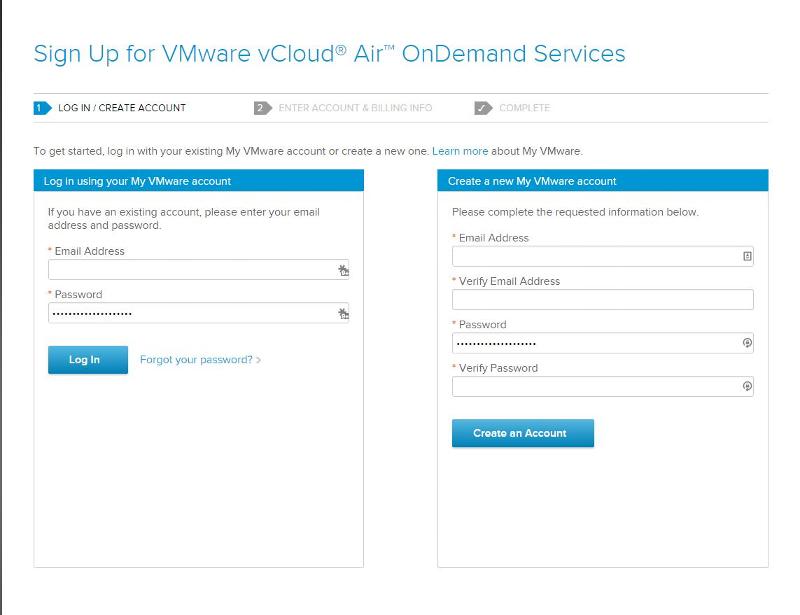 Click Log In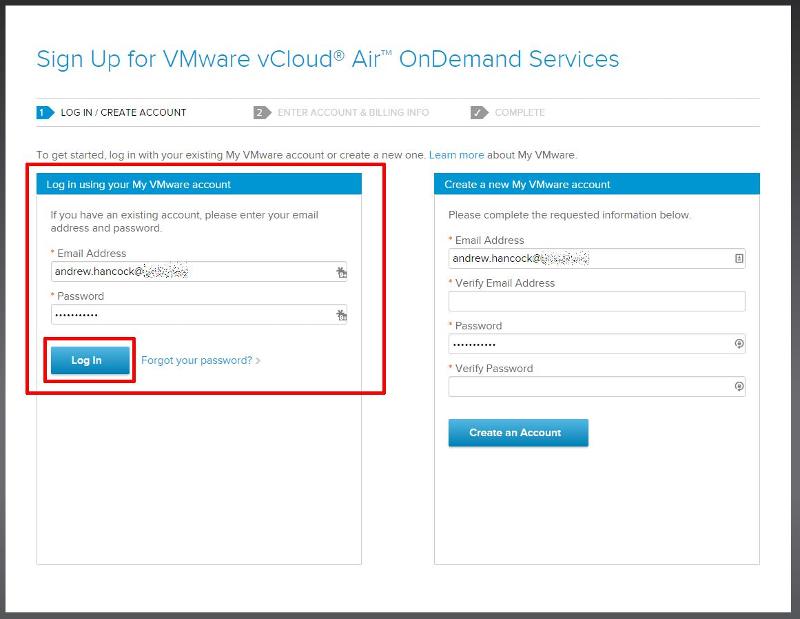 Enter your billing information, your credit card will only be charged when the $1000 of free service has been used.
TOP TIP: To prevent additional charges, stop virtual machines when not in use!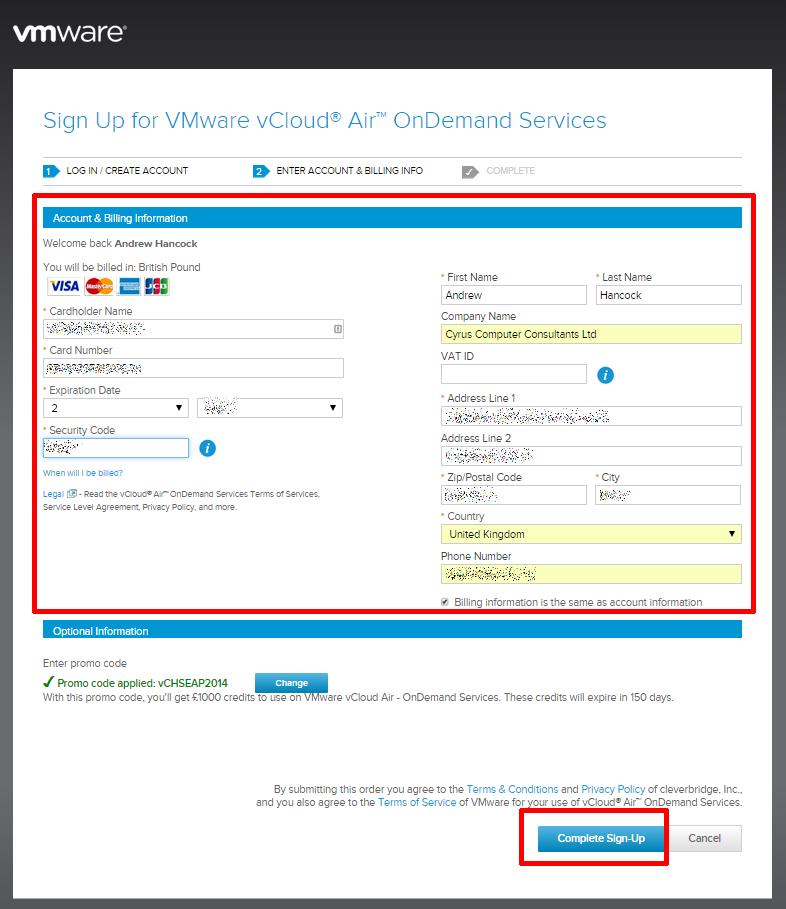 You will notice the Promo Code of $1000 free service credits has been added. Select Complete Sign-Up to proceed.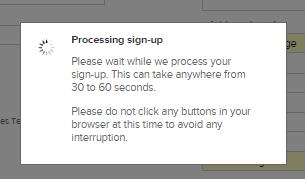 The following web page, is displayed on a successful sign-up.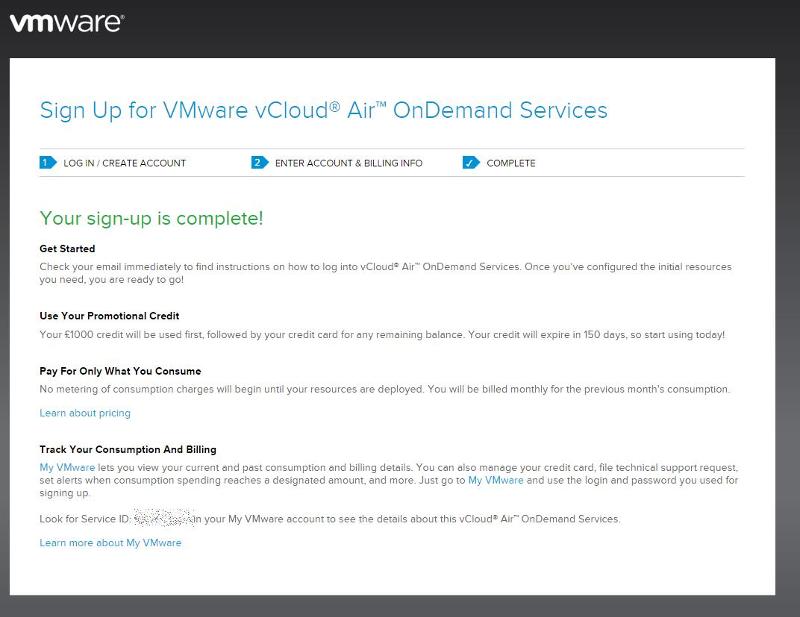 You will receive an email from
The VMware Team [noreply@vmware.com],
with the subject 
VMware vCloud Air is now active,
with details of how to login to VMware vCloud Air.
Congratulations, you have successfully created a VMware vCloud Air Virtual Private Cloud OnDemand account and received $1000 of free service credits.
Basic VMware Articles Series: 
**************************
**********
**********
**********
**********
**********
Thank you for reading my article, please leave valuable feedback. If you liked my VMware article and would like to see more
 Articles from me
, please click the Yes button near the: 
Was this article helpful?
 at the bottom of this article just below and to the right of this information. Thank You. Do not forget if you have a question about this article or another VMware, Virtualisation, Windows Server 2012 question, why not post a Question for me and the other Experts Exchange Experts in the VMware, Virtualisation, Windows 2008, Windows 2012 Zones. I look forward to hearing from you. - Andy :- twitter 
@einsteinagogo
**************************
**********
**********
**********
**********
**********