I started working remotely for Experts Exchange about a year ago. On top of learning to be more self motivated and adjusting to the time differences between Virginia and the office (I'm 3 hours ahead), there were important day to day activities which were affected:
Meetings
Daily Communication
File Sharing
Planning
Initially, I was using multiple solutions to help me deal with the gaps introduced by my move. With Experts Exchange's recent adoption of Google Apps, I've been able to consolidate all of these activities into a single Google account.
Meetings and Daily Communication
For meetings, I started out using everyone's current go-to for video conferencing: Skype. I was able to use my free account to join daily meetings, and view coworker's or share my own screen. The problem I ran into with Skype was company wide adoption. Only a small portion of coworkers had Skype installed on their machines, and an even smaller portion were logged into their accounts during work hours.
This led to me having to run an alternate program for daily messaging. Our previous standard happened to be Yahoo Messenger, in combination with a wiki page dedicated to storing and finding everyone's contact information. This instant messenger was how I handled the majority of my daily communications, but did not have video or screen sharing support.
This meant in order to handle these two major aspects of my day, I had to run two programs on two separate accounts. This also meant I had multiple areas to update statuses, respond to conversations, reference for action items, and keep updated.
In steps my first Google replacement...
Google Hangouts
Google Hangouts
is Google's video chat and instant messaging platform. They offer apps for your
desktop
,
iPhone
, or
Android
devices which all link to your Google+ account. With the switch of the entire company to Google Apps, I was able to easily find each of my coworkers on Google+ and begin utilizing Hangouts.
The instant messaging feature has a simple interface, that takes up very little real estate when inactive but can remain in front of your other processes, and offers everything you need from a chat client.
The initial view of a conversation has clearly defined conversation threads which utilize participant's avatars. You can easily create group chats if you are talking through issues with multiple team members by adding additional participants
(2)
. Saving chat histories, enabling and disabling notifications for individual messages, blocking users, and deleting or archiving conversations are all done through the settings
(3)
. Finally, adding images and emoticons, or even sketching messages are performed in the text bar
(4)
.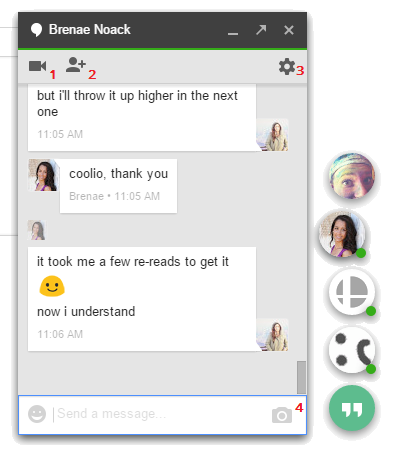 The transition to video chat is as easy as selecting the Video icon in the upper left corner of your chat window
(1)
. When selected, Hangouts initiates a new video call in your browser (or on your phone) with all the members in your current group. From here you can continue to chat, share screens, screen capture and even add drawings and effects to other participant's videos.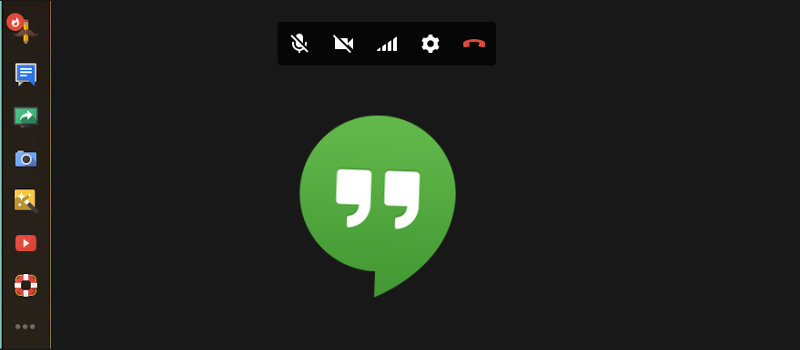 When the call is over, Hangouts will add the video call to your history within the chat thread, so that you can better understand the amount of time you spend in these conversations.
File Sharing
In order to access company documents, I have worked through a combination of VPN, remote machines and email transfer, none of which where 100% reliable. My VPN connection had issues with reading and writing to our file server. Remote access led to either laggy document drafting on my remote machine or lots of sending documents back and forth to myself via email. These issues were exacerbated even further when it came to sharing documents with coworkers and iterating through feedback.
Google Drive
Google Drive
gives me access to all of the files I work with daily, and makes sharing and therefor collaboration 100X easier. Since its storage is in the Cloud, I can access anything that has been shared via email or chat, or created by my team from my desktop or phone (
download link
).

Drive gives you the option of creating new documents, spreadsheets, slides, forms or drawings and works with an many file types (
Supported Types
). Each type of file then has additional options available.
When editing documents, you'll have access to tools similar to those you'll see on standard word processor, spreadsheet, presentation, or image software. The primary toolbar gives you multiple options for manipulating and adding to your file
(1)
. The last edit of the file is shown for reference, and updates automatically as changes are made
(2)
. Avatars allow you to easily see who else is viewing the document
(3)
and the "Share" option allows you to send the document to additional participants and define their level of access to the document ("Can view", "Can comment" and "Can edit")
(4)
.

As I continue to work with Google Drive, I find more and more useful features -- for instance, this week I started working with Insert > Image > Google Drive and "Replace Image" features that are synced to my desktop's Google Drive folder -- and continue to enjoy the time it saves me on both collaboration and sharing.
Planning
One of the first items I mentioned in this article was that there is a three hour time difference between myself and the office. This makes understanding my tasks for each day and making sure I am accurately notified of my priorities and those of my coworkers that much more important (otherwise I could end up in a car or at the grocery store during a feature demo). Our previous email / calendar client did not integrate to my phone, which meant I had to work off of memory or keep a browser window running with my calendar open.
Google Calendar
Google Calendar
offers multiple features that make planning my current and future meetings easier. With all of my coworker's calendars available, I can quickly review their availability for the day / week / month.
Creating new meetings with multiple attendees is simple with the ability to book conference rooms, available times for each of the attendees (the "Find a Time" option makes this even easier), and the ability to create alerts which trigger on both your desktop or smartphone (available on
Android
only).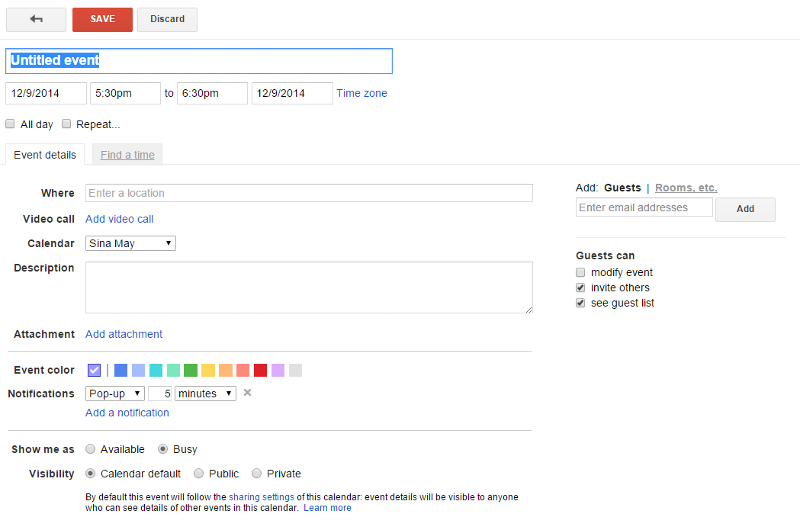 My preferred view of the Calendar is the "Agenda", which allows me to see each even happening that day as a line item. Events are color coded based on the calendar that they are applied to, the event time and location is easily identifiable. Expanding an entry will quickly show you further details regarding that event.

Now, if I do happen to be out of the house when there is an "unexpected" meeting, my calendar will alert me, and I can use Hangouts to join from my phone.
Recap
My company's transition to Google Apps has made my remote work more efficient by allowing me to consolidate my meetings, daily communication, file sharing, and planning into one account which is accessible on both my desktop and my phone. The platforms supported by Apps are easy to use and allow me to spend more time each day devoted to productivity, as opposed to juggling multiple applications and environments, and I'm very happy that we've made the switch to their service.