This article will show you how to restore a Gmail backup file of type .MBox using Thunderbird Mail Client.
1. Go to
https://www.mozilla.org/en-US/thunderbird/download
to download the latest Thunderbird mail client if you don't already have it.
2. Open thunderbird and select
skip this and use my existing email
to import to your new Gmail account.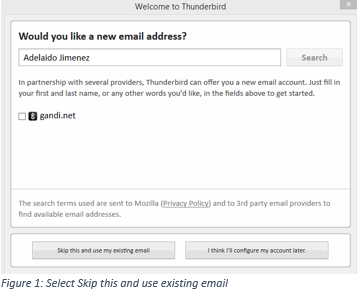 3. Enter your Gmail Account Information under the
Mail Account Setup
windows and click
Continue
when done.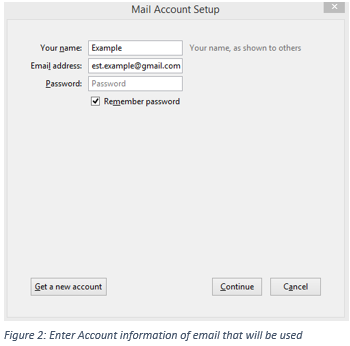 4. Make sure IMAP is selected and verify that your information is correct then click
Done.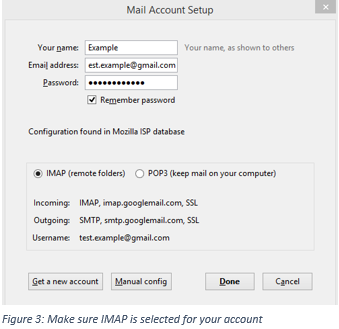 5. To import the .MBOX Gmail backup file you will need to install the "
ImportExportTools
" add-on for Thunderbird. You can get the add-on by going to the following link
https://addons.mozilla.org/en-us/thunderbird/addon/importexporttools/
. Make note on the location where the add-on is downloaded.
6. In Thunderbird navigate to the Thunderbird Menu located in the upper right had corner and select
Add-Ons.

7. In the Add-ons Manager window click on the gear next to the search box and select
install add-ons from file.
Locate the
ImportExportTools
file you downloaded and select install.

NOTE: You will get a warning message about installing add-on from unknown publishers, confirm the installation by selecting install.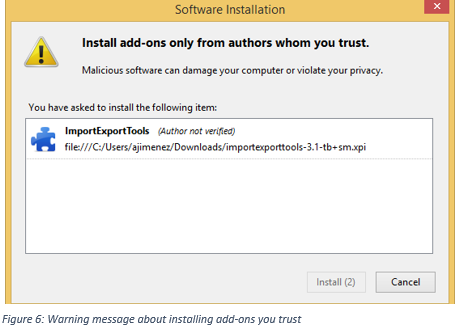 8. After the installation restart Thunderbird.
9. In thunderbird go to the navigation pane located on the left hand side and right click on
Local Folders
. Navigate to
ImportExportTools
and select
import mbox file.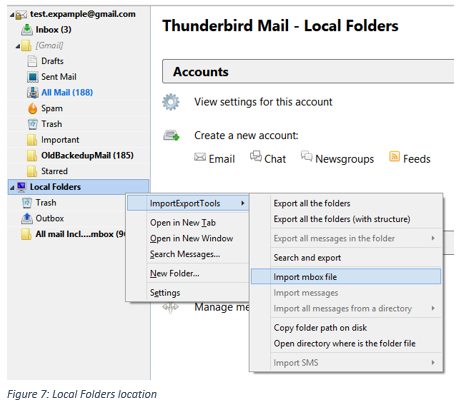 10. Choose the option to
import directly one or more mbox file
and select
OK.
Navigate to the folder where you Gmail Backup file (.MBOX) exists and click
Open
.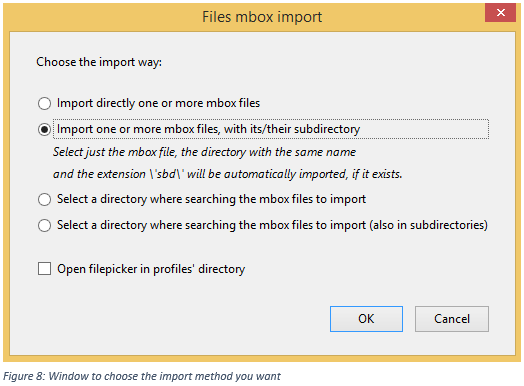 NOTE: All emails from the backup will now start to import. This process might take a while to load all the emails. This stores the emails to your local folder, to import them to your google account proceed to the next step.
11. In Thunderbird navigate to the
Local Folders
and select the directory that you want to import to Gmail. Select all the emails contain in that folder and right click on the selection. Go to
Copy To
then select the Gmail account you want to imported to, and finally select the location you want to import it in with in Gmail.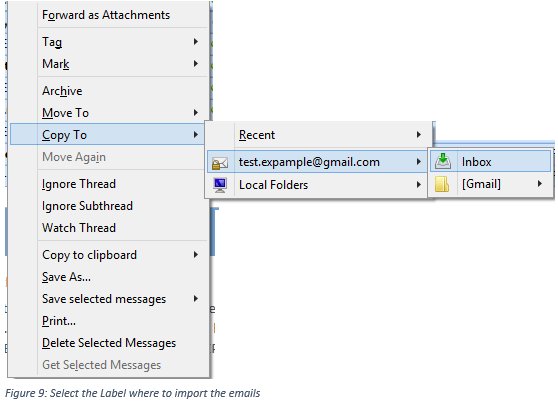 Congratulations; the emails will now be imported to your Gmail account.