Outline
From PowerPoint 2010 it is possible to have shapes appear in front of video, in earlier versions video always played in front of other shapes. This means it is possible to have captions animated to appear in front of video.
Users who have prepared presentations in earlier version will often attempt to add a delay to the caption animations so that they appear and disappear at the appropriate times. However there is a problem because the maximum delay allowed in 2010 and 2013 is 60 seconds which may not be enough for a longer video. Fortunately PowerPoint 2010 and 2013 added a much better way to time animations. In these versions animation can be triggered from bookmarks in the video itself.
Adding Bookmarks
After adding your video you can drag the Timeline to the exact spot you would like the first animation to take place.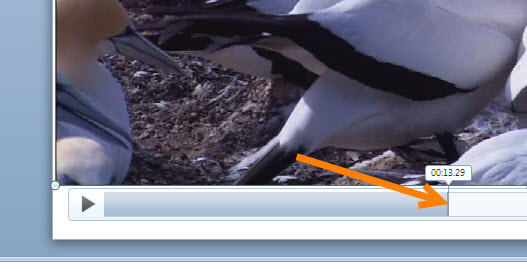 Once you have the exact spot go to Video tools > Playback and click "Add Bookmark".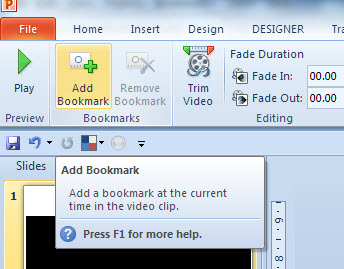 The new bookmark will show as a yellow spot in the video timeline. If you carefully hover the mouse over the spot you will see the name which will be "Bookmark1".
Repeat this process to add any other bookmarks you need.
Add The Caption and Animate
Add a textbox or shape and type in the caption. Apply an animation (maybe Fade In). Now open the Animation Pane from the Animation tab and double click on the entry for the added animation.
Click on the "TIMING" Tab and set the box "Start effect on play of:" to the Bookmark required.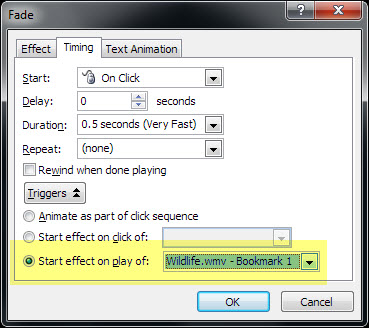 When you play the video the text box will fade in at the correct place. You will want to add further animations to fade out and fade in / out other captions.