Mastering an organized inbox is an easy task to put on the back burner, but it can save you hours of productivity and plenty of headaches. Follow these 4 tips to make your Google Mail account even more useful for your daily needs.
Managing daily emails is a necessary evil. We all deal with it every week; Monday morning rolls around and somehow we are greeted with a jam-packed email inbox already. Get your cup of coffee, put on your favorite music, and dive into the weekly grind of inbox management before it gets out of control.
It's time we address the problem head on and help you boost your productivity. Here are three great Google Labs to help you get the most out of your inbox. Before we start, these are Google Labs,
not extensions
. The Labs are experimental features created by the Google team and directly activated within Gmail.
Google Labs vs. Extensions
Google Labs are experimental features created by the Google team and directly activated within
Gmail
(regardless of your browser). They allow you to further customize your inbox with features before they are released to the world of Gmail users. If you are using Google Apps for Business, your administrator will have to enable them for users.
Google
extensions
are specific to the
Chrome
browser, and are small programs that add specific functionality. Extensions essentially act as plug-ins within the browser, you can add/remove extensions as you want to customize your Chrome experience. There are extensions to help you quickly shorten a url (goo.gl URL shortener), block advertisements (AdBlock), create playlists from YouTube videos (Streamus) and so much more.

How to Install Google Labs
These Labs are great for your productivity, but first you have to enable them to see for yourself!
Log into your Gmail (or Google Mail) account at mail.google.com
Once in your inbox, select the gear in the upper right hand corner. Select Settings.
On the top navigation, select the "Labs" tab.
From here you can view a brief description of each lab, and have an opportunity to enable it if you want.
If you choose to enable/disable any Labs, be sure to scroll to the bottom of the page and select "Save Changes" (You might be prompted to reload your page for changes to take effect)
Once you have various Labs enabled you can also navigate back to the Settings page and edit specifics about each Lab. (This can be found in the "General" tab)
These settings allow you to set some specifics for the Labs you have enabled. They are not very robust, but provide you some customization for select options.

Preview Pane
The default Gmail inbox is different than what most desktop clients offer, keeping your primary inbox view restricted to the list of messages. This difference is most notable for those migrating from Microsoft Outlook or Apple Mail. You no longer have two frames, one showing your inbox, and the other showing the selected message thread. Enter the Preview Pane Lab.
The options here allow you to view your entire inbox as the side or top frame. No longer will you be relegated to viewing just one message at a time, with no reference to the rest of your inbox.
How it helps:
This Lab provides you with a reference back to your inbox so you aren't always relegated to one email at a time. When you search your inbox, the results appear in the pane while you have your current email open, making it easy to refert to old emails while responding to others. It also does away with the default 'tabs' that Gmail has created, which mine your data and tries to auto sort for you into separate inboxes, which can be more of a headache than anything else.
Use labels for this instead
.
Without Preview Pane enabled
:

With Preview Pane enabled:

Undo Send
I can't tell you the number of times I have prematurely sent off an email, forgetting to include someone or an important link. Say goodbye to the follow-up "Oops" emails with this helpful Lab. This safety net lets you set the time interval you want to be able to undo a send (from 5 – 30 seconds). The best part? It actually works.
How it helps:
Avoid costly mistakes made from rushing through emails. With this Lab you can buy yourself some time (30 seconds max) to take it all back, and do it right the second time. This can help avoid some major embarrassments!

Canned Responses

There are some messages we get stuck sending over and over to multiple people all the time. With the help of Canned Responses, we can quickly pull these up (formatting and all) to send. Using a quick button from inside your compose message, it allows you to view and save new responses for future use. When you pair this with Gmail filters, you can automatically send reply emails as you wish.
How it helps:
Save time by having quick replies ready to send off without having to retype or copy/paste it all the time. Combined with filters, you can also set up auto-responders for ongoing conversations.

Unread Message Icon

Without desktop notifications, it's not easy to tell if you have any unread emails without actually being in your inbox. Pesky desktop notifications popup can ruin your productivity when you are on a roll, often distracting your focus when you need it the most. The Unread Message Icon changes the favicon to reflect your number of unread messages. It's small and shockingly simple. Once you get used to it, there is no turning back.
How it helps:
I use my bookmarks bar to only display the favicon of sites, and not the full site name, this icon allows me to not always have my email open (which can be a major distraction) but be able to quickly see when I have unread messages that need my attention. Google Chrome also allows you to 'pin' a tab to the left of the browser window for quick reference. These pinned tabs take up less real estate than a full tab because they do not display the text description, only the favicon. With the Unread Message Icon you can still see updates from your inbox without full width tabs.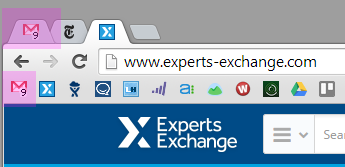 Start Boosting Your Productivity
With the help of these four (maybe more) Labs, you can greatly increase your productivity and waste less of your day managing your inbox. These features are often the first phase of Google implementing them across all inboxes, so you can also get bragging rights for being ahead of the curve. View the Labs offerings and browse the selection to see which ones might work best for you! If nothing else, turn on the Undo Send Lab to save yourself the embarassment of sending an email to the wrong person, or committing an even worse goof!
To further boost your inbox productivity in Gmail, view my article on keeping your Gmail inbox organized with filters and labels
here
.