Collaborating on any document has never been easier since Google introduced Google Docs. Multiple people can contribute to the same document simultaneously, regardless of where they are or what device they are using. With numerous features such as editing tools and easy sharing capabilities, Google Docs has quickly become the go-to place not only for individuals to keep all their documents in one place, but also for groups to easily manage, review and edit their docs in real-time.
Here are some tips and tools for sharing Google Docs:
Privacy
Google Docs are initially set to "Private
"
by default. This means that only the owner can view and edit the document. Click on the
Share
button on the top right corner of the screen to give access to others and control who can view, edit or comment.
It is important to remember that only owners can delete a document. If you want to give ownership to another individual, follow these steps:
Click Share on the top right corner of the document and enter the email of the individual you want as the owner.
Before clicking Done, select Advanced on the bottom right corner to show all the contributors' emails.
Select Send to invite the person first. Now, you can change their level of access to the document.
Next to each email will be a drop-down menu. Here, you can select Is owner for whichever individual you want to pass the ownership to. There can only be one owner per document.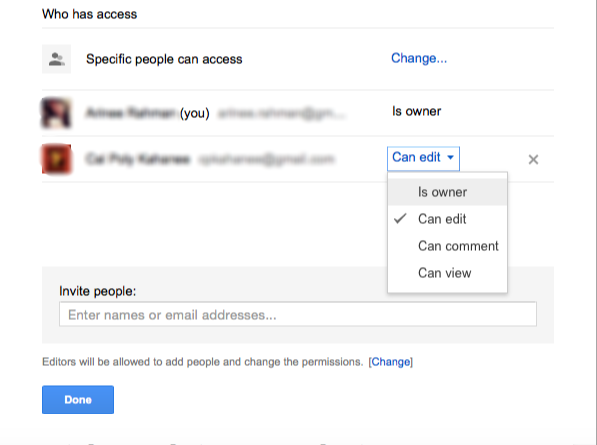 Track Changes
You can now make suggestions on other people's documents through a new feature called
Suggested Edits
. If you are the owner of the document, a contributor can suggest an edit or a change without affecting the original text. You can then choose to accept or reject those changes.
Click Editing on the top right corner of your doc. A drop-down menu will appear with three options: Editing, Suggesting or Viewing.

Once you click Suggesting, you can now edit on the text without making actual changes to it. The owner will have the ability of accepting or rejecting the changes.

If you would like to add more detail or an explanation to your suggested edit, you can type in the Reply section to send the owner a description of your edit.
Revision History Tool
To view each edit that was made by specific contributors on a document, you can use the Revision History tool. This tool tracks what edits were made and can also be used to go back to previous versions of the document.
To view your revision history, follow these steps:
Select the File button and click on See revision history on any document.
A panel will appear on the right side of the screen. The names of contributors will be shown with their specific edits along with the time of when the change was made.
You can click through each edit and revert back to that version of the document by clicking Restore this version.
Offline Access with iPhone or iPad
On the go without internet access? If you know you need to work on a document and you won't have internet connection, you can setup your Google Docs app so that you can work on it offline.
To turn on offline accessibility for a document you must be connected to the internet first.
Go on your iPhone or iPad and open up the Google Docs app.
All your documents will be listed. Select the button next to the name of the document you want to be set up as offline.
A pop-up menu will appear with the options shown. Select Keep on device. You can now edit the document without the internet.

To access or manage your offline documents, select the menu button on the top right corner.

Hopefully these tools will make navigating through Google Docs easier and more accessible for sharing and editing. Using this Google app really makes your work more organized and easy to manage and these tools can help broaden your scope even more with Google Docs.