With the release of Android 5.0 version (known as Android Lollipop) last year, Google has introduced a stream of all new features for its users. It is available on new Nexus mobile phones and the updates are beginning to be done for older Nexus versions and Motorola phones. In this article we have brought together 10 new features and cool stuff you can do with Android Lollipop. Have a look:
1. Tap & Go
It is seen that the setup process for switching from an old Android device to a new one can be a painful task. Android Lollipop has simplified this task with the
Tap & Go
option. If both your old and new device have NFC technology, the Tap & Go option allows you to transfer your apps and settings with Bluetooth. Tap both the phones until you hear a beep and then when the old phone prompts, press OK and sign in your Google account.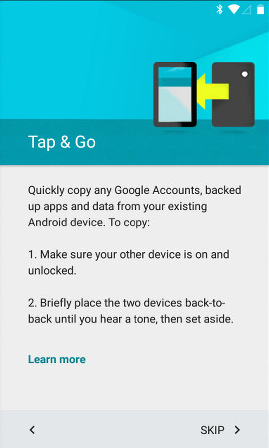 2. Set Up A New Guest
Android Lollipop brings the function to add a guest with Guest mode. The feature can be enabled when someone needs to borrow your phone and you want to keep your personal information private. To turn the feature on, open the notifications by swiping down from the top, select the
Person icon
and select
Add guest.
The guests can be added and removed as per our requirements. Any information or apps downloaded during the guest mode will only get stored temporarily.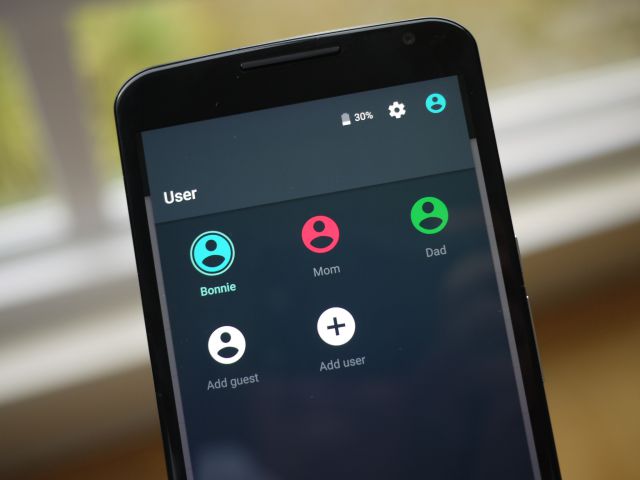 3. Set Up Priority For Notifications
Another useful feature in Android Lollipop is the Priority notification mode. Whenever this mode is on, the notifications that have the highest priority make an alert sound while other less important notifications will show up but will not make a sound.
To enable the mode, press the volume up and down button. In the panel select
Priority
and select the
time period
for which you want to enable the priority mode. You can select the priority notification mode for messages, emails and calls is set up in the same way. Select the notifications that you want to get when this mode is on. You can allow combinations of calls and messages in which you can allow all calls and messages or calls and messages from a particular contact.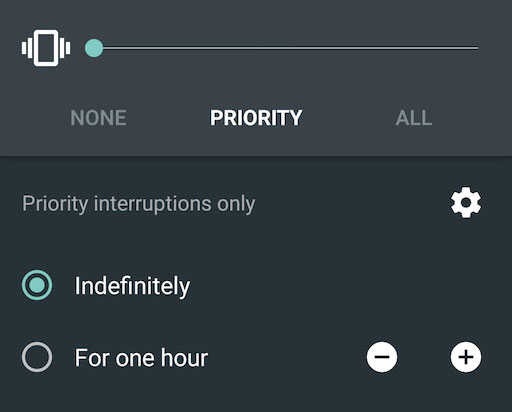 4. Face Lock Feature
The all new
Face lock feature
is a much smarter way to lock your device. In Android Lollipop, the device will identify your face the moment screen is activated. You will get through after it recognizes your face without any further security. For activating it, go to the
Security
menu and in the
Smart Lock
option type Face Lock. Follow the prompts so the phone can recognize your face and then after pressing the power button give it a whirl.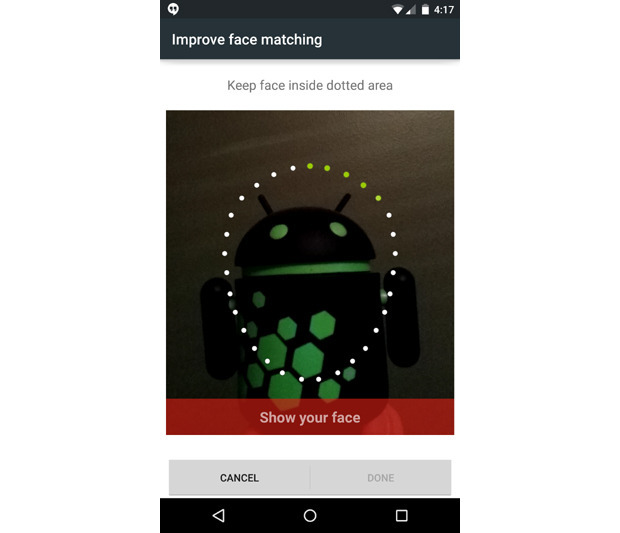 5. Screen Visibility Options
Lollipop has experimented with screen visibility options to a better visibility to users suffering from color blindness or poor vision. The features are found in
Settings
and
Accessibility
menus. The
Color Correction
option changes the color for three kinds of color blindness -- Deuteranomaly, Protanomaly and Tritanomaly. The
High Contrast Text
outlines the white and light colored backgrounds, hence giving a good vision to users having poor sight.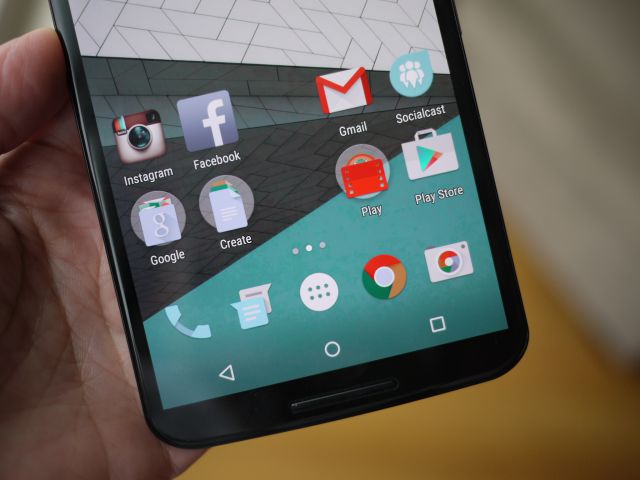 6. Screen Pinning Option
The screen pinning feature is to restrict other user's access to your apps and information. This feature when enabled, allows only one app to be seen by other users. This feature can be enabled while the guest mode is active so as to prevent the other user from accessing other apps. Also if you want to prevent your kid from accessing important information in your phone, just pin the favorite game to the screen and hand it over to your kid. For enabling it go to
Settings
option and then toggle
Screen pinning
option in
Security
option. Now press the
Overview button
and select the app that you want to pin to your screen and select the blue pin button.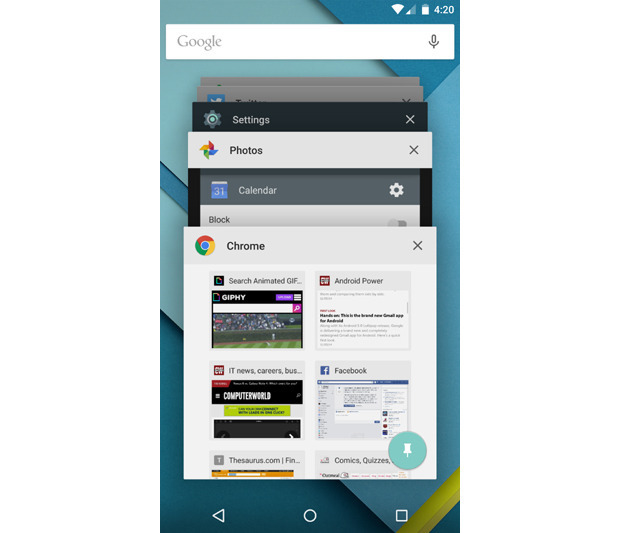 7. Know Exact Battery Left
With Lollipop, you will get a better battery life as Google has made use of Project Volta in it. It comprises of a battery saver mode that when enabled slows the processor's performance, dims the screen brightness, limits vibrations so as to help extend battery life for a few hours. To enable the
Battery saver mode
, select the
Menu
button and click on
Battery Saver
. The battery saver will save up to 90 minutes of your battery.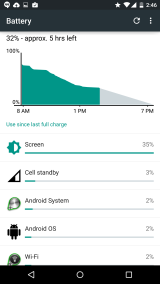 8. Lock Screen Notification
Now with Lollipop, you can see and perform actions on your notifications right from the Lock screen. The notifications can be swiped either to left or right for dismissing them. Double-clicking on them enters right into the app. You can choose from three options when your gizmo is locked. You can block notifications from certain apps by
Block
option. You can also hide sensitive information from others by selecting
Sensitive
option. This option for instance will not show the subject lines of your mails, but will show that you have new mails.
Go to
Settings,
and click
App notifications
from
Sound and Notifications
column and on the
Sensitive
settings. Repeat the steps for each app that you want to keep private.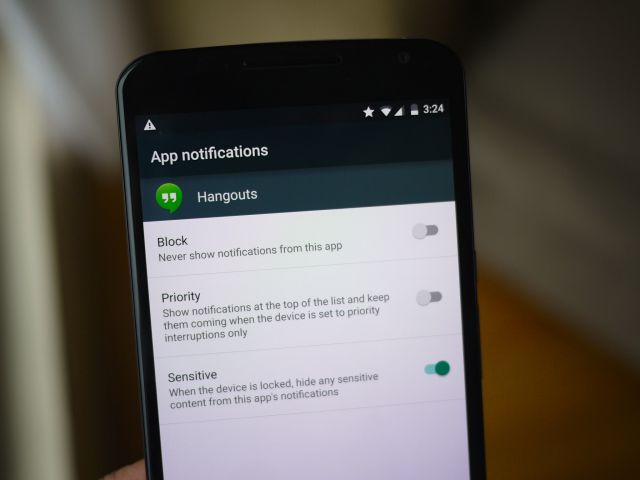 9. Setting Up Trusted Device
Lollipop offers yet another way to unlock your phone. Whenever your phone gets near any of the trusted Bluetooth devices like your car, it will automatically unlock your phone. To enable this feature go to
Settings
menu and click on
Security
and select
Smart Lock
. Make sure you have set up a Screen lock in your phone so that it automatically locks when your phone is away from the Bluetooth device.
10. Lollipop's Hidden Easter Egg
Lollipop like other Android versions also comes with a hidden flappy bird game. To find the game, in the
Settings
menu, select
About Phone
option. Tap the line Android version 4 to 5 times. When the Lollipop graphic appears click it 5 times and hold it for some time. The flappy bird game will appear before you.