I have been using Google Drive for years now and have recently noticed the large banner on top of the site asking me to try the new drive. I'm the type of person who is hesitant on updating my apps if I like the way things are working or if I don't want to take the time to relearn how to navigate through an app or website. For that reason, I simply ignored Google Drive's constant nagging and reminders for me to upgrade to the newer Drive.

Ultimately, I gave in and decided to give the new Drive a chance. What I found was a cleaner, faster and user-friendlier way to upload, manage and search my files.
If you need assistance going from the old Drive to the new Drive or want to know what's available with the newer version, use these guidelines and tools to help your transition.
Gridview
Once you go to the new Drive, you will automatically see a revamped look. Instead of listing all your documents like before, your documents will now be in a grid shown below. This makes it easier to know what each document consists of since you get a small preview with each title.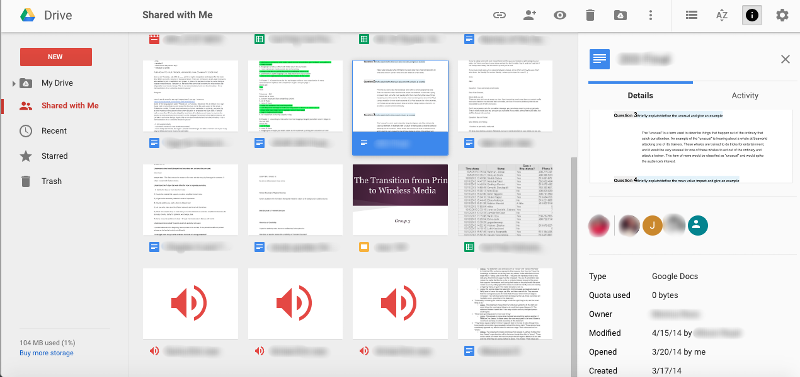 If you select a document on the grid, a larger preview will be shown in the panel on the right hand side of the screen along with additional details of the document.
Don't like the grid? You can change your style of viewing by clicking on
List view
on the top right corner.


Toolbar
With the previous Google Drive, you had to open up each document individually to share or add people. With the new Drive, options in a toolbar are conveniently placed right above all your documents so you can easily manage them with one click of a button without having to visit a new page.
The toolbar shown below can be found on the top right corner of your Google Drive home page. The toolbar only appears once you select a document.
You can grab sharing links for each document quickly and easily by clicking the
Get link
on the toolbar.

From sharing links to adding people to moving an item into your personal Drive, these simple one-click tools give you access to options that you can use without ever having to leave the page.

Group Action
You can now use the same commands that you use on your computer for grouping items on Google Drive.
By dragging your mouse through multiple files, you can select them to take group action. Or you can select individually using Ctrl + Shift.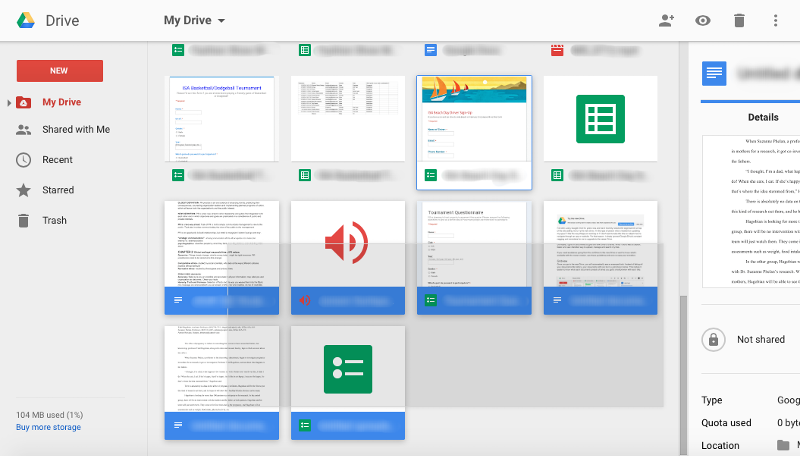 Once you have selected your items, you can use the toolbar above the files to take whichever group action you would like, such as sharing or adding people all at once to multiple documents.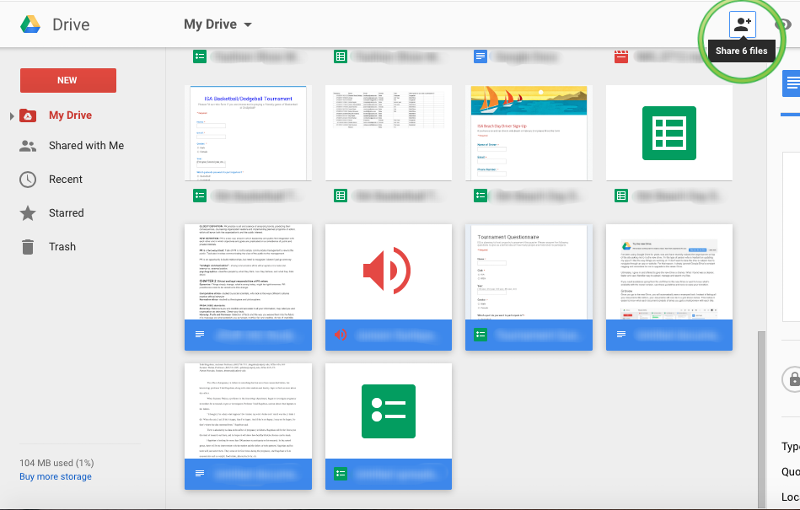 Another way you can also take group action is by selecting your items and then dragging and dropping them to a folder.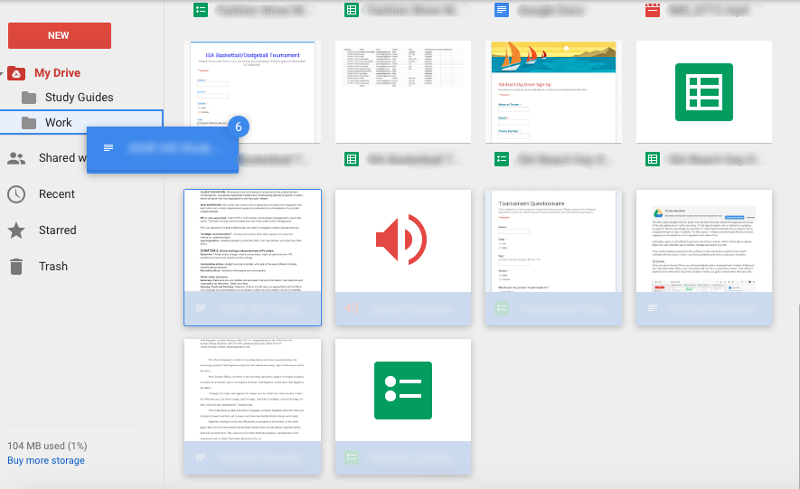 A third way to take group action is by right-clicking the files you have selected. A drop-down menu will give you actions you can take such as move the documents to a folder or delete them all at once.
This process of selecting more than one item at once allows you to share multiple files or add people to multiple documents more easily.
Search
If you have a lot of documents in your drive, it can get difficult to rummage through all your folders to find the certain one you're looking for. With the new drive, you can use easy shortcuts to narrow down and refine your search to find your exact file or document.
Use the following chart for shortcuts when searching for your files.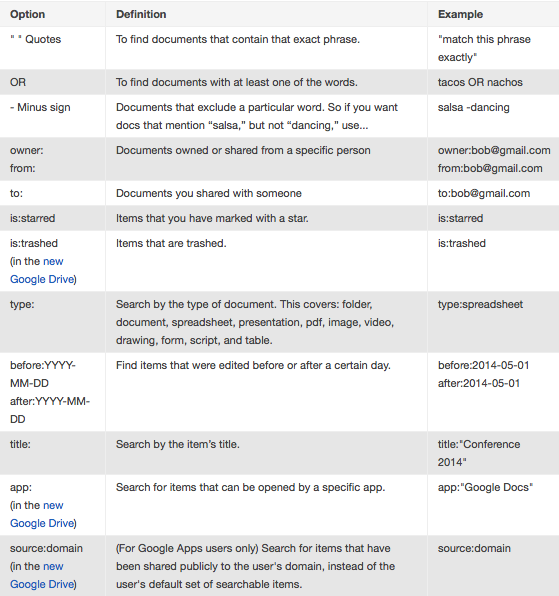 (
https://support.google.com/drive/answer/2375114?hl=en
)
Google Drive is already overwhelming enough with its capability of containing all your files and documents in one place. The new Google Drive makes it more user-friendly and better organized to fit your needs.
If you don't like the newer version of Google Drive or prefer using the previous version, you can simply revert back to the older Drive by selecting Leave the new Drive under settings on the top right corner.