Introduction
Ever had certain email messages or responses that you find yourself using over and over again? Do you use Google's Gmail system? If so, then this article is here to help you save time by teaching you how to create email templates from within Gmail. No more cutting and pasting from past messages or from a saved document; and it only takes a little bit of setup.
Activating the Feature
If you're wondering why you haven't found this type of feature within normal usage of Gmail (like I was), it's because it's not part of the standard Gmail web client. You'll actually need to enable one of the experimental features within Google Labs. Yes, that does mean it could break or vanish at any moment, but then again, Gmail was technically in beta for ages and went pretty well, so I wouldn't be too worried about that.
The feature we'll be using is called "
Canned Responses
", and activating it is simple.
First, click the gear icon near the upper right of the Gmail screen and select the "Settings" option from the list.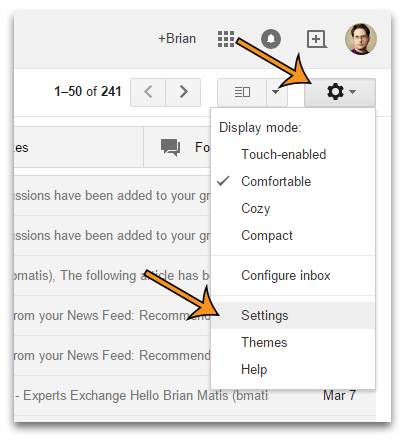 On the Settings page, choose the tab called "Labs".

From there, you can look through the list of labs and you'll probably find it, but an even easier way is to search for the phrase "canned" and it'll filter the list for you. After you've found the Canned Responses feature in the Available Labs list, select the option to Enable it, then click the Save Changes button at the bottom.

Creating a Canned Response
Now that you've enabled the feature, you can create your first Canned Response. I've done this by compose a new message and adding in the subject and message text that I want, Then, to save this as a Canned Response, use the "More Options" menu in the lower right (it looks like a downward pointing arrow), select the "Canned responses" menu, then select "New canned response..."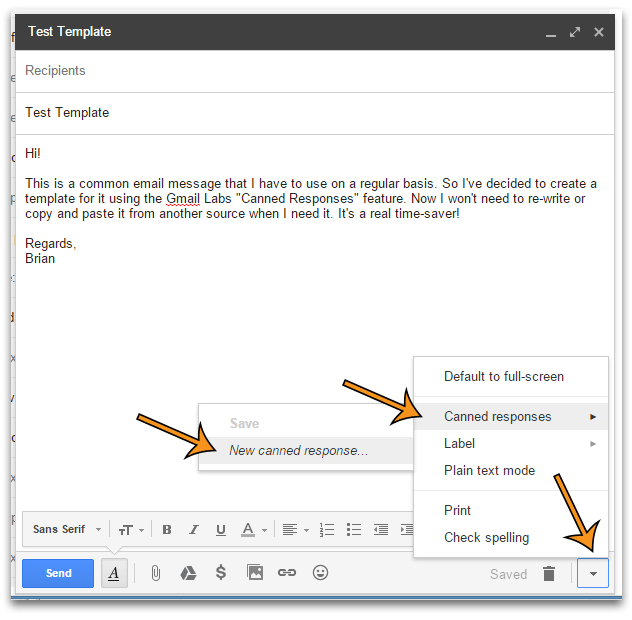 Next, you'll need to give it a name. Gmail will default to whatever you used as the subject line, so you can either use that or rename it.

Using a Canned Response
Now that you've got a Canned Response set up, let's see how to use it.
Start to compose a new message, use the "More Options" menu in the lower right (it looks like a downward pointing arrow), select the "Canned responses" menu, look under the "Insert" section, then choose the message you created earlier.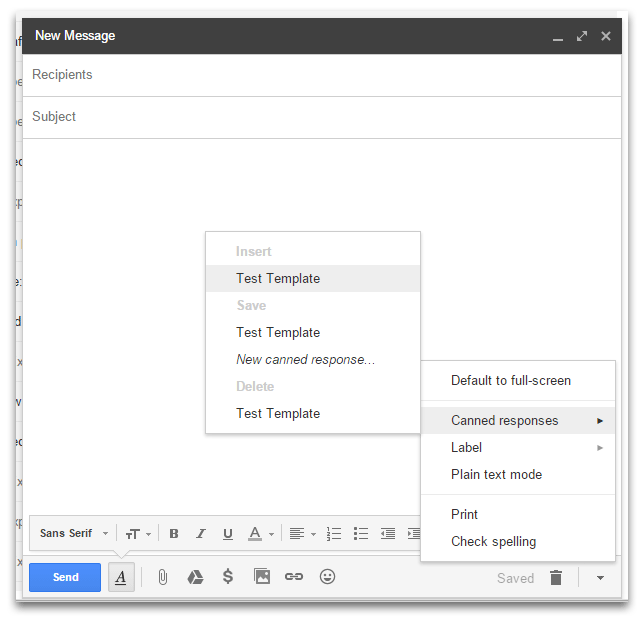 That covered creating a new message, but it's the same process when you're replying to a message as well.

You can build up a library of responses to cover a variety of common situations. If you give them clear names, you can then easily select which one to use in any given situation. You can even repeat the insert process, allowing you to mix and match several different responses to build a more complete message if you need to.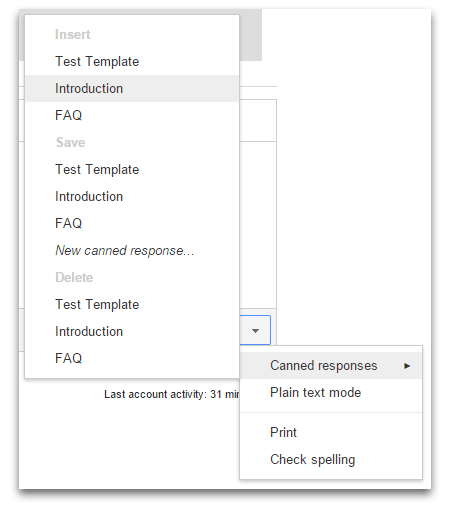 Conclusion
I hope that learning about this experimental feature of Gmail can help you save time, just like it's starting to help me. Do you have any clever ways of using this feature? If so, let me know in the comments, as I'd love to hear them!