Google Drive is like a virtual desk -- it contains all our important files, paperwork and documents all in one place. However, our desk can quickly get messy if we don't put everything in the right drawers, compartments or folders. So like our desk, all your documents in Google Drive can easily become overwhelmingly disorganized and difficult to find if everything isn't sorted properly.
Use these tools to categorize and organize your documents when using Google Drive.
Create Folders
Having too many files in your Drive can make it hard to locate specific documents. Organize your Drive by creating folders. This will categorize your Drive and keep it neat.
Follow these steps to learn how to create and manage your folders:
To create a folder, go to your Drive and find My Drive on the top of your screen.
Enter a name for your new folder.
Your new folder will now be shown on the top of your Drive along with all your other folders.
Add files into the folders by dragging the document and dropping them into their corresponding folder.
You can also grab multiple documents by using the Ctrl key and selecting additional documents and then drag them to a folder.
You can even drag folders into other folders by dragging and dropping them.
After this is done, your Drive should look clean and organized like shown below.
Creating folders also allows you to share multiple documents to people in an easier way. You can share the whole folder by right-clicking on it and then selecting
Share
.

Organize your Folders
Once your files are all organized, you may now have a problem of having too many folders in your Drive. Color-coordinating your folders can make it easier for you to differentiate them.
Follow these steps to color-coordinate your folders:
Select the arrow key next to My Drive.
The drop-down menu will show all your folders.
Right-click on a folder and select Change color. From here you can choose what color you want your folder to be.
Coordinate your colors to make it easier for you to manage your folders. This is what your folders will look like after color-coordinating them:
You can also
Star
folders to keep some specific folders in one place. Think of this as "bookmarking" folders.
To Star a folder, right-click on the folder.
Select Add star from the drop-down menu.
These specific folders will now be shown not only in your Drive, but also in the Starred section of your Drive as well.
To change how your documents are ordered, select
Sort options
. Here, you can now choose how you wish to view your files.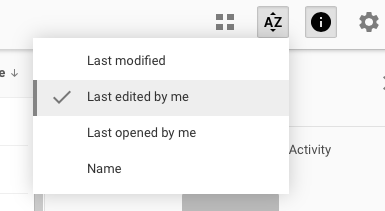 Google Drive is a great platform for keeping all your documents and files. However maintaining and cleaning it can be a hard task. Hopefully these tools help to keep your Drive organized and less cluttered.