Inbox by Gmail is a brand new email system app that Google is currently testing out. Connected with your Gmail account, Inbox is intended to be a completely revamped Gmail interface to make it easier for users to keep their emails organized and easy to manage.
If you're overwhelmed by your plethora of emails and constantly sick of seeing all your messages cluttering up your email system, then Inbox is the right app for you. After using this app for a couple of week myself—I'm sold.
Inbox is definitely different from most of your standard email apps and did take some time getting used to. But after playing around with all its new tools and shortcuts, I realized that this was a step in the right direction for Gmail — especially if you like to keep your email system clean and empty. The whole design and idea behind Inbox is really refreshing and can make your life a whole lot easier.
It is important to note that as of right now, Inbox is invite-only. If you know someone with Inbox they can send you an invite to use the app. Another option is to email inbox@google.com and request an invite but it may take a week to get your invitation. Once you do recieve it, you can use the app through any device or computer.
Bundles
Right away, you can tell that the app is different in that it will automatically bundle up emails for you. This means that it will group together emails that are either of the same subject or from the same sender. You can also customize your bundles and create your own groupings.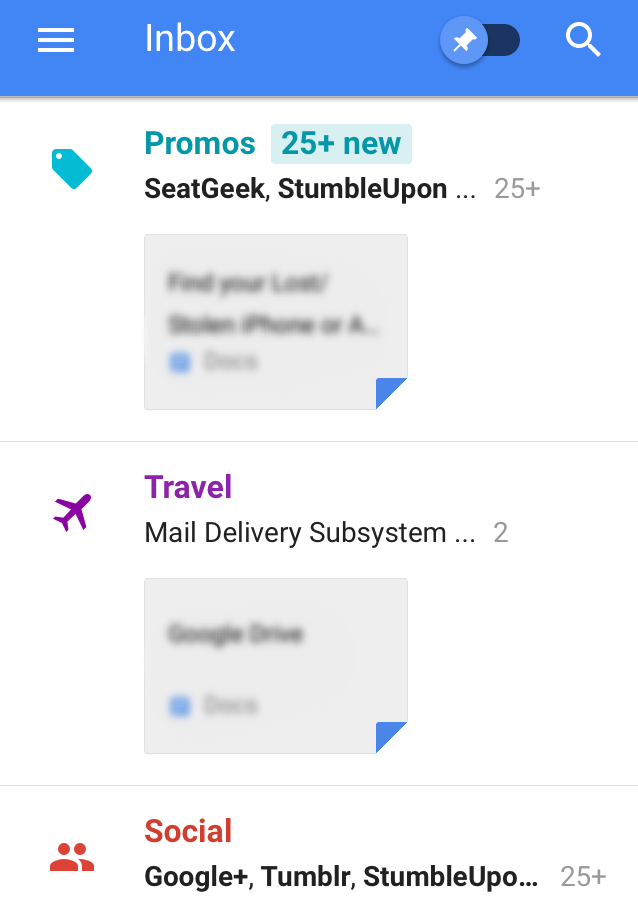 For example, Inbox initially has bundles labeled
Travel
,
Purchases
,
Finance
,
Social
and
Promos
. Anything related to traveling such as your hotel reservations or flight bookings will be grouped into the
Travel
bundle and can easily be accessed by clicking on that group.
Follow these steps to create your own bundles.
From the home screen of the app, click on the menu button on the top left hand corner to bring up the panel shown below.
Scroll down and select Create new.
Now let's say you want to create a bundle for all your work related emails. Name your new bundle and then select Add.
You can now customize exactly what kind of emails you want to be automatically put into this bundle. It could be emails sent from specific people, emails with certain subjects or even emails that include or exclude specific words.
So now with bundles you won't be seeing an excess of emails. Instead, you can group all your emails so that all you see is bundles when you open up the app.
Snooze your Emails
Don't have time to deal with an email right now? You can
S
nooze
emails using Inbox so that you will get a notification later reminding you to read or reply to that message.
Simply swipe left on an email to snooze it.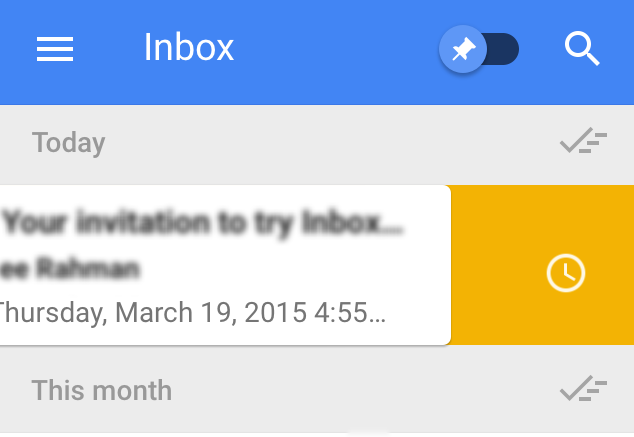 Then, you can pick what time you would like to be reminded about the email. If you're out running errands, you can even choose
Pick place
and select a destination like your home address so that you can receive a notification on your device about the email automatically once you get back home.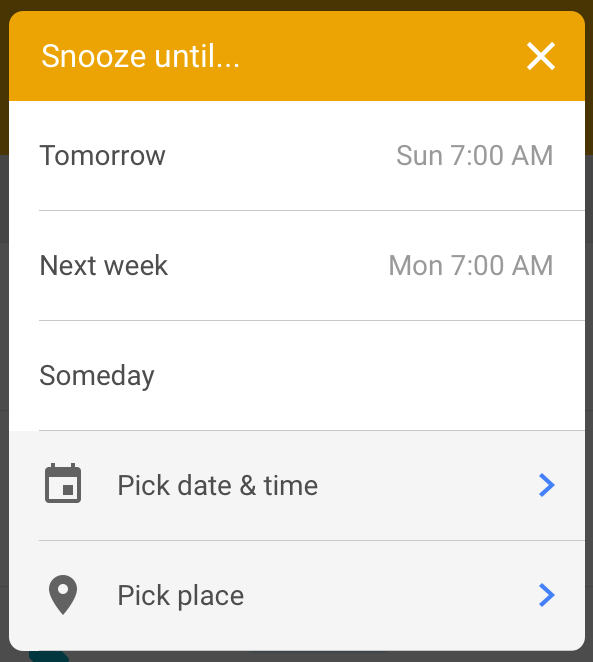 Reminders
If you have important meetings and dates to keep track of, using the
Reminder
tool is great way to receive notifications through Inbox. Reminders will not only be shown on the top of your home screen of the app, but also can be snoozed so that you can get notifications about it straight to your device.
To use Reminders, select the "
+
" sign on the bottom right hand side of the screen. A menu will appear showing all your recent email recipients along with the
Reminder
option.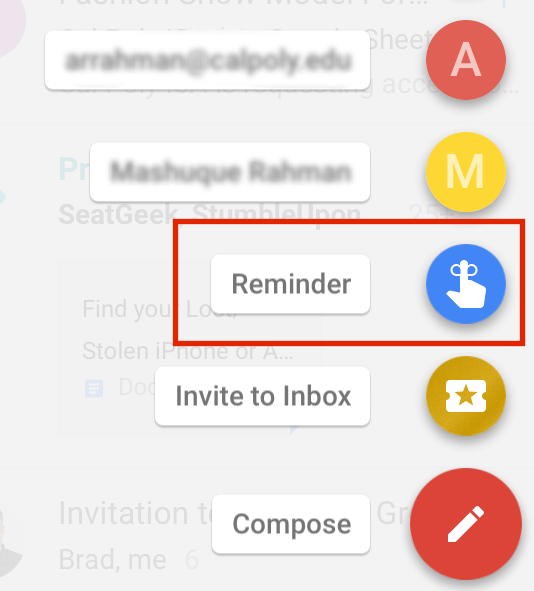 Once you select
Reminder
you can create a note for yourself. These reminders can also be set so that you can receive a notification about it on your phone.
Reminders will be shown on the top of your inbox like shown below.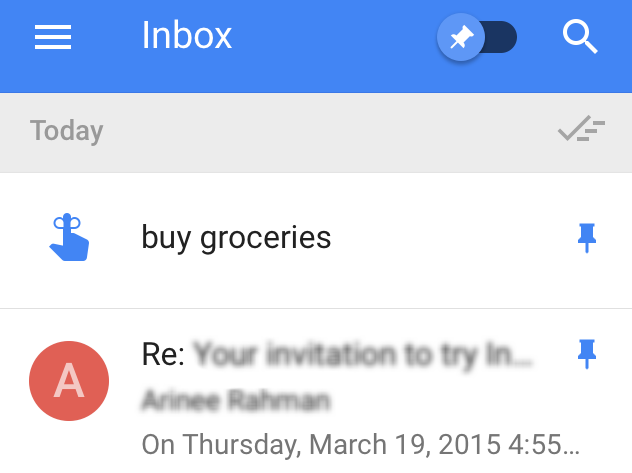 Achieve Inbox Zero
Now for the best part: cleaning out your inbox. "Inbox Zero", for those of you who don't know, is when your inbox is email-free and completely empty. This app's best quality is that you can quickly and easily empty your inbox to erase all the unnecessary clutter.
If you swipe right on an email it means that you no longer want to see it on the home page of the app and it will be categorized as
Done
. Think of this as archiving an email. You're not deleting the email; you're simply putting it to the side since you've already dealt with it.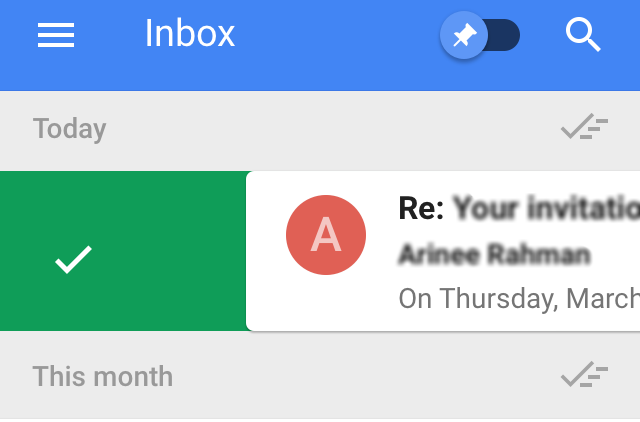 To view all these emails that you have archived, you can select the menu button on the top left hand corner and then click
Done
. All those emails will appear there.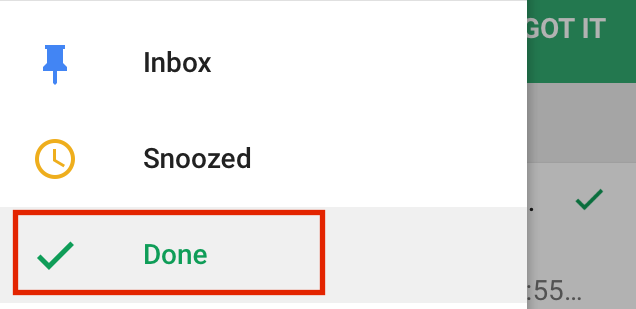 You can also
Sweep
emails as well. Since Inbox already groups messages for you, selecting
Sweep
will mark them all as
Done
. The app also groups messages by month, so if you have emails from a whole month that you don't want to see, just select
Sweep
next to that specific month to quickly get them out of your way.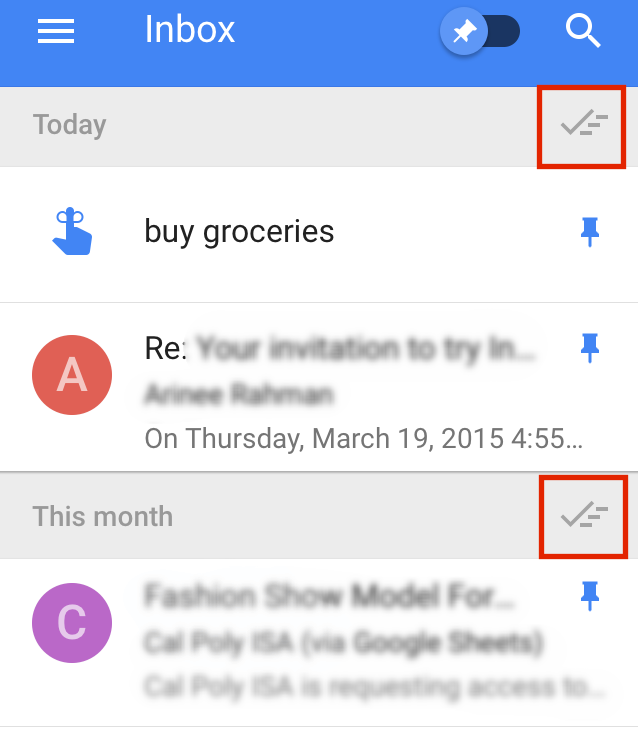 These nifty tools make it so much easier for the user to create and manage an empty inbox. There is no need to dig through emails anymore to find important messages. Inbox really is a great way for you to manage and organize all your emails. Just click on a bundle and you'll be guaranteed that you can find the email you're looking for right there. With just a swipe or two here and there, all your emails can be uncluttered and out of your way and you can finally achieve inbox zero.