Browse All Articles
> How to use Google Alerts to Stay Updated
Google Alerts makes it easier for you to keep yourself updated on companies, specific people, jobs and much more. With this site you can choose what topic you would like to receive notifications about, and Google Alerts will automatically filter all that information and send you a concise email that includes any new content about your chosen topics. This includes articles, blogs, news and any other kinds of updates.
This is mostly helpful for those who may not have the time to constantly follow their favorite news topics, companies, or icons. With Google Alerts, you can weekly, daily or continuously receive updates on the topic of your choice.   
Create Alerts
Follow these steps to help you get navigate through Google Alerts:  
Go to www.google.com/alerts. 
The site will give you some suggestions of content you can follow. If those aren't what you're looking for you can create your own.
Enter a topic, term or phrase into the box that says Create an alert about.
For this example I will be using Android. 
You have lots of options as to how you would like to filter your content such as choosing how often you would like to receive your email notifications. 
You can also select what type of sources you are looking for such as blogs, news, web, finance, etc. 
Select Create alert once you are finished.
Try to make your alerts as specific as possible. 
Use quotes around a phrase or a group of words if you are looking for a precise term. For example: []"Silicon Valley"]. 
To exclude words from your search, use a minus sign (-). For example: [Apple -iPod]
To use specific sites in your search us site: operator. For example: [politics site:nytimes.com]
Edit Alerts
You can always edit your alerts by selecting
Edit
. You can also see a preview of your alert from there.
Select
Settings
next to your alert to choose exactly what time you want to receive your email notifications. You can also decide if you would like to receive all your alerts in one single email.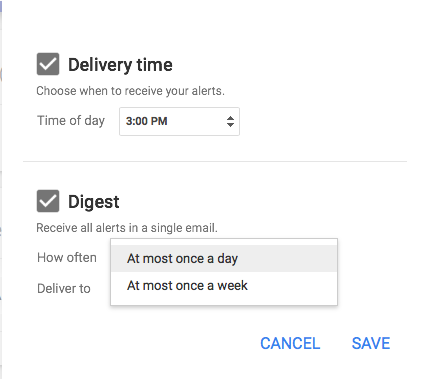 Using Google Alerts is really beneficial to stay up to date on all your news. Hopefully this guide makes it easier for you to spend less time browsing and more time receiving specific content that reflect your interests.