We are taking giant steps in technological advances in the field of wireless telephony. At just 10 years since the advent of smartphones, it is crucial to examine the benefits and disadvantages that have been report to us.
We will show in advance what the coming generation of mobile phones might look like. We are taking giant steps in technological advances in the field of wireless telephony. At just 10 years since the advent of smartphones, it is crucial to examine the benefits and disadvantages that have been reported to us.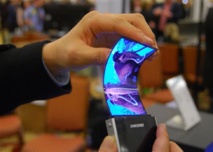 Source: Techradar
Imagine living without a mobile phone; it boggles the mind!
If you wish to call someone at any time, wherever you are, mobile phones work like a dream. Free of landline connections, they are imperative in an emergency situation — this happened to me during a car trip in the middle of nowhere.
In the past ten years, there have been increasingly rapid advances in the field of wireless communication technology. Mobile phones are considered to play an important role in our lives. However, more recently, literature has emerged that offers contradictory findings about the benefits and disadvantages behind mobile phones.
The purpose of this paper is to review the recent research into mobile phone technology, to argue about their impact in society, and to raise awareness about the risks of improper (or even extensive normal) usage.
This paper is divided into three sections. In the first section, I give an account of the benefits that come with mobile phones. In the second section, I address the new features that might be incorporated into the next generation of mobiles phones. In the third and last section, I highlight the dark side of mobile phone technology.
Benefits
Mobile phones stand out for their versatility of use. They go hand-in-hand with special applications for listening to music, surfing the net, social networking, playing games, keeping an address book, and so on.
The vast majority of people in affluent countries already possess state-of-the-art smartphones. Their plethora of features has packed a punch in the business community. Not only can you send and receive texts, data, and voice message; you can also store documents, transfer money, do video conferences, and navigate using maps and GPS.
It is widely believed that mobile phones promote intellectual growth and critical thinking. Furthermore, they are proven to be a thriving educational learning tool, and to shape teenagers' identities, thereby contributing to our reasoning in adulthood.
Fashion-forward mobile phone
Brand-new mobile phones are just around the corner, with some innovations perhaps only months away. You will be blown away by some of the new features.
To begin with, the next generation of mobile phone is designed to target sustainability. There are different modalities to aim this purpose.
One possibility may be replacing the charging batteries by a nanoscale photovoltaic material.
The photovoltaic batteries feed the mobile phone via any light exposure, not to mention the fact that their expectancy will be "unlimited".
I would like to put emphasis on the fact that these days, battery chargers contain metals, many of which are contaminants (and a significant number of which surpass the European toxic limits).
Another upcoming possibility is the so-called
'microscale supercapacitors based on graphene'
. These consist of charging batteries free of metal content, but, as their name shows, of grahene material. The charging time may be as short as 5 seconds, which means 1,000 times faster than the current charging time.
What is more, taking advantage of graphene, the next generation of mobile phone may incorporate an ultra-thin flexible OLED touch screen. It is bendable, and thus, you can modify its form into shapes resembling a wallet, a bracelet, or whatever you want to.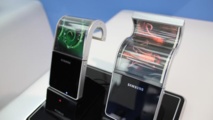 Source: Samsung
This is possible because graphene allows for the construction of one-atom-thick crystals. Note that we are talking about nanoscale electrical devices.
Besides that, graphene has excellent electrical properties, which enables an ultra-fast broadband, as much as 100 times faster than fibre-optic broadband.
Furthermore, photographic and video cameras using graphene may easily provide an ultra-high-resolution image, exceeding 40 megapixels.
An example is the Pureview camera, which is a recent Nokia patent based on graphene technology. In the same vein, Samsung, Google, and Apple already hold patents for graphene applications.
It is undeniable that the next generation of mobile phones will have a huge impact on society, at a level as yet unknown.
For this reason, you might also gain insight into the main hurdles to overcome related to wireless technology. Please draw your attention to the following section.
The downsides
To date, there have been certain drawbacks that have been associated with the overuse of mobile phones.
You had better switch off your mobile phone from time to time; otherwise, you may wrestle with unwanted health hazards.
Mobile phones are emitters of electromagnetic radiation, and there are grounds for believing that they cause both brain and thyroid cancer, and, moreover, genetic damage at levels below the safe standards.
There are also all-too-common social side effects. I bet you know someone who suffers from isolation, and is lacking social skills  (which may lead to shortfalls in language and communication ), inability to express emotions or feel compassion or sympathy for others (empathy), obesity, depression, irritability, stress, abuse, cyber-bulling, sexting, grooming, and, last but not least, reality distortion.
What is shocking is seeing a growing number of youngsters hooked on their mobile phones and keeping up with the Joneses.
On the other hand, not jumping on the mobile phone bandwagon can also be a source of social exclusion.
Youngsters who carry their mobile phones in class are easily distracted, and, on top of that, they show difficulty in concentrating, which leads to a steep learning curve.
Finally, I remark the fact that we are losing body language communication.
These aforesaid symptoms are telling that something does not bode well in mobile phones.
Future mobile phone will still be encumbered with electromagnetic radiation, as this is the way it works.
There is a lot of work that needs to be in the pipeline. The rapid developments in wireless technology have heightened the need for further research to mitigate potential damage caused by electromagnetic wave emission.
It is high time that a social framework for the mobile phone started.
To conclude, ground-breaking mobile phones will come into light in the near future. Its wonders could revolutionize our lives a second time. But I caution that making the best use of mobile phones depends upon us.
Lately I have had ongoing involvement in a project called 'The Global Dimension in Engineering Education GDEE — Mainstreaming Education on Sustainable Development'.

The aim of this project is to integrate principles of human development, globalization, climate change, sustainability and inequality into mainstream teaching. With this article I contribute my two cents' worth to make the world a better place. I hope to raise public awareness on important subjects. This article is part of a formal activity carried out within the GDEE project.
By Judit Camacho Díaz.
ResearcherID: B-9391-2014
Orcid identifier
http://orcid.org/0000-0003-2322-2098
References:
Are cellphones bad for your health?
.
Barrie Trower WiFi Report – Humanity At The Brink
.
Canadians for safe technology
.
Camacho Díaz, J. (2014).
Grafeno para móviles 'deformables'
.
Tendencias21.net, ISSN: 2174-6850.
de Castro, M. G. A. (2014).
Educational projects based on mobile learning
.
Teoría de la Educación. Educación y Cultura en la Sociedad de la Información
,15(1), 10-19.
Hardell, L., & Sage, C. (2008).
Biological effects from electromagnetic field exposure and public exposure standards
. Biomedicine & Pharmacotherapy, 62(2), 104-109.
Inskip, P. D., & Little, M. P. (2014).
Brain Tumors and Mobile Phone Use: The Ecological Approach
. Epidemiology of Electromagnetic Fields, 229.
Kinnunen, T., Suopajärvi, T., & Ylipulli, J. (2011).
Connecting People–Renewing Power Relations? A Research Review on the Use of Mobile Phones
. Sociology Compass, 5(12), 1070-1081.
Norman, R. E., Ryan, A., Grant, K., Sitas, F., & Scott, J. G. (2014).
Environmental Contributions to Childhood Cancers
. Journal of Environmental Immunology and Toxicology, 2(2), 86-98.
Oulasvirta, A., Rattenbury, T., Ma, L., & Raita, E. (2012).
Habits make smartphone use more pervasive. Personal and Ubiquitous Computing
, 16(1), 105-114.
Park, W. K. (2005).
Mobile phone addiction
. In Mobile Communications (pp. 253-272). Springer London.
Patrick, K., Griswold, W. G., Raab, F., & Intille, S. S. (2008).
Health and the mobile phone
.
American journal of preventive medicine
, 35(2), 177.
Samsung graphene breakthrough set to turn 'wonder material' into wearable tech
.
Safe Creative Copyright Registry
The cutting edge of mobile phones - CC by 4.0 - MARIA JUDITH CAMACHO DIAZ