This article is about how to fix and repair Outlook when you have problems with it or when it does not work. It follows my articles on Outlook for individuals which had to do with setting up and managing Outlook and my article on Outlook Tips about effective use of Outlook. This article about fixes and repairs is based upon Outlook 2013, but most of the discussion applies to Outlook 2010 and some earlier versions as well. For reference, my prior Outlook articles are here:
http://www.experts-exchange.com/articles/18332/Outlook-for-Individual-Users.html
http://www.experts-exchange.com/articles/18334/Outlook-tips-for-effective-use.html
This article is about Outlook for individuals and not about Exchange.
Outlook Send / Receive Issues
It is fairly easy to get Outlook to receive email: incoming POP3 address, user name and password will usually do it. Sending is more complicated because it is getting very common to use
require authentication when sending
.
The screen shot below shows the list of accounts you have. Many people just have one account. It should be marked default and you should see the location of the PST file (email data file) at the bottom of the screen. If is a good idea to make a little document with your default email account and the location of the PST file. Click on Change Account to see the next set of screens.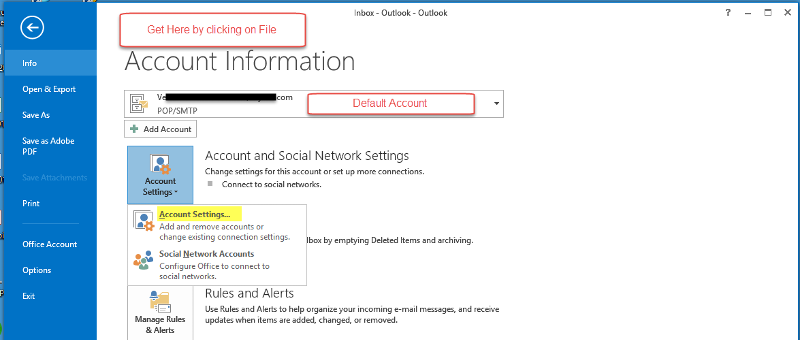 The screen shot below is the first screen you see after clicking on Change Account and it shows the incoming and outgoing mail servers. If you cannot send or receive, check these settings. Sometimes ISPs change them, and sometimes we get them wrong. You need to triple check these against the ISP documentation. Any error will not allow Outlook to send or receive.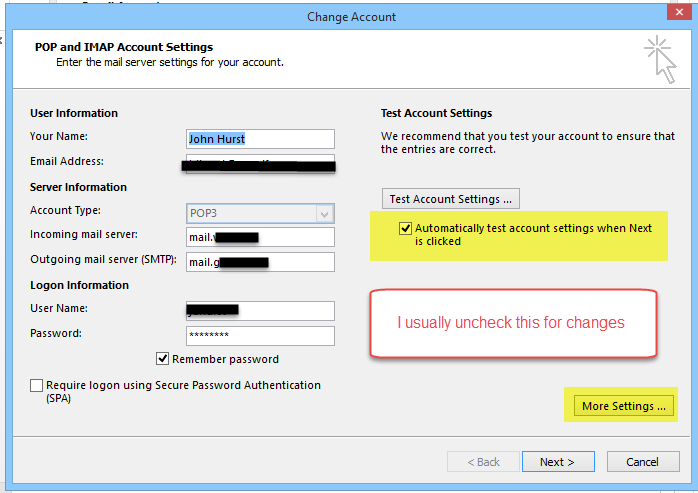 Important:
In the document I suggested you make, record the email user name
and
password. I see lots of questions in here where people cannot service their email because they have forgotten the login and the password. It is just easier to document this stuff.
Now click on More Settings and a new Window opens with three tabs. The next screen shot deals with Outgoing Mail Authentication (Outgoing Server tab). Click on (check) "My outgoing server requires authentication". If you have a simple setup you can sometimes get away with "use the same settings as my incoming mail server". I prefer to use the other setting that spells out user name and password. This makes the setting unambiguous and, in any event, is sometimes required. I do not check the radio button to log into incoming server before sending because I may wish to send a piece of mail before checking any mail.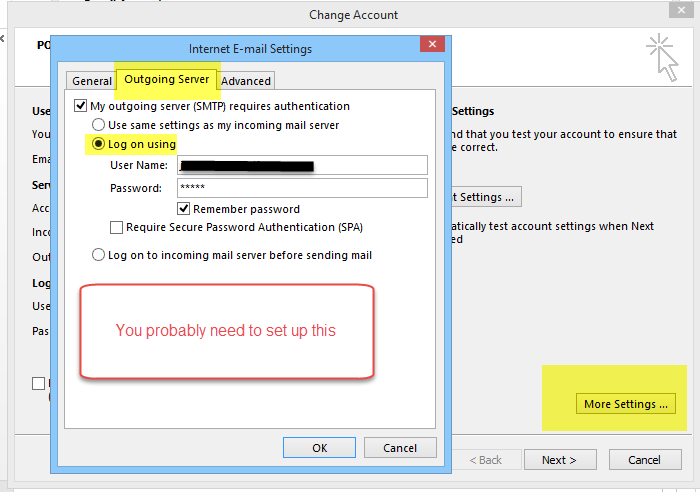 The next screen short deals with Advanced Settings and Ports. Click on the Advanced Tab. This area is a prime problem area. Why? Because this is the most technical part of Outlook Send / Receive. Any errors here cause Outlook send / receive to fail and ISPs sometimes change these settings to increase security. They do tell you, but sometimes we humans fail to notice.
Incoming mail used to be Port 110 unsecured. Now Port 995 secured by SSL is fairly common. You have to check the setting and enter the security type. It must match your ISP requirements. Outgoing mail use to be Port 25 unsecured. Now Port 587 or 465 secured by SSL or TLS is very common. Again it must match your ISP requirements. These settings are critical and errors can be frustrating. Double check the settings.
Important:
If you know all the settings are correct and you cannot send (or receive) email, check your firewall settings. Your firewall could be blocking ports. My home office firewall is entry level commercial and knows better than to block my email, but some consumer firewalls block email ports without thinking.
The settings below the ports determine how long Outlook will try to send / receive before timing out and also whether to leave mail on the server. If you use IMAP, you will probably want to leave mail on the server. I get POP3 email on two machines, so I leave mail on the server and clean it up with POP Peeper at the end of the day. POP Peeper is a helpful little email daemon that can pull up headers and you can determine whether to delete even before downloading into Outlook. This is super for the immense quantity of E-E email I get, and sometimes (rarely because I have good spam control) allows me to see and delete a bogus email before any harm is done.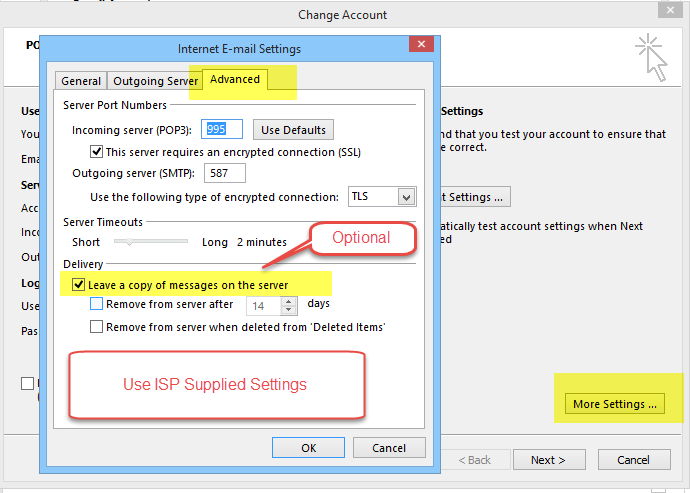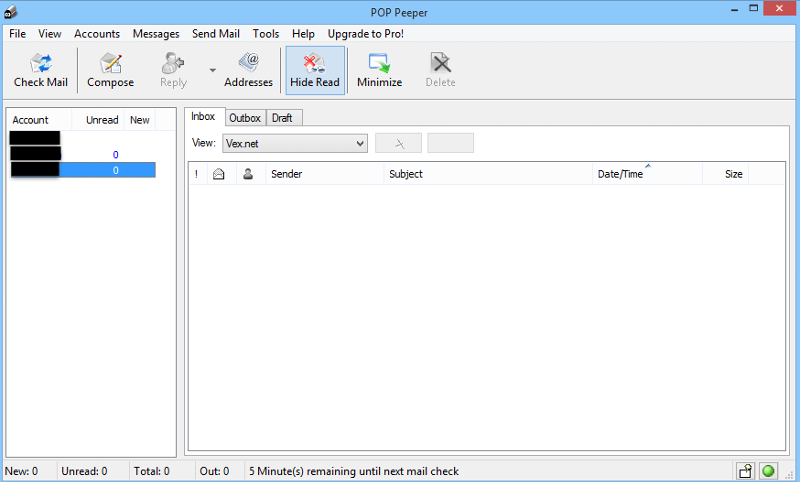 At the time I wrote this article, Pop Peeper is availabe in both free and paid (Pro) versions at:
http://www.esumsoft.com/ .
Download the product and do not activate the Pro Pack if you wish to use the free version.
Outlook Email data storage issues
New with Outlook 2010, true for Outlook 2013 and is also true for Outlook 2016 (on my Windows 10 Virtual Machine) is the default behaviour to set up a new email account with a different PST (Email data file). This may fit a majority of people but it does not fit me. I want all my email from any account in one data file. I frequently see questions in here "I set up a new account and no mail comes in". That is because it is in a new data file. Notice this behaviour carefully as it can cause a bit of frustration.
If you like multiple email files, the default behaviour (Wizard) works. If you want all your email in one data file, you need to use the manual setup method. See the screen shots below. Check the manual setup and in the next screen, select POP (IMAP) and then you land at the setup screens above.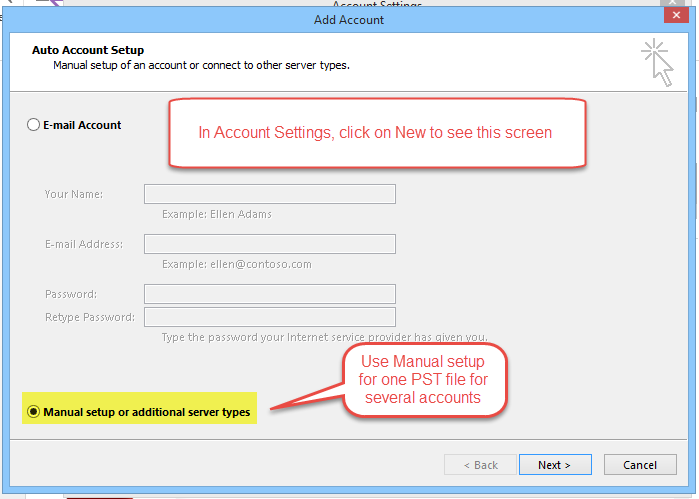 Outlook Errors
So far, I have illustrated the errors that result from setting up incorrectly. There is nothing wrong with Outlook but setup errors have caused issues.
Now let us focus on Outlook errors. These are not so neatly compartmentalized, however, so I will look at an error and then the possible causes and corrections.
Outlook cannot start, or the mail file does work properly (Data file damage)
In this document, we assumed you have a local PST file and if Outlook cannot start the file or if it has issues has once the file is loaded, the PST file may need to be rebuilt and corrected. You can check and rebuild the Outlook PST file with SCANPST.EXE.
Find out where your Outlook data file (PST file) is stored. If you can open Outlook, go to File, Account Settings and use the Data tab to show you where the data files are located. Normally the files are in: C:\Users\username\Document
s\Outlook Files

Make a copy of Outlook.pst in a non-Outlook (non-Users) location, say, C:\Temp.

Find the location of SCANPST.EXE. Normally it is here: C:\Program Files\Microsoft Office 15\root\office15\scanpst.exe

Now open cmd.exe with Run as Administrator. Navigate to C:\Program Files\Microsoft Office 15\root\office15 and run SCANPST. See the screen shot below for to assist you.



Now browse to C:\Users\username\Documents\ and open Outlook.PST. The repair will run and 95 times out of 100, it will repair successfully. If not, you need to look for commercial repair tools. Stellar Outlook PST Recovery Software is such commercial software. At the time I wrote this article, Stellar Recovery Software is available at:

http://www.stellarinfo.com/outlook-pst-file-recovery.htm

If the repair was successful, now see if Outlook starts and behaves normally.

Outlook Send / Receive or other Account problems (Outlook profile issues)

If you are very certain the Outlook account has been set up correctly but won't send / receive or has error when sending and receiving, the Outlook Profile may be damaged. Open Control Panel, Mail and see that you have an Outlook Profile. See the screen shot below.

Make a copy of your Outlook data files (as described above). This time, back up all your PST files as you may have archive files.

Make sure you know how to remake your email account, and in particular, make sure you know your email password.

Delete (remove) the Outlook Profile, close out of this, and restart your computer.

Open Control Panel, Mail again and make a new profile (Outlook is always a good name). Close out of Control Panel.

Open Outlook and set up your account, making sure all is correct. You should be able to point the account to your existing PST data file and all your mail will be intact. If you have issues, you can make a new data file and import the mail from the old file using the Outlook File "Open and Export" menu.

Assuming your new profile is working correctly, Outlook should now be working correctly as well.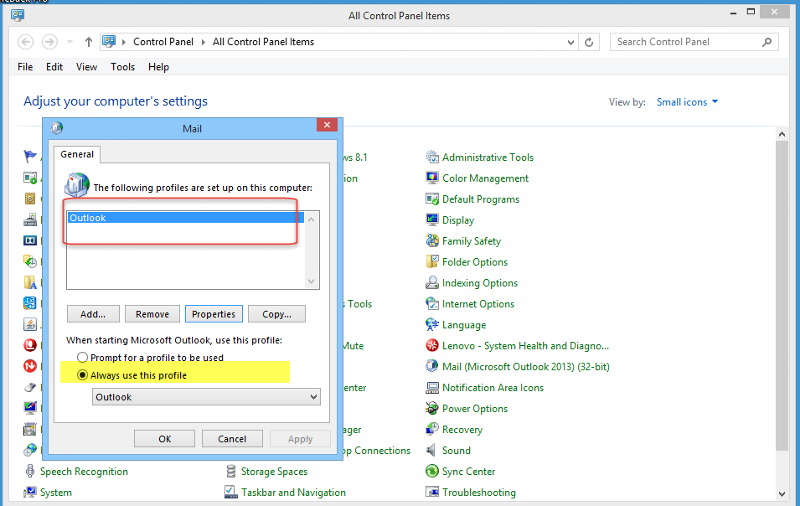 My mail goes to the wrong folder

This could be a PST data file error (see above) or it could be an error with Outlook Rules. I have seen this before. The only practical solution I know for broken Outlook rules is to delete the rules, restart Outlook and make the rules again. I do not use Rules.

Keeping Outlook Data Files on a Network Share

Microsoft does not support this and my unequivocal recommendation is: do not do it. Data file damage is the end result in most cases.

Outlook has "Stopped Working and must be closed"

This could be an Outlook problem, it could be a Microsoft Office problem, it could be a Windows problem, and / or it could be a Windows User Account (Profile) problem.

Try repairing Office first. This is the easiest thing to do, fixes simple problems, but not difficult problems. Go to Control Panel, Programs and Features, select Microsoft Office and click on Change. Select Repair. If you have Office 2013, and there is an option for Full Repair, use the full repair. See the screen shot below.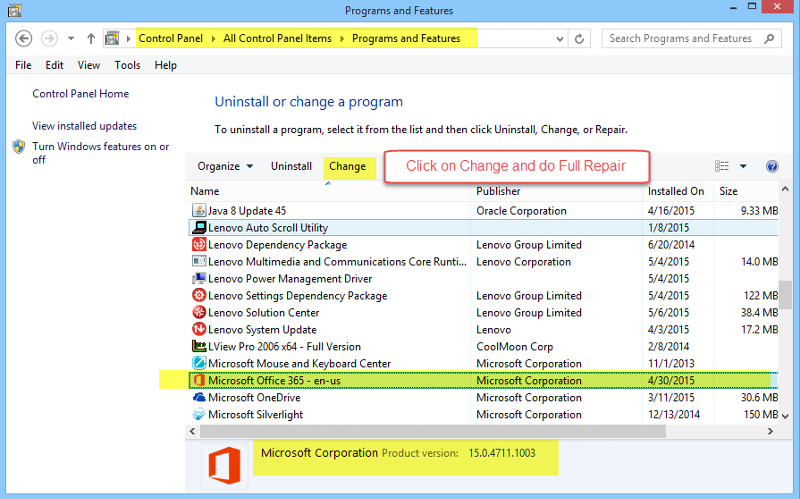 If this does not work, try reinstalling Office. Uninstall Office, restart the computer and install Office again. Of course, you need to keep your sources and know where to get the Office installer.

If this does not work (and sometimes at this point, you may still be having problems), set up a new, test Windows User Profile (Account). Log into the new account, set up Outlook and test it. If it works now, the problem is the Window User Profile and it will have to be replaced. Windows User Profile issues are very common. See the screen shot below of the User Account Setup area. You can also right click on Computer, select Manage, go to Local Users and Groups and set up user account this way.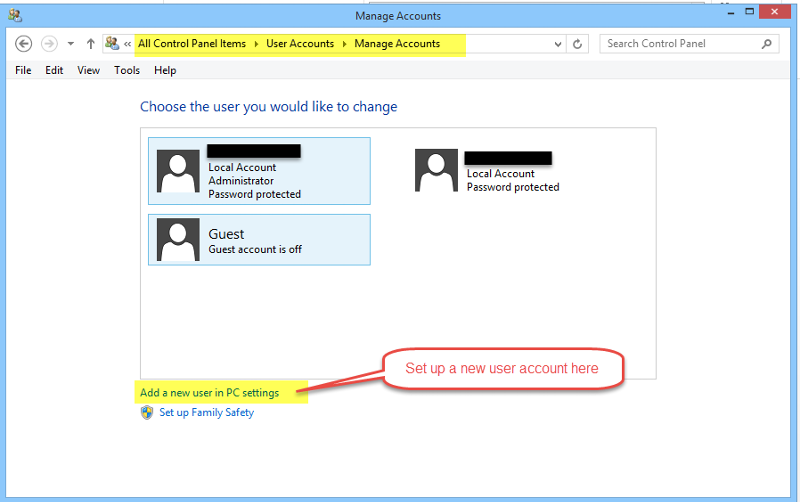 If you have done the above and you still have issues with Outlook (and likely other Microsoft Office applications) then you may have a Windows problem. The most common operating system as I write this is Windows 7. There are 3 basic strategies to repair Windows 7:

Run System File Checker: Open cmd.exe with Run as Administrator and run SFC /SCANNOW. Allow to complete, shut down the computer, start up and test. See if this has resolved your issues.

Run Windows 7 Repair Install: You need a working recovery partition or the Windows 7 DVD that came with your system.

Back up the computer completely, format and install Windows again. Sometimes this is just the fastest and best way out of a black hole.

I have covered many of the Outlook problems that people have, but there is always a new problem or different twist. This is what Experts Exchange is for: Ask a Question!

Enjoy Outlook!