Microsoft Outlook is not just an email client but it is full featured Personal Information Manager. But sometimes Outlook gets disconnected and you simply can't access it. What steps can you perform before calling IT support? In this article we will see how a non geek person can troubleshoot Outlook connectivity issues. I will demonstrate some basic steps that you can perform to resolve outlook connectivity issues.
#1 Uncheck offline Mode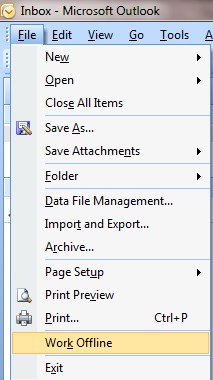 Confirm that offline mode option under File Menu is not selected. If it is then uncheck it. If you are using later version of outlook like 2010 or 2013 then you will find this under send/receive tab>>work offline button.
#2 Restarting Outlook or system sometime works!
Most of the restarting outlook or system work and resolve the connectivity issue with Exchange Server. So, it's better to restart then call IT support.
#3 Repair Outlook Data File with Microsoft Outlook Inbox Repair Tool
Note
: Close Outlook before starting the PST repairing tool.
Outlook stores data in two formats: PST (Personal Storage Table) Format and OST (offline Storage Table). When Outlook is configured with Exchange Server, using Cache Exchange Mode enabled, only then OST file is created on client system which is sync with exchange server. Most of the time these Outlook data files gets corrupted and you need to repair them. Microsoft recommends scanost.exe and scanost.exe tools to repair PST and OST file respectively.
Click on
Browse
button to locate the PST file to repair.
Click start button to start repair of PST file.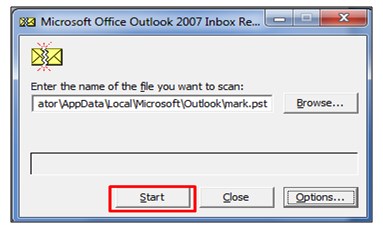 Repair Complete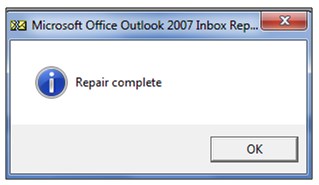 #4 Open Outlook in Safe Mode and Disable all Add-Ins
Type Outlook /safe in the Run dialog box to open Outlook in safe Mode. When Outlook open in safe mode then perform these steps:
Click File, then click Options, and then click Add-Ins. [or Tools>>Trust Center in Outlook 2007]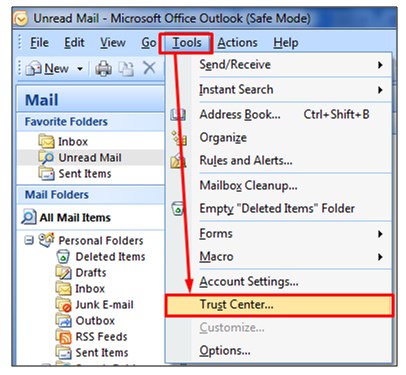 2. Select
COM Add-ins
, and then click
Go
.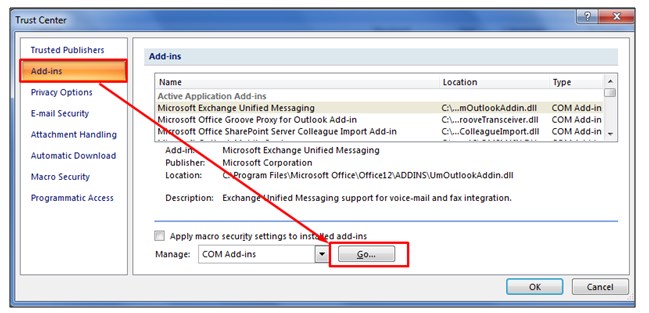 3. uncheck all check boxes in the list, and then click OK.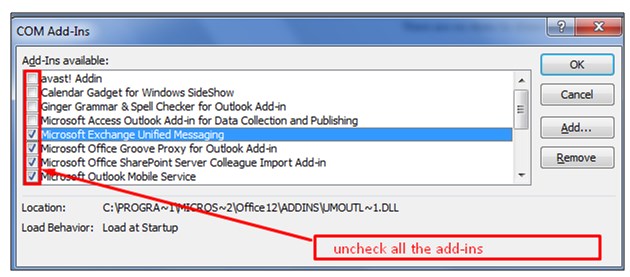 4. Restart Outlook normally.
#5 Create a New Profile
You can create a new profile without deleting the old one. See how to create a new profile in Microsoft Outlook:
Step 1: Exit Outlook and open
Control Panel
Click Start>>Control Panel>>Mails>> show profiles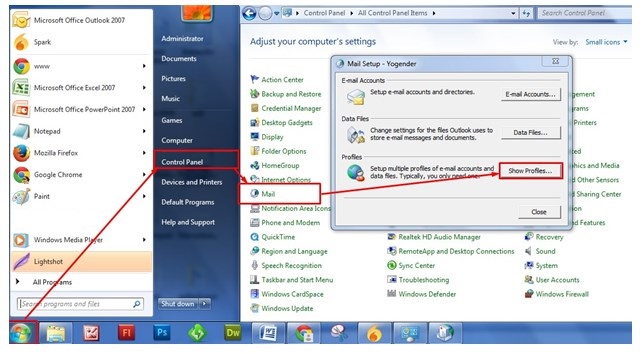 Step 2: Cick Add button to add new profile. Type profile name and click OK.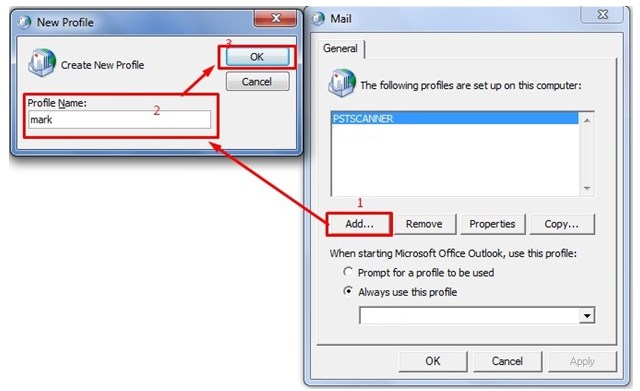 Now enter your credentials like Name [type new name], Email Address and password and click Next button.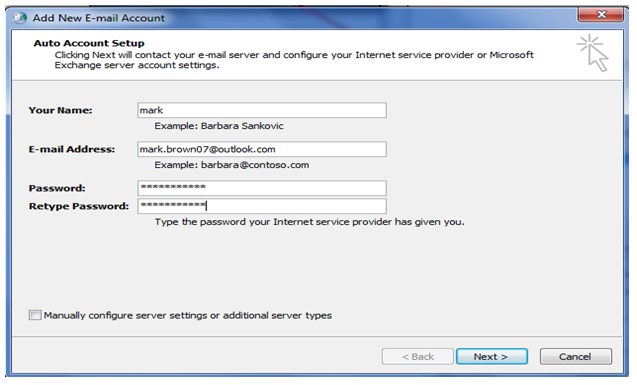 Final Words
Most of the time the above mentioned steps works and solves the outlook and exchange connectivity issues. But in case if it doesn't then you can try tools like
Recover Outlook
or ask question on Expert Exchange.