If you need to complete a Physical to Virtual (P2V), Virtual to Virtual (V2V) conversion to a VMware product (VMware Workstation, Player or VMware vSphere (ESXi) ) for FREE, then there is some good news...
VMware vCenter Converter Standalone 6.0 was released on 14 May 2015, and this latest version has new support for the following:-
Support for virtual machine hardware version 11.
Compatibility with vSphere 6.0 and Workstation 11.
Support for additional guest operating systems: Red Hat Enterprise Linux 7, Ubuntu 14, CentOS 6-7, Windows Server 2012 R2, Windows 8.1.
Support of pure IPv6 environments.
Proxy mode.
File-level cloning for volumes with ReFS file system.
Support for XFS file system.
Support for predictable network interface names.
Also fixes numerous issues with crashing and conversion issues, when converting physical or virtual computers to VMware vSphere vCenter Server 6.0 and VMware Hypervisor ESXi 6.0.
Please note the following, as with all releases of VMware vCenter Converter Standalone, when a operating system vendor discontinues an Operating System, VMware also removes the support from VMware vCenter Converter Standalone. With the release of VMware vCenter Converter Standalone 6.0, Microsoft Windows XP Professional SP3 (32-bit and 64-bit) support has been removed, the last version that supported Microsoft Window
s XP Professional SP3 (32-bit and 64-bit) was VMware vCenter Converter Standalone 5.5.3.

Microsoft Windows Server 2003 support is ending July 14, 2015, because of the need to migrate these physical servers to VMware vSphere (ESXi), I am noticing more Experts Exchange questions on How To P2V Microsoft Windows Server 2003?

VMware vCenter Converter Standalone 6.0 does not have support to P2V a Microsoft Windows Server 2003 server. VMware vCenter Converter Standalone 6.0 supports Windows Server 2003 R2 SP2 (32-bit and 64-bit) only.

Microsoft Windows Server 2003 SP2 (32-bit and 64-bit) support was removed from VMware vCenter Converter Standalone, after VMware vCenter Converter Standalone 5.0, and support for Microsoft Windows NT 4.0 SP6 and Microsoft Windows 2000 SP4 was removed after VMware vCenter Converter Standalone 4.0.1. See the following table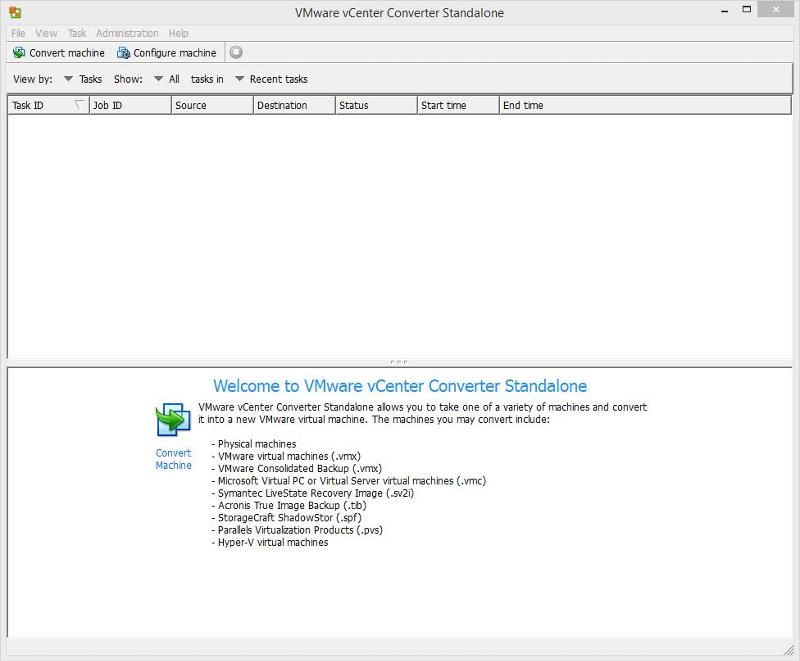 VMware vCenter Converter Standalone 6.0 is a free product, but it does have some limitations, P2V and V2V have to be conducted manually, also you may find some conversions troublesome and difficult.

If you have a budget for P2V/V2V software, there are other commercial products that do exist, and we have used, which you may want to investigate.

If you have a large estate of physical machines to migrate, these products have a scheduler and can perform automated workflows, but these are commercial products and not FREE like VMware vCenter Converter Standalone 6.0.

The products are listed below:-







if you have recently upgraded to vSphere vCenter Server 5.5, and are looking for the Convert/Import vCenter plugin which existed with 4.x, it's now longer available, and has been removed, and you will need to use VMware vCenter Converter Standalone 6.0 for your conversions.

and if you do use VMware vCenter Converter Standalone 6.0, and you want to make your transfers 60% faster, there is no longer the requirement, to disable SSL, which was common modification required with VMware vCenter Converter Standalone 5.0

Hints and Tips can be found in my other EE Articles, which discuss Physical to Virtual conversions and VMware vCenter Converter Standalone.



If you have issues, you may want to consult the following articles and guides

Some Videos I've developed for Experts Exchange members to show the VMware vCenter Converter process.

**************************************************
Thank you for reading my article, please leave valuable feedback. If you liked my VMware article and would like to see more Articles from me, please click the Yes button near the: Was this article helpful? at the bottom of this article just below and to the right of this information. Thank You. Do not forget if you have a question about this article or another VMware, Virtualisation, Windows Server 2012 question, why not post a Question for me and the other Experts Exchange Experts in the VMware, Virtualisation, Windows 2008, Windows 2012 Zones. I look forward to hearing from you. - Andy
****************************************************************************