When I first wrote this article for Experts Exchange in 2011, it was to answer these common questions asked on the site every week:
How do I backup my virtual machines?
What software product do I use to backup my virtual machines?
What software can I use to backup my virtual machines on FREE ESXi?
How can I backup my virtual machines whilst powered on?
These questions are just as relevant today as they were then. Four years is a lifetime in software development, and there have been some major changes since this article was first written, so I'm revisiting and revising with new content, additional comments, and new backup products.
If you're someone who is asking one of the questions above, you should evaluate these recommended products and choose what works best for you.
These are the 12 most popular products we have recommended, installed for clients, and use everyday for ESXi:
(While many of these software vendors offer FREE versions of their software, all of these software products will only function with the licensed versions of VMware vSphere Hypervisor (ESXi). They will not work with the ESXi FREE version.)
1. Veeam Backup and Replication v8
It was at version v5 when this article was first written, and is still a very popular product; Many VMware Administrators around the world use Veeam Backup and Replication. It is packed with strong product features, has won many awards, and comes highly recommended by experts everywhere. Veeam Backup and Replication is available in two varieties: Veeam Backup Essentials and Veeam Availability Suite. Now with support for tape backup, both allow you to copy Windows files and virtual machine backups automatically to tape for archiving. Veeam Backup and Replication backs up virtual machines only, however Veeam has released a soft product for free called "
Veeam Endpoint Backup FREE
" which can backup physical machines as well.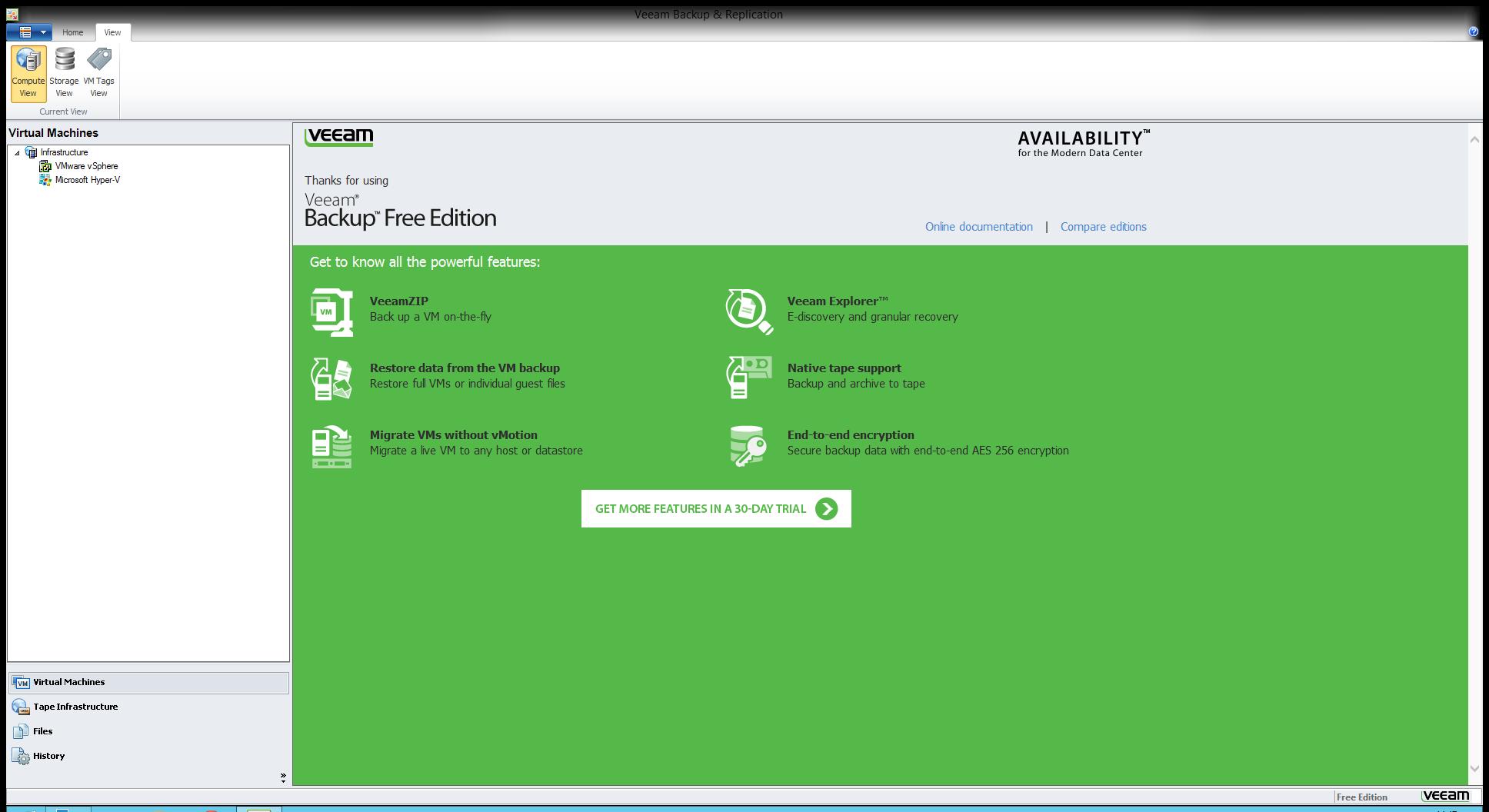 Download a trial here - http://www.veeam.com/vmware-esx-backup.html
2. Dell vRanger Backup and Replication 7.1.1 (vRanger Pro - formerly Vizioncore vRanger Pro)
This is the first virtual machine backup product with a good pedigree. It was also the first commercial virtual machine backup product I used when released as ESX Ranger by Vizioncore. Vizioncore, a leading provider of VMware data protection and performance monitoring software, was acquired by Quest Software in 2008. In September 2012, Quest Software (including the people and products of Vizioncore) became part of Dell. vRanger will backup physical Windows servers.
Source: http://software.dell.com/acquisitions/vizioncore.aspx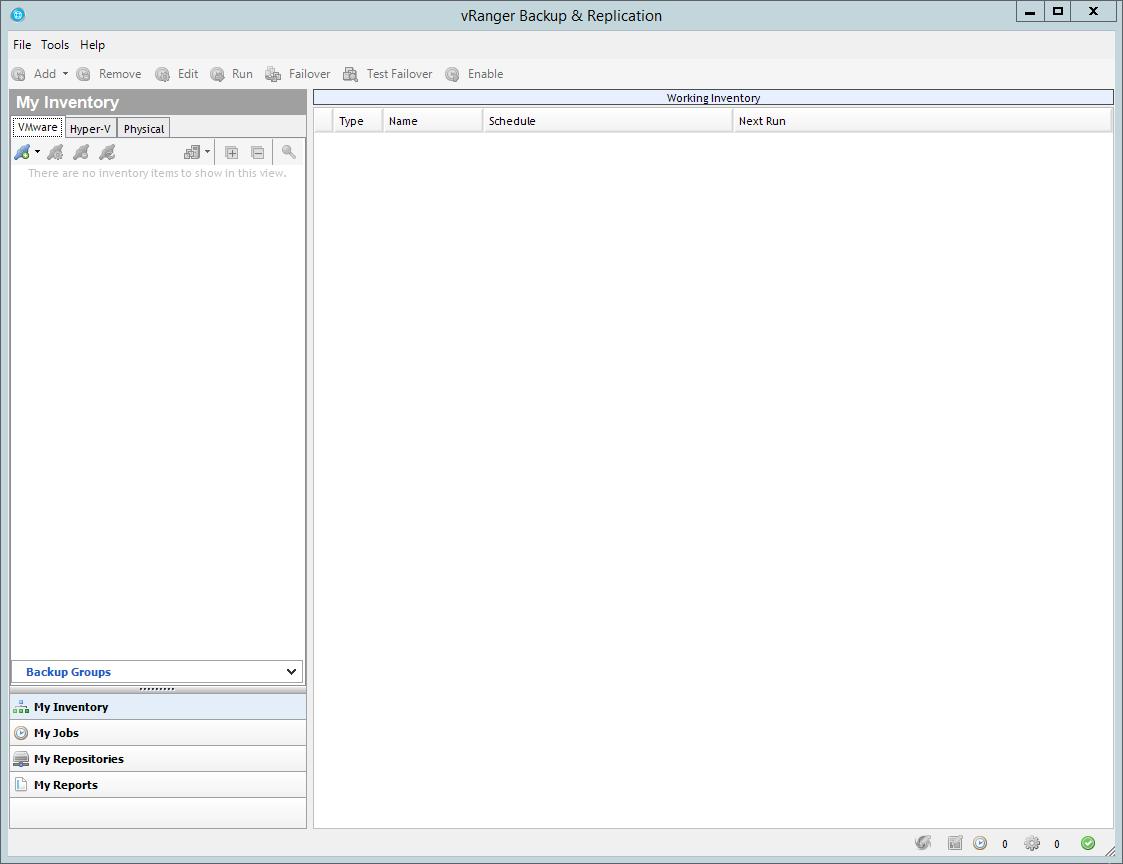 Download a trial here
-
https://www.quest.com/products/vranger/
3. Unitrends Enterprise Backup 8.1.0 (formerly PHD Virtual Backup)
This product boasts very fast backup technology, using a virtual appliance, and was the first backup application to use a virtual appliance. UEB will backup physical servers. In a review I wrote a few years ago, I noted that it is "a good vRecovery Backup Appliance." That is still true today.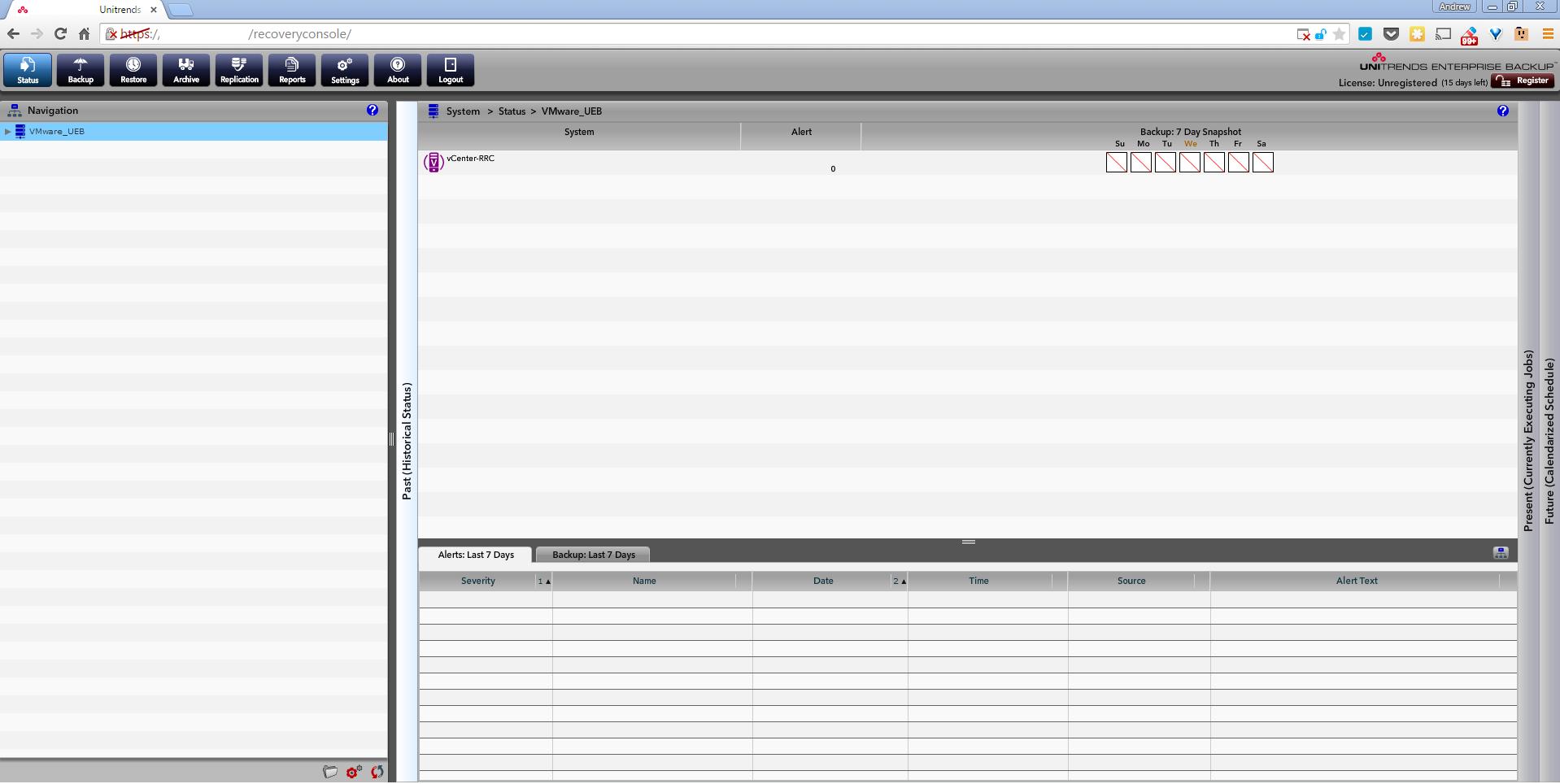 Download a trial here - http://www.unitrends.com/ppc/phd-virtual-is-unitrends
4. VMware vSphere Data Protection (VDP) 6.0/5.8.1 (formerly VMware Data Recovery)
This product supports dedupe, integrated with vCenter, and it may be included with your current VMware License (available in vSphere Enterprise Plus, Enterprise, Standard and Essentials Plus Editions). It's an application that is used to backup and restore virtual machines, using the vSphere Web Client. VDP is designed to backup virtual machines only. It's lightly based on
EMC Avamar technology
. There is now only a single version, as the Advanced version has been incorporated into vSphere.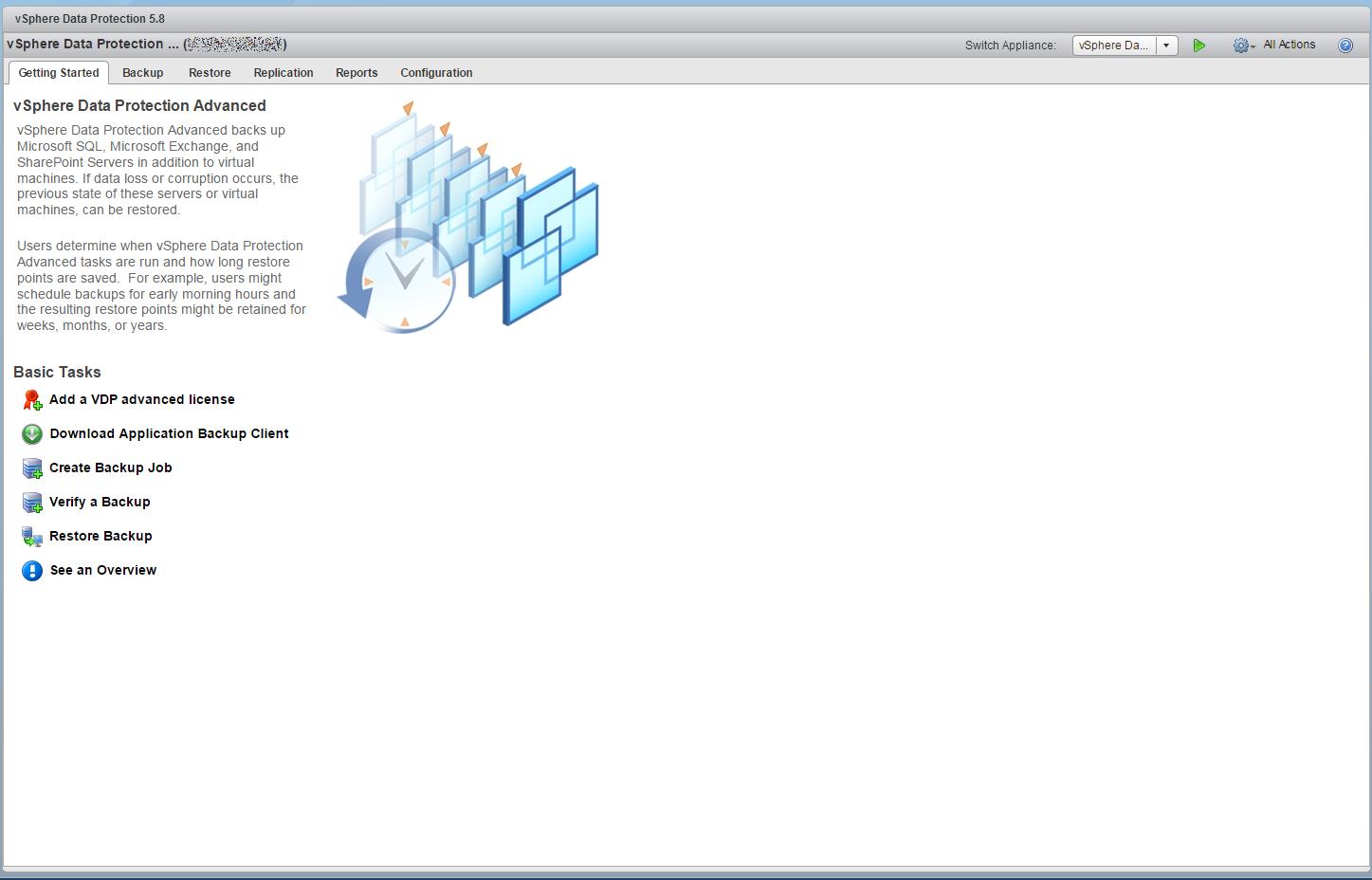 http://www.vmware.com/uk/products/vsphere-data-protection-advanced
5. NAKIVO Backup & Replication v5.5
Nakivo was founded in 2012, and this product has quickly become a very strong contender for the VMware Backup title. It's hot on the heels of Veeam Backup and Replication, which has held the title for many years. Though it doesn't have quite as many features as Veeam Backup and Replication, it is a cheaper option than Veeam for those who don't need all of the bells and whistles of the latter product. Nakivo Backup and Replication backs up virtual machines only, but does have very clever Cloud-based backup integration for Amazon and Dropbox cloud-based storage for offsite backups.
Download a trial here
-
http://www.nakivo.com/en/VMware-Backup-Free-Trial.htm
6. Dell AppAssure Backup 5.4.3 (formerly AppAssure)
AppAssure was acquired by Dell in 2014. AppAssure was voted the number 1 backup solution for VMs and Cloud, with the ability to backup virtual machines and physical servers. It has very good live recovery of virtual machines, instant snapshots of virtual machines, and up to the minute backups. It has good Cloud Backup integration, as well.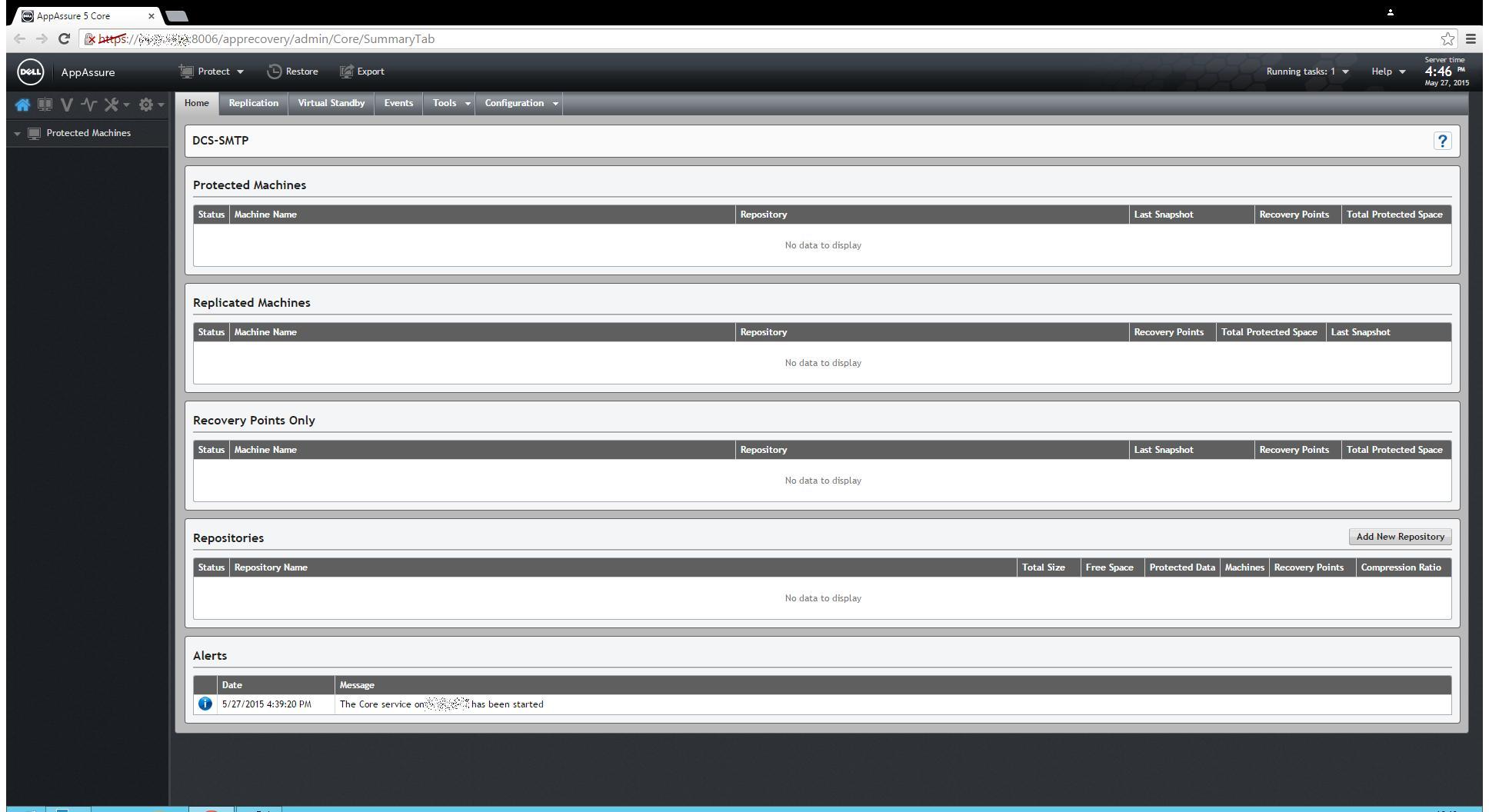 Download a trial here -
http://quest.com/products/vranger/
7. Trilead VM Explorer 5.3.010
In many ways, Trilead VM Explorer reminds me of Vizioncore ESX Ranger when it first came to market. Trilead VM Explorer was launched following my original article in 2011, which is why it wasn't in the original list. It is the second smallest download package, in amongst the big heavyweight downloads of 1GB to 2GB, but do not let this put you off. It has a standalone and Web Interface, it's simple to use, and it really works. As we say in the UK (borrowed from a well known wood-dye manufacturer 'Ronseal'),
"It does exactly what it says on the tin"
, and that is backup and restoration of virtual machines. This is a cost effective, no frills product.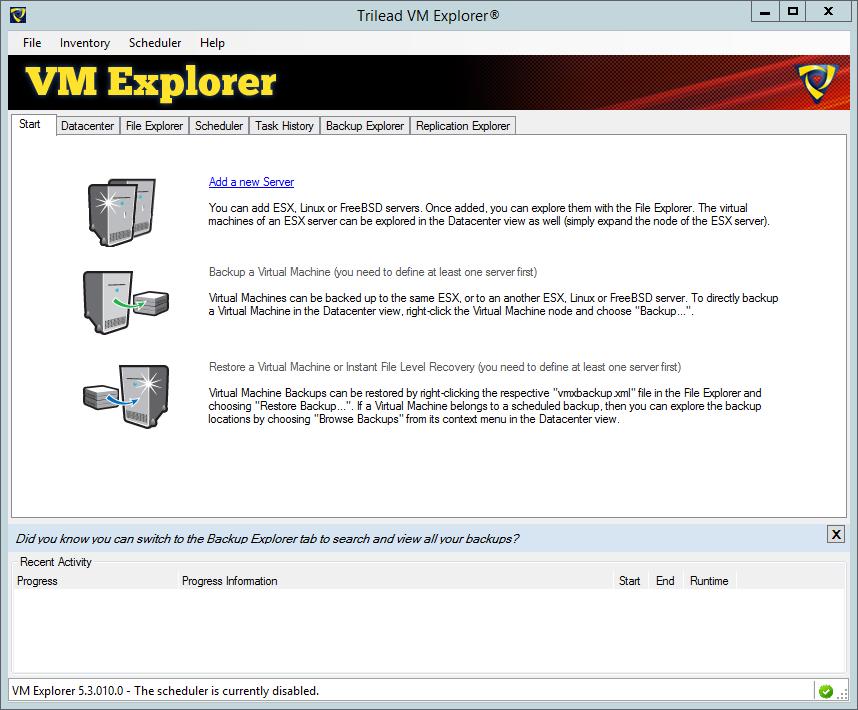 Download a trial here -
http://www.trilead.com/download/
8. Acronis Backup & Recovery 11.5 Virtual Edition
It starts off a bit confusing because Acronis has so many different products, but the product for VMware vSphere is called "Acronis Backup Advanced for VMware 11.5." A popular name in the backup and restore, data recovery market, it originally started off with desktop products and server products. It was only a matter of time before it entered the virtualisation market to grab some of the business. Acronis now has a suite of products across a variety of verticals, including the Home, Small Business, Enterprise and Cloud. It has a familiar interface if you have used Acronis products before.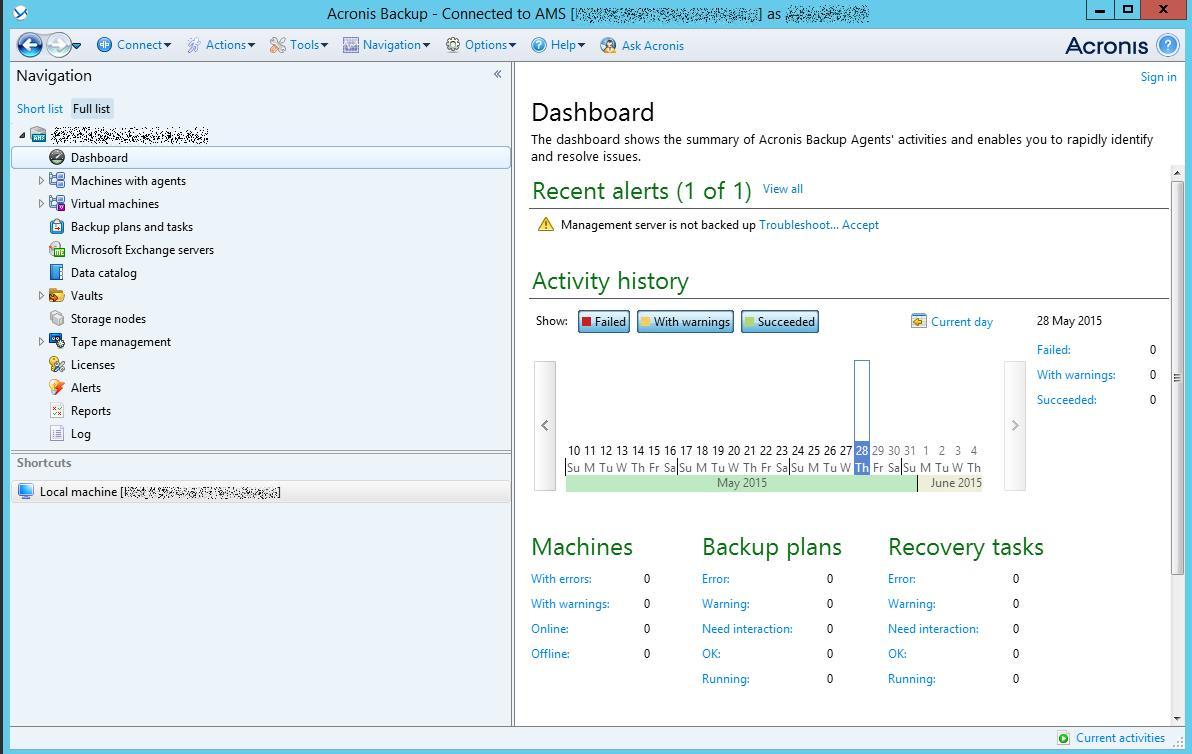 Download a trial here -
http://www.acronis.com/en-gb/enterprise/download/backup/vmware/
9. Thinware vBackup 4.0.0.4728
Launched after my original article was written in 2011, vBackup is the smallest download package at just 6MB. It is a cost effective, simple backup product.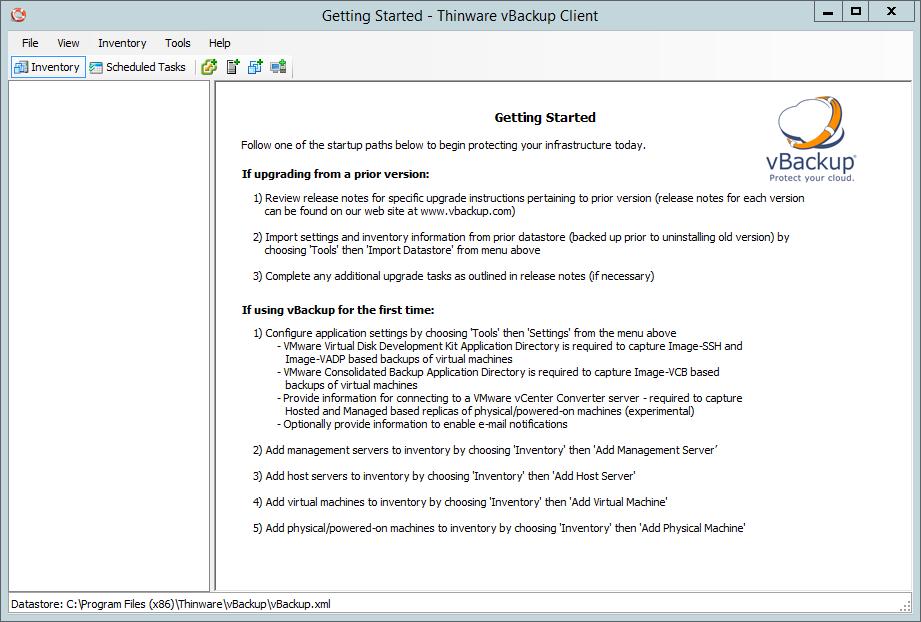 Download a trial here -
http://www.thinware.net/Products/ThinwarevBackup/tabid/202/Default.aspx
10. StorageCraft ShadowProtect Virtual 5.2.3.37285
With a similar interface to Acronis products, StorageCraft was founded about the same time as Acronis. It has a large suite of products included in the virtual edition of Shadow Protect, and is a one time V2P offering should you wish to perform a V2P of a virtual machine. ShadowProtect is licensed on a per VM license.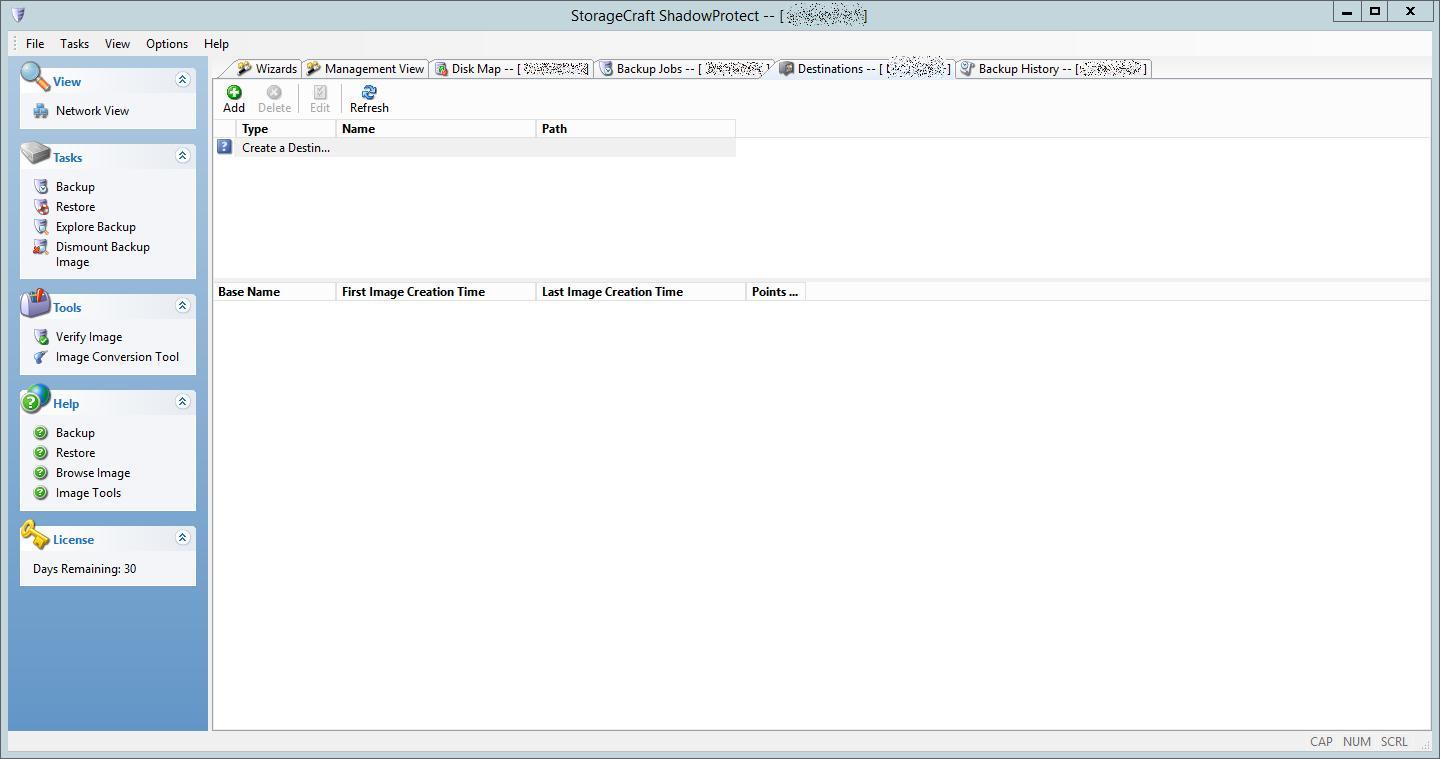 Download a trial here -
https://www.storagecraft.com/downloads/trials/shadowprotect-virtual-30-day-limited
11. Symantec Backup Exec 15 version 14.2 (V-Ray Edition)
I could not write an article about Backup software without including the Grandfather of all backup products: "Backup Exec". Originally sold as "Veritas Backup Exec", this product has been around since 1983. Since then, Veritas was merged with Symantec in 2005, though recent news suggests that Veritas will return as a new company with the splitting up of Symantec. Following that change, Veritas Backup Exec may return. It supports physical and virtual servers, and tape and tape loader support. While some struggle with the user interface, this is a product worth mentioning.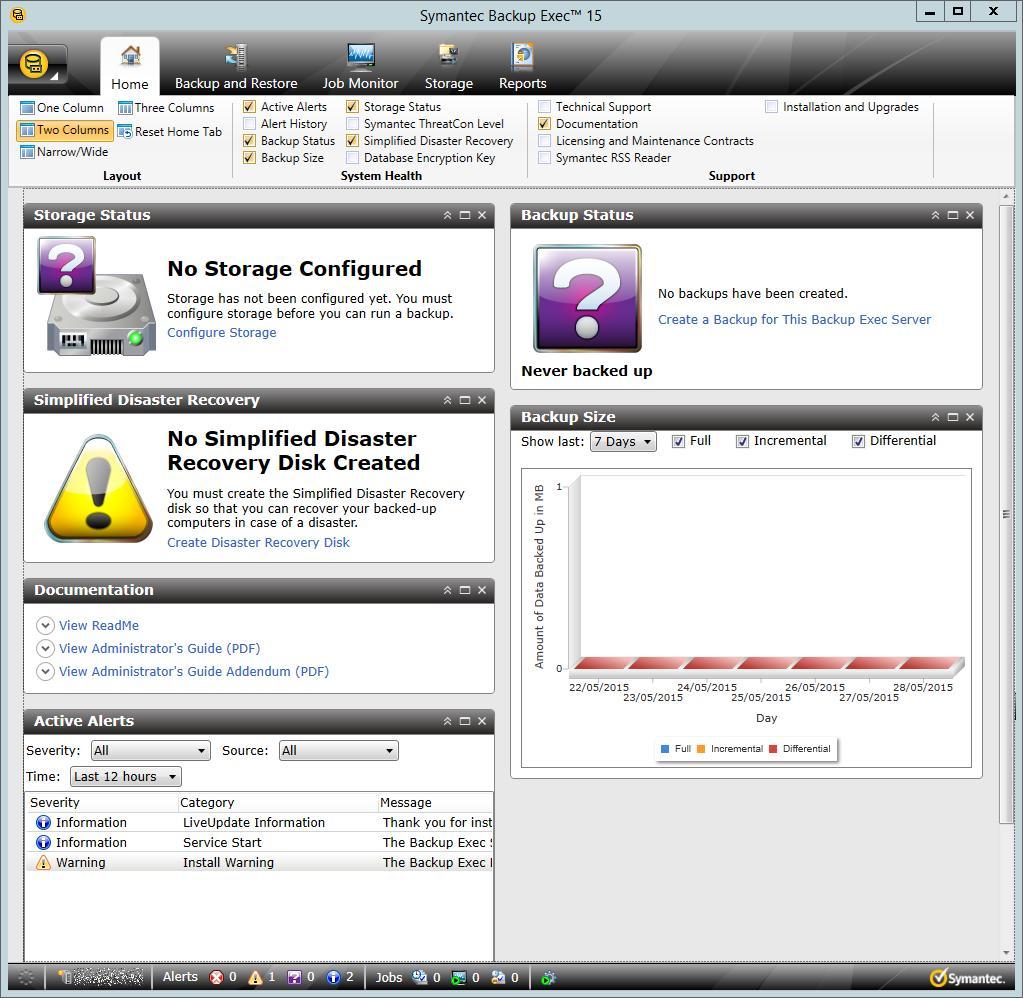 Download a trial here -
http://www.symantec.com/en/uk/backup-exec-vray-edition/
12. CloudBacko Pro
A newcomer to the backup market, CloudBacko Pro has a simple interface in the style of Windows 8, can backup to the Cloud (e.g. Amazon S3, Google Drive, Azure), and it works with the FREE version of ESXi!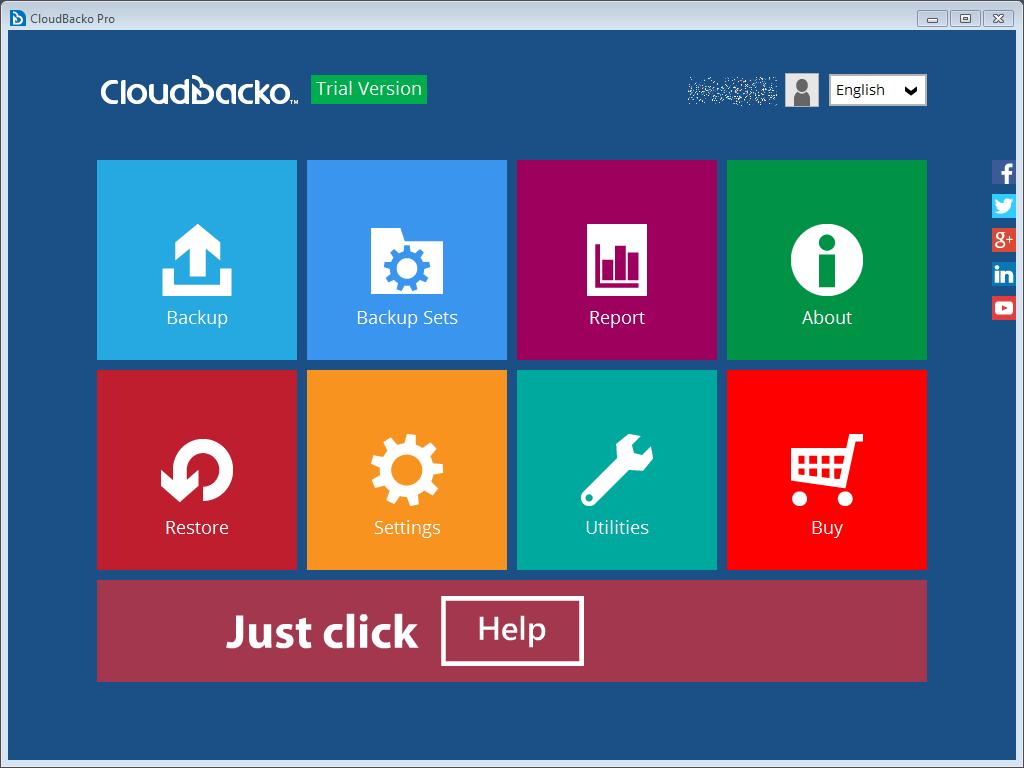 Download a trial here -
http://www.cloudbacko.com/en/download-cloudbacko-advanced-cloud-local-server-workstation-amazon-S3-google-backup-software-free-trial.jsp

Free (download) alternatives for backing up VMs
ESXi Free Edition versus ESXi Paid For License
As I mentioned above, if you do not have a licensed version of ESXi, your options are limited because a non-licensed (not paid for) version does not give access to the licensed APIs for third party software products to function. You will therefore need at least a VMware vSphere Essentials or VMware vSphere Standard license to use any of these third party backup application. VMware vSphere Essentials Kit is a Business Starter Kit which contains 3 VMware vSphere (ESXi Hypervisor) licenses for 2 CPU (sockets) Host servers and a license for VMware vCenter Server, which is the management server. It allows you to manage and monitor the 3 host servers from one connection or login. At the time of writing this article (May 2015), the cost for a VMware vSphere Essentials Kit is approximately $700 - probably cheaper than you thought!
If you still are looking for free alternatives for third party software solutions, though they will have a reduced set of functionality, here are the free download options (please note you will still require an ESXi license):
1. Export to OVF (Backup), Import from OVF (Restore)
This is included in the vSphere Client for free. This is covered in my Experts Exchange tutorial article, with step-by-step instructions accompanied by screenshots.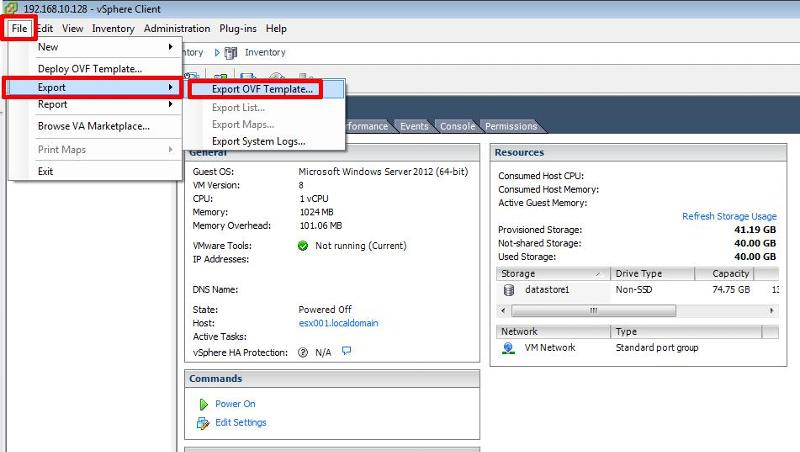 Although written when VMware vSphere Hypervisor 5.1 (ESXi 5.1) was released, this method works with all versions of ESXi (4.x - 6.x). Just make sure the virtual machine is powered off.
2. VMware vCenter Converter Standalone 6.0 (poor man's DR or backup!)
With VMware Converter you can convert and copy a virtual machine to another datastore or Windows share. The advantage is that you can do this whilst the virtual machine is powered-up. VMware vCenter Standalone Converter can be used in this way to backup and restore a virtual machine whilst the virtual machine is running. VMware Support also advises the use of VMware vCenter Converter Standalone to resolve snapshot issues. Many VMware vSphere sites still use this product today to complete backups.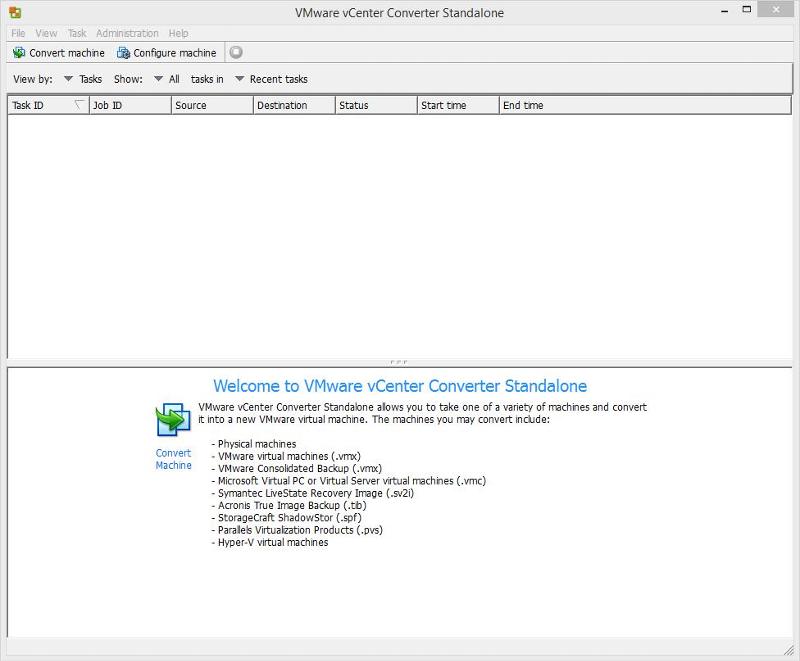 I've covered VMware vCenter Standalone Converter in many articles at Experts Exchange. Here are just a few:
3. Veeam FastSCP is now part of Veeam Backup Free Edition
This download has fast Virtual Machine / File Transfer, faster even than WinSCP and other SCP-based tools as it uses full network capacity. The Veeam FastSCP engine also features traffic compression and empty block removal for best file copy performance (the old version of Veeam FastSCP 3.0 can still be downloaded. It's only 14MB, so a very small download).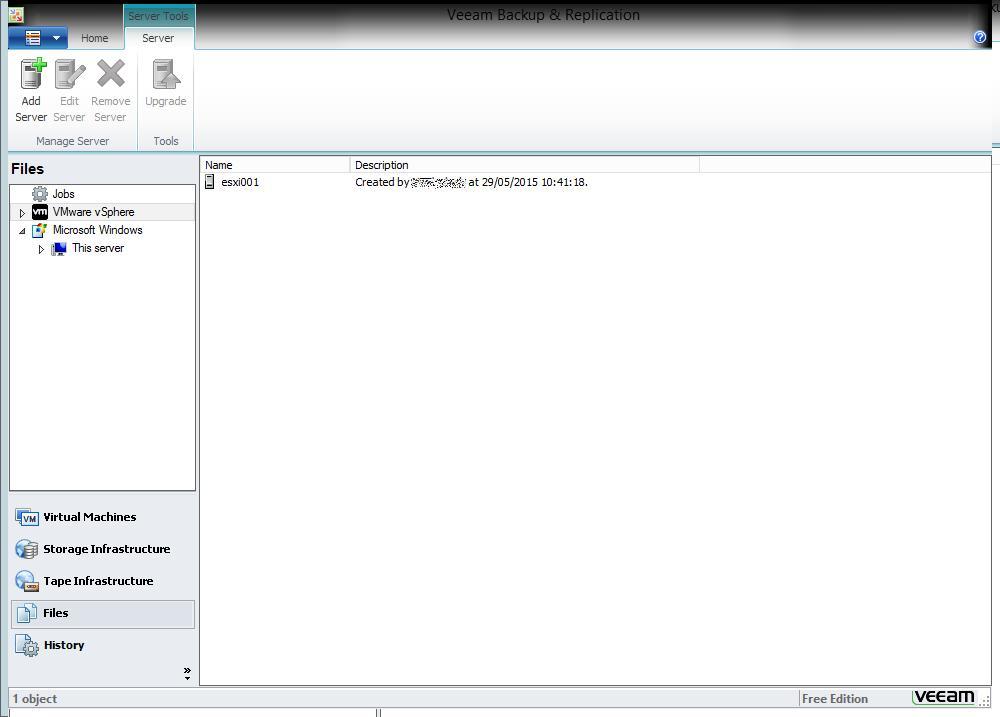 Free download here - http://www.veeam.com/vmware-esxi-fastscp.html
You can use FastSCP to connect to the ESX/ESXi server and download the entire virtual machine folder/directory to the current workstation or server where you've connected from. You must ensure that the virtual machines are powered off to complete this operation.
4. WinSCP 5.7.3
This download has an ftp-style interface, but uses SFTP. ensure SSH is enabled on your VMware vSphere Hypervisor (ESXi), see my Experts Exchange article to find out how to enable remote access to EXSi 5.1. The virtual machines needs to be powered off. Something interesting to note: Veeam claims it's version is faster!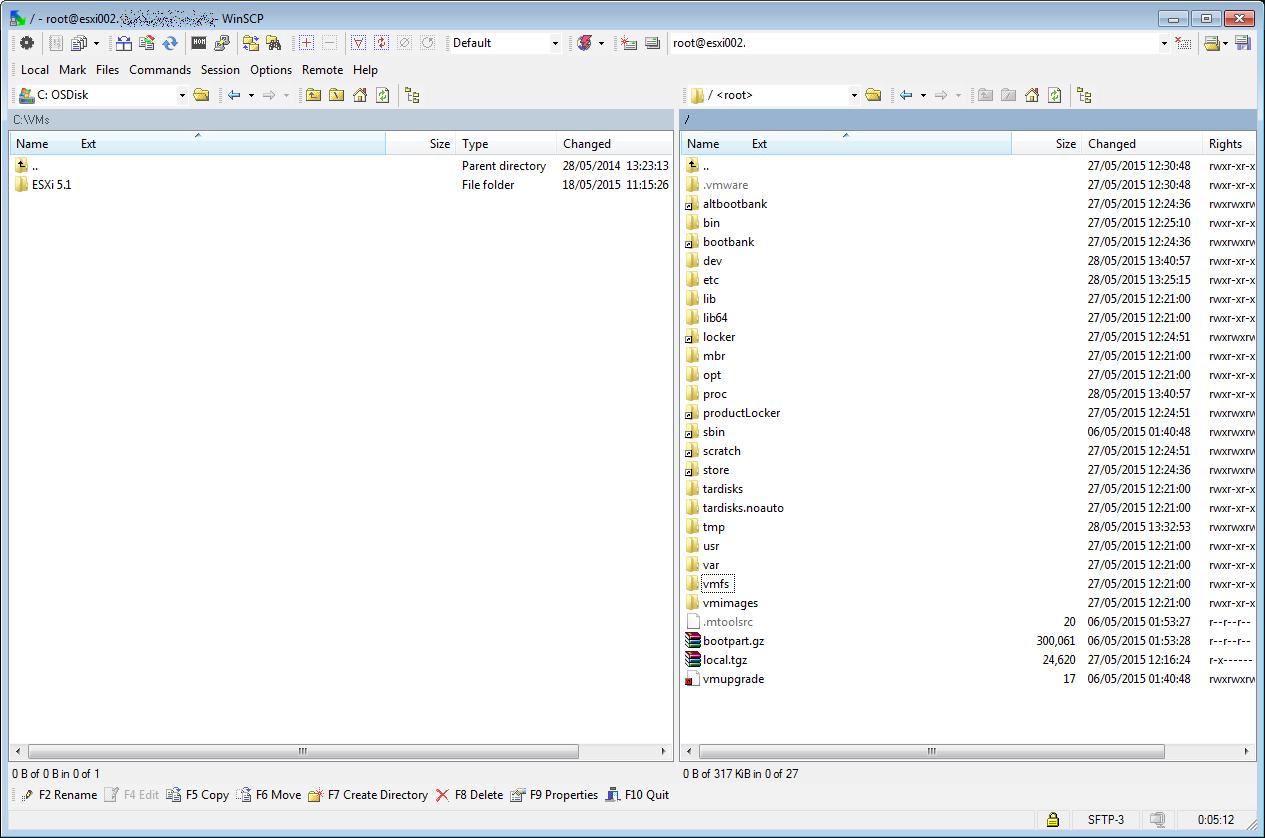 Free download here - http://winscp.net/eng/download.php
5. Datastore browser
This download is included in the vSphere GUI Client and enables you access to the datastore that your virtual machines are stored on. You can simple use the cut and paste function or download/upload options to backup and restore virtual machines. Again, to copy a virtual machine, the virtual machine must be powered off.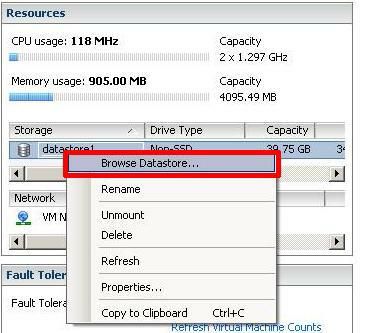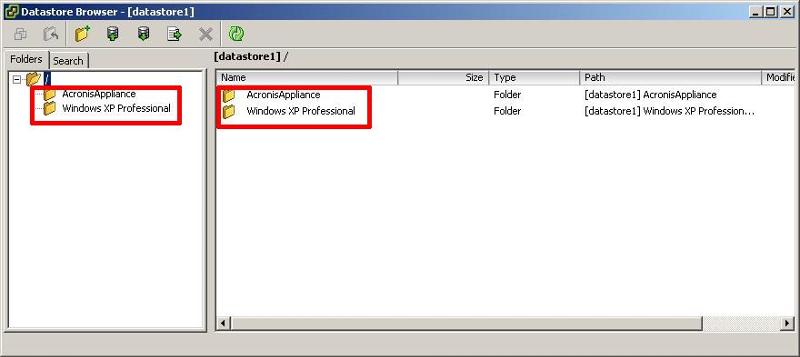 Restoring with options 4 and 5 above, you must add the Virtual Machine manually to the inventory by selecting the vmx file in the datastore browser, right click on the *.vmx file, and select "Add to Inventory".
Please see my
Experts Exchange article
to learn how to clone or copy a virtual machine and follow Step 6.
6. ghettoVCB
- (I've left this entry here for completeness, but this script is no longer maintained)
http://communities.vmware.com/docs/DOC-8760
(Will work on FREE ESXi, no licensed required. Can be performed whilst the virtual machine is live or powered on.)
7. ghettoVCBg2
- (I've left this entry here for completeness, but this script is no longer maintained)
http://communities.vmware.com/docs/DOC-9843
(Needs licensed version of ESX/ESXi. Can be performed whilst the virtual machine is live or powered on.)
8. Scripts and NFS backup
- (I've left this entry here for completeness, but this script is no longer maintained)
http://communities.vmware.com/message/1029047
(Will work on FREE ESXi, no licensed required. Can be performed whilst the virtual machine is live or powered on.)

Who is the best of the best?
While I'd love to provide you with a single best option, there are so many good backup applications in the marketplace today that I do not believe there is an overall winner. It really comes down to your individual needs, and I highly recommend you take the time to download and evaluate the products for yourself. There are so many different variables and requirements you may have, including but not limited to budget, tape support, fast backup, easy user interface, point and click backups, scheduler, and compression.
Veeam Backup and Replication v8 is truly a great product, packed with a huge array of features, though some argue that it's too complicated to set up. Many don't use the entire feature set, so it may be hard to justify the payment when you only use a portion of the product offering. CloudBacko Pro on the other hand, is point and click, and backs up to Amazon S3 storage!
Whichever product you select, make sure to test, test, test, and then test again, to make sure you can backup and restore virtual machines. I can't tell you how many client sites I visit on a weekly basis and ask them to restore virtual machines, only to find out that they have never tested the functionality, and although they have been running backups, they have never tested a restore. Don't be that client.
Finally, I'll leave you with my personal motto on backups: A Backup is not a Backup unless it's in three places!
This means that three copies should exist (like a local NAS, tape, and cloud storage) and you should store each in a different location.
Thank you for taking the time to read this article! Check out below for additional resources.

Basic VMware Articles Series:
During this series of articles, VMware released VMware vSphere 5.5 and VMware vSphere Hypervisor ESXi 5.5. These articles are also applicable to VMware vSphere Hypervisor ESXi 5.0 and 5.5. For consistency, I have used VMware vSphere Hypervisor ESXi 5.1 throughout this series:
******************************************************************************************************************************************************
Thank you for reading my article, please leave valuable feedback. If you liked my VMware article and would like to see more Articles from me, please click the Yes button near the: Was this article helpful? at the bottom of this article just below and to the right of this information. Thank You. Do not forget if you have a question about this article or another VMware, Virtualisation, Windows Server 2012 question, why not post a Question for Me and the other Experts Exchange Experts in the VMware, Virtualisation, Windows 2008, Windows 2012 Zones. I look forward to hearing from you. - Andy :- twitter @einsteinagogo
******************************************************************************************************************************************************