Are you looking to clear some space on your phone for the latest iOS 8 update? Did you switch to Spotify so you no longer need to keep music native on your phone? Run out of space for taking photos while in the middle of vacation? Sometimes the quickest, easiest thing you can do is remove those old songs on your phone that don't stand up over the years – it's ok, we all have them.
Let's review how to delete a song, an album, or all the music from your iPhone.
Disable iTunes Match
Before we start removing music from the iPhone, we have to make sure iTunes Match is disabled. If it isn't, our phone won't let us delete music directly from our iPhone (we would have to do so through iTunes on our computer – thanks Apple).
Settings > Music > "Show All Music" slider should be set to "Off". This will hide all music that is not downloaded on your device, this will NOT affect music that you loaded onto your iPhone from your computer.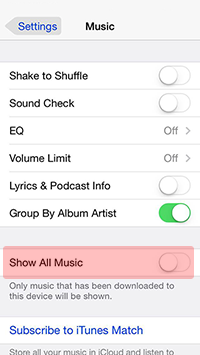 Delete All Music
If you want a fresh start to your music collection, you can do it all at once, rather than taking the time to delete one album or song at a time.
Under your Settings > General > Usage (this can take a second, as it's scanning all of your apps) > Music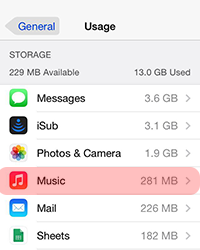 From here you will see information about all of your apps. Select Music > Edit > All Music (red minus sign) > Delete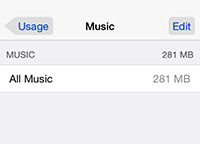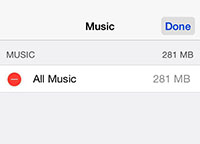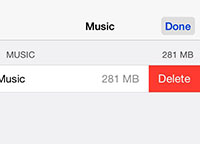 Delete an Entire Album
This process is almost the same as deleting all of your music as shown above.
Under your Settings > General > Usage > Manage Storage
From here, instead of choosing All Music, find the album you want to delete, select the red minus sign and select delete. You can also delete entire albums directly from your Music app. Under the albums tab, swipe to the left to reveal an option to delete the album.
Delete just a Song
From your Music app in the songs tab, navigate to a song you want to remove, swipe to the left to reveal an option to delete the specific song.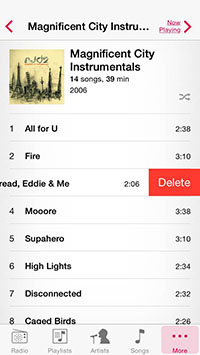 Delete a "Phantom" Song
In a known issue, iOS 7 users have reported that there are some songs in their music library that do not allow you to delete it by swiping to the left. Getting around this is easy through your general settings. Settings > Music > Turn on "Show All Music"
You should now be able to return to your Music app to find this 'phantom' song. Within the Music app, select the cloud sign to download the song onto your device out. Return to the Settings app and turn off "Show All Music". Head back to the Music app, and you can now swipe left to delete this song now that it is native on your device.
Delete the U2 Album
In 2014, iOS 7 users got an (unwanted) gift from Apple's favorite band, U2. All users had this album show up on their devices without downloading it or being notified of its arrival. Like many people, you might not even realize it is on there, and want to remove it.
Luckily you can do it from a browser on your phone. Visit
itunes.com/soi-remove
and select "Remove Album". You will be prompted to sign in with your Apple ID to apply the changes. Within minutes the U2 album will be removed from your iCloud account.
If you took the steps to download the album from your iCloud account onto your iPhone, you can follow the previous steps to remove it from your device.
Start Clearing Your Phone of Unwanted Music
Hopefully these steps in managing your music from your iPhone will help make room for the next iOS update set to be released soon, photos from your upcoming vacation, or just to get that pesky U2 album off your music library.