The biggest nightmare for any Exchange Server Administrator is to keep the server running without any issue. But the problems often come and they need to be resolved efficiently and timely. Here are important troubleshooting points:
Define the Problem & its Scope
In order to begin troubleshooting in Exchange Server, you need to understand what the problem really is. This will require gathering information by asking questions from end users. After collecting information, the next thing is to find out the scope (how many clients have been affected, what are the common characteristics etc.
Understanding Error Code
Most of when something goes wrong with the Server it returns some error code. There are built-in tools that make Microsoft Exchange truly powerful. Based on which Admin/User can have some idea about the problem.
Check out Different Exchange Error Codes and their Solution:
http://www.pcvita.com/blog/category/exchange-server
Here is the list of tools available on Exchange Server:
Use of Tools in Exchange Server for Troubleshooting
---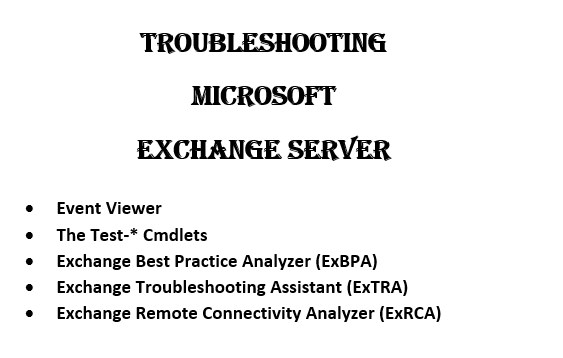 (1) Event Viewer
The Event Viewer stores detailed information about the recent system state and application errors. Using the event logs in Event Viewer one can obtain information about system hardware, software, and problems. In the Event Viewer, both application log and system log contain errors, informational events and warnings that can be used in the process of troubleshooting.
Read More about Event Viewer
:
http://blogs.msdn.com/b/deva/archive/2008/10/02/troubleshooting-exchange-environment-with-event-viewer.aspx
(2) The Test-* Cmdlets
The Test-* cmdlets is the most powerful tool which provide useful information without consuming too many resources. You can get a full list of all Test-* cmdlets with a brief description of each cmdlet by typing the Help Test-* command in the Exchange Management Shell window. Some handy cmdlets like
Test-SystemHealth
and
Test-ServiceHealth
are very useful.
(3) Exchange Best Practice Analyzer (ExBPA)
ExBPA tool is no longer present in the latest version of Exchange Server 2013. The tool was really good to run some reports and to determine the overall health of their Exchange servers and topology. The tool scans Exchange servers and identifies items that do not conform to Microsoft best practices.
(4) Exchange Troubleshooting Assistant (ExTRA)
The
Exchange Troubleshooting Assistant
tools execute a set of troubleshooting steps to identify the root cause of performance, mail flow, and database mounting issues. Also, the tool automatically collects configuration data, performance counters, event logs and live tracing information from an Exchange server.
(5) Exchange Remote Connectivity Analyzer (ExRCA)
This tool is helpful to ensure that the connectivity is up and set up properly. In case of a problem, this tool is also capable of fixing the connectivity issues. You can perform tests like Exchange ActiveSync, Exchange Web Services, Outlook and Internal email.
See More Information:
https://technet.microsoft.com/en-in/library/ff701693(v=exchg.150).aspx
Conclusion
---
Troubleshooting Exchange Server problems involve various activities from gathering information about a problem to running system tools to check various events. But the most important part is to narrow down the scope of the problem through which you can focus on what needs to be focused.
---



Thank you for reading my article, please leave valuable feedback. If you liked this article would like to see more, please click the Yes button near the: Was this article helpful? at the bottom of this article just below and to the right of this information.