If you are anything like me, you install many apps on your phone and have your life on it, sometimes literally. When I bought my current phone, a Samsung Galaxy S5 from Verizon, they were only selling the versions with 16 GB internal. I didn't realize this at the time, or I might have bought a different phone. Anyway, I now had a phone with only 16 GB of internal memory, which translated to about 10.5 GB usable. It helped to have a 64gb card, but I have been constantly trying to find space. I am unused to getting the messages I currently get about not having enough space to install an app I want to try.
At work, the most common complaint we get from iPhone users about email, is that it isn't downloading their mail anymore. This is an easy fix, because we know what the problem is, these are the users that have set their phones to download ALL emails. The fix is simply deleting their email account and redoing it but changing that setting to a couple of months instead. I mention this because that is what I ended up doing on my phone. I had been looking in every crevice of the phone to try to get more space. I finally decided to delete my email account (which I had set to retain all emails), and redo it with the setting to download the last 6 months instead of ALL. I gained almost 500mb of space.
The next most common complaint is that they are running out of space because they have so many pictures on the phone. To these people I always recommend Flickr.com. Flickr gives you a terabyte of FREE space for your pictures and movies up to 1gb (about 1 minute) . The pros are that Flickr is easy to use, it even asks you when you install it whether you would to setup Auto upload. I always set this up with security settings set to private, just in case I take a bad picture I don't want others to see. On an iPhone or any iOS device you can use the free IFTTT (If This Then That) to set up virtually anything , like a formula to add all new documents to your Dropbox. For Android, IFTTT make the IF app that does virtually the same thing.
So if, for instance I want to create a formula that will a Facebook post each time I exercise and record it with my Fitbit, I might do the following:
First open the IF app and tap the mortar and pestle in the upper right corner.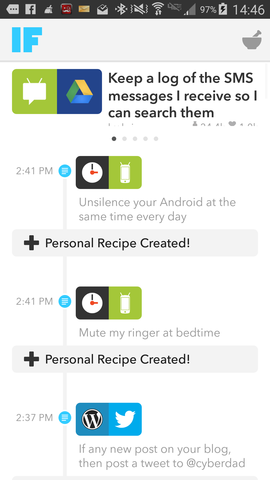 The next screen shows you your current recipes and will let you change the settings and add new recipes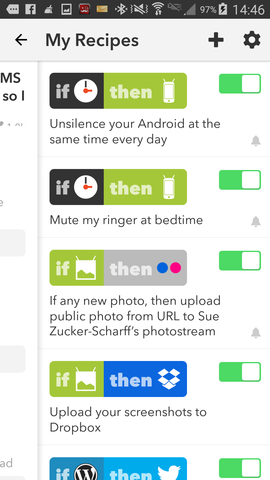 By tapping the + sign in the previous screen you get to the Add a Recipe screen. Tap the plus sign on the bottom right of the screen (unless you wish to choose from recipes that have already been created).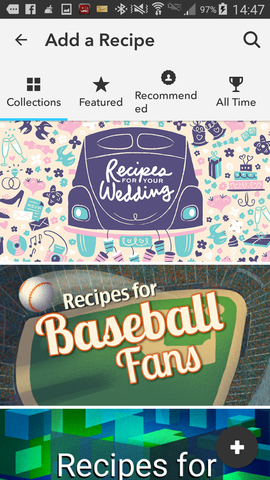 Tap where it indicates "Start here!" - the first big plus sign. This will let you choose the event that will trigger this formula.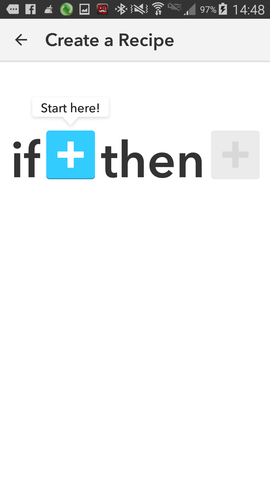 Scroll the icons in the top bar to find the one you are looking for, in this case I found Fitbit. Now it has several options I can choose from under Fitbit. I will choose the first, Daily Activity Summary - by tapping the plus sign next to it.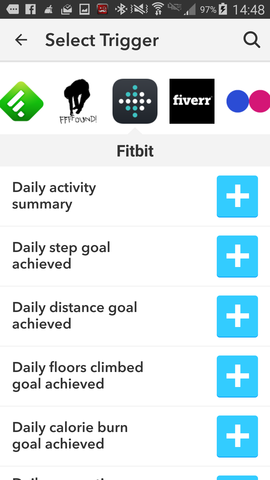 If your Fitbit account is already connected to IF then you will see this screen next, otherwise you will be asked to log into your Fitbit account and allow the IF application access.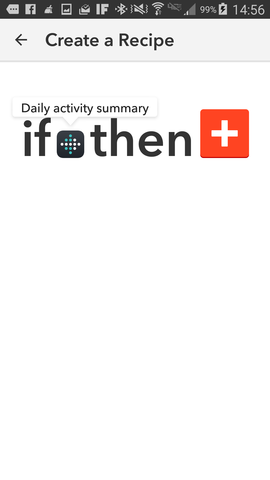 Tap the second plus to designate what will happen when the event is triggered. In this case I chose FaceBook, and under FB I chose to create a post. This was the eventual screen I saw. The same caveat here - your Facebook account needs to be linked to IF for this to work. You can decide what access you want IF to have. Remember though if you restrict it too much, like setting it to "only me," nobody will see your updates.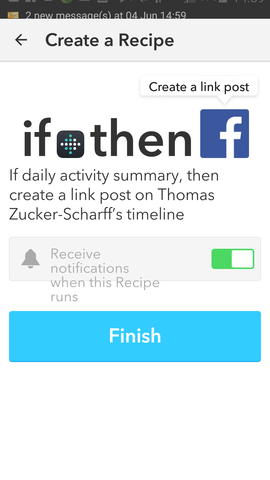 When you are done click the Finish button.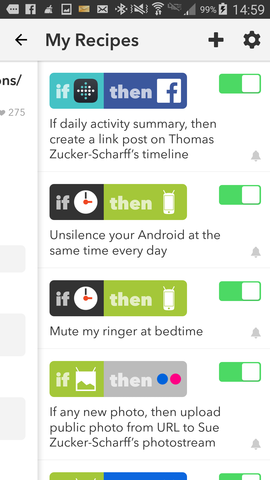 Once again you will see your recipe screen, but now the new recipe will be at the top.
I have gone through all this because using IFTTT or IF is the best way to move pictures or documents from your phone to some other location, like Dropbox or Flickr. You will notice that one of my formulas uploads any new photo I take to Flickr (that is my wife's name but my account). I never have to worry about deleting pictures to make space, I know they are all uploaded to Flickr. I upload new documents to Dropbox in the same way. Note that some of these applications will do this automatically. Flickr has an autoupload option that sends all new photos to your Flickr autosync album, but only when on wifi. Dropbox has a similar option for photos. If you really want to keep all your photos on your phone, for whatever reason, and you have a phone that can have a SD card in it (iPhones cannot and the Samsung S6, for some weird reason, can't either - so buy the phone with more internal memory), then you can move all you pictures from your phone to the card.
FOR PHONES WITH SD CARDS ONLY
To move pictures, it is important to follow these steps exactly or you may lose all the categorizing you have done. First you should already have your camera settings so that they save all new pictures to your card. There is an excellent article on how to do this, which I used as a source for this article, located
here
. If you are not keen on going to that article,it say in summary to do the following:
1. setup your camera app to save to the card. Open camera app and choose the settings icon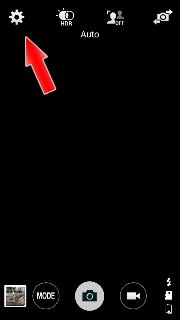 2. In settings scroll down to storage location and tap it to choosewhere you want to store your photos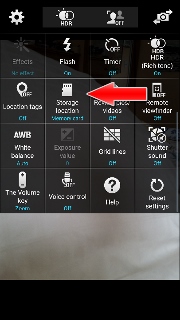 Choose the storage location as your memory (SD) card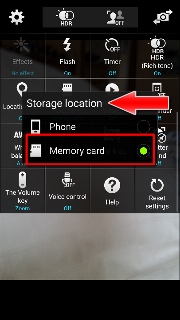 4. Now you have set the location that future pictures will be stored in (unless you categorize them into albums at which point they are moved to the internal storage)
5. To Move pictures from your internal storage
ALWAYS
move the album they are contained in or you will lose any categorizing in albums, etc, that you have done. To do this follow these steps (just a reiteration of the steps in the article I referenced above)
A. Open your My files app and choose to go to the
DEVICE
storage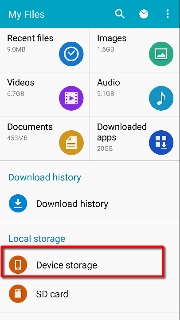 B. Locate the
PICTURES
folder and tap on it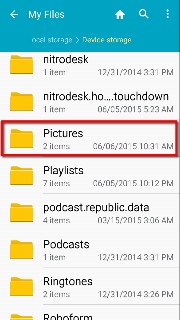 C. Choose the albums you wish to move by long pressing on them until they appeared checked. When you are done tap on the menu (3 dots) icon in the upper right corner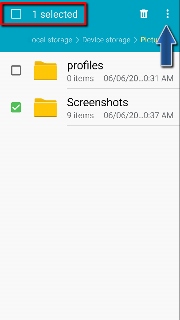 D. Choose Move to and then the SDcard as the destination by tapping on it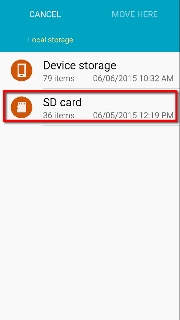 E. Navigate to the folder on the SD card where you wish to store your albums (if you are able to read the area boxed below, I chose the Media>DCIM>Camera folder) then tap "Move Here"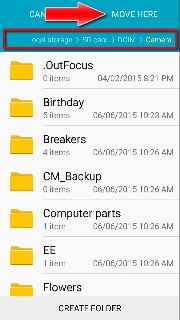 Your files are now accessible from the gallery app and located on the card.
Take advantage of any of these application options to make more room on your phone. And definitely take advantage of either IFTTT or IF to make other apps work in the same manner, or to just make things easier.