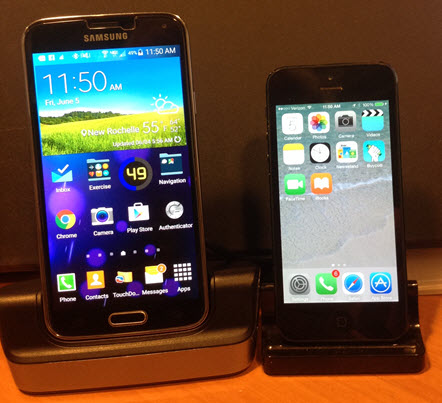 Let me explain this picture a little bit. First, in case you haven't already guessed, you are looking at my 2 phones, an Android Samsung Galaxy S5 on the left and an iPhone 5 on the right. They are on their respective cradles on my desk. But, you may ask, why in the world do you have 2 phones - for 2 heads? No, but not far off.
Because of my work, where I am the IT goto guy for my department, I decided it was a necessity to have at least some experience with iPhones, iPads and Android devices. This is mainly because our workplace does not have any policy restricting what devices can or cannot be on our network other than they have to have security software installed. And I am then tasked with the job of having to troubleshoot ANY device, carried by someone in my department, that connects to the network (and they all use wifi at least). There are some of my colleagues here that look like they are wearing a batman utility belt. I know of at least one person who carries an iPhone, Android, Blackberry, WiFi AP, and a pager. We all write, or try to write help documents for all these devices in regards to our network. Such things as how to connect your device to our exchange server and how to configure your device to connect to our WiFi. In order for these to documents to be at all helpful, we include screenshots of actually doing whatever we are describing (or sometimes I just make a movie). To make those screenshots and to know what you are doing, you need to have one of the devices in question.
Android was no problem, as that is the type of phone I have had since I first had a smartphone (currently a Samsung Galaxy S5 running Lollipop). iPad was not too much of a problem in that I received one as a birthday gift several years back (iPad 2nd Generation, Wifi only, 32gb). But many of the people I deal with on a daily basis used iPhones. So when the opportunity arose to get a phone for work (because they wouldn't pay for part of my current phone), I chose an iPhone - at the time it was the newest iPhone on the block, the iPhone 5.
It often strikes people as odd that I have more than one phone. I would prefer a MAM (Mobile Application Management) solution instead. Alas, our institution does not wish to invest in MAM, or even in MDM (Mobile Device Management).
See this article comparing MDM and MAM
. MDM is implemented on a very basic level in that we can remotely wipe a users' mobile device through our exchange server. So I ended up getting a second phone to use for work.
I was surprised when I found I liked using the iPad and even the iPhone. Several people, including my daughter who only uses Apple devices, commented to me that I was becoming an Apple person (god forbid!). My comment to remarks like these is usually the same, I might be enticed to go to the dark side (Apple) if iOS had anything resembling a file system. The biggest problem I have found is that it is relatively easy to put files onto an iOS device and equally as difficult to get them off. I should clarify this a little. If you use a cloud service like dropbox, you can save files to it easily. I use dropbox, onedrive, flickr and insync to transfer files, as well as an FTP app I bought from the app store. But you CAN'T plug in a USB drive, as I can with my android, and just use the files or transfer them.
The best comparison I have seen of the iPhone and an Android phone is that the iPhone is for people who mostly want a smartphone for calling, texting and taking pictures and want it to just work - out of the box, while the android phones are for people who like to customize/fiddle with their phones and plan on doing more than just the basics.
I like the Android better, so it came as no surprise to me that I ended up using the personal phone, an Android phone, for virtually everything. At least I am able to trouble shoot my iPhone users' problems without too much difficulty. There are several users who refuse to upgrade their iOS, so I have more trouble trying to correct a problem with devices running versions of iOS prior to 7.x. The ability to be able to have a first hand knowledge of the OS has been invaluable in my daily interactions with both of my bosses, who insist on having iPhones.